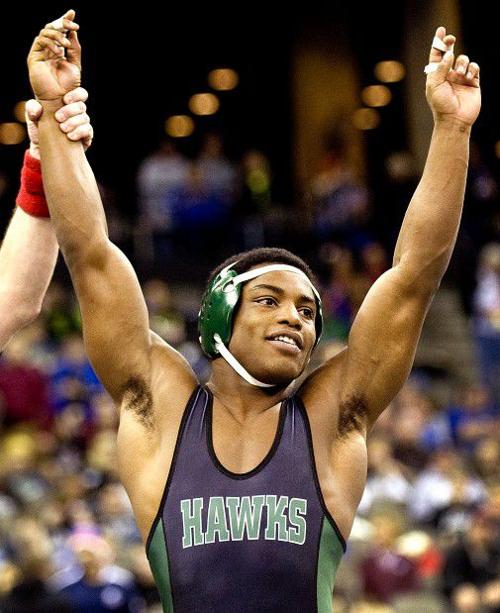 On the cusp of summer, with all the graduation cake gone, the congratulatory balloons deflated and the humidity rising, here's some cool news to make you smile: another kid who made good in high school still making good.
Last week, I talked to Lincoln High alum Je'Kerra Hopper, who'd overcome all sorts of challenges to become one of the few people in her family to graduate from high school and the first not just to enroll in college — but also to graduate.
This week, there's Kenny Martin Jr., a kid from North Omaha who fell behind, landed in Lincoln, lived on his own as a high school senior and graduated anyway — in addition to winning the state wrestling championship at Southwest.
Now Martin is a Wartburg College graduate, a mission he accomplished while earning two national wrestling titles.
Martin, who graduated from Southwest in 2013, grew up in a wrestling family and came within spitting distance of a state championship his freshman year at Omaha North High School, then lost focus. 
He came to Lincoln his junior year and found mentors at Southwest who watched out for him, helped him, challenged him and stuck with him. Two of his biggest supporters were wrestling coach Aaron Finley and counselor Joyce Lehn. 
When Martin and his dad decided Martin would be better off living on his own, Lehn got him connected to the right people who found a program that provided an apartment. 
She and Finley stayed involved, helping him through summer school and the college application process.
After claiming the state championship and a high school diploma, he spent a year at Clackamas Community College in Oregon.
Lehn and Finley stuck with him. 
Lehn helped him investigate four-year colleges. He decided on Wartburg College in Waverly, Iowa, because of its strong wrestling program and an even stronger focus on academics.
"When I talked to the coaches, they stressed graduating and going to school, helping me," Martin said. "That was my main goal at the time."
On his way to a bachelor's degree in fitness management, Martin earned two NCAA Division III titles and a third-place finish.
Lehn and Finley came to some of those matches — and Lehn joined his family on May 27 when he graduated from Wartburg.
"We're all very proud of him," Lehn said. "He worked really hard and did what he needed to do to stay focused. It's been a pleasure for all of us to see him grow up, reach his goals."
Martin and his girlfriend have two young daughters now. He's pondering two job offers: a mentoring position that would bring him back to Omaha and a marketing position in Iowa.
He hopes his daughters will graduate from college one day, hopes the work he's done lays the groundwork. 
"I'm a guy who likes to lead by example," he said. "That's the first thing I wanted, to show them what it was like going to college."
SROs in summer school
Lincoln Public Schools, which just approved an interlocal agreement with the city to add six school resource officers to middle schools, has an SRO at summer school for the first time.
More than 1,700 students are attending summer school at North Star this year — nearly as many as walk the halls during the regular school year — and LPS said an officer's presence would make the school safer and more secure.
The six school resource officers who work in the high schools during the school year are each covering one week of the six-week morning summer school session.
School officials — with the help of police and Lincoln-Lancaster County Emergency Management — also held lockdown, fire and tornado drills last week. 
Closing the homework gap
Consider this: About 15 percent of Nebraska students — even more in rural areas — live in homes with inadequate or no internet access.
That's more than 45,000 students at a homework disadvantage, especially when digital curriculum and the use of Chromebooks or other devices by schools is on the rise.
Tom Rolfes, the education IT manager for Nebraska Information Technology Commission, estimated that about 100,000 Chromebooks are in use by schools — and students take many of those home to do homework.
In more urban communities, students can get internet access at public libraries after school and in the evening to finish their assignments. 
But in rural areas, library internet speeds are often just as bad as some homes. Nearly 82 percent of Nebraska's public libraries have internet speeds slower than the FCC's  minimum definition for household broadband — some significantly lower.
That's changing in Bancroft, Genoa, Imperial, Verdigre and Wymore thanks to a $25,000 grant to the Nebraska Library Commission from the Institute of Museum and Library Services.
The grant will allow the libraries to create designated "homework hot spots" with fast internet speeds using the school districts' network to help close the "homework gap."
It will be an additional internet source in those libraries, which means the existing Wi-Fi access is available for other patrons, Rolfes said.