Mary Reiman, who spent 36 years putting books into the hands of elementary, middle and high school students, is aiming younger.
Reiman and her Lincoln Public Schools colleague, Nancy Larimer, are heading up an initiative to encourage reading to children from the time they're born. 
That's a new emphasis for Reiman, who spent her time in public schools, the last 12 as LPS director of library services.
"This, for me, has opened up a whole other piece of the literacy puzzle and putting it together in ways I haven't thought of before," she said.
Much of the research on the benefits of reading to young children has been in brain development: Babies are born with 100 billion neurons, and by age 3 there will be 1,000 trillion connections shaped by their experiences. In other words, by age 3, a child's brain will be 85 percent of its adult size, and 90 percent by age 5, according to John Hutton, a partner on a national read-aloud campaign.
There's also the 30 million-word gap — a phrase coined by a 1995 study that found low-income children are exposed to 30 million fewer words than those from higher-income families.
While talking to your kids can help close that gap, experts now say reading is even more effective because it exposes children to a wider variety of words.
Contrast those stats with this: Just 48 percent of families below the poverty line read to their children daily, as do just 64 percent above the poverty line.
Reiman and Larimer are determined to change that.
"Here's what I love," Reiman said. "No one thinks this is a bad idea."
The two-year grant-funded initiative is building on the Lincoln City Libraries' "Read Aloud 15 Minutes A Day" project with the help of the Lincoln Children's Museum; the Midwestern African Museum of Art, Culture and Resource Center; the Nebraska History Museum; and the University of Nebraska State Museum.
The impetus for the grant comes from the early childhood arm of Prosper Lincoln, the community-wide initiative.
Much of the work will be planning events to "bring the museum and libraries outside their walls into the community" with children's reading events.
They'll initially focus on the high-poverty neighborhoods south of downtown, Reiman said, working with McPhee and Everett elementary schools and Park Middle School.
They'll also work with neighborhood groups and agencies that work with refugee and immigrant populations.
As part of the grant, 5,000 books will be distributed to families.
One of the most important keys to making lasting change, Reiman said, is helping busy parents understand why reading aloud to their children 15 minutes a day — consistently — is so important.
"Those are a precious 15 minutes," she said.
Cayden and kidneys
Cayden Hubbard, a Maxey Elementary fifth-grader when I wrote about him six years ago, is still singing.
Back then, he was magically transformed — with a little help from the Make-A-Wish Foundation — from a normal fifth-grader to sought-after pop star. A few months later, he got to meet two of his Maroon 5 idols and also brought down the house with his own performance at a Make-A-Wish event.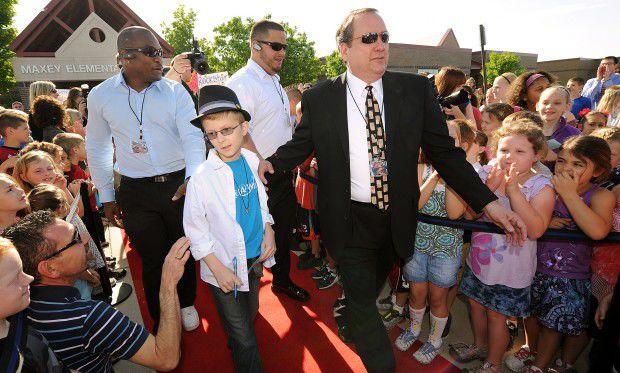 Now he's a junior at Southwest High School on track to graduate a year early. The brain tumor he's been battling since kindergarten was stable for many years but it's begun to grow again, and he'll have surgery in a couple of weeks so doctors can remove as much of it as possible.
His mom called recently, not just to update me about Cayden, but because of his dad, Carter Hubbard, who's on the wait list for a kidney transplant.
He has polycystic kidney disease, an inherited disorder where clusters of cysts develop on the kidneys, and undergoes home dialysis five time a week — while still working full time.
Jennifer Hubbard, Cayden's mom, said before her husband was on the transplant list she didn't realize people can donate a kidney and still live a healthy life with just one.
So far, she said, she and two other family members have tried unsuccessfully to be live donors for Carter.
So Carter is still among the 120,000 people in need of a new kidney, she said.
Jennifer figures if she didn't know about the possibility of being a live donor, others might not either.
She would love — obviously — to find a donor for Carter. But she figures lots of other people could benefit from those willing to donate.
"I think it's a good thing to get out," she said.
Many uses of duct tape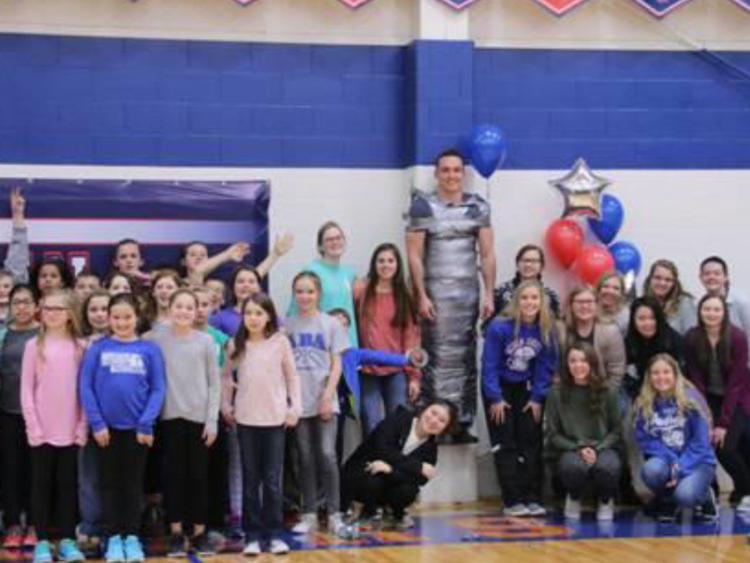 Zach Kassebaum, the enthusiastic new superintendent of Lincoln Christian, wants to boost enrollment.
He wants to boost enrollment so much he was willing to be duct-taped to the gym wall if his students shared Lincoln Christian's story on social media. Turns out students met the challenge, and Kassebaum ended up stuck to the wall.
Principals have been known to "encourage" their students by suffering any number of indignities: pies in the face, kissing farm animals, spending nights on a roof, getting their heads shaved.
And while I've always been impressed by the many uses of duct tape (including designing prom attire out of the sticky plastic), this may be a new one in the principal department.