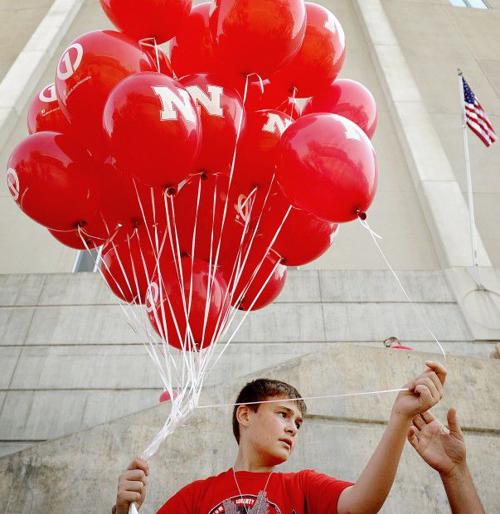 An Omaha man is suing the University of Nebraska in an attempt to curb the balloon release tradition that happens at Husker football games, citing a 1976 federal law governing waste disposal.
In a lawsuit filed in U.S. District Court Tuesday, Randall Krause said the mass balloon release results in the open dumping of solid waste, which is prohibited under the Resource Conservation and Recovery Act.
Over the last half century, Krause alleges in his lawsuit, NU has promoted a balloon release during home Husker football games in the fall after the team scores its first points in which thousands of spectators take part.
After the balloons are released, they are "carried away by the wind and forces of nature," Krause said, traveling beyond university property and potentially landing hundreds or thousands of miles away.
"Husker balloons can even land in the Great Lakes, Gulf of Mexico and Atlantic Ocean," the lawsuit states.
Because they no longer serve their purpose of "enhancing the fan experience" once released, Krause argues the balloons have "become solid waste the moment they are out of sight of the fans."
The helium-filled balloons themselves, made of latex rubber, retain elasticity for eight to 10 weeks when exposed to air and more than five months when submerged in water, while a four-foot-long polyurethane ribbon tied to the balloon stem is not biodegradable.
Krause said the ribbons become "a serious threat to wildlife through entanglement," while the latex balloons can be mistaken for food and eaten, which also harms the animals, the suit states.
As part of the lawsuit, Krause listed 60 endangered animal species allegedly put in danger due to the balloon release.
The lawsuit also said small children are at danger of eating the popped balloons after they land and choking or suffocating.
Krause, who wrote the complaint himself, is asking the court to "declare that the mass balloon releases during football games at Memorial Stadium result in the open dumping of solid waste, which is prohibited" under the Resource Conservation and Recovery Act.
He is also seeking an injunction to prevent the university from promoting the release during football games.