The Lincoln Board of Education on Tuesday took the first formal step toward a Feb. 11 special election on a $290 million bond issue to build two smaller high schools, athletic complexes and an elementary school.
Actually, the board took the first three steps: Consideration of the bond resolution, which includes the call for the special election; approval of an updated 10-year plan, a list of the bond projects, as well as all the other projects the district can't afford yet; and the purchase of two sites for the new high schools.
The board's final vote on all three proposals will be Dec. 10. After that, the Lancaster County election commissioner will decide whether to hold a mail or traditional election, though it's likely to be a mail-in election, as was the case in 2014.
There was little comment from the board, which board member Annie Mumgaard said was because the process leading to this point has been full of time for comments and questions. 
Board member Don Mayhew agreed. 
"We worked the process and we came up with a very strong proposal ... and we will ask the community for their support."
The process began in earnest two years ago, when the district brought together community members for a high school task force studying the size and number of schools and programming needed.
Several lightly attended public forums followed and in December 2018, district officials released a tentative plan, which included $334 million in projects.
That document served as a starting point for a superintendent's advisory committee — another group of community leaders and staff brought together in January to make recommendations on the next bond issue. That group came up with recommendations totaling $461 million.
The school board got those recommendations in August and with the help of district officials, pared it down to $290 million, an amount that takes advantage of recently retired bond debt that will allow the district to pay off a new bond issue without raising the tax rate.
The district also hammered out two purchase agreements for land in the northwest and southeast parts of the city where it plans to build two high schools.
If the board approves the purchase agreements Dec. 10, the district will buy 144 acres near 70th Street and Saltillo Road, just north of the planned South Beltway, for $3.6 million, and 118 acres along Northwest 48th Street just north of Interstate 80 for $5.8 million.
The sites are considerably larger than those on which the district built its two newest high schools — Southwest and North Star — because it also plans to build two athletic and activities complexes to relieve increasingly difficult sports scheduling issues at Seacrest Field and Beechner Athletic Complex.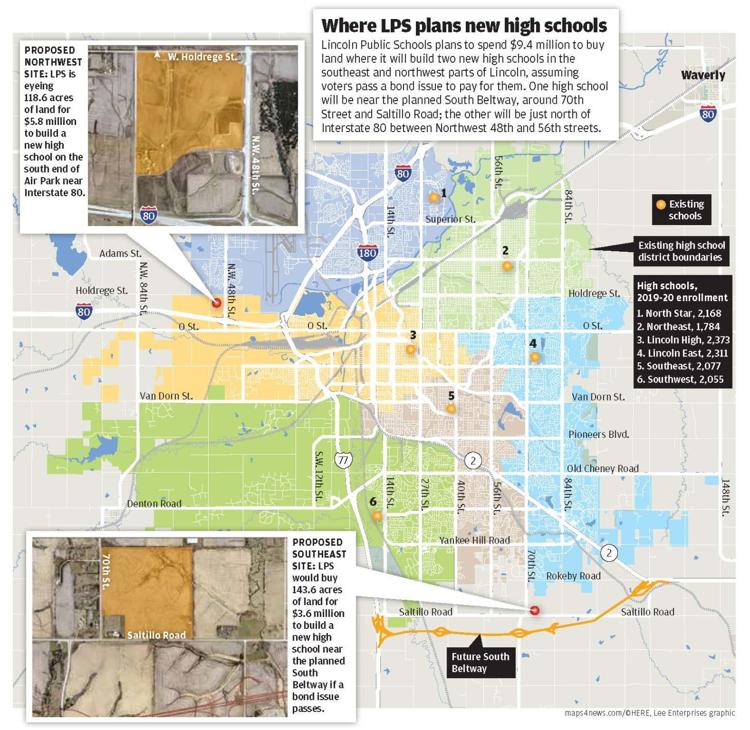 You have free articles remaining.
The northwest site would have a football/track stadium and baseball fields, the southeast site fields for soccer and softball. The bond proposal includes $13 million for those facilities, with an additional $11 million to come from private donations or partnerships, including plans to add artificial turf to existing high school practice fields.
LPS Operations Director Scott Wieskamp said a portion of the land could also be used for other district or community buildings in the future.
"I believe our community believes in partnerships and long-term planning," he said. "It could become a campus where other community facilities or district facilities could land. If we don't need it we surplus it and sell it."
The two high schools are the most high-profile of the projects and would be built for 1,000 students apiece, but with core facilities so that they could be expanded to handle double that amount, the size of the six existing high schools.
If the bond issue passes, the northwest high school would open in 2022, the southeast one in 2023. Given the need to deal with high school overcrowding at some point, the land deals will go through even if the bond issue fails, district officials said.
In addition to the high schools and athletic facilities, the bond issue would pay for a new elementary school in northeast Lincoln at 102nd and Holdrege streets.
* A new wing at Arnold Elementary School — or a freestanding building on the site — for preschoolers and kindergartners.
* An addition to Wysong Elementary, an eventuality the district planned for when it built the newest elementary school.
* Classroom and gym additions at Scott Middle School, as well as gym or multipurpose additions at Dawes, Lefler, Lux, Mickle and Schoo middle schools.
* Adding geothermal heating and air-cooling systems to Park Middle School and Everett Elementary, in addition to other code updates and renovations.
* Updates to art, science, industrial technology and family consumer science spaces at existing middle and high schools.
* $10 million for additional land purchases and $17.5 million for ongoing infrastructure needs.
The 10-year plan, which the board considered Tuesday and likely will approve Dec. 10, includes the bond projects, as well as the other recommendations — as yet unfunded — from the superintendent's advisory committee. The projects include three additional elementary schools, two middle schools and an addition to Kloefkorn Elementary.
The long-term projects on the 10-year plan also include updates or additions to various other schools and another round of heating and cooling system updates to schools where geothermal systems were added over the past two decades.
Any savings from construction projects or bond refinancing would go toward some of those projects.