Lincoln Public Schools students' ACT scores dropped for the second consecutive year, a trend district officials said they have tried to address by changing what's taught and emphasized in high school English, math and science classes.
The initial results of those changes are heartening, said Matt Larson, associate superintendent of instruction.
While the composite score for 2019 graduating seniors dropped for a second year, the scores of this year's juniors — the class of 2020 — ticked upward.
LPS officials are looking at two sets of results: The average test scores of the class of 2019, released Wednesday by ACT, and the performance of juniors on the ACT, which is now given as a state assessment.
Nebraska officials released state and national ACT scores earlier this month.
In 2017-18, the percent of LPS high school juniors proficient in English Language Arts, math and science all dropped from 3 to 6 percentage points from the year before. The juniors who took those tests made up the class of 2019, and their average ACT composite scores as graduating seniors also are lower.
LPS began making changes to the content in English, math and science classes, focusing more on the content covered in the ACT. In the next year's state test results, the percentage of juniors proficient on all three subjects improved.
Those juniors are in the class of 2020, and Larson said he's hopeful composite scores for that class also will begin to rise.
"Last year we got juniors' and graduating seniors' scores and we noticed a decline," Larson said. "Our curriculum department went to work to more tightly align curriculum with the ACT assessment. There's every indication that those efforts will make a difference in turning our scores around."
LPS began giving all high school juniors the ACT in 2012, as part of a state pilot. In 2017,  Nebraska began giving the ACT to all juniors and using the college admissions test as part of its statewide assessments.
States that give the ACT to all students typically have lower scores because more students take the test, not just those who know they are heading to college.
LPS' composite scores dropped the first year it gave the ACT to all students — from 22.9 to 20.5. It rose to 20.7 and held steady until last year, when the composite score dropped to 20.3.
The ACT tests students in reading, English, math and science. A perfect score is 36, which, only a fraction of the more than 1.8 million students who take the test achieve. The University of Nebraska requires a composite score of 20 for admission.
The composite score for Nebraska was 20 this year, slightly lower than the 20.7 national average, but among the highest of states that give the ACT to all its juniors.
Nationally, just 52% of high school seniors took the test. In Nebraska, 27,744 graduates took the test this year, 200-some more students than last year.
At LPS, the average scores for individual subjects were: 19 for English, 19.7 for math, 20.2 for reading and 20 for science. All those averages were down from the year before, and slightly lower than state averages.
While most individual high schools saw a drop in scores, Lincoln East maintained an average score of 22.6, the highest in the district, and Southeast's score went up from 20.7 to 20.8.
Northeast saw the biggest drop, from 18.7 to 17.8, and North Star had the lowest composite score at 17.7.
Making sure what's being taught in classes lines up with what's being tested plays an important role in how students perform, as does the number of upper-level classes students take.
Nebraska students who took high school physics got an average score of 22.4 compared with 19.2 for those who didn't. Students who took three or more years of math got an average score of 20.7, compared with 15.6 for those who didn't.
Even if students don't plan to get a four-year college degree, taking advanced classes increases their options and are necessary for many two-year technical degrees, Larson said, and officials will continue to encourage students to enroll in such classes.
"Our graduating seniors' ACT scores are not where we want them to be and we will continue to work on that," he said. "We believe we are on the right track."
Each Lincoln school's ranking in state evaluations
LPS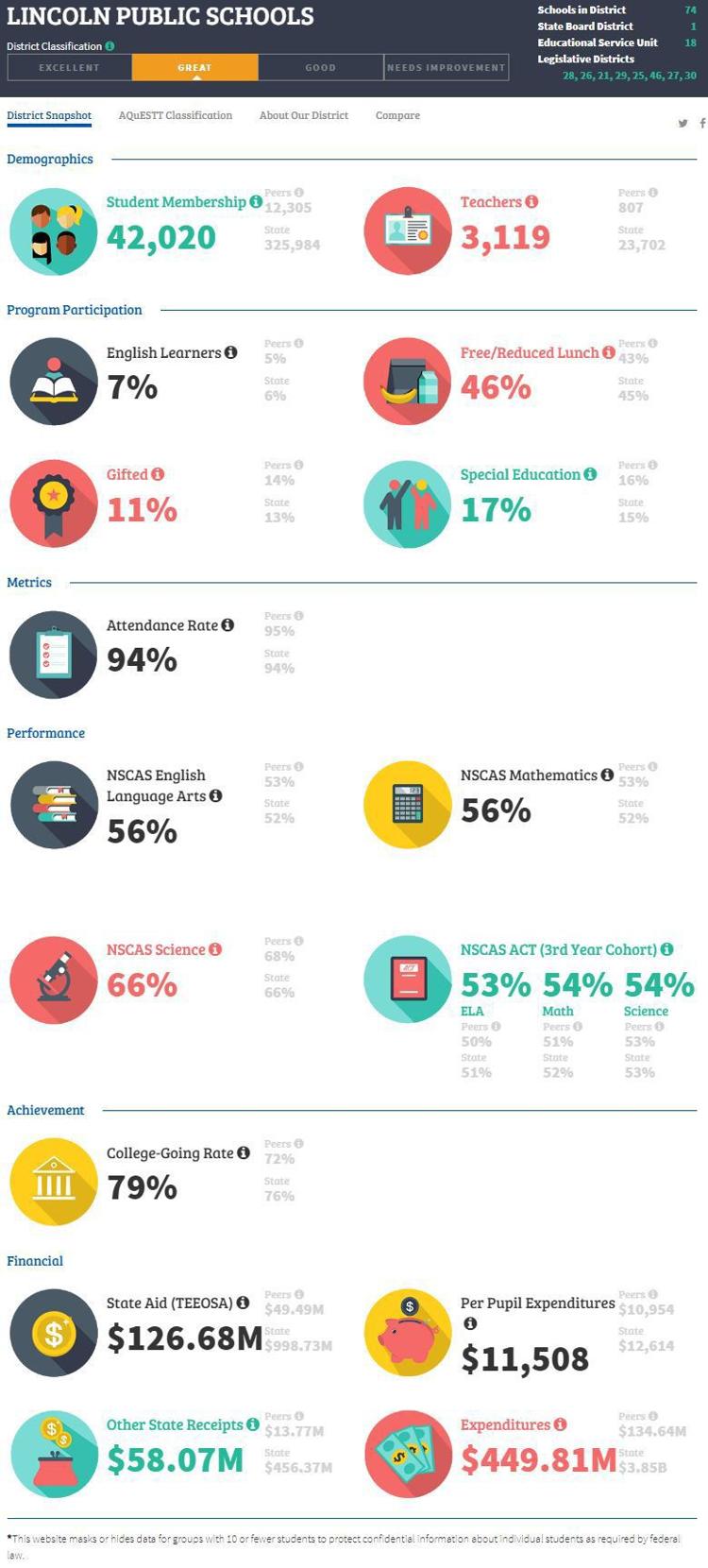 Adams Elementary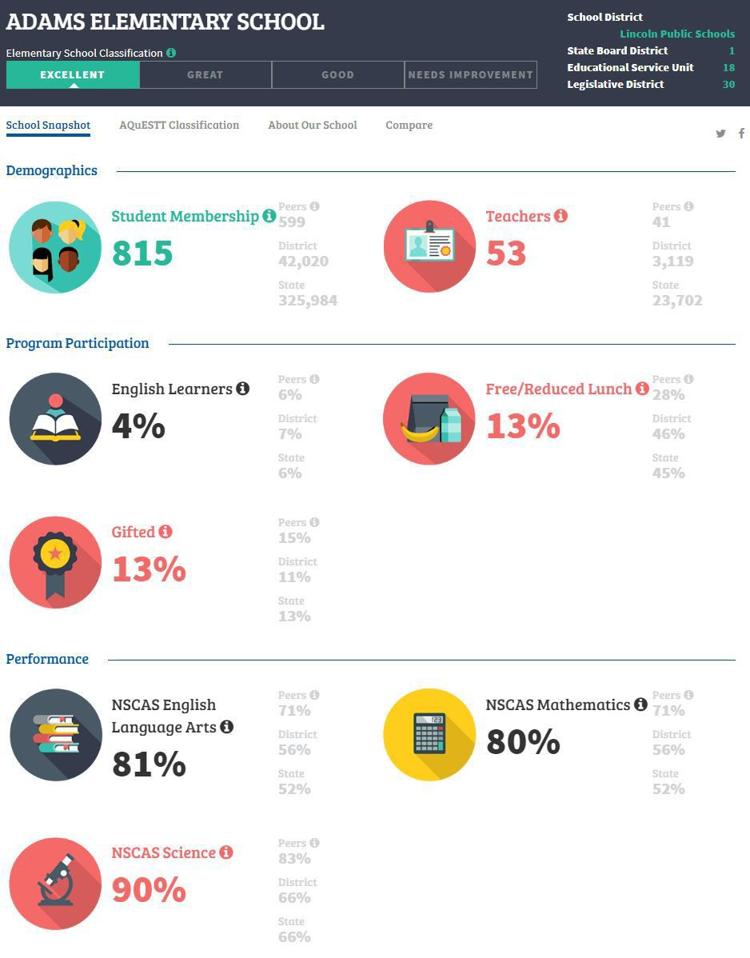 Arnold Elementary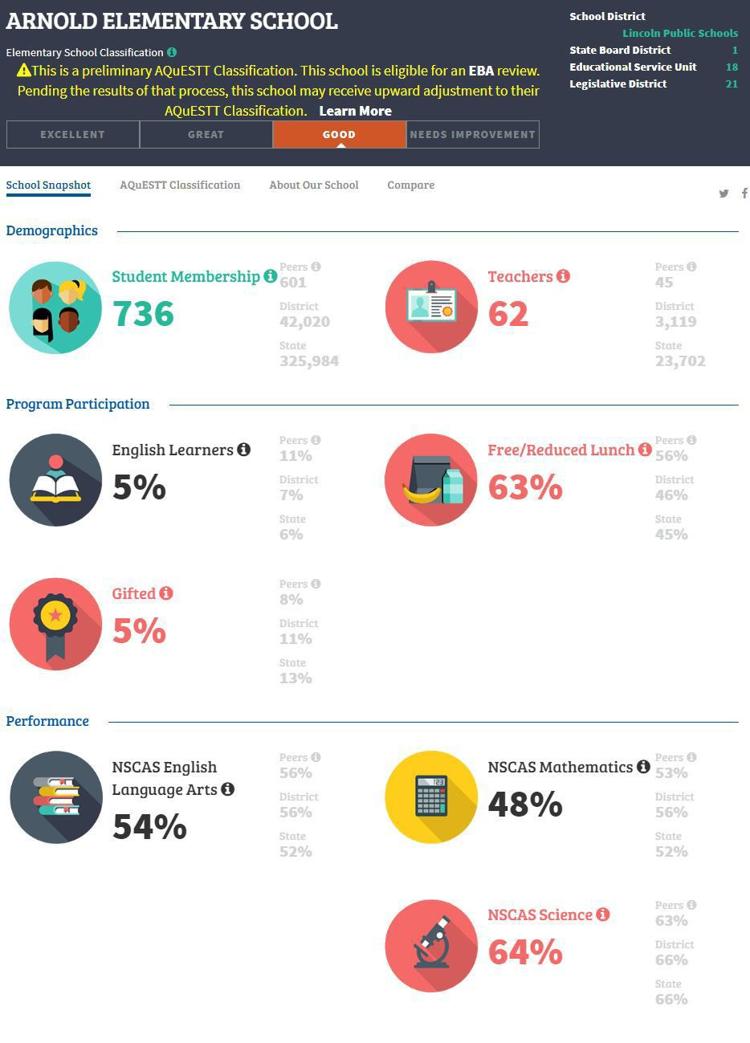 Beattie Elementary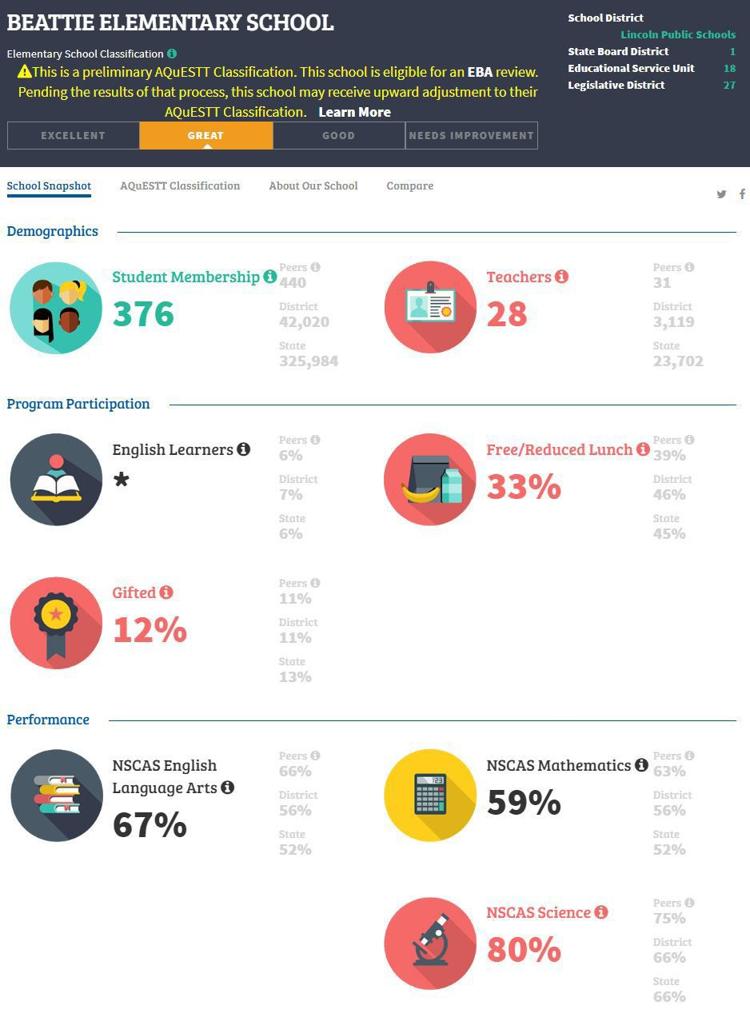 Belmont Elementary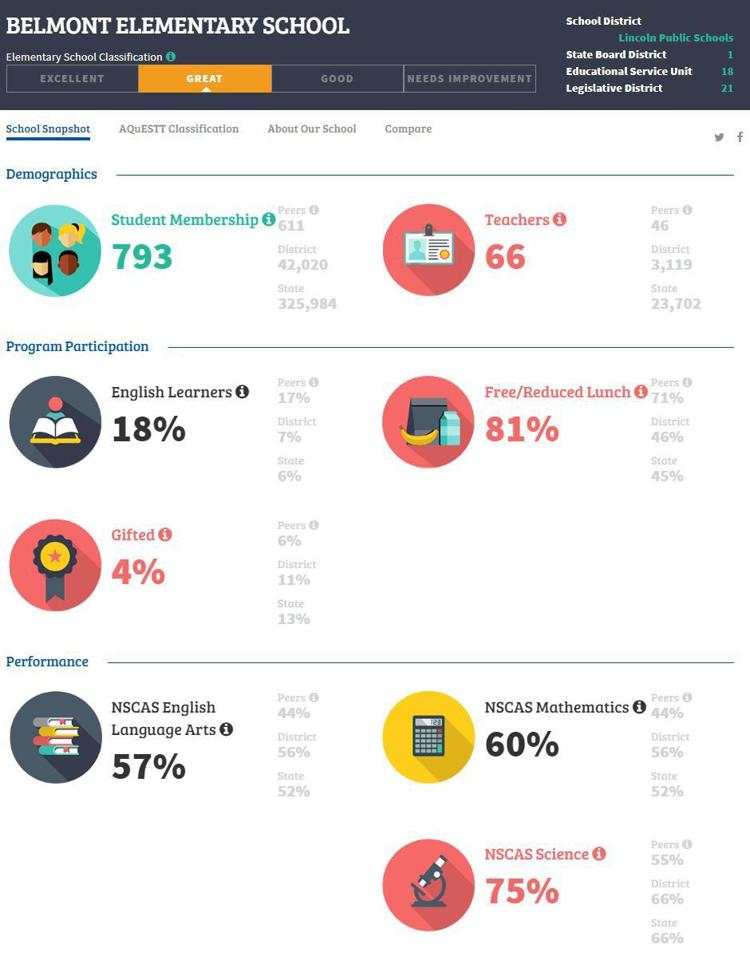 Brownell Elementary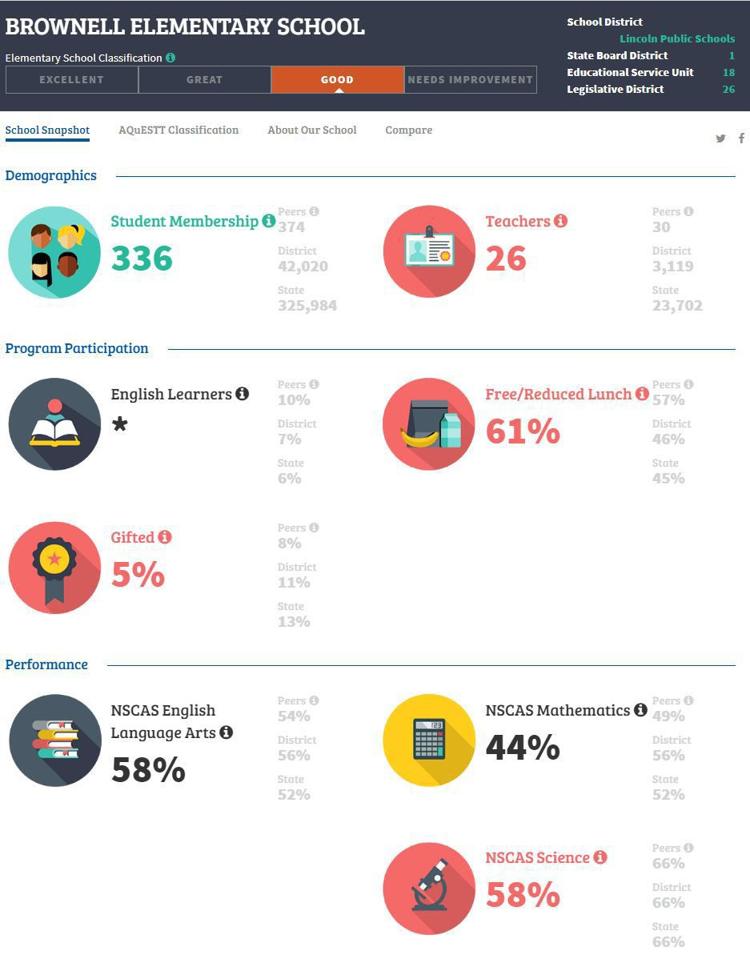 Calvert Elementary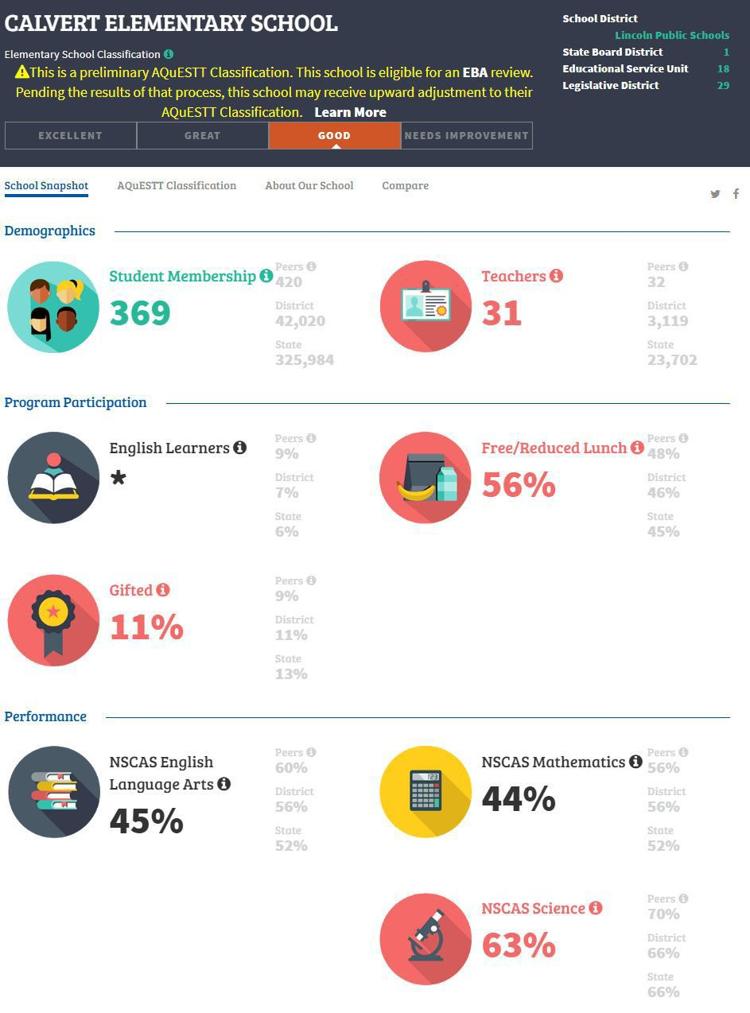 Campbell Elementary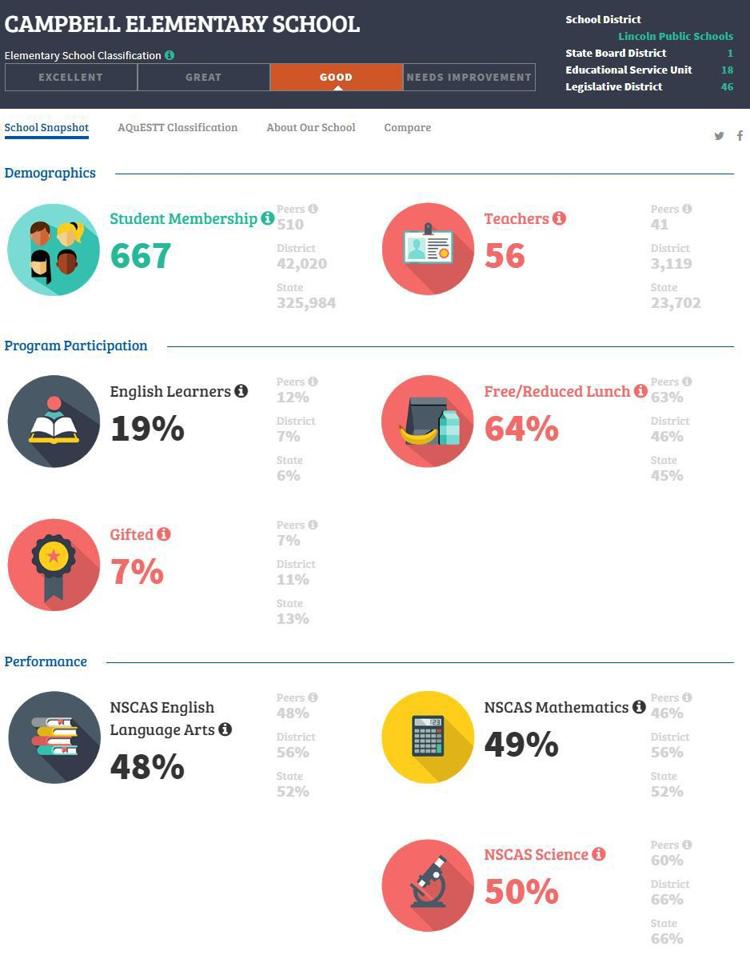 Cavett Elementary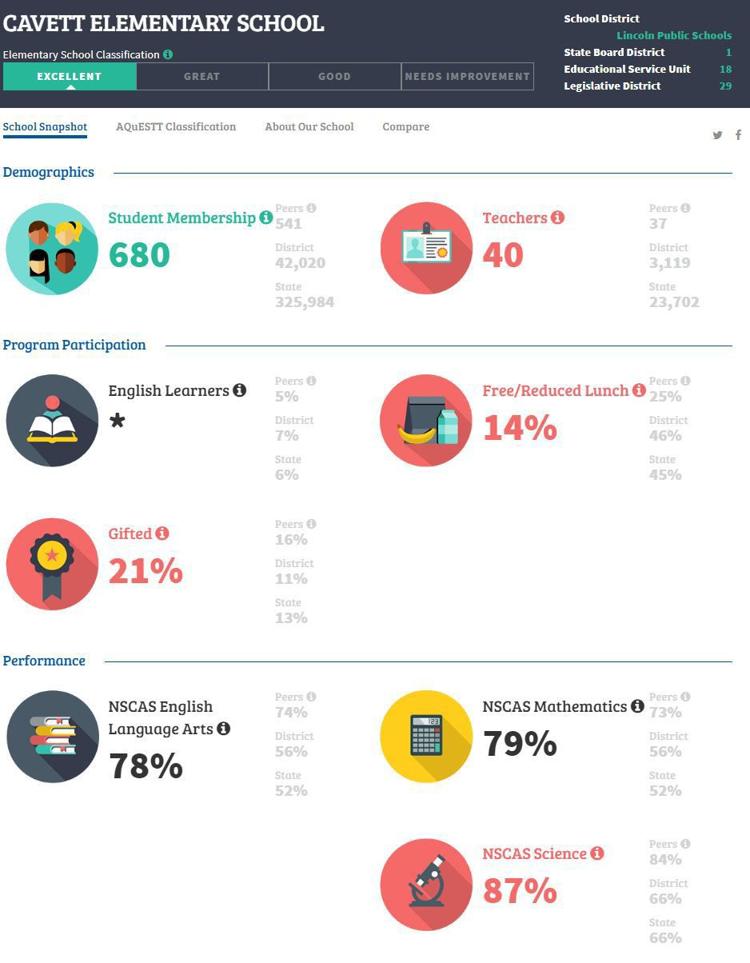 Clinton Elementary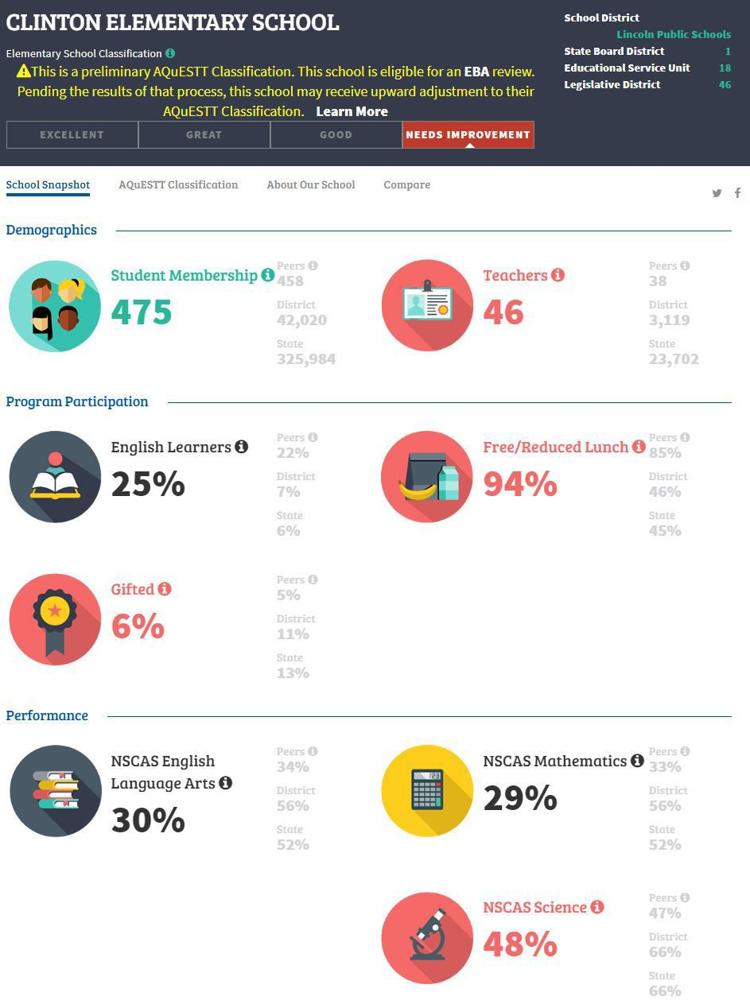 Eastridge Elementary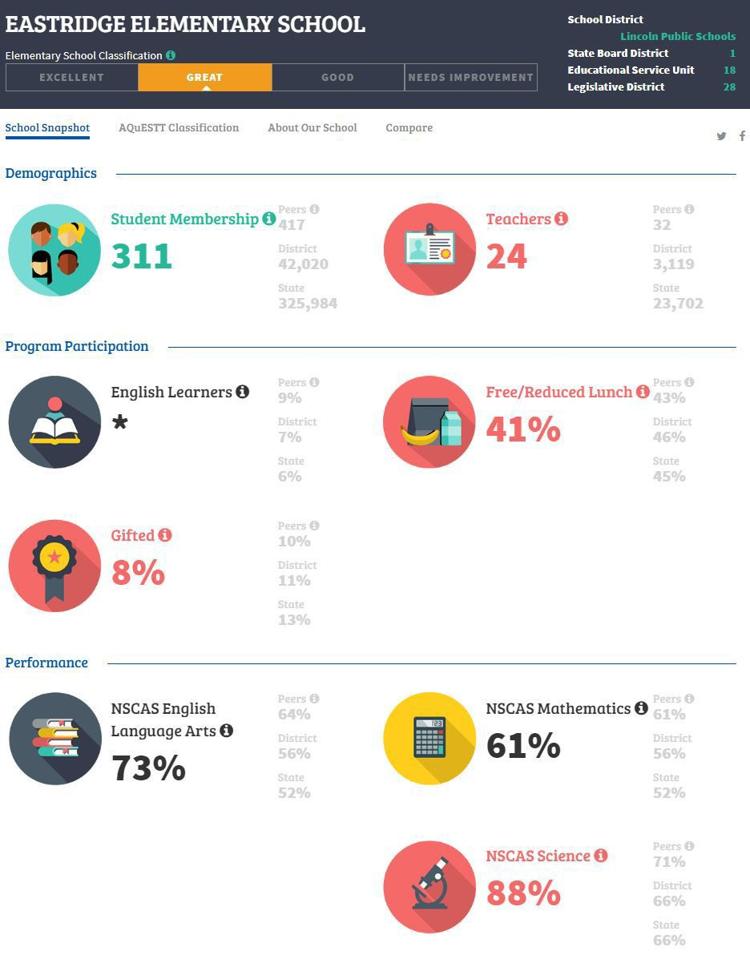 Elliott Elementary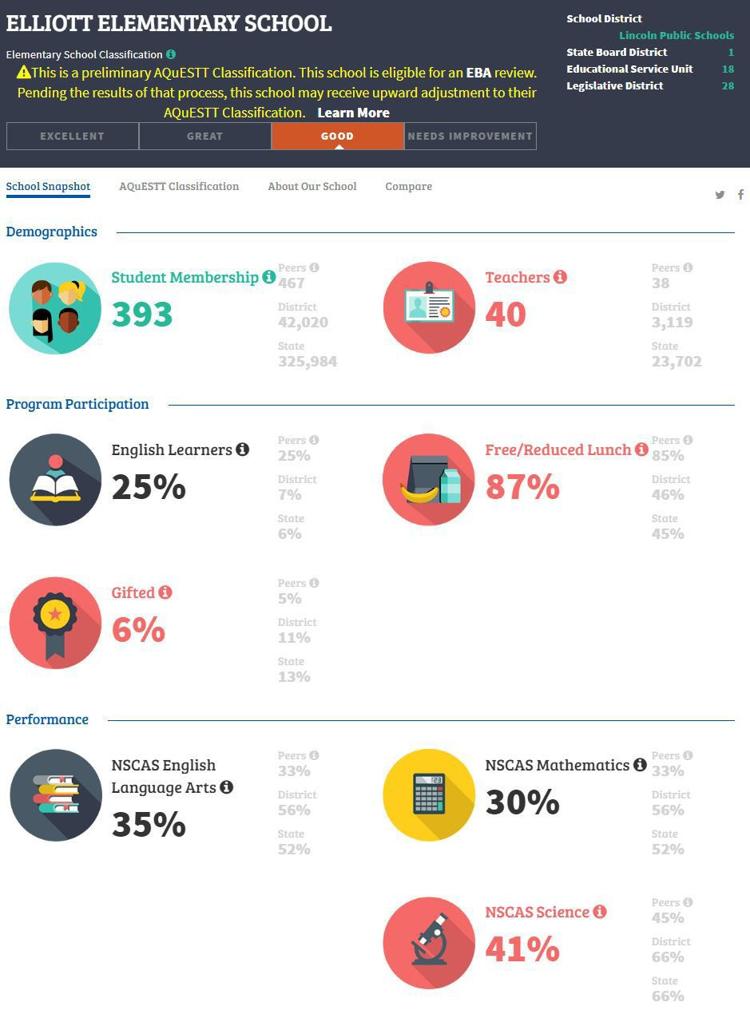 Everett Elementary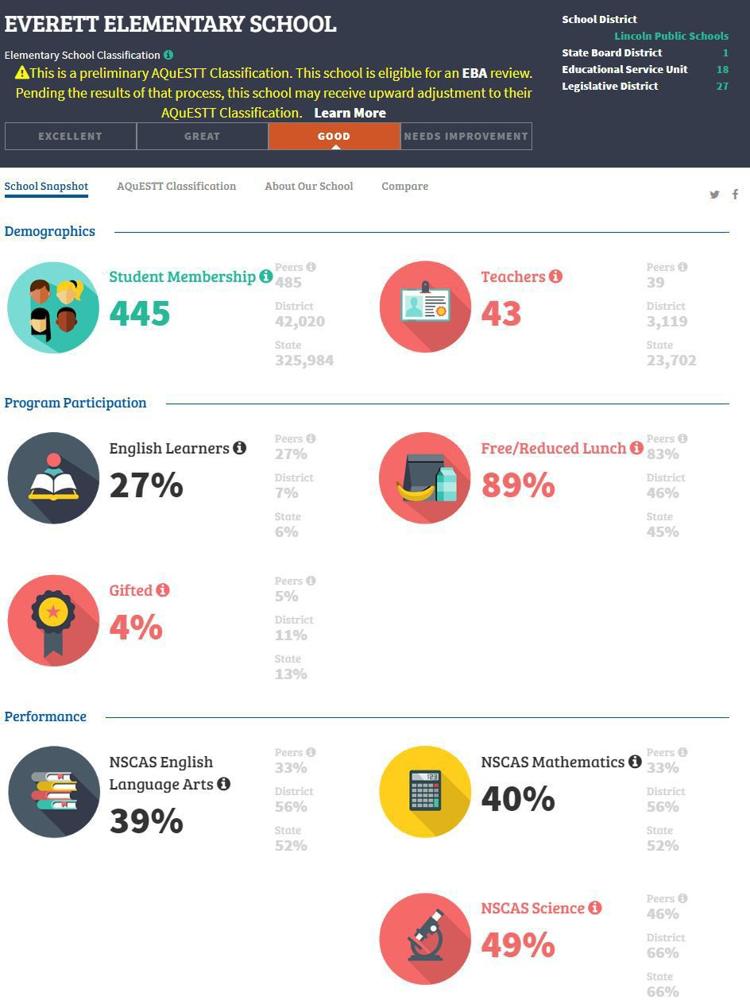 Fredstrom Elementary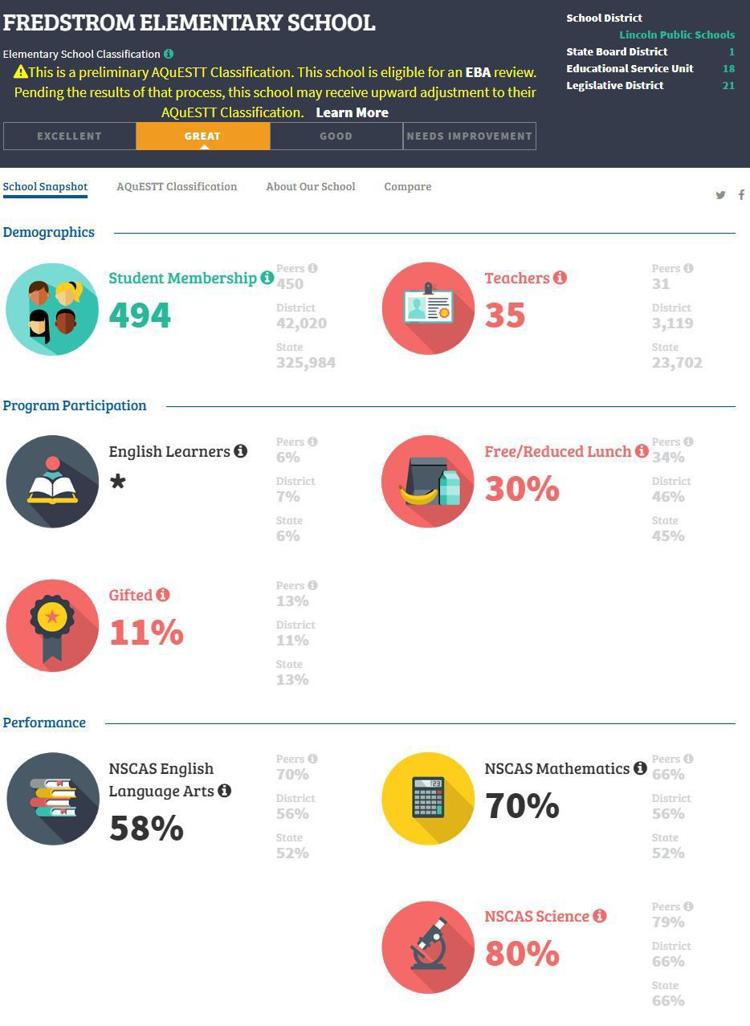 Hartley Elementary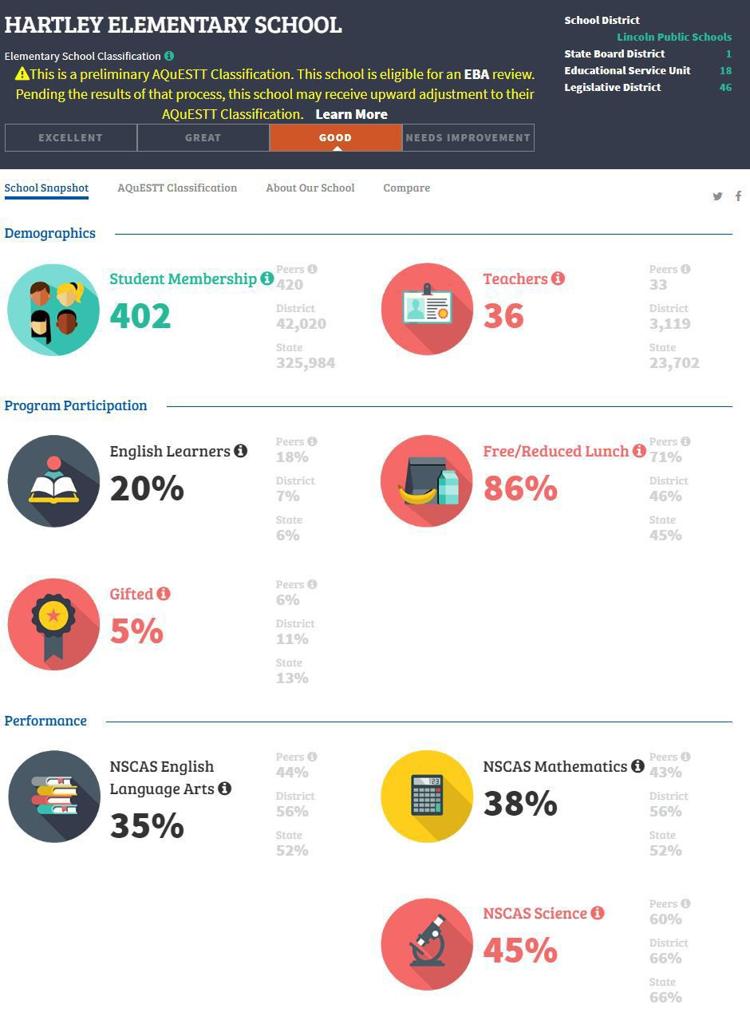 Hill Elementary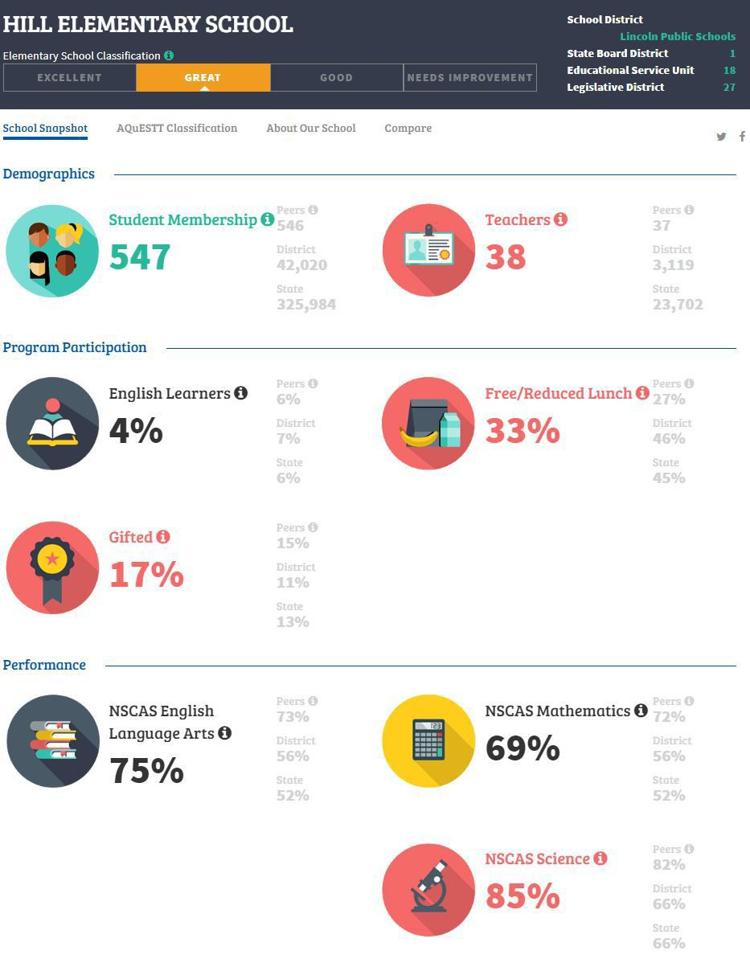 Holmes Elementary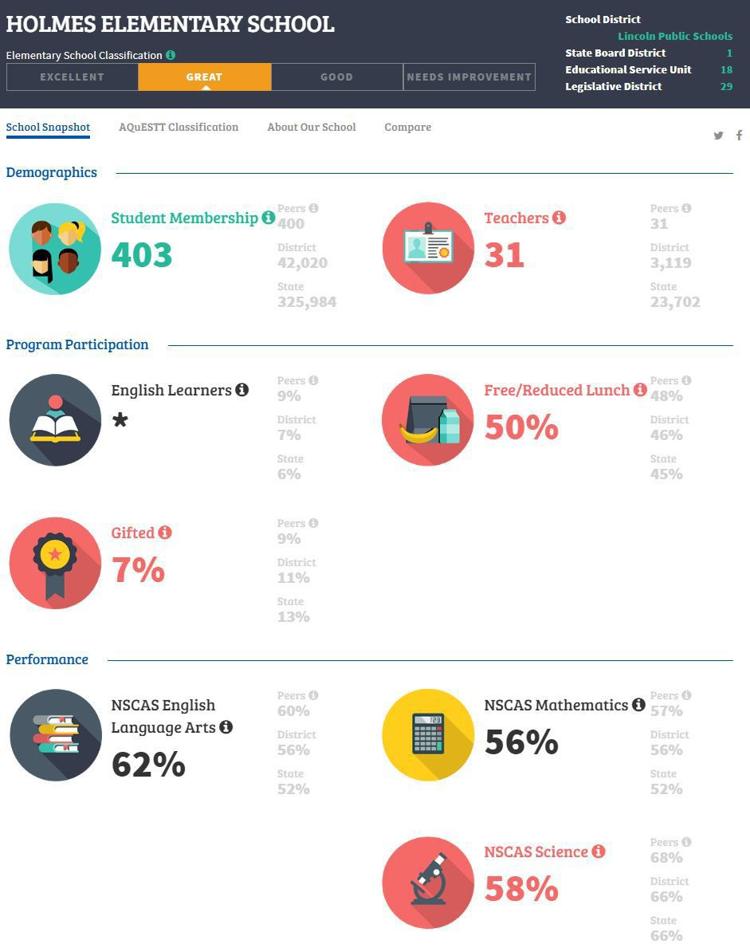 Humann Elementary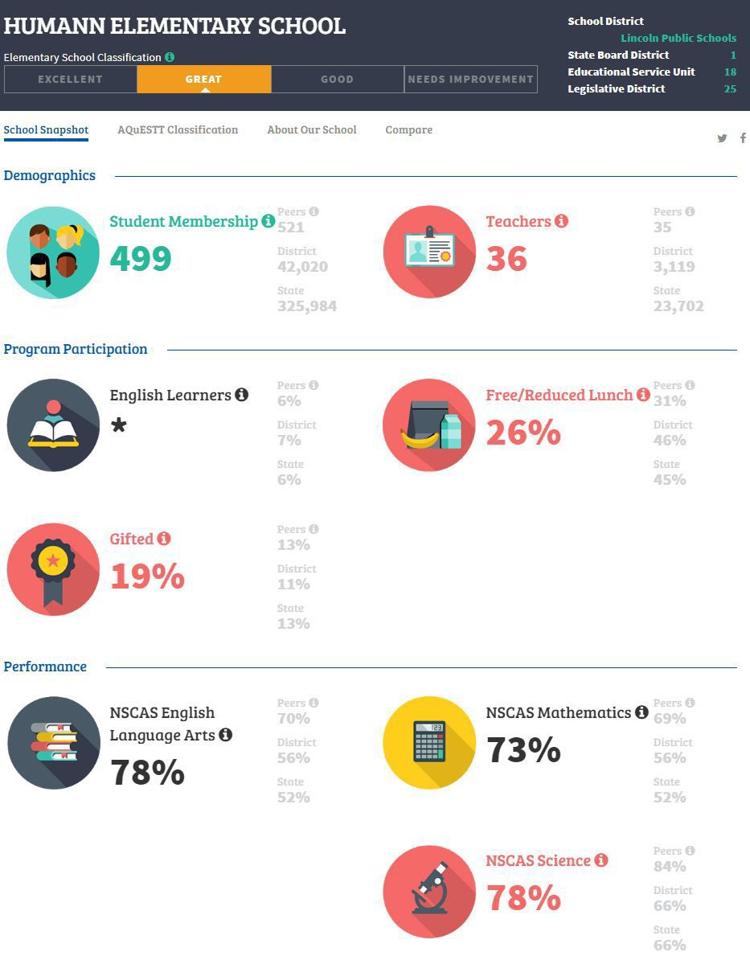 Huntington Elementary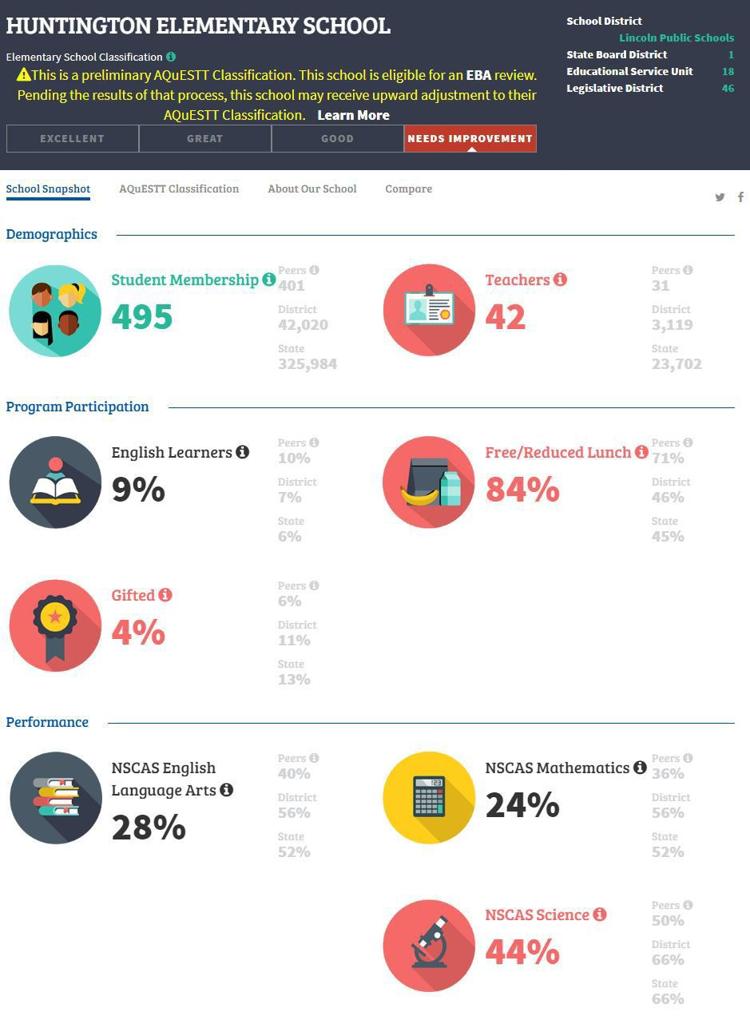 Kahoa Elementary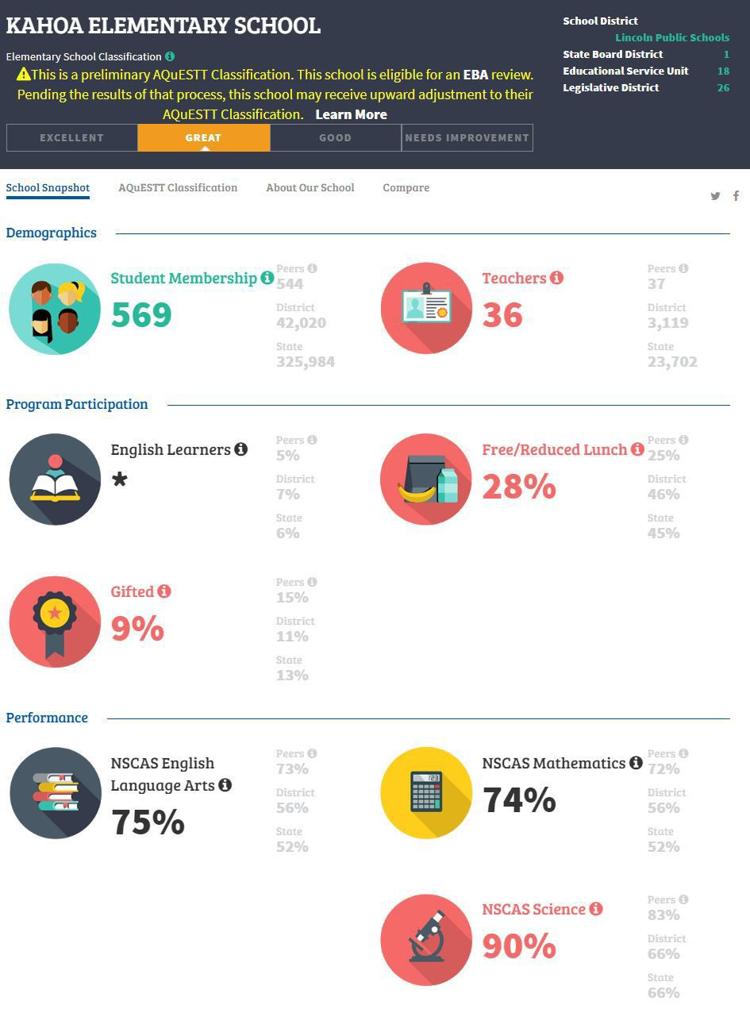 Kloefkorn Elementary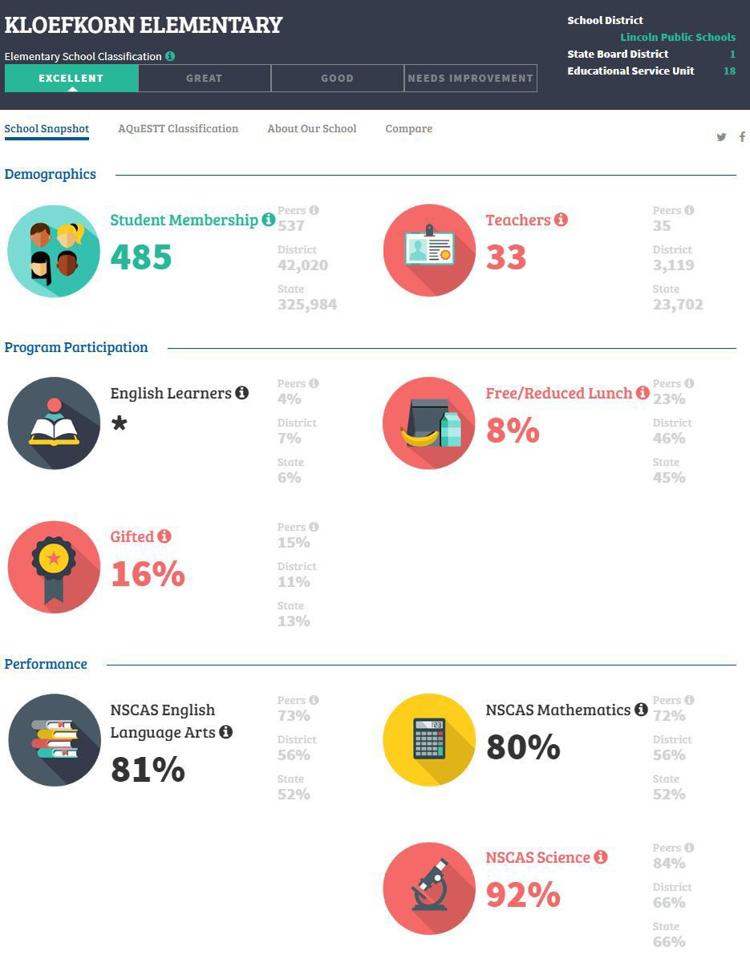 Kooser Elementary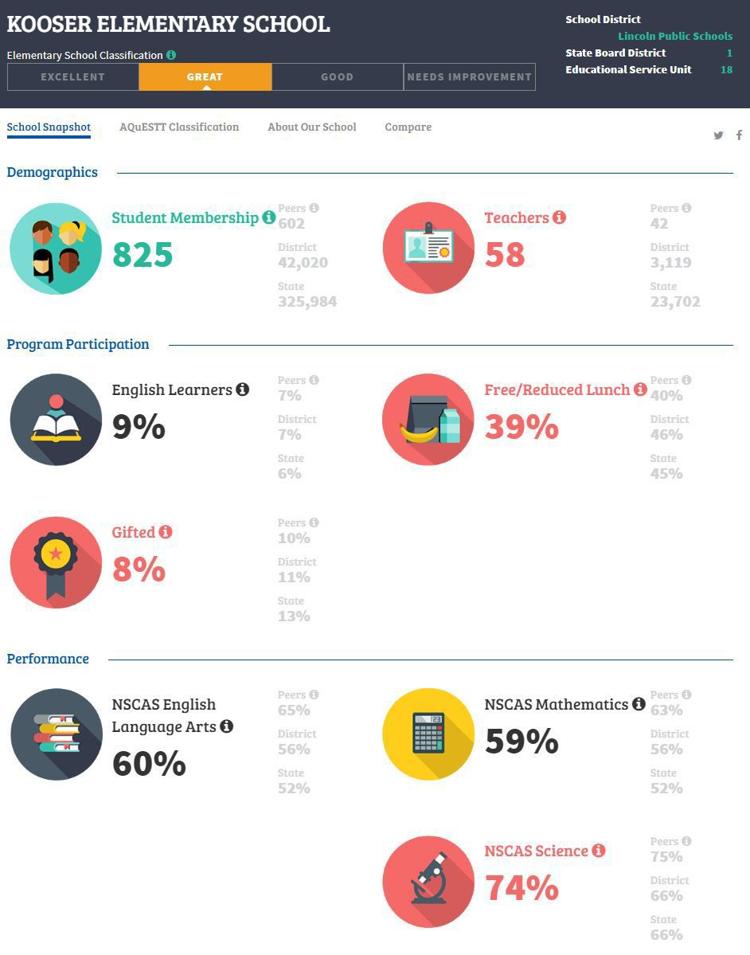 Lakeview Elementary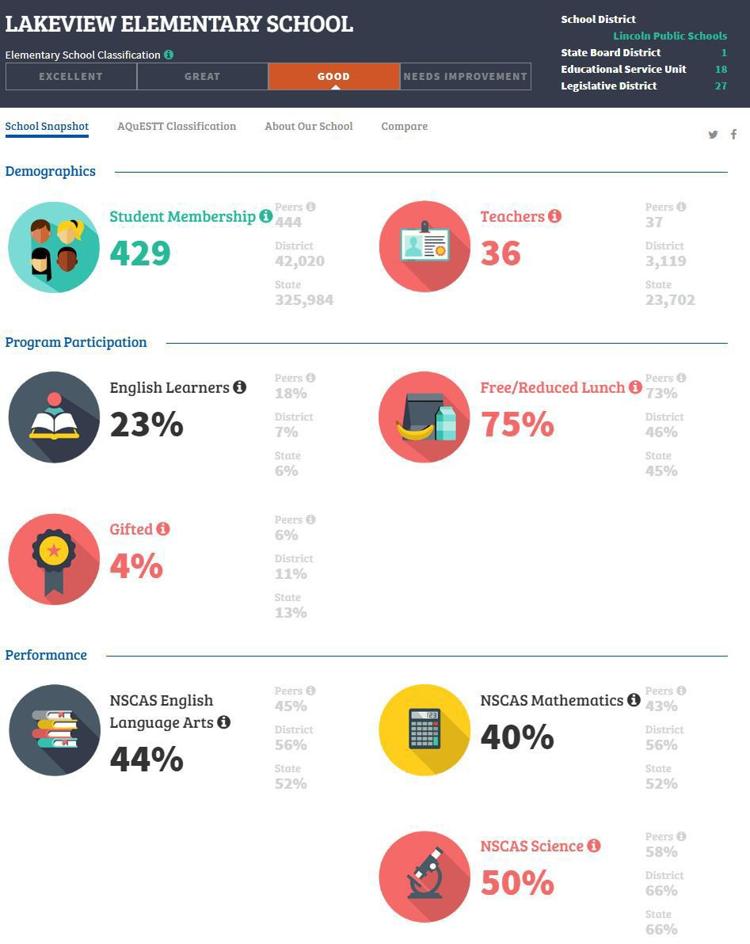 Maxey Elementary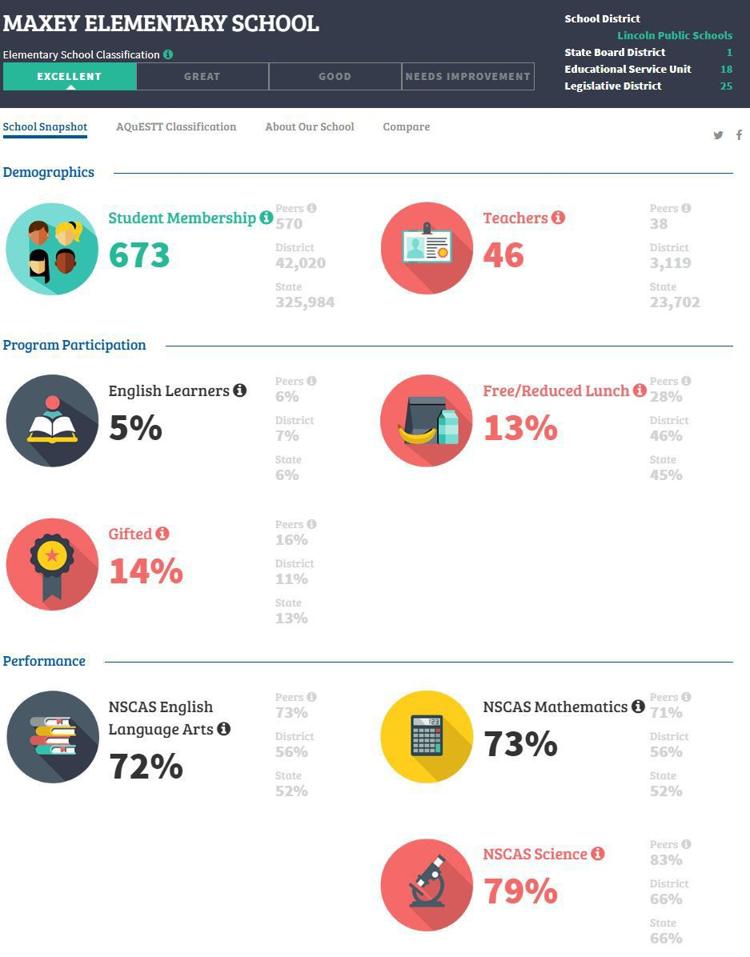 McPhee Elementary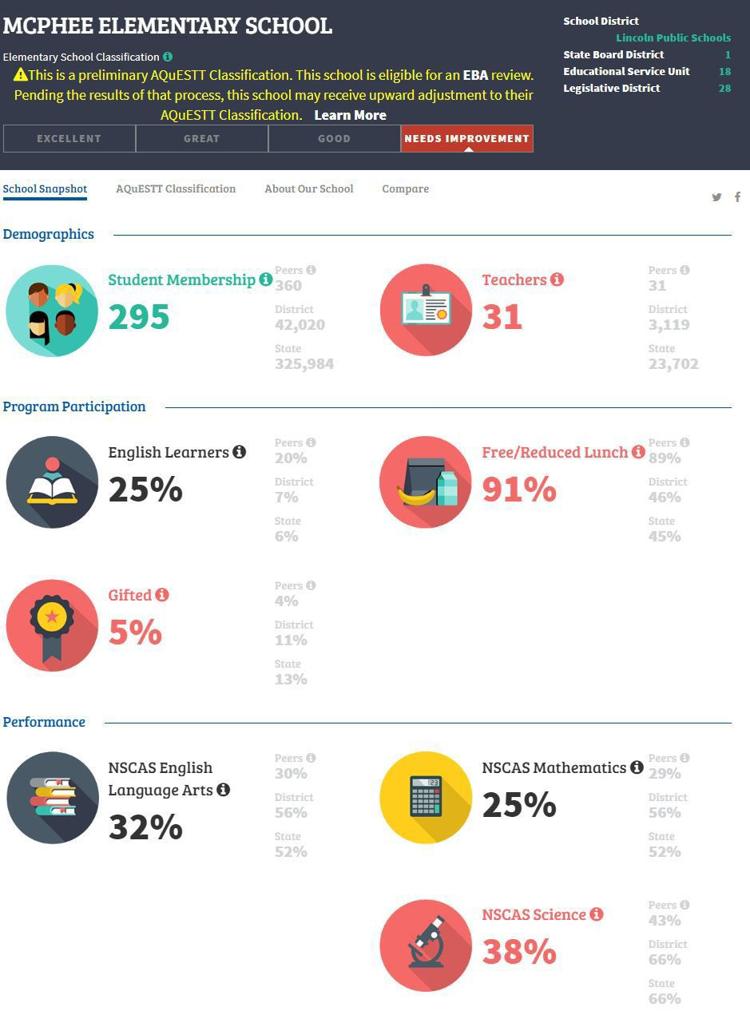 Meadow Lane Elementary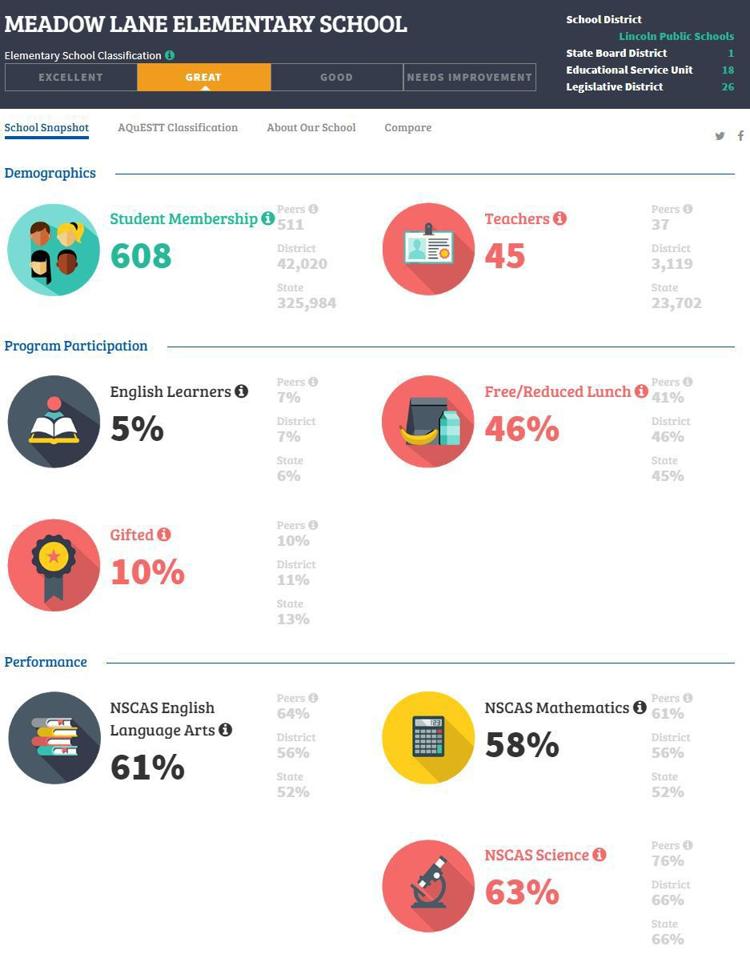 Morley Elementary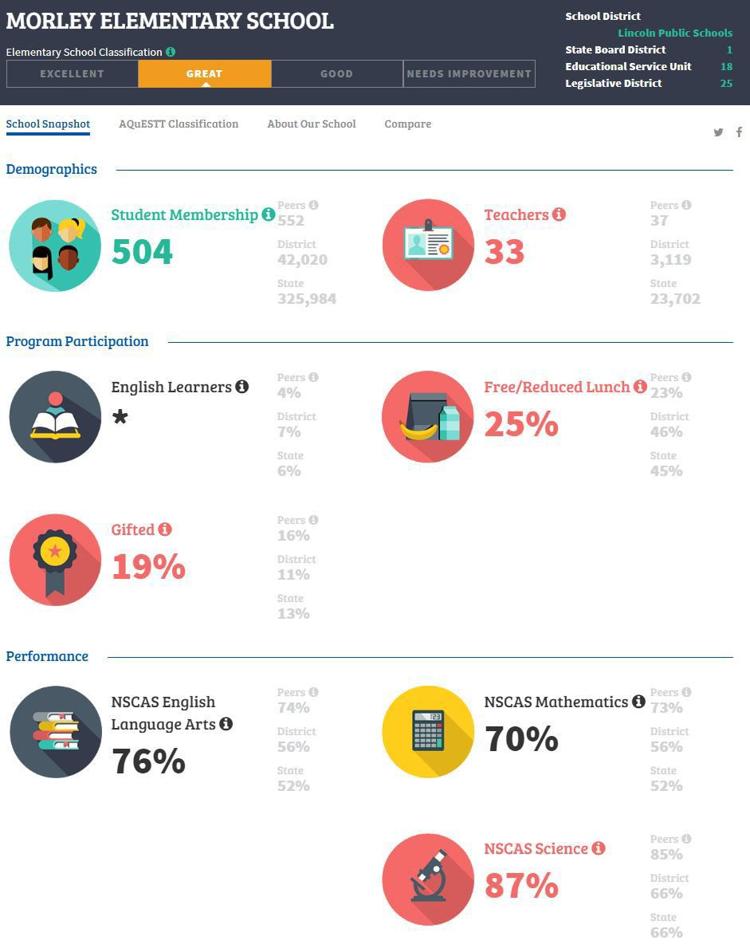 Norwood Park Elementary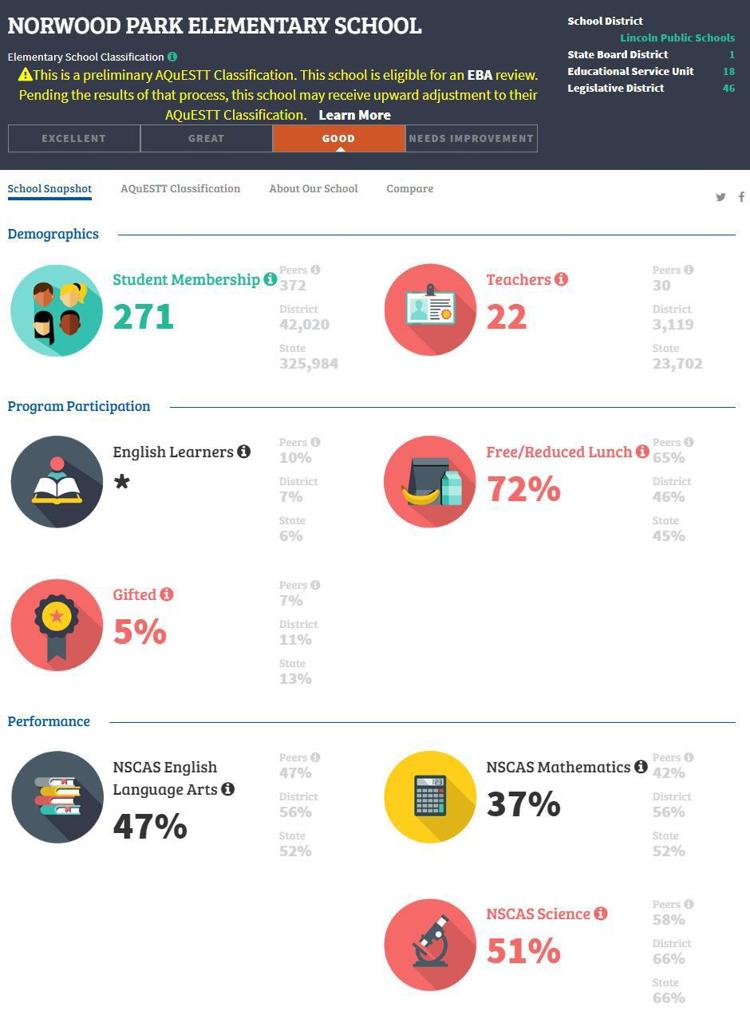 Pershing Elementary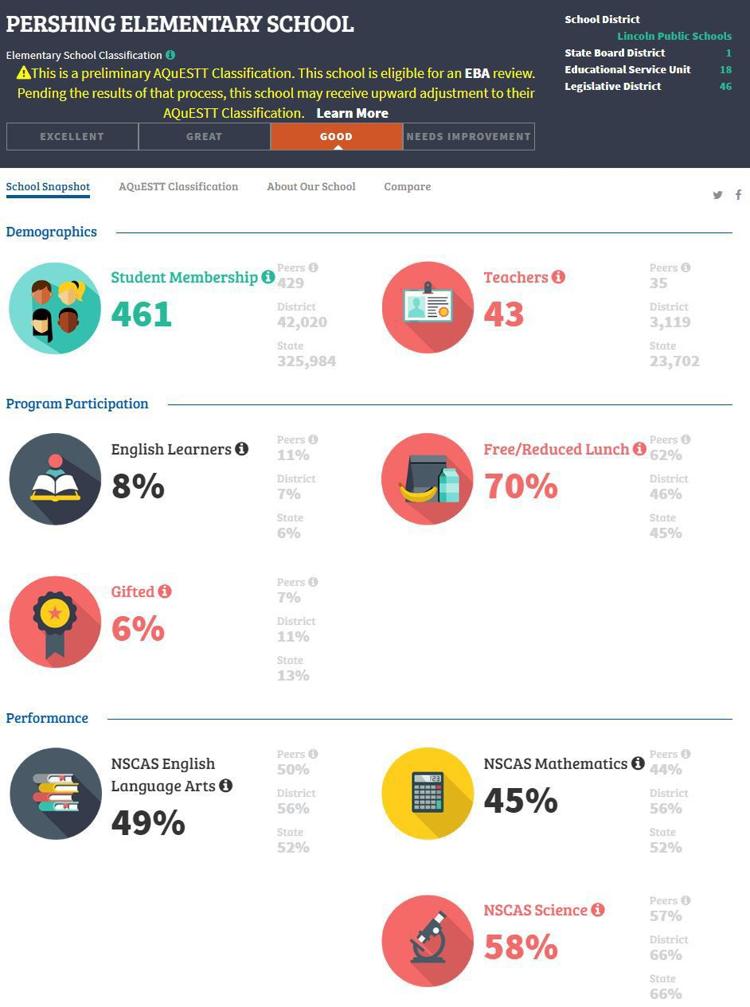 Prescott Elementary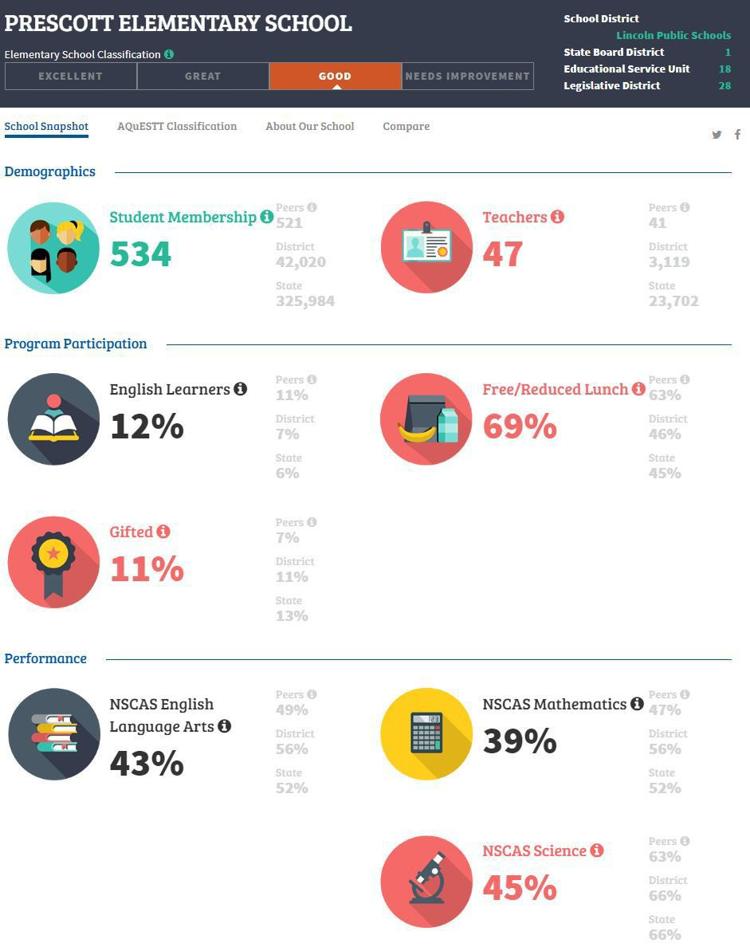 Pyrtle Elementary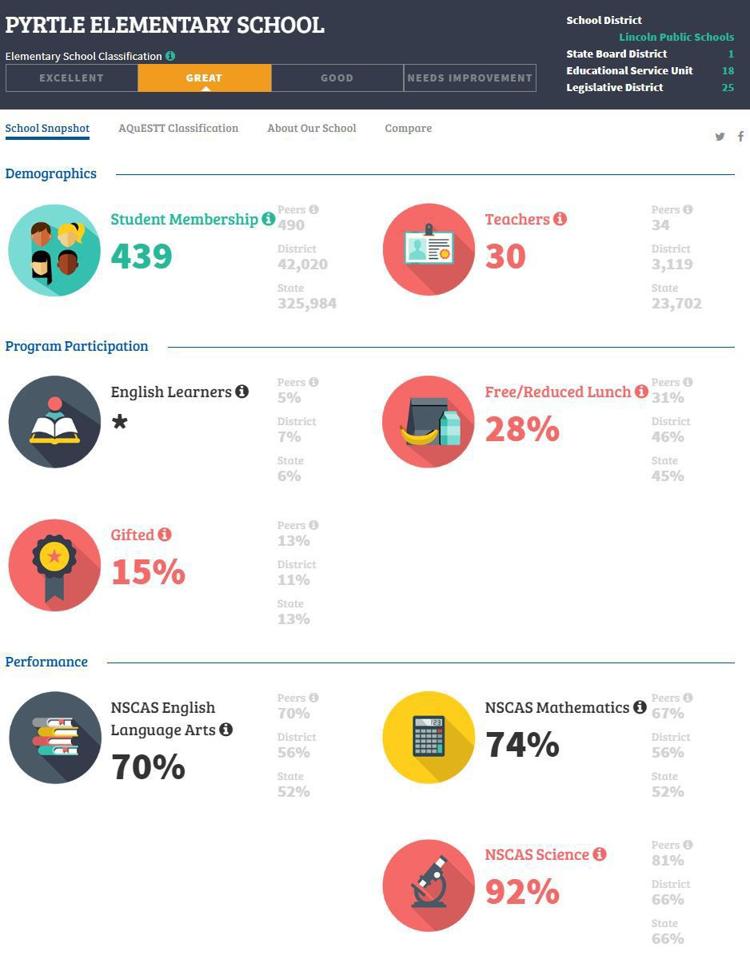 Randolph Elementary
Riley Elementary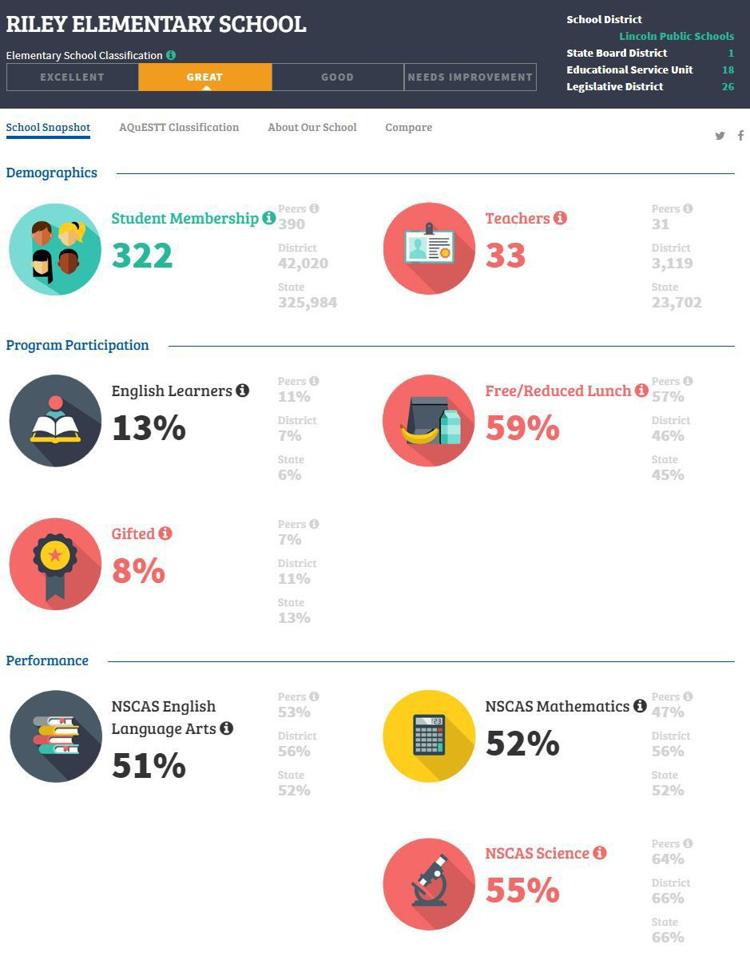 Roper Elementary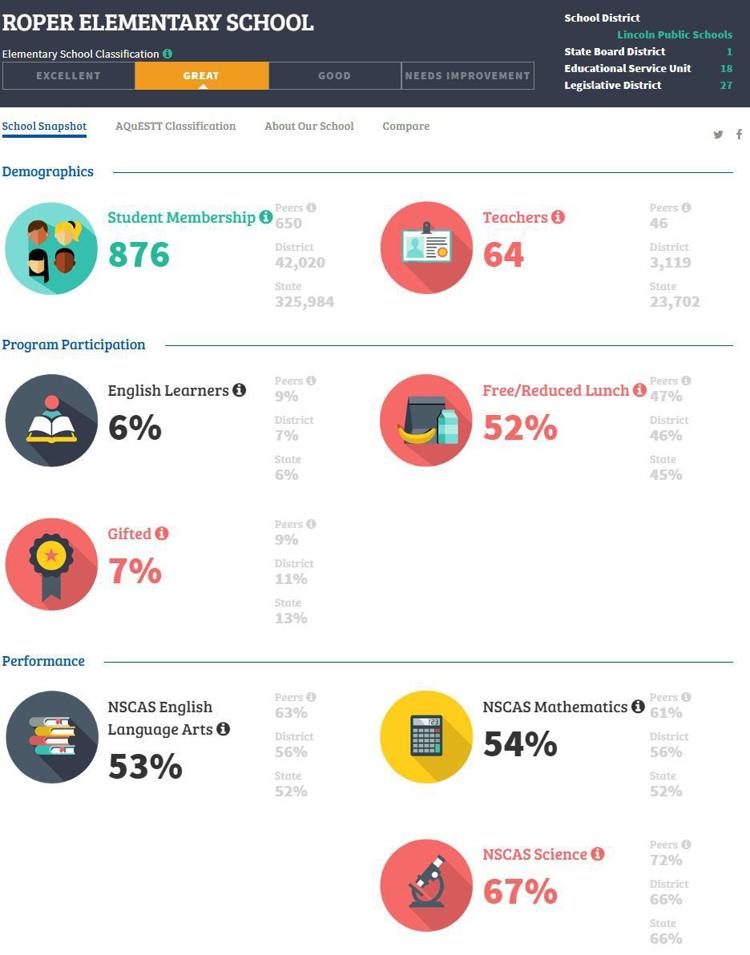 Rousseau Elementary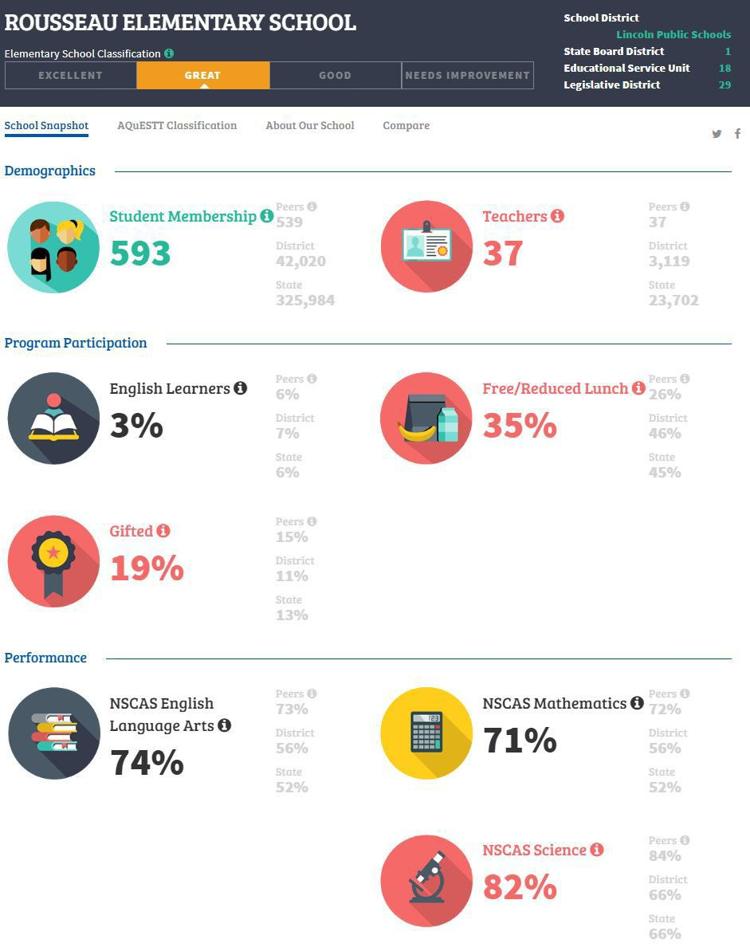 Saratoga Elementary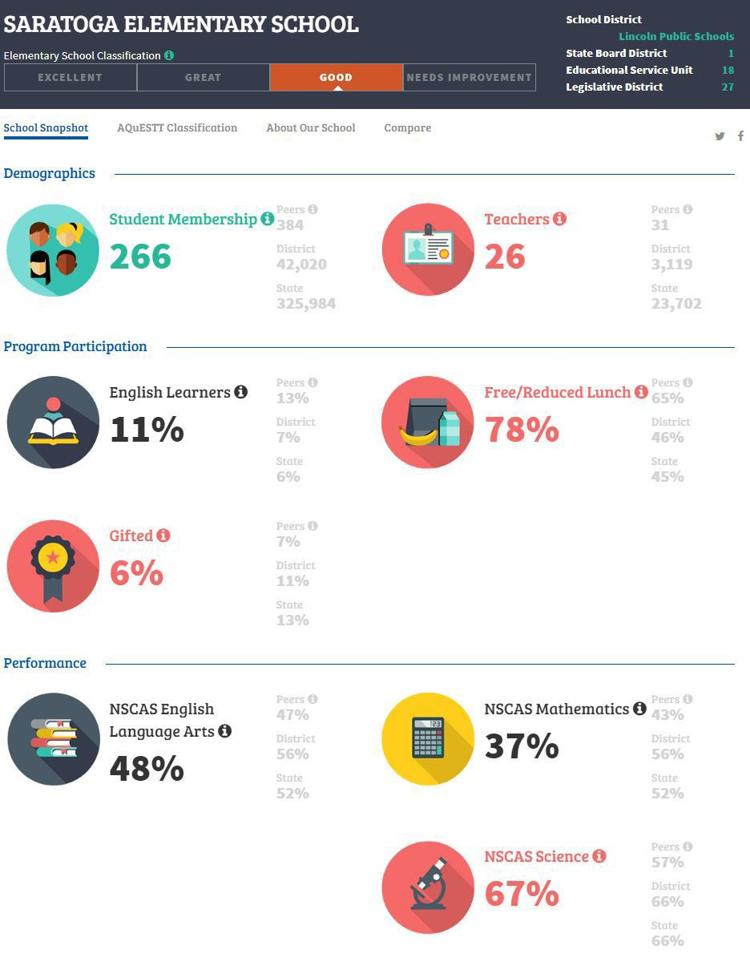 Sheridan Elementary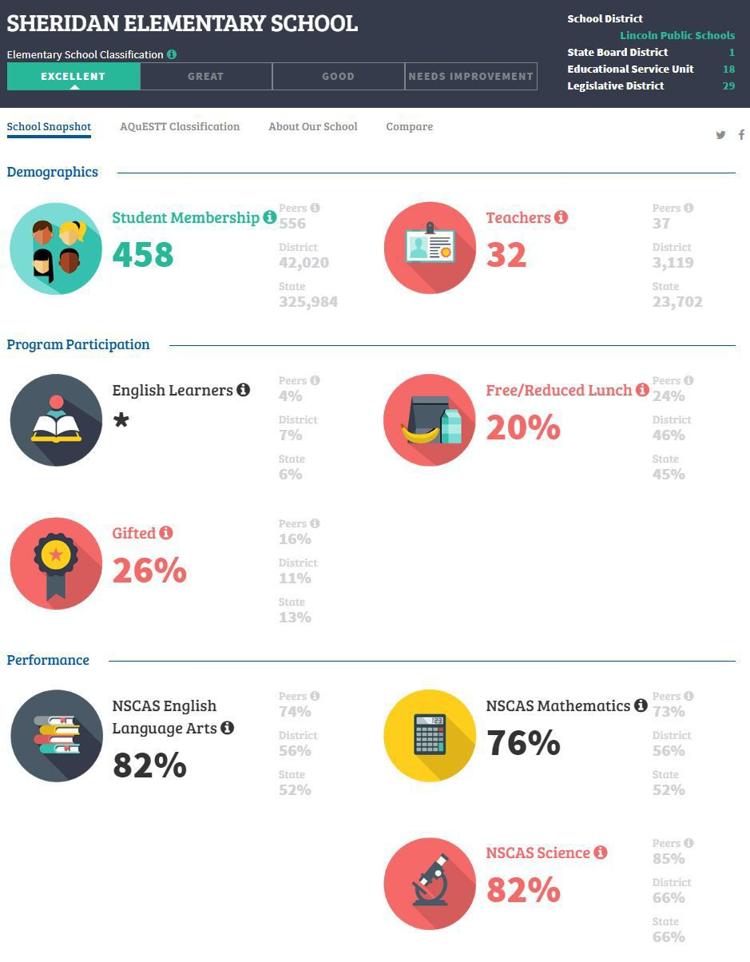 West Lincoln Elementary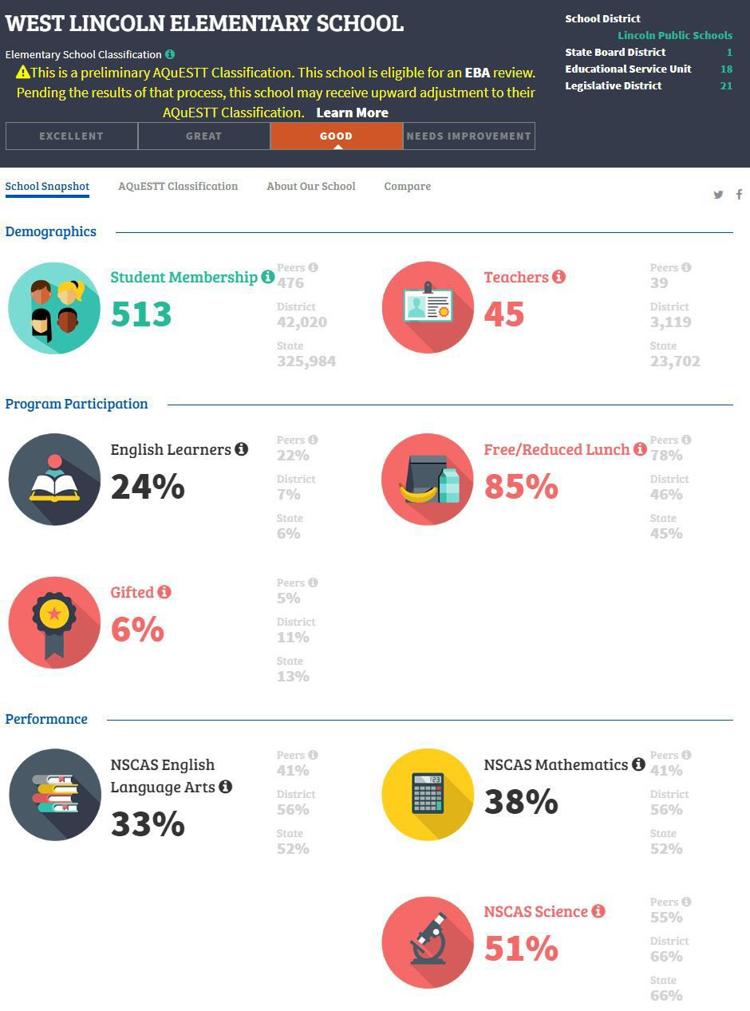 Wysong Elementary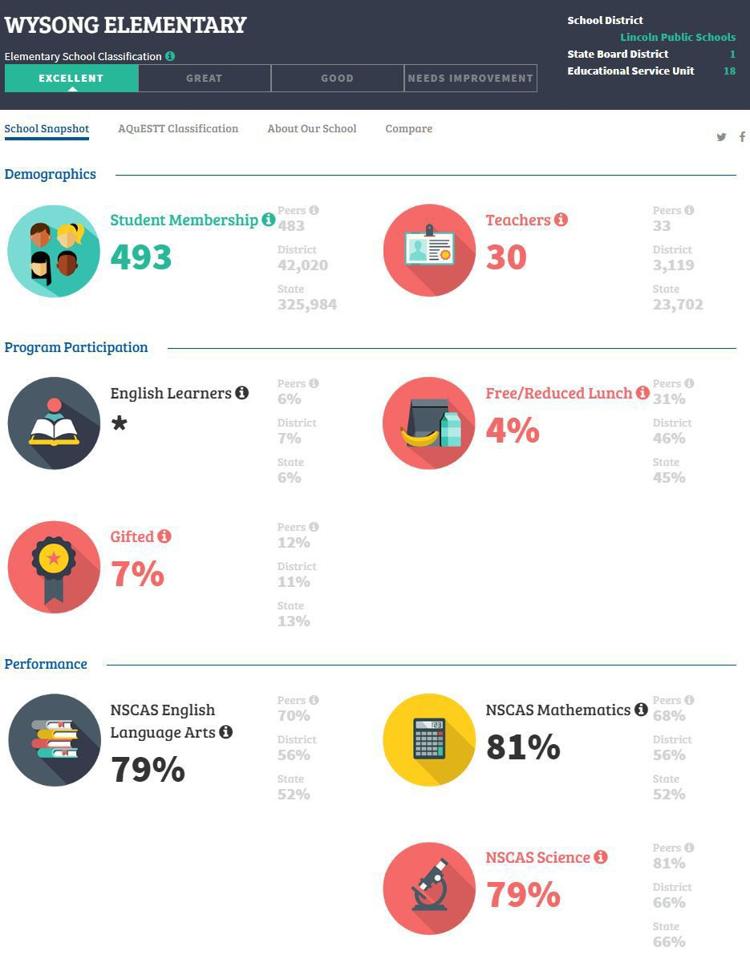 Zeman Elementary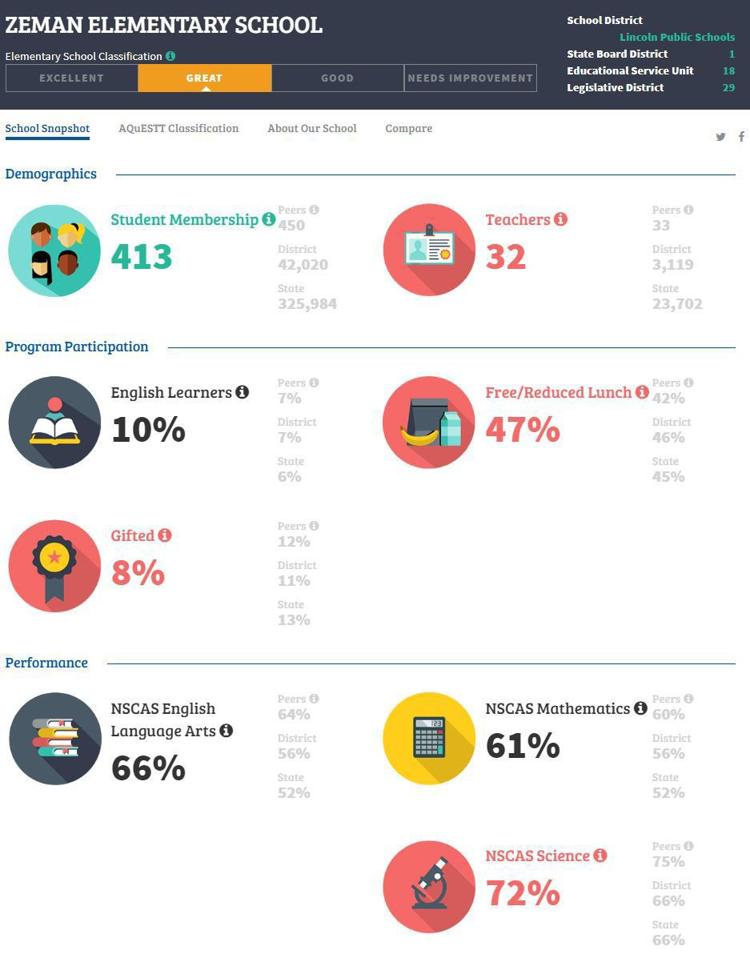 Culler Middle School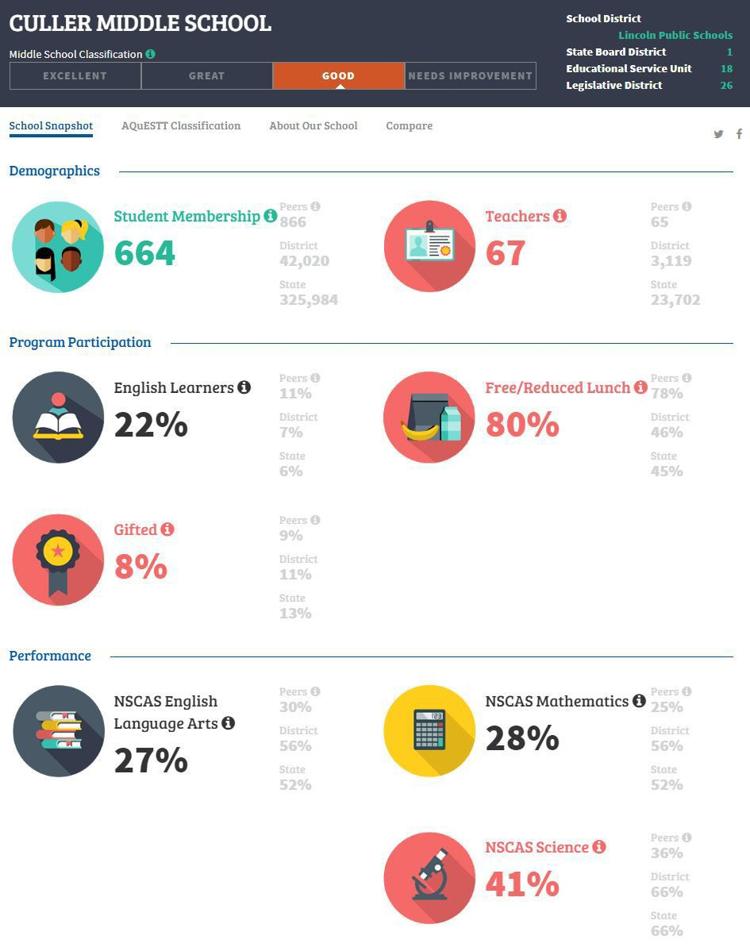 Dawes Middle School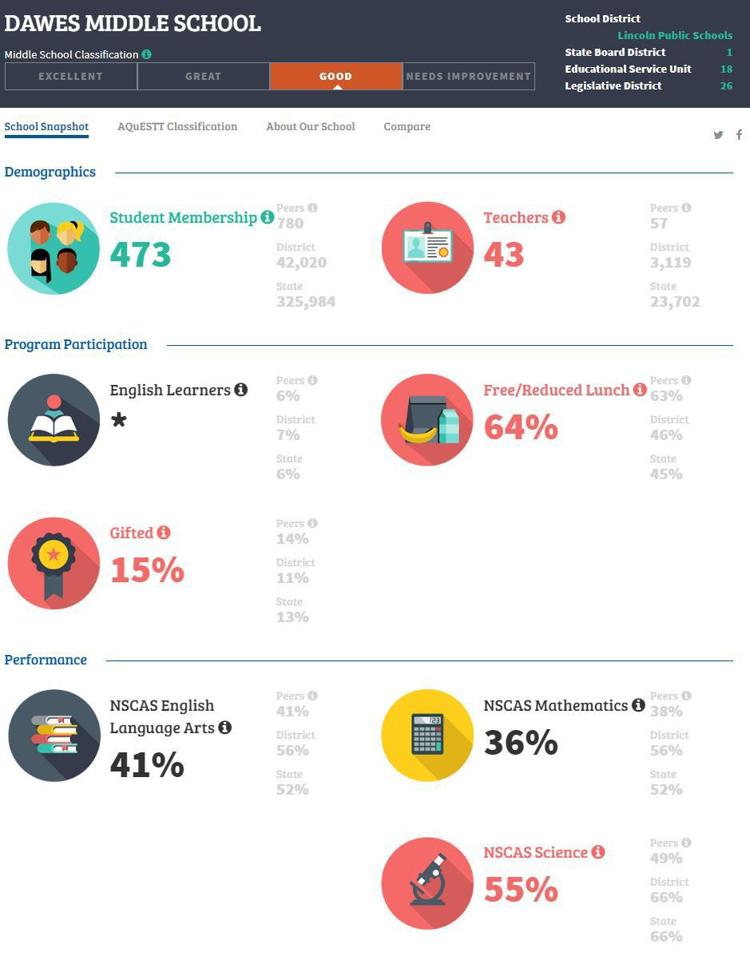 Goodrich Middle School
Irving Middle School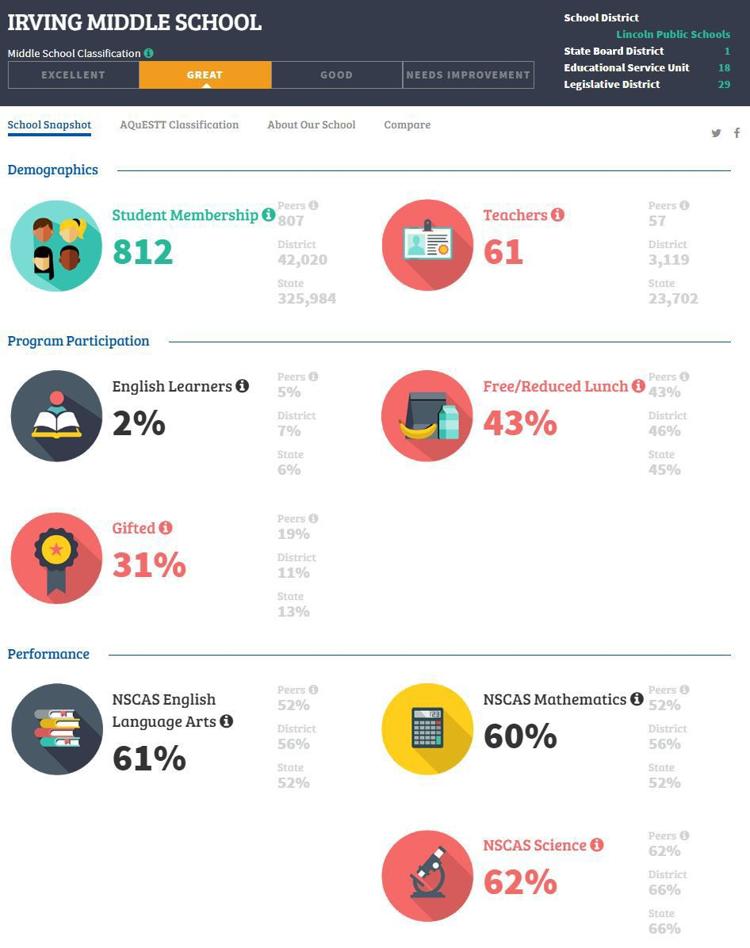 Lefler Middle School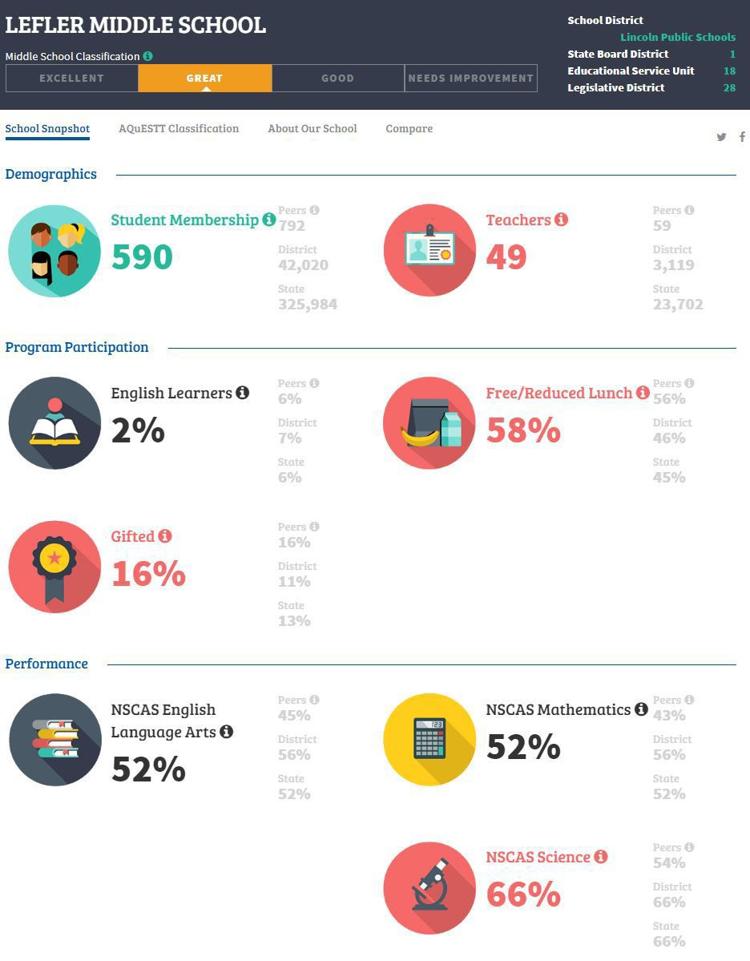 Lux Middle School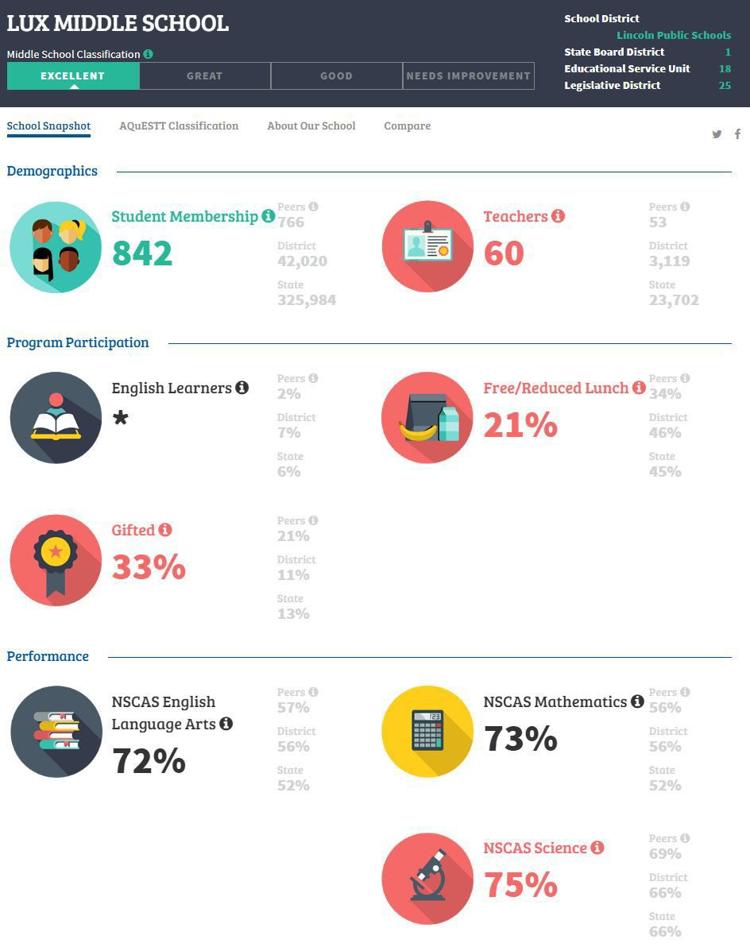 Mickle Middle School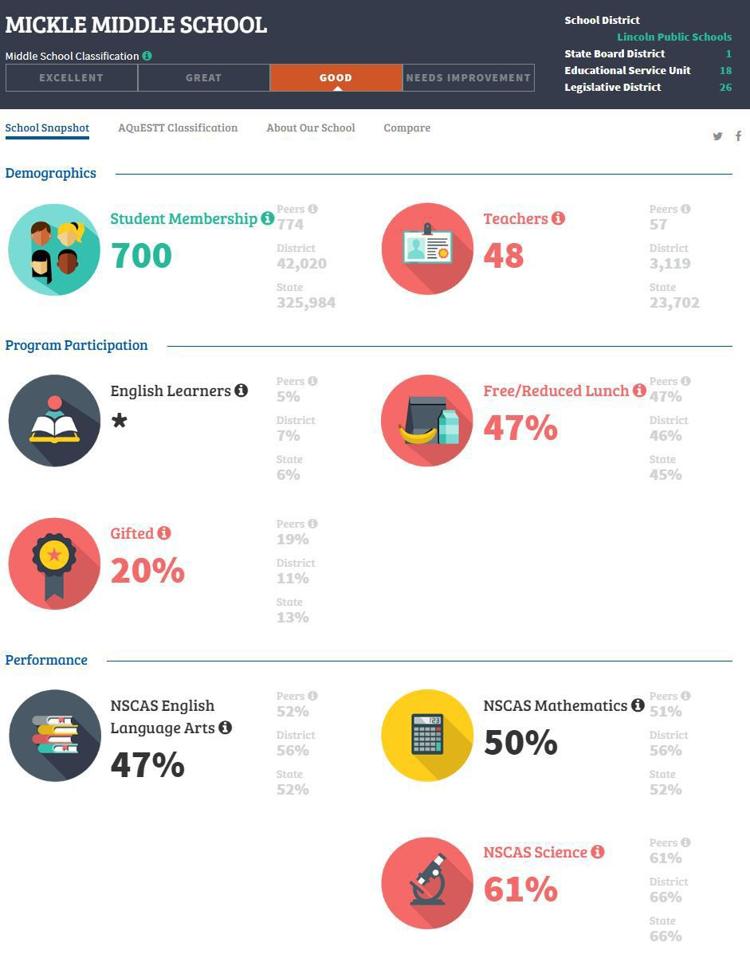 Moore Middle School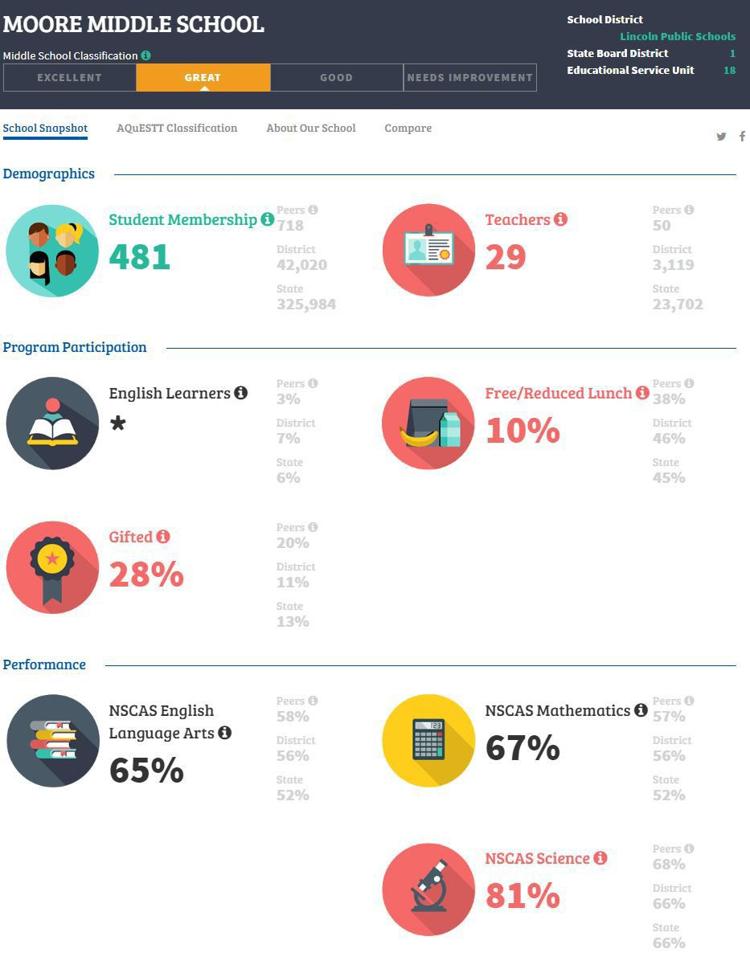 Park Middle School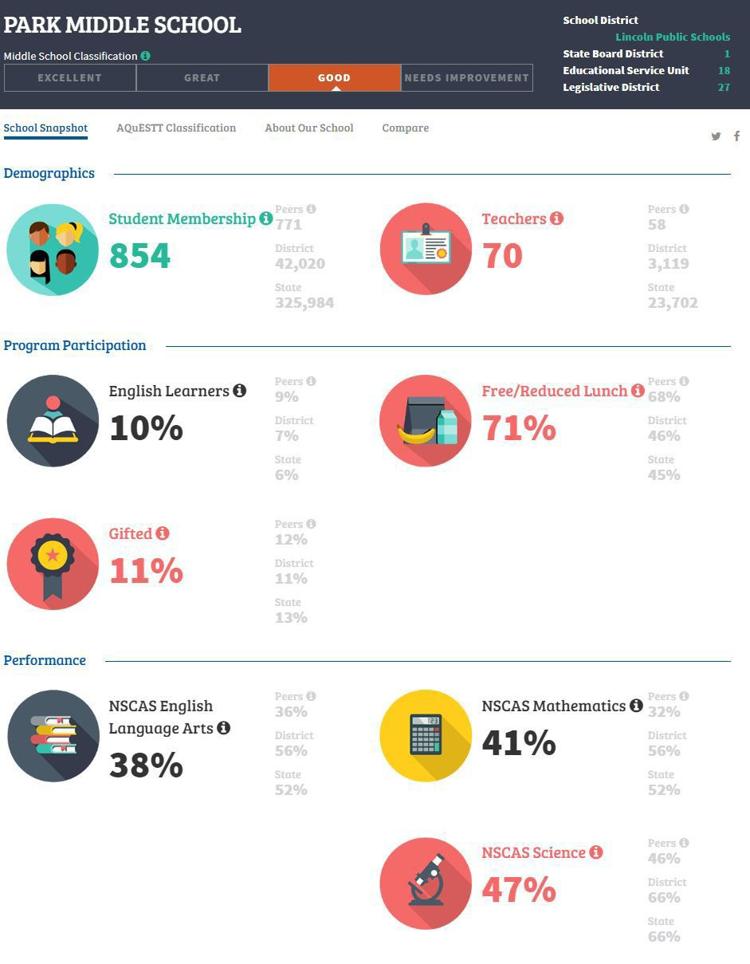 Pound Middle School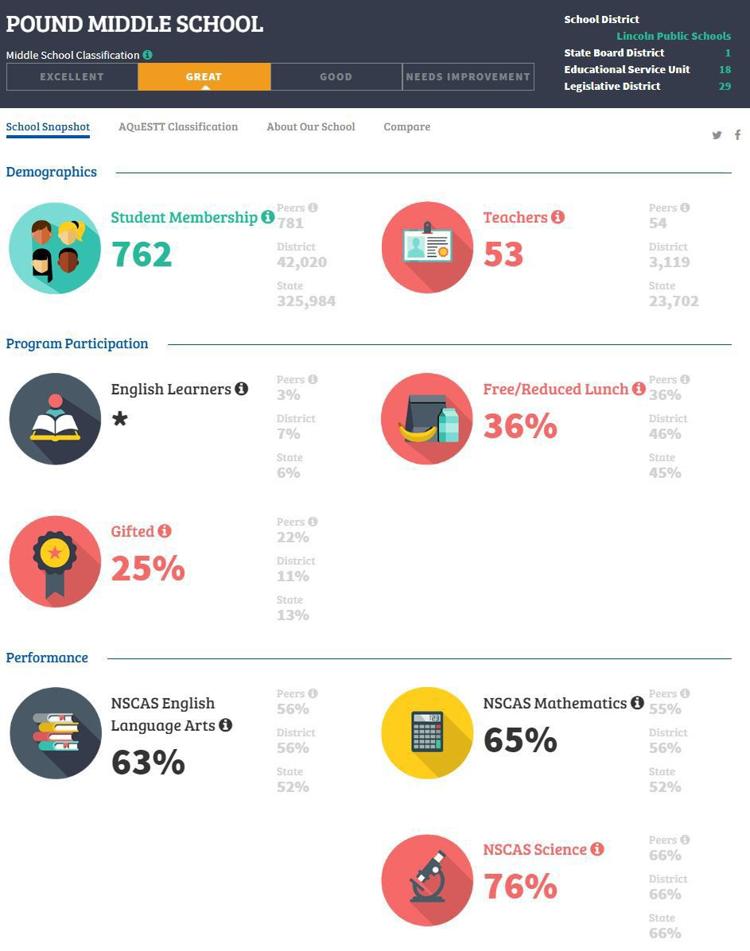 Schoo Middle School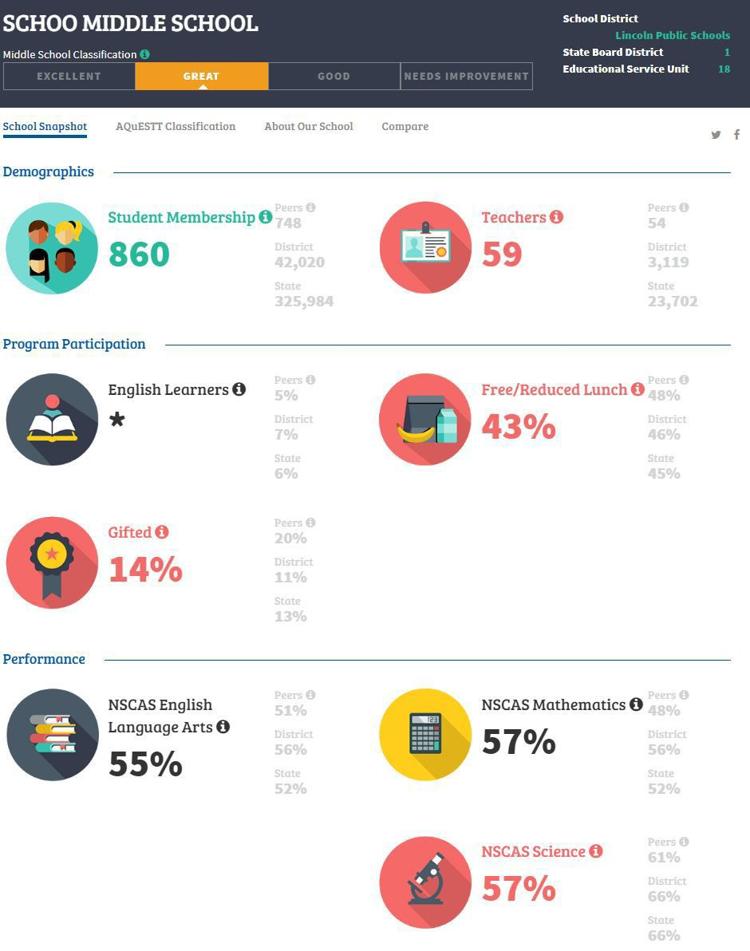 Scott Middle School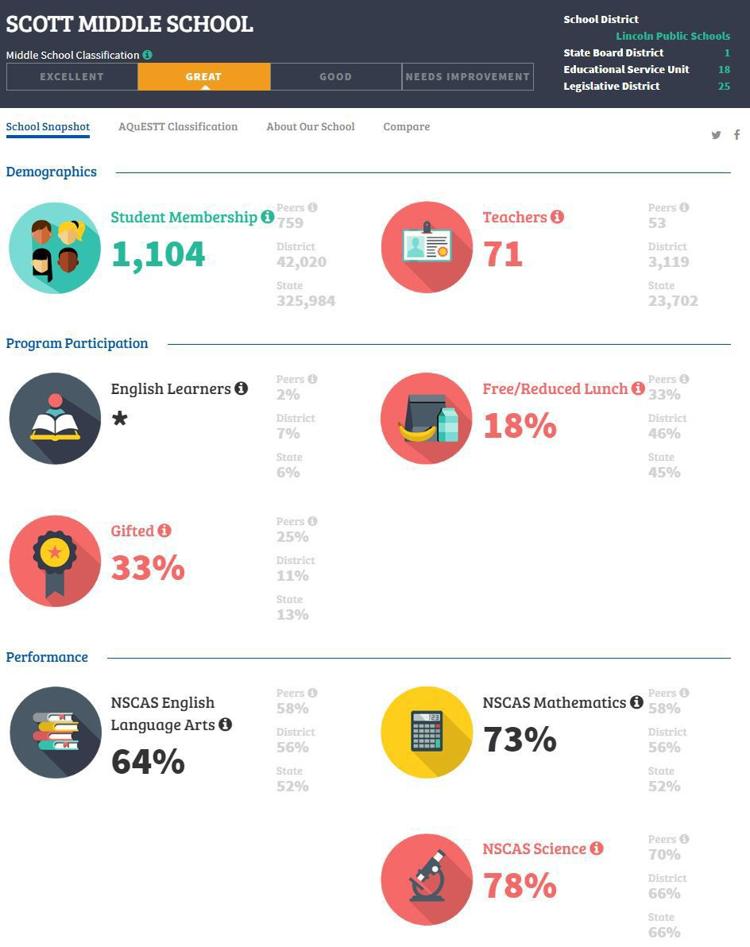 Lincoln East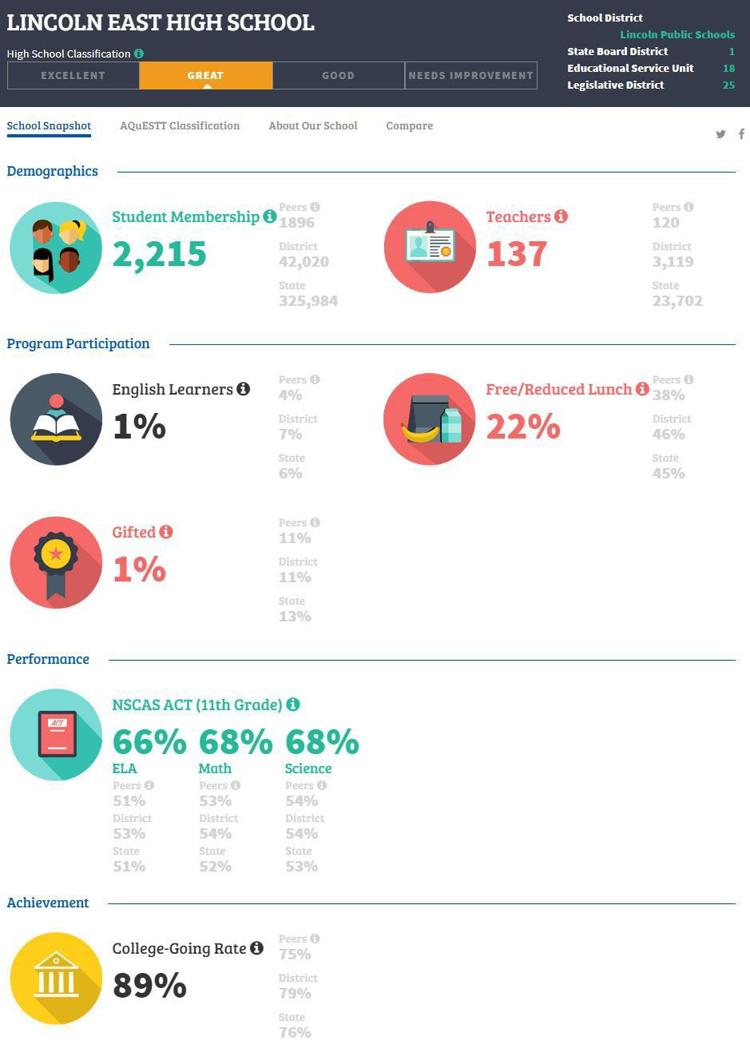 Lincoln High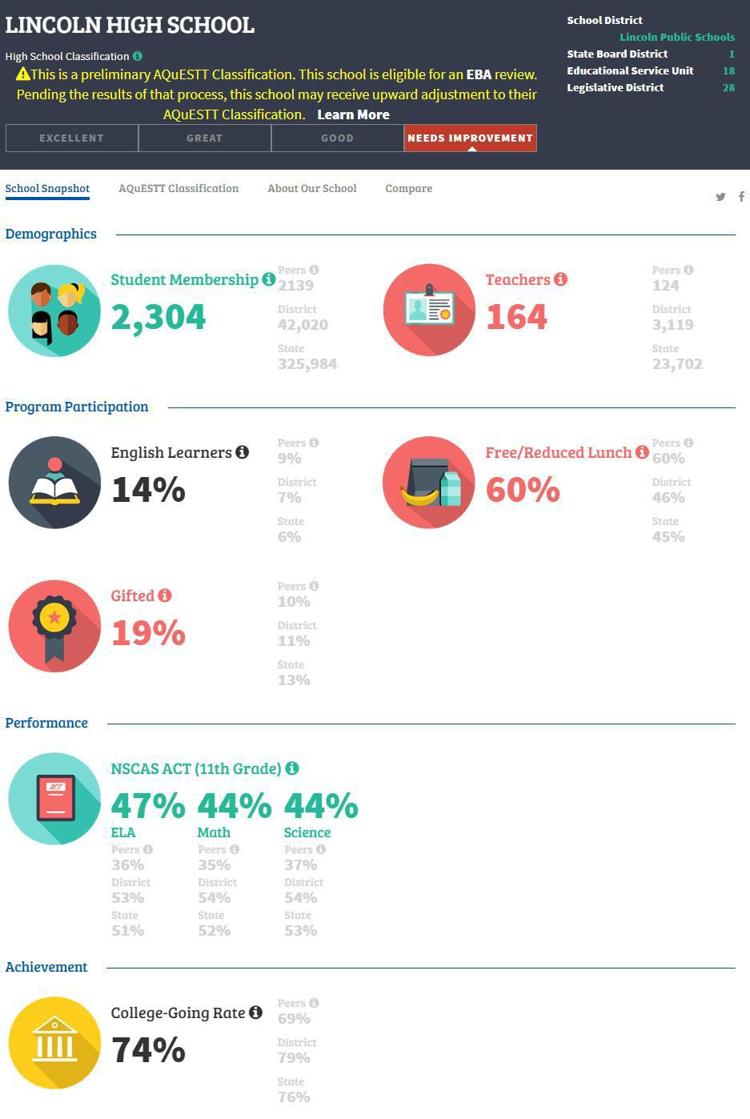 North Star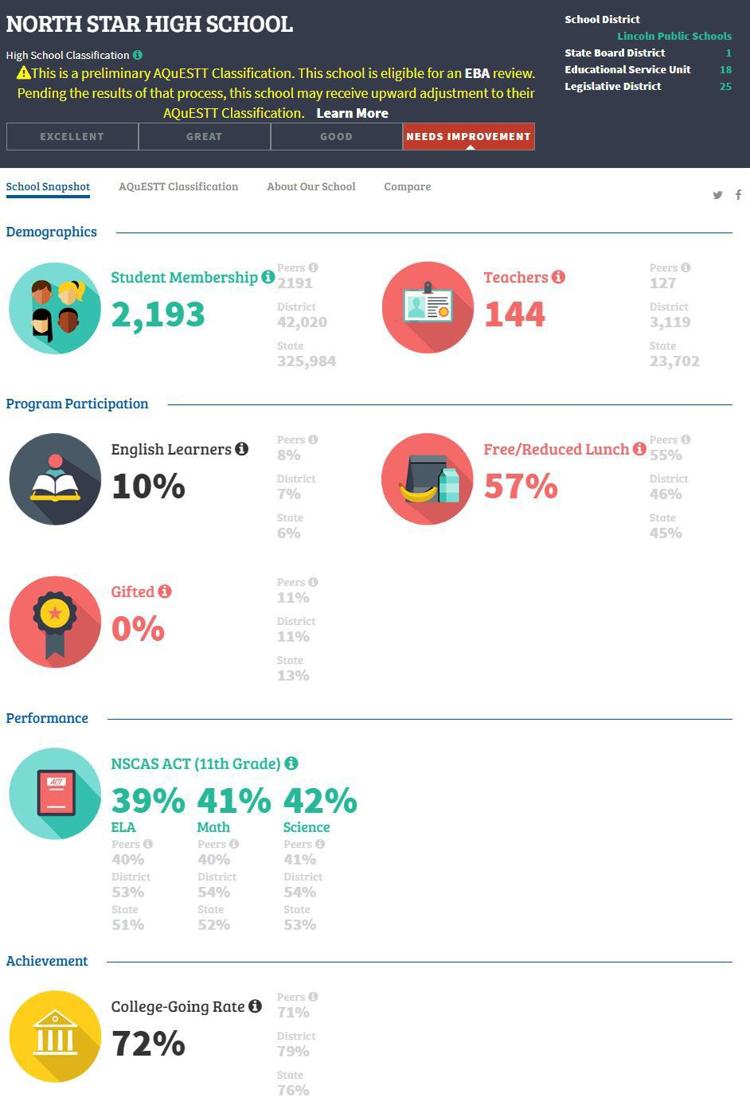 Northeast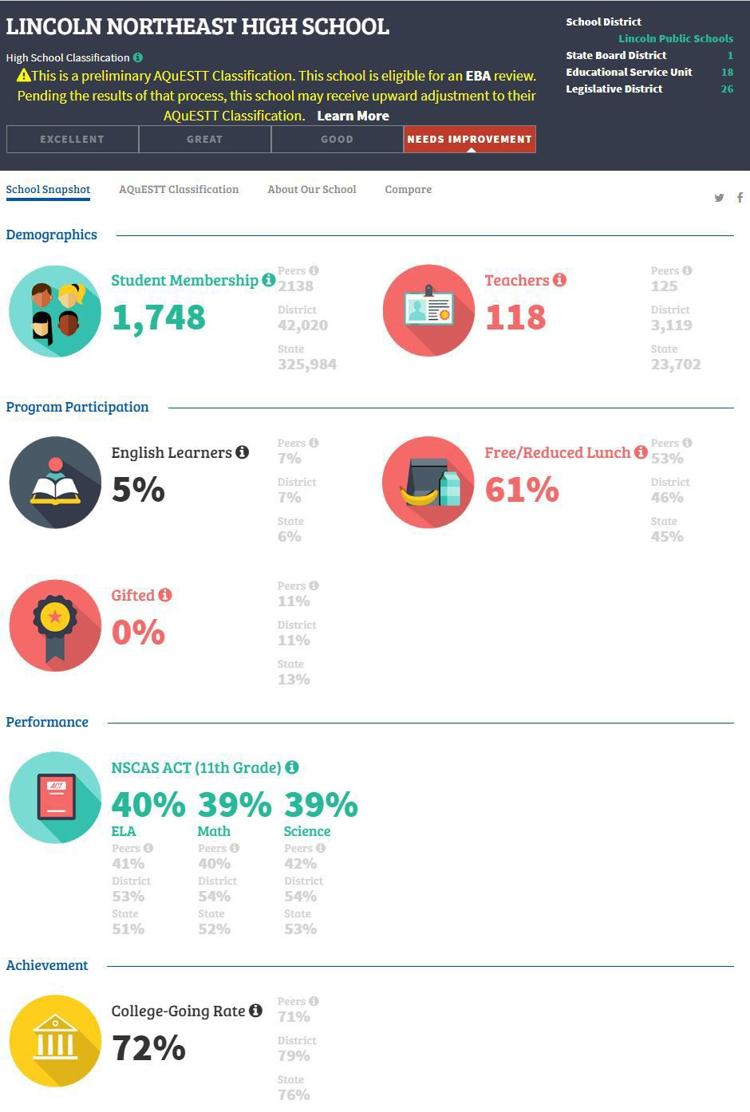 Southeast
Southwest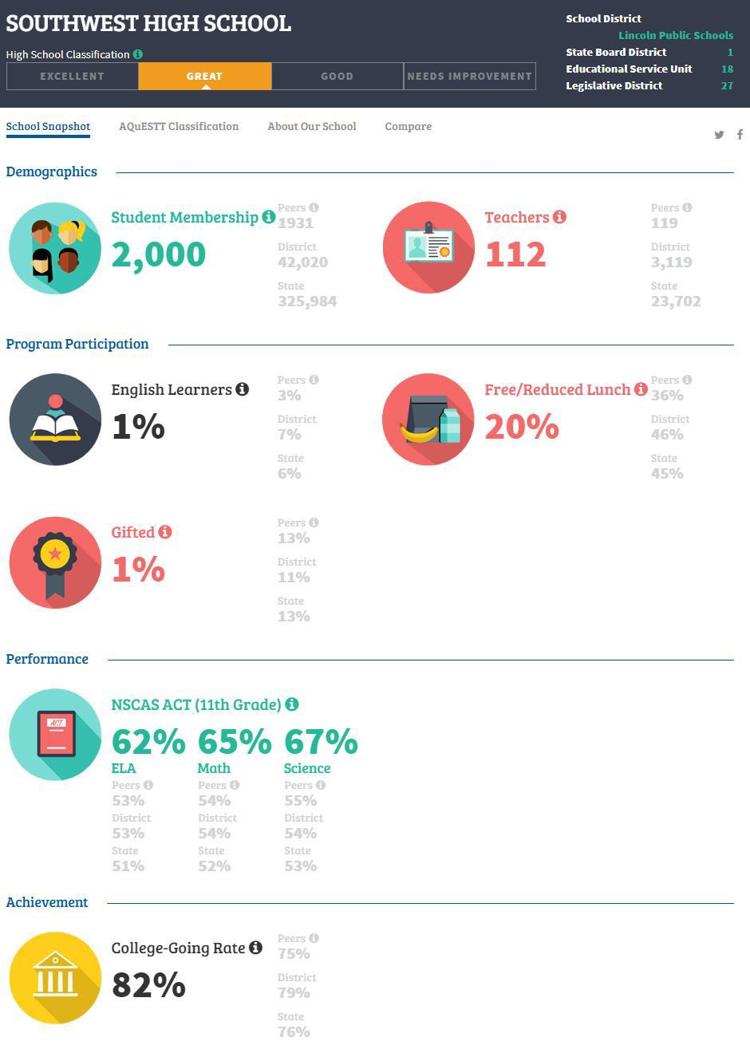 State of Nebraska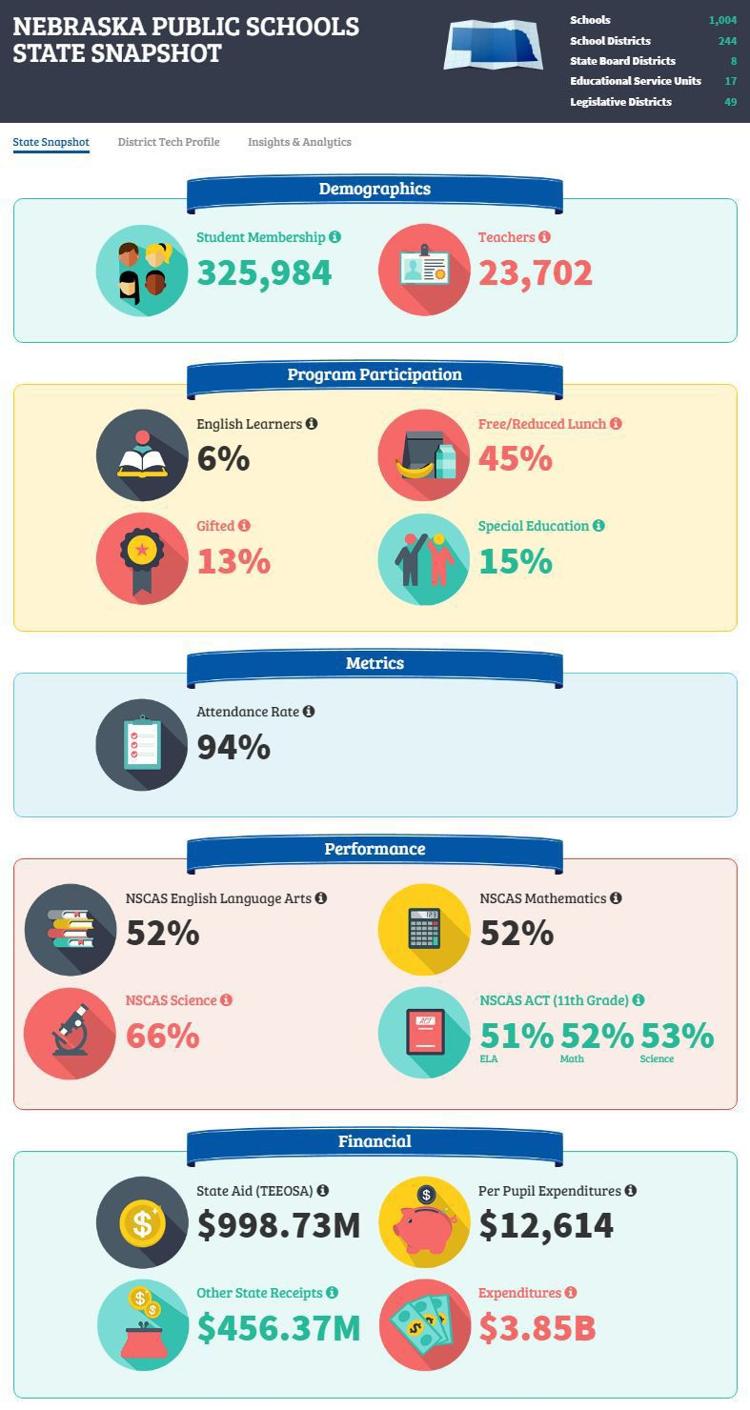 Be the first to know
Get local news delivered to your inbox!