The number of students walking the halls of Lincoln's public schools topped 42,000 for the first time this fall, though the growth is smaller than it has been in recent years.
The 42,035 students counted Monday — a number that will be reported to the Nebraska Department of Education as the official enrollment for 2018-19 — include more than 1,700 preschool students, the majority of which attend elementary schools.
Five of the six high schools have more than 2,000 students this year, three elementary schools have more than 800 and one middle school topped 1,000 again this year. 
"The enrollment growth this year is part of a long-term story of really long-term growth that stretches back a decade or more," said Matt Larson, LPS interim assistant to the superintendent. 
In other words, don't read too much into the 275 additional students this year — less than the 500 district officials had estimated and substantially less than the extraordinary growth in the past several years.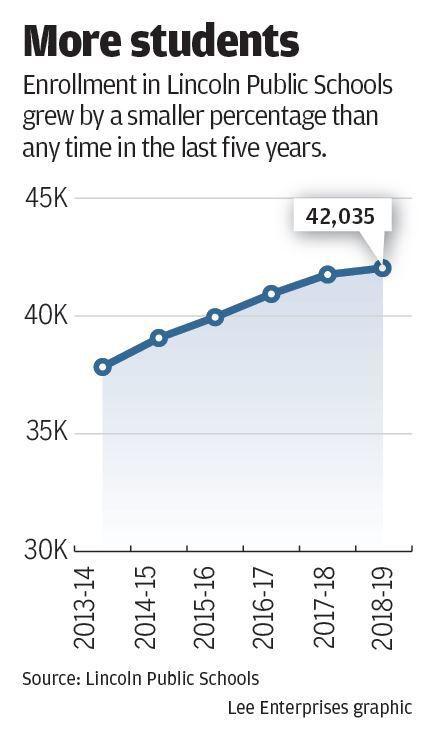 More important will be long-term trends, Larson said. 
In recent years, those trends have been spiking upward fairly dramatically. LPS has grown by more than 800 students each year in recent years — nearly 3,000 students in the past five years and more than 8,000 — or 24 percent — in the last decade.
The growth is most noticeable this year in high schools, as a "bubble" of students that stressed middle schools a few years ago has grown older. 
The most students in any grade this year are seniors — 3,276 of them. East High, traditionally one of the smallest high schools, has more than 2,200 kids this year.
Lincoln High is the biggest of the high schools, with 2,304 students.
Fortunately, the teaching staff has grown along with enrollment, said Principal Mark Larson, but physical space is a different issue.
Few teachers have their own room anymore and many load up their classrooms on a cart to move from room to room. Computer labs have been converted to planning space for teachers and there's an additional lunch period this year.
In recent years, about 40 percent of Lincoln High's students optioned in from other attendance areas in the district, Larson said. The school sits in the middle of the city, where little new development happens.
Part of the draw may be the International Baccalaureate program located there, or the proximity to two of the district's focus programs. Lincoln High also has the largest English language learner program of the three high schools that offer it.
But Larson said it also means students and families want to come there.
"So we'll take all the logistical stuff we have to work through, because I think that means the community thinks we're doing something right."
Unlike high schools, enrollment at the middle school level is down by about 250 students. Moore Middle School, which opened last year near 84th Street and Yankee Hill Road, is the only middle school that's grown — by 172 students. 
Scott Middle School in southwest Lincoln remains the largest middle school with 1,104 students, though it's down slightly from last year.
Part of the lower middle school enrollment could be this year's sixth-grade class, which is smaller because of a change in kindergarten enrollment policies when they started school, the district's Matt Larson said.
Overall, elementary school enrollment grew to 20,498, though enrollment dipped slightly at more schools than it increased.
Roper Elementary, in west Lincoln, remains the largest elementary school with 879 students. Kooser and Adams — in northwest and southwest Lincoln, respectively — both have enrollments of more than 800 students.
And Larson said high school enrollment is projected to continue increasing over the next decade.
Those projections have prompted discussions about where a new high school should be built, and staff has recommended adding four elementary schools and two middle schools in addition to a high school in future years.
"What I see here is continued, healthy growth, growth across the community," Larson said.
LPS enrollment by school
| | 2018 | 2017 | 2016 |
| --- | --- | --- | --- |
| HIGH SCHOOLS | | | |
| East | 2,218 | 2,037 | 1,892 |
| Lincoln High | 2,304 | 2,187 | 2,036 |
| North Star | 2,202 | 2,152 | 2,191 |
| Northeast | 1,758 | 1,718 | 1,611 |
| Southeast | 2,054 | 2,089 | 2,060 |
| Southwest | 2,006 | 1,953 | 1,887 |
| Total | 12,542 | 12,136 | 11,677 |
| MIDDLE SCHOOLS | | | |
| Culler | 666 | 765 | 730 |
| Dawes | 473 | 508 | 496 |
| Goodrich | 850 | 866 | 841 |
| Irving | 812 | 840 | 844 |
| Lefler | 591 | 624 | 633 |
| Lux | 841 | 919 | 1,053 |
| Mickle | 700 | 727 | 726 |
| Moore | 480 | 308 | |
| Park | 854 | 857 | 892 |
| Pound | 762 | 816 | 877 |
| Schoo | 862 | 864 | 835 |
| Scott | 1,104 | 1,144 | 1,124 |
| Total | 8,995 | 9,238 | 9,051 |
| ELEMENTARIES | | | |
| Adams | 812 | 825 | 825 |
| Arnold | 738 | 758 | 769 |
| Beattie | 376 | 354 | 356 |
| Belmont | 793 | 746 | 763 |
| Brownell | 337 | 319 | 324 |
| Calvert | 370 | 395 | 402 |
| Campbell | 667 | 678 | 677 |
| Cavett | 680 | 692 | 683 |
| Clinton | 477 | 496 | 506 |
| Eastridge | 312 | 319 | 325 |
| Elliott | 393 | 385 | 394 |
| Everett | 444 | 463 | 485 |
| Fredstrom | 495 | 471 | 487 |
| Hartley | 402 | 384 | 397 |
| Hill | 549 | 562 | 559 |
| Holmes | 401 | 415 | 375 |
| Humann | 499 | 500 | 469 |
| Huntington | 495 | 489 | 479 |
| Kahoa | 570 | 593 | 602 |
| Kloefkorn | 486 | 501 | 499 |
| Kooser | 831 | 809 | 777 |
| Lakeview | 427 | 412 | 424 |
| Maxey | 674 | 672 | 648 |
| McPhee | 296 | 307 | 296 |
| Meadow Lane | 611 | 593 | 581 |
| Morley | 505 | 520 | 567 |
| Norwood Park | 271 | 270 | 247 |
| Pershing | 463 | 465 | 474 |
| Prescott | 535 | 522 | 563 |
| Pyrtle | 443 | 436 | 428 |
| Randolph | 501 | 462 | 462 |
| Riley | 323 | 337 | 358 |
| Roper | 879 | 894 | 855 |
| Rousseau | 594 | 582 | 580 |
| Saratoga | 265 | 275 | 281 |
| Sheridan | 458 | 478 | 484 |
| West Lincoln | 512 | 522 | 487 |
| Wysong | 494 | 435 | 324 |
| Zeman | 412 | 425 | 409 |
| Other preschool | 708 | 625 | 586 |
| Total | 20,498 | 20,386 | 20,207 |
| ENROLLMENT | 42,035 | 41,760 | 40,935 |