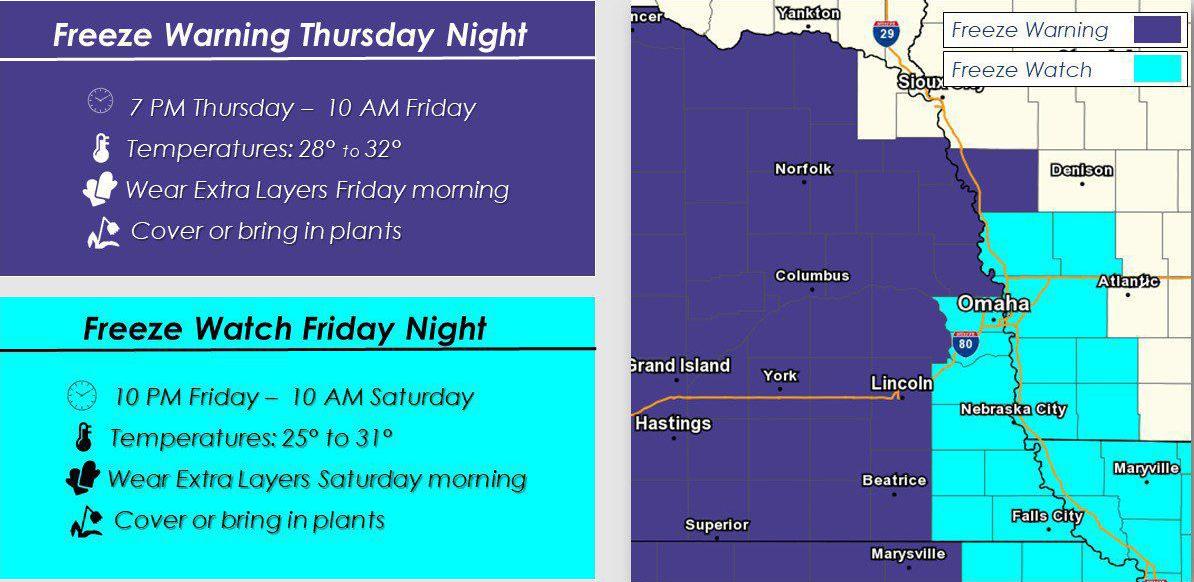 If you want to squeeze more enjoyment from those outdoor plants this fall, you'll need to take action.
Lincoln is likely to see its first freeze of the season, if not Friday morning, then Saturday morning.
The National Weather Service issued a freeze warning effective at 7 p.m. Thursday for much of the state, including Lancaster County. The weather service said lows Friday morning could dip to 32 degrees in Lincoln, with colder temperatures to the west.
Saturday morning, the low could dip to 30 in Lincoln.
The average date of the first freeze in Lincoln is Oct. 5.
You have free articles remaining.
The weather service recommends that people with sensitive plants cover them or bring them inside to protect them from the cold. It also recommends draining sprinkler systems and wrapping outdoor pipes or allowing them to drip slowly.
A storm system will usher in the colder temperatures, bringing a chance of rain and thunderstorms Thursday in the Lincoln area.
Forecasters say the temperature will drop from 61 at 10 a.m. Thursday to 44 by 5 p.m., when wind gusts of more than 30 mph are possible.
Skies in Lincoln will clear Friday, but with temperatures holding in the 40s. They'll rebound to the 50s Saturday and Sunday.
Accumulating snow will be possible this week west of an O'Neill-to-North Platte line, with a winter storm warning up for areas of northwest Nebraska that saw 80-degree temperatures Tuesday.
The weather service said 2 to 3 inches of snow are possible in Kimball, Alliance and Valentine, with more snow possible in Dawes and Sioux counties.
Before reaching the Plains, the storm is expected to drop up to 2 feet of snow across the mountains of Montana and northern Wyoming. In Colorado, Denver could get 2 inches in the first snow of the season.