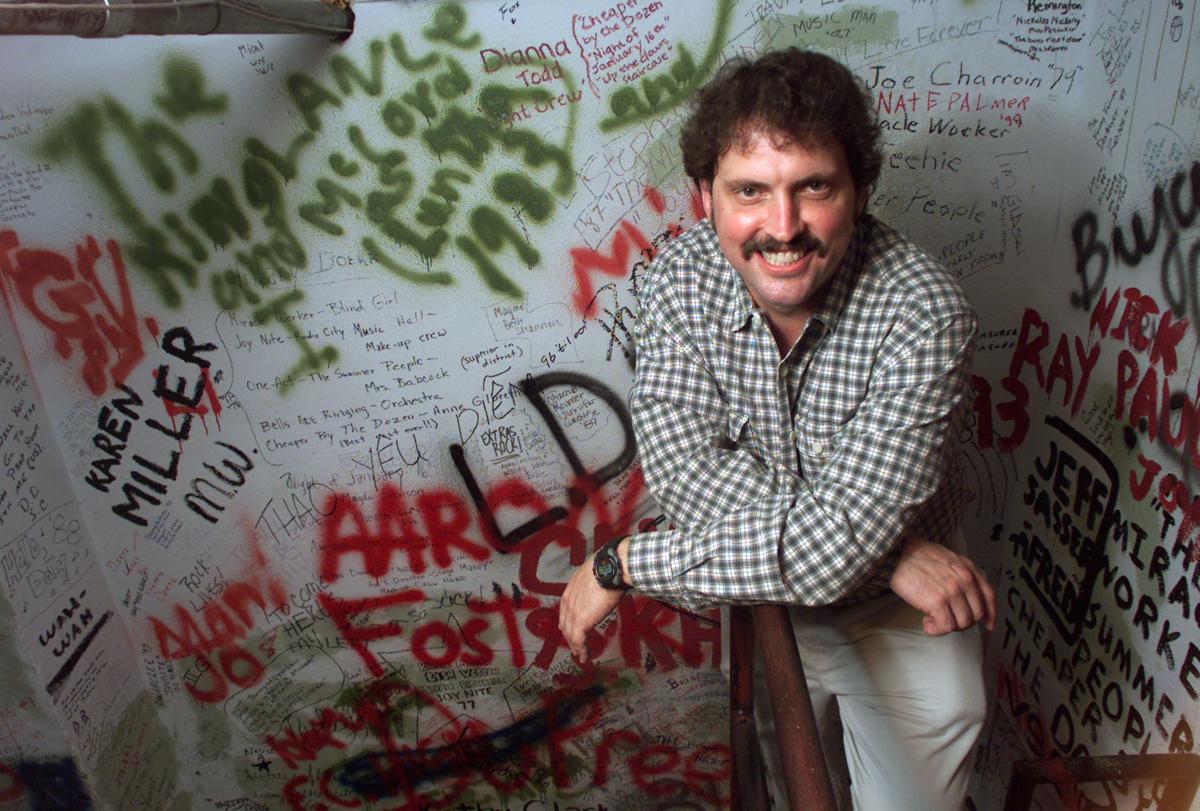 A young John Heineman dreamed of being Jacques Cousteau.
The middle of four boys, he left his hometown of Pawnee City in the late 1970s for the University of Nebraska-Lincoln, determined to become a marine biologist.
Fortunately for Lincoln High School, he realized somewhere in the midst of his first college biology class -- with a professor who was an expert in a South African frog -- that knowing everything there is to know about one small creature was not his thing.
Turns out he'd find his passion in the hallways of Lincoln High, not the coral reefs of the Pacific, spending the next three decades teaching theater and coordinating the first -- and only -- International Baccalaureate program in the city.
Over the years, his humor, booming voice and passion for students became as much a part of the city's oldest high school as the Links sculpture outside.
"We're so used to his commanding voice doing the announcements every day," said Deborah McGinn, whose tenure as an English teacher at Lincoln High matches Heineman's. "The thing about John is you look to him for his positivity. He's like a walking pep rally."
Next year, though, someone else's voice will come over the loudspeaker each morning as Heineman joins the ranks of Lincoln Public Schools retirees.
He's among 117 teachers and eight administrators who retired this year from LPS, a number fairly similar to the last few years, as the bubble of baby boomers who've spent their careers in the classroom continue to retire.
This year's retirees include two high school and three elementary school principals, district administrators in human resources, health and physical education, and elementary education -- and a Reading Recovery teacher with 45 years of experience.
That's 210.5 years of administrative experience and 3,052.5 years of teaching experience walking out the door.
"When you have that many great, veteran teachers retiring, you run the risk of losing institutional memory," said Eric Weber, LPS associate superintendent of human resources. "Just the stories and the things they know about the school is important for the new staff to help learn the culture of the district."
Case in point: Heineman, who started the school's one-act play program that went on to win six state championships and become runner-up eight times. He led the speech team for six years, then became director of theater, directing five performances and overseeing the student-led theater group Illusion Theater.
He knew he wanted to teach at Lincoln High when he student-taught there, but he spent his first two years at Culler Middle School before moving to the high school.
"I really had fallen in love with 'The High,' the diversity and the tradition," he said. "It was just such a grand building and so many famous people who had walked those halls."
When Heineman started there in 1985, Lincoln High was by far the most diverse high school in the city. Today, minority students outnumber white students and Lincoln High has the largest English Language Learner population of all LPS' high schools.
One of his great talents as a teacher is connecting with students, McGinn said.
"He listens with intensity. And he thinks before he responds and he makes those kids feel like they are the only ones in all the thousands of kids," she said. "He could just look them in the eye, hear them out and make them feel like there is hope. That they are valuable. That they have unique gifts."
Those students have shown their affection over the years with pranks -- filling his office with red and black balloons -- and through social media tributes, such as the Buzzfeed retrospective of his hairstyles titled "8 times John Heineman Rocked Our Socks With Fashion."
In 2004, he left the classroom to become a coordinator of testing for a year, then of the district's only International Baccalaureate program, a highly respected and academically rigorous diploma program for juniors and seniors.
You have free articles remaining.
He got the program off the ground, convincing a core group of teachers to write the curriculum and teach the courses, then developing the application process and recruiting students from across the district. 
The program has flourished. Next year's senior class will have 45 students. Six classes have graduated so far. Of those who seek a diploma -- it's not required -- about 75 percent earn them. All students are prepared for college, he said.
Becoming an administrator was a new challenge, he said, a way to reinvent himself. But he's drawn to the classroom, so he's going back, but to a new classroom, a new school, in a new district.
This fall, the LPS retiree will become a theater teacher at Bryan High School in Omaha.
"It was time for a new challenge," he said.
There were other factors. His partner lives and works in Omaha and now he will move there. He's reached the point where he can draw retirement from LPS. And it's a chance to teach again, where he feels he can have the biggest impact on students.
"For me the best part (of being an educator) has been my relationship with students, watching kids grow and become really amazing," he said. "There are so many stories of kids who came (to Lincoln High) without any direction or goals and left ready to take on the world."
He's also loved working with Lincoln High staff, he said, a group committed to the Links motto, which stands for excellence, tradition, unity and diversity.
They've loved working with him.
Patsy Koch-Johns, who taught and directed students in Lincoln High's theater program until she retired in 2012, said she and Heineman taught in the same room when she first arrived, and they learned from each other.
"It was some of the greatest teaching time in the world," she said.
As a teacher and administrator, he made things happen.
"He had the experience and the knowledge that it took to support us in our endeavors," she said. "I think that's what makes him a good teacher, too. He didn't ever say to kids 'no, you can't.' He always said 'yes, you can.'"
Years, ago, when a group of girls asked him to sponsor a new step chain dance group, he said yes. The boys created a group, too, and eventually the two combined.
In 1992, he created the first gay-straight alliance in Lincoln's high schools, convincing administrators to let him make an announcement to see if students were interested in creating a support group. He got five notes in his box and those students created GLOBE (Gay and Lesbian Organization for the Betterment of Everyone) -- a forerunner to the Gay Straight Alliance, now in all high schools.
The next year, he sponsored the first alternative Pride Prom, open to all students including underclassmen that is now held at a different high school each year.
His colleagues think he'll be hard to replace.
"He has this wonderful joie de vivre," Koch-Johns said. "He makes a lot of noise and spreads a lot of happiness. He's the kind of guy that is truly, truly a good human being. Add that with being a good teacher and you have something that is really dynamic and sets him apart from so many other people."
Heineman thinks Lincoln High will be just fine without him.
"That's the best part," he said. "I know there are really great people who will carry on."