The pungent smell of spearmint Lifesavers filled Gabby Danner's office last week, spilling out into the Lincoln High hallways in the hands of students enlisted to spread a message of hope, along with the minty freshness.
Selected by their peers as people they'd confide in, the students are part of the Hope Squad, a new group at Lincoln High patterned after a Utah-based program aimed at preventing teen suicide.
The idea, said Danner, a Lincoln High social worker, is to enlist the help of kids to be the eyes and ears of the school, to train them to notice the signs of someone who may be contemplating suicide, to reach out and connect their peers with adults who can help.
"It's so powerful to have students trying to empower other students to know there is hope, that they do care," she said.
A principal in Provo, Utah, created Hope Squads in 2004, an idea based on studies that show teens in distress will often talk to their peers before they approach an adult.
Today, 31 of Utah's 41 school districts have Hope Squads, as do a growing number of schools in other states.
Danner heard about them through her involvement in the Lincoln-Lancaster County Suicide Prevention Coalition, a group created after 21 young people in Lincoln died from suicide in a two-year period, including three in a matter of weeks in 2014.
She said she's passionate about the issue because she's worked with both adults and young people contemplating suicide. And an important part of her work now is making sure young people "know there is hope; there are people who care."
She began the process last semester, and the first thing she had to do was convince her principal.
Mark Larson said initially he was concerned about putting students in a position where they were responsible for the mental health needs of peers, but did some more research that helped change his mind.
He liked that the idea was proactive and offering messages of hope, he said, and Danner made him realize students already were struggling, and this could give staff another way to reach them.
"As good a relationship as I think we build with kids, there's no one who knows them better than their peers," he said. "To plug into kids who know the school, can be the eyes and ears of those struggling, I think has the potential to be a good thing."
Danner started by talking to classes about the idea and then letting students vote on those they would feel comfortable confiding to if they were struggling.
"We think it's critical kids pick who that is to make it successful," she said.
Danner picked students who got at least five votes, then narrowed those 60 or so students to 23 who wanted to be a part of the Hope Squad.
It's an intentionally diverse group.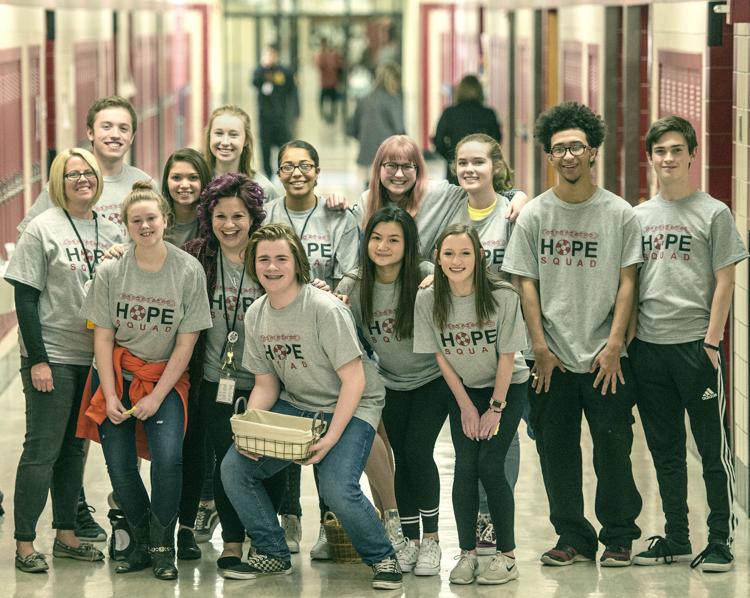 "It includes students from all different backgrounds, so they all have a voice and have someone they feel like they can go to," she said.
Students signed on for various reasons.
For Gabby Graves, a junior, it was personal. She's supported her sister, who's struggled with such issues, and she wanted to help others, too.
Sophomore Theron Polivka also was motivated by his own experience.
"I know what it's like to be depressed," he said. "If I can help someone ... it's something I would have wanted."
Tadhg Parks, a sophomore, was humbled that his peers considered him someone in whom they'd confide. And he was shocked by the statistics of teen suicide and decided he wanted to help.
"I love this school and I love the people in it and I really want to help out."
Once the squad members were identified, they went through training offered to others in the community to learn the warning signs and how to talk to people about it — and get them help.
Integral to the work and the training, Danner said, is understanding that the students' responsibility is to tell an adult, not to solve the problem.
"We are not expecting them to solve the issue or fix it in any way, shape or form," she said.
Polivka said he's already had students approach him because they know he's in the Hope Squad and want to talk.
Parks said he's become better at noticing warning signs — and feels empowered to tell an adult.
The squad has been fairly low-profile until last week, when they made their presence known during "Hope Week."
The students read daily announcements on the intercom, wore Hope Squad T-shirts, posted a banner in the cafeteria and posters and locker signs throughout the school, along with positive messages scribbled on sticky notes.
Their efforts were designed to spread a message of hope, share information about ways to get help and to start a conversation.
Reducing the stigma surrounding suicide is a priority of the community coalition, and it's a big part of what the Hope Squad hopes to do at Lincoln High.
"It's not that we don't talk about it," Polivka said. "It's that we don't talk about it seriously. We joke about it. It's easy to laugh at something that makes you feel uncomfortable."
Among the positive sticky notes were those on the mirror in the girls' bathroom letting students who might stand in front of it with a critical eye to remember their worth.
Seeing sticky notes that say "You're beautiful" or "You're amazing," Graves said, "just makes you feel good."
They encouraged students to take the sticky notes if they found them helpful — and many of them disappeared, Parks said.
And they stood in the crowded halls handing out minty-smelling cards with hotline numbers and an upbeat message.
"Happy Hope Week," they said. "Would you like a Lifesaver?"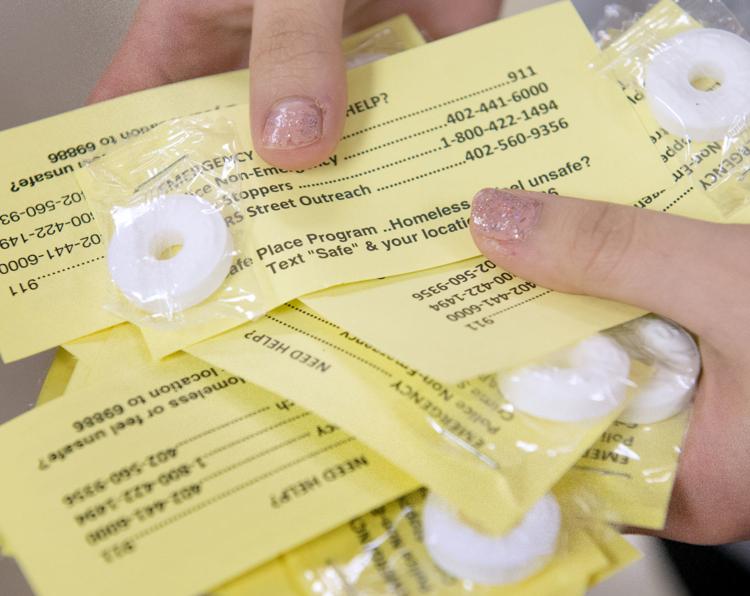 Be the first to know
Get local news delivered to your inbox!