Forget about the cubbies with pencils and colored pens and crayons, the paper worksheets handed out daily, passing from one small hand to another.
The sidewalk and driveway are the Villanueva children's canvas now, chalk their medium and one that works quite nicely for practicing vocabulary or multiplication or the "sight words" their teacher says they should recognize automatically.
Because part of this new reality, thrust upon the world by a virus with the ability to spread through a community with disturbing speed, is that nobody's reaching into those cubbies at school or completing a worksheet at a desk in their classroom.
School is at home now, where mom is working at her own job and making meals and doing laundry and loading the dishwasher and overseeing the schoolwork of two high school students and two in grade school.
It's been a dizzying change, and four weeks in Christy Villanueva, whose husband still drives to Omaha every day for work, is adamant about this point: A little bit of schoolwork is going to happen outside each day.
"At first it was very difficult," said Villanueva, who like parents everywhere has found herself juggling working from home, child-rearing, finances and teacher duties. "As we've gone along it's gotten easier."
Nola Derby-Bennett is directing Lincoln's Community Learning Centers from home, alongside her husband, who's doing his job from home, with their third grader Stella and 23-year-old son Cole, who's home from Florida since his outdoor education job was put on hold.
"I feel like it took awhile for us to get into a routine, to not feel like it was insane all the time," said Derby-Bennett.
Brittni Warneke's husband is a surgical tech who's gone often now and tries to separate himself from his family, coming home after the kids are in bed or keeping them at a distance until he showers and changes.
Brittni stays home with Eli, a kindergartner, and his two younger siblings, trying to establish a new routine, master the technology and help Eli accept the reality that no, this isn't the way Mrs. Dinsdale does it, but it will have to do for now.
"There's a reason I'm not a teacher, so there's that," she said. "You feel like they're not quite getting what they deserve … but we're making it work."
Alice Hillhouse used to teach math at Lincoln High and now teaches math from home, with Carson, a junior at Lincoln High, and Ashley, a sophomore at the University of Nebraska-Lincoln, whose school is at home.
Having three people doing regular Zoom meetings put a heavy strain on their once perfectly reliable internet service. And it made Hillhouse worry about those students starting from a point of less-than-reliable internet service.
"I'd be in a meeting and I couldn't understand what people were saying because it would freeze on you, or you sound like Darth Vader," she said. They called their provider and updated their speed, and things are better now, but not perfect.
Natalie Leininger is technically a junior at Lincoln High, but decided to graduate a year early, so now she's finishing her last year of high school at home with her parents, a brother who's a sophomore at the University of Nebraska-Lincoln and a sister in third grade.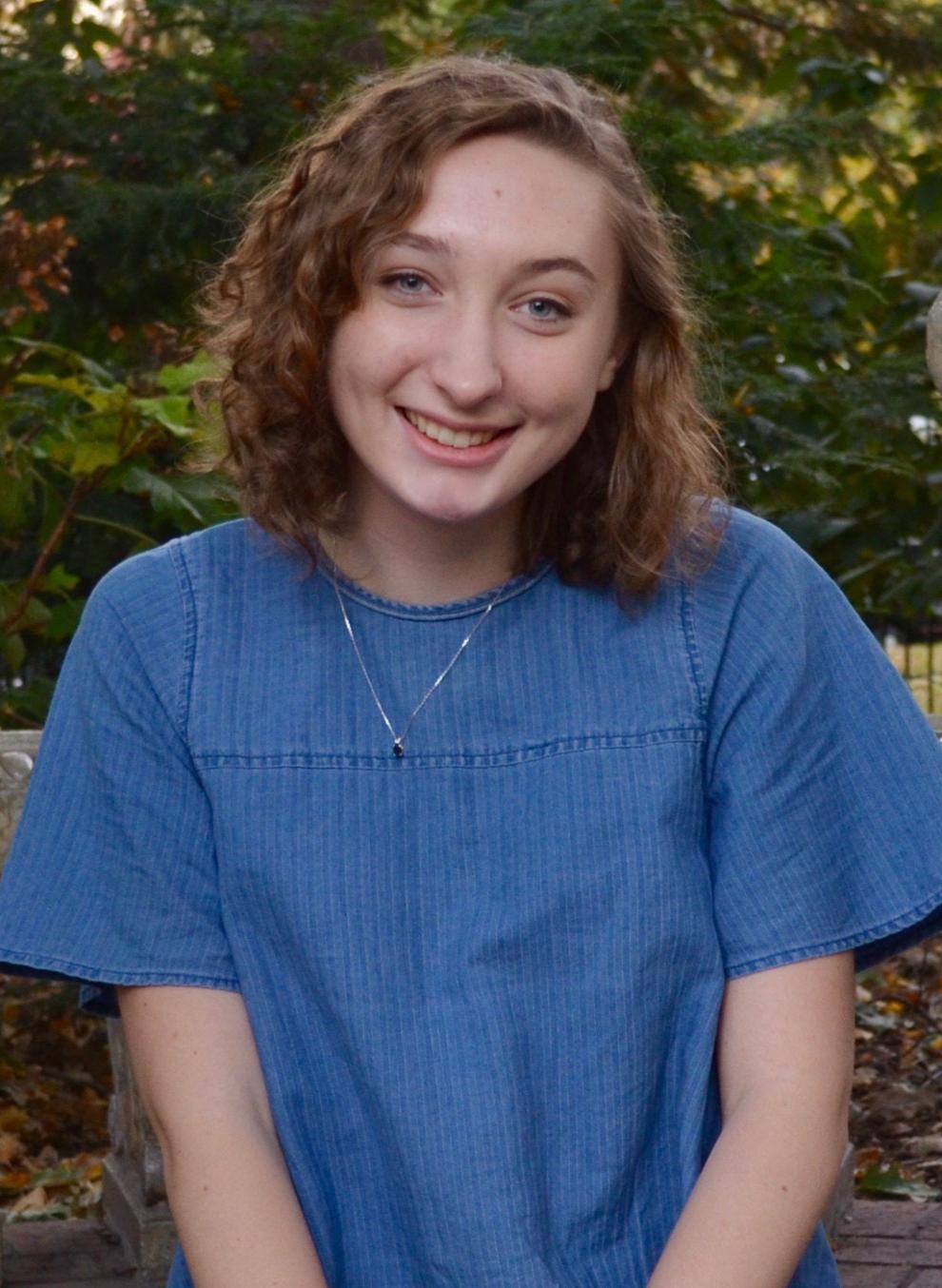 She loves art and writing, and part of her new routine is journaling. She maps out a schedule each day, tracks how she's feeling during this strange, unprecedented time.
"It's like trying to find that balance," she said. "How much work do I do, how much free time?"
All these families have common struggles: turning what felt like chaos into a new routine, feeling overwhelmed by the new technology, having a work day that stretches way beyond eight hours, trying to keep kids motivated.
The kids face those struggles, too, minus their friends and their teachers and old routine.
The introverted part of Leininger doesn't mind being home with her family now, but there's this other part that really, really misses connecting with people every day, face-to-face.
"Even being an introvert, I realize how much I value being with other people," she said. "I really do love talking to these people. That gratitude has increased."
Things got easier for Villanueva when she made schedules for the kids. The older two are pretty self-sufficient and have been able to help her master Google Classroom and the other technology used to get lessons from teachers at their homes to students at theirs — a challenge even for the computer-savvy.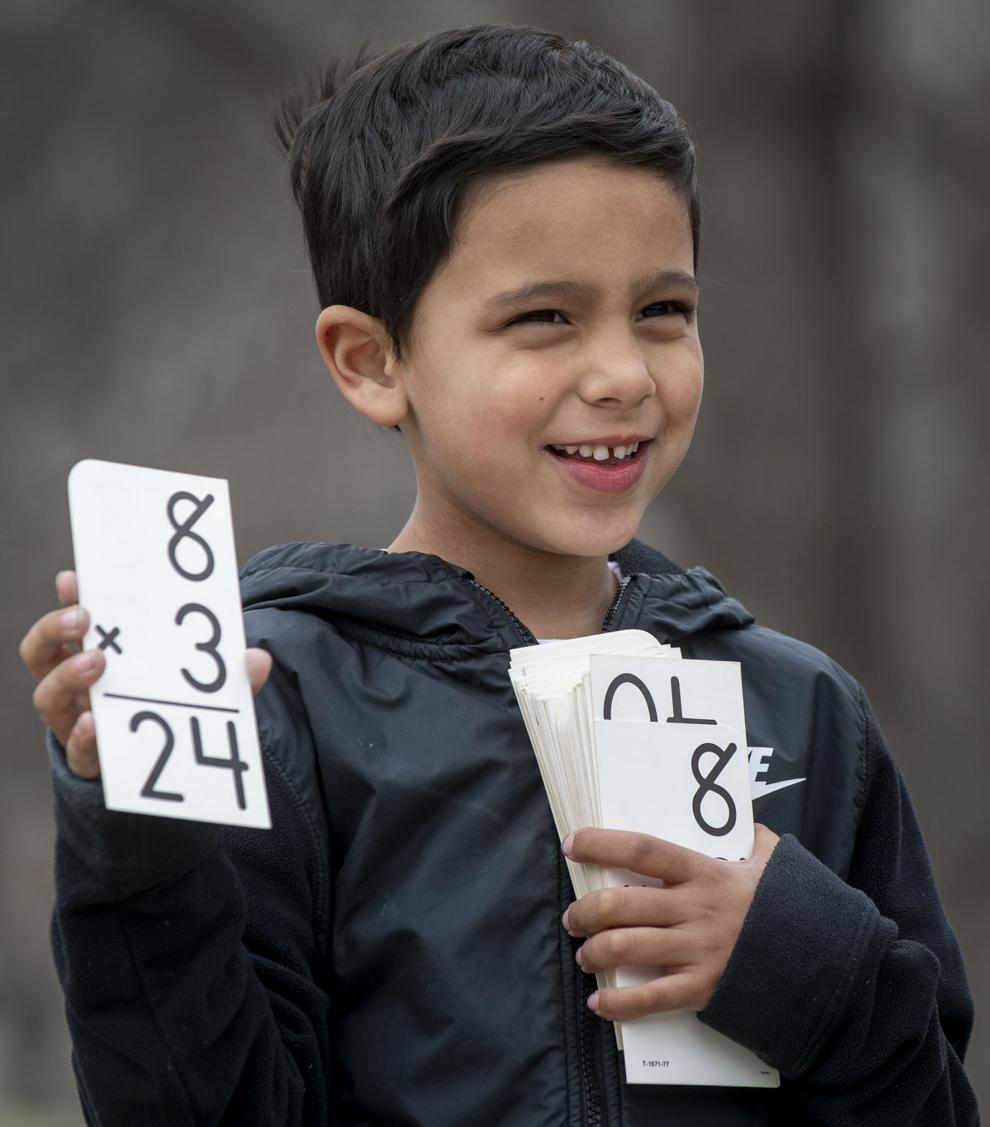 The daily deluge of emails from teachers was overwhelming, too, and her younger kids require more help and guidance. And they miss seeing their teachers.
"Zoom is not enough," she said.
Helping kids with schoolwork means putting your own work on hold, which means working weekends or nights or early in the morning.
"It does drag out the workday a little longer," Derby-Bennett said. "I'm answering emails in the evenings, a few days I got up at 4."
Her daughter, Stella, still looks forward to school, so motivation isn't a problem, and Derby-Bennett has figured out she can answer emails while Stella does the daily lesson from school, so she can stop easily and answer questions as they arise.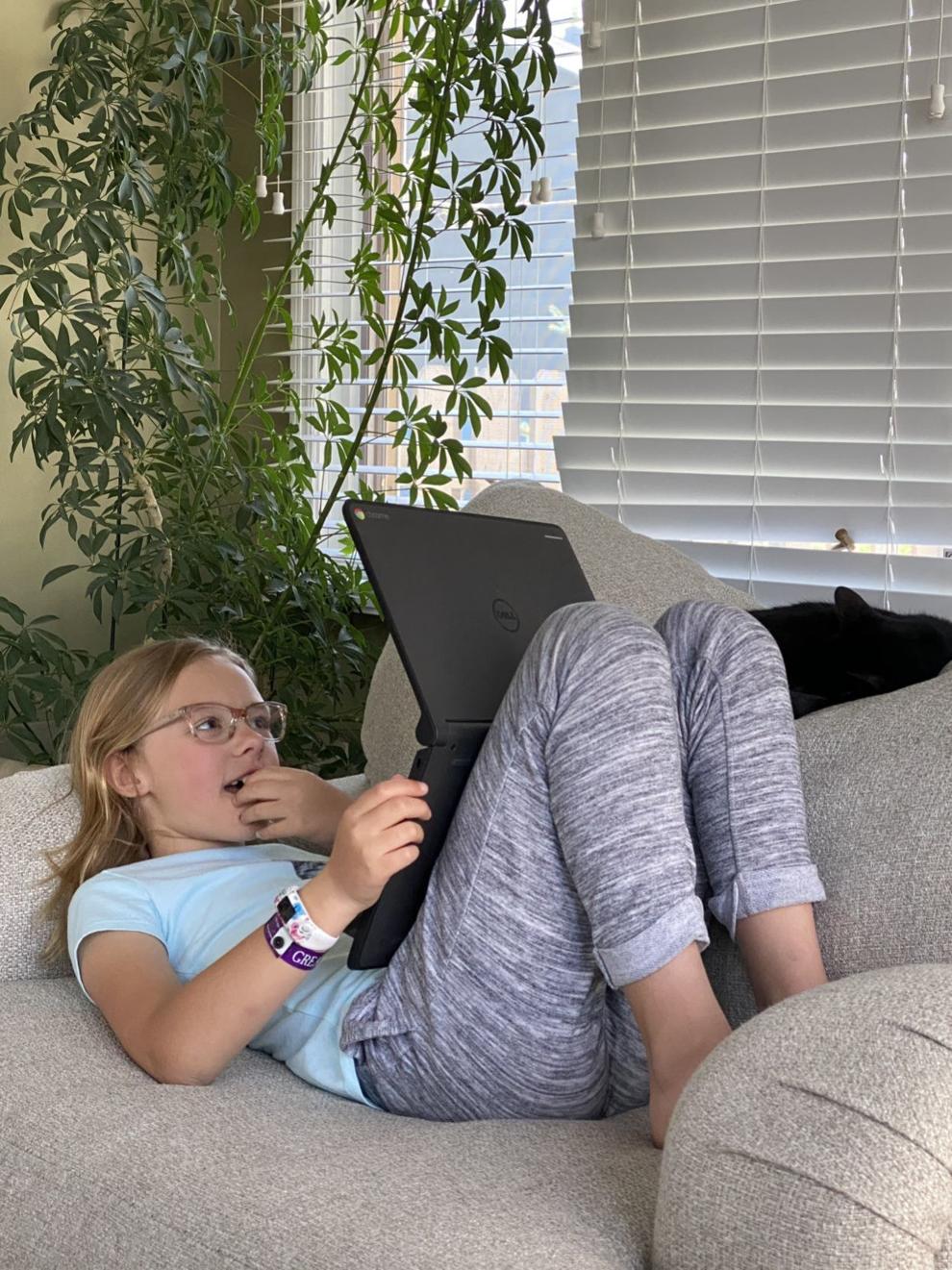 She's also lucky, she said, because her husband works from home, too, so they can juggle their schedules to accommodate the things Stella needs. Learning has taken on lots of forms: making cupcakes and getting pen pals and making putters out of empty paper rolls.
There are other demands in a quarantine, when one's whole sense of time gets lost in the endless days: lunch needs to be made, and the dishwasher needs to be loaded. There's laundry and cleaning a house full of people all the time.
One of the things that helped at the Warneke house was Eli being able to see his teacher, even over Zoom, and knowing she wanted him to do the work, not just mom.
Regular check-ins from his teachers have helped him adjust to this new way of doing things, to understand why he can't just go to the school so nearby, to see his teacher and his friends when he's not sick.
"I think he's taking it pretty well," Brittni Warneke said. "He's confused. We're all confused."
Those first two weeks were tough for Leininger's younger sister, who is on the autism spectrum, and it required lots of conversations between her parents and the teachers to figure out what worked and what didn't. But she enjoys the quiet of home, Leininger said, and being able to take breaks during the day to work on the origami she loves and recharge.
At the Hillhouse home, Carson sleeps in more these days and finds motivation a bit challenging, though he's doing the work and helping his dad with yard work and working out some.
His sister, Ashley, misses the sorority where she was living and the studio culture she loved as an architecture student at UNL, where she and her classmates spent hours working together, bouncing ideas off each other.
Now she has lots of Zoom meetings and studies in her bedroom, where she's hung a sign to let family members know when she's video-conferencing. She made one for her mom, too.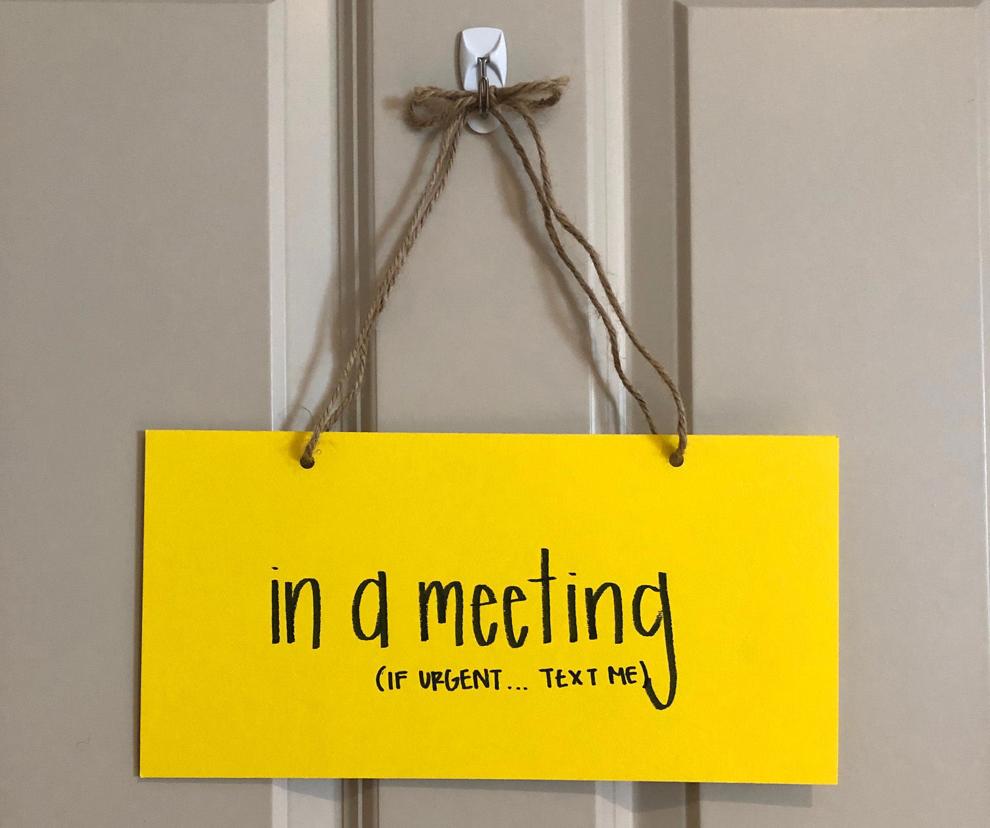 Before the pandemic, Carson would have been playing baseball and going to prom and visiting colleges. His mom can't fix the first two, but figured she can do something about the last one.
So they've added a Friday afternoon trip to their routine. Once the final school bell would have rung, they take a drive through the campuses of nearby private and state colleges, getting a view from a car window of what life might hold in the coming years.
There have been silver linings in all of this: more time with family, appreciating those things that life offered before the pandemic.
"It's busier around here because we're all trying to find our own spaces to do our own things," Leininger said. "But it's also nice because we're finding time to interact with each other. … I didn't realize how much we don't see each other."
Stella Bennett has been able to spend time with her older brother, who went off to college when she was still in day care, memories her mom thinks will stick with her when she thinks back to this time, years later.
But the reality is also this: quarantining and social distancing is hard, not just on the parents, but on the kids, a point Stella made her mom realize as they drove by her school while running an errand.
"All of a sudden I heard her sobbing in the back seat," Derby-Bennett said.
I miss my school, said the third-grader. I miss my friends.
"Cognitively, she understands why she's not in school," said her mom. "But it doesn't make it any easier."