Two years ago, 20% of Culler Middle School students missed so many days of school their absenteeism got a label: chronic.
Research shows that chronic absenteeism — when students miss at least 10% of school in a year, or about 18 days — is linked to poor academic performance and increased risk of dropping out.
So staff at Culler got to work. They assigned a counselor to each grade, and dedicated a social worker and the attendance secretary in building a system to identify at-risk kids early.
The school already had a truancy diversion program with the county attorney's office to work with chronically absent kids and their families.
Now, though, the school was trying to find those kids earlier, to figure out what was keeping them from school and address those barriers.
"Then it was that doggedness, that absolute doggedness of counselors and the social worker to follow through, to let them know we're there to help them and we want them to be at school," said Principal Michaela Hahn.
They saw results — a 4 percentage point drop in the chronic absenteeism rate.
The Nebraska Department of Education noticed. It also noticed the school's efforts to improve proficiency of English language learners — a building-wide focus that resulted in 65% of its ELL students moving up at least one proficiency level and reduced by 10% the number of students who'd spent more than two years at one level.
The school's work in those two areas meant it moved into a higher classification on the state education department's accountability system, known as Accountability for a Quality Education System, Today and Tomorrow, or AQuESTT.
The Nebraska Education Profile, released Wednesday, includes the 2018-19 classification of the state's 244 districts and 1,004 schools — "excellent," "good," "great" or "needs improvement" — along with state test scores, demographic and financial information.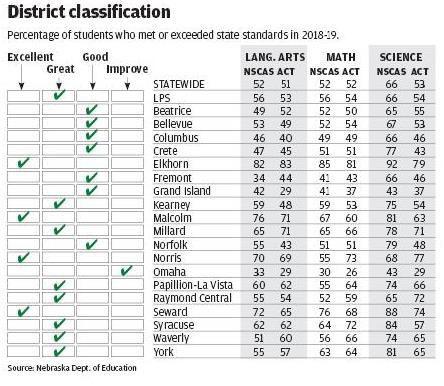 Culler — a high-poverty school where 22% of the students are English language learners — was one of just two schools in LPS to move up a classification based on such work. Maxey Elementary was the other.
Culler became one of 18 LPS schools classified as "good." Seven LPS schools are classified as excellent, 26 as great and six as needing improvement. LPS as a district retained a "great" classification.
Statewide, 12% of schools are classified as excellent, 42% as great, 33% as good and 13% as needing improvement.
The state classifications are based largely on how students perform on state tests, but performance on those tests has always been linked largely to the poverty level of schools, and the state education department has worked hard to offer other ways for schools to change the classifications.
In addition to test scores, the accountability system takes into account high school graduation rates, how much test scores improve, improvements in ELL proficiency and drops in chronic absenteeism.
Schools also can move up a classification if they prove to the state that they're using certain best practices — a review that's still ongoing.
All six of the LPS schools in the lowest classification could be bumped to "good" after the state reviews the best practices documents.
Seven LPS schools classified as "good" and three classified as "great" could move up a classification after the review, among 84 schools eligible statewide.
Nebraska Education Commissioner Matt Blomstedt said he wants the data collected on the profile to be useful to schools, and to shift the focus from a negative "labeling" to helping them pinpoint where they should focus their efforts — and help when they can. 
The state education department taps up to four "priority schools" for intervention to help them improve, a requirement of state law. Those schools are Schuyler High School, and the elementary, middle and high school in Santee Community Schools.
"Not everyone is happy with the way we do accountability," Blomstedt said. "But we're really thinking about how to use the data to improve student performance."
That should include the community, he said.
"We need people who are willing to engage," he said. "These are truly public schools. We all own them and are part of them and can be a part of the supports that make a difference for student outcomes."
Federal education law requires another new designation this year: schools that have low-performing subgroups of students — low-income, special-education, and racial and ethnic minorities.
The designation is similar to the oft-maligned No Child Left Behind law, except that unlike NCLB, the new federal education law doesn't require schools to meet benchmarks or threaten to withhold federal funds for low performance. The designation also doesn't carry any money with it to help schools improve.
But Blomstedt said he hopes identifying which students need help will help schools focus their efforts. The state can provide guidance on best practices, he said.
"From an equity perspective, we're interested in making sure they are doing as well as their peers," he said. "Truly being accountable is not just knowing something but doing something."
Twenty-seven of the schools at LPS have the "targeted support" designation, among 110 schools statewide.
On state test scores, the overall performance of many LPS students on state English language arts, math and science tests dropped in 2018 — although ACT scores for high school juniors all rose, and all grades continued to perform above the state averages.
Students in third through the eighth grade take state tests in English language arts (which includes writing) and math. Students in fifth and eighth grade take the science test. In high school, juniors take the ACT to determine proficiency in those same subjects.
Among the results of the LPS test:
* English language arts: Districtwide, 56% of students were proficient, down from 59% the previous year. The statewide average was 52%, up 1 percentage point from the year before. At LPS, the highest average proficiency rates were 65% in fourth grade; the lowest was 50% in seventh grade.
* Math: Districtwide, 56% of students were proficient, down 1 percentage point from the previous year. The statewide average was 52%, up 1 percentage point from the year before. At LPS, the highest proficiency rates were 61% in the sixth grade, the lowest was 50% in eighth grade.
* Science: Districtwide, 66% of student were proficient in science, down from 69% the previous year. Statewide, 66% of students were proficient, down from 68%. At LPS, 63% of eighth graders were proficient, down 6 percentage points from the year before; 70% of fifth graders were proficient, up 1 percentage point.
* ACT: 54% of high school juniors were proficient in math and science; 53% in English. All areas improved over last year by 2 to 5 percentage points. All were above the state average.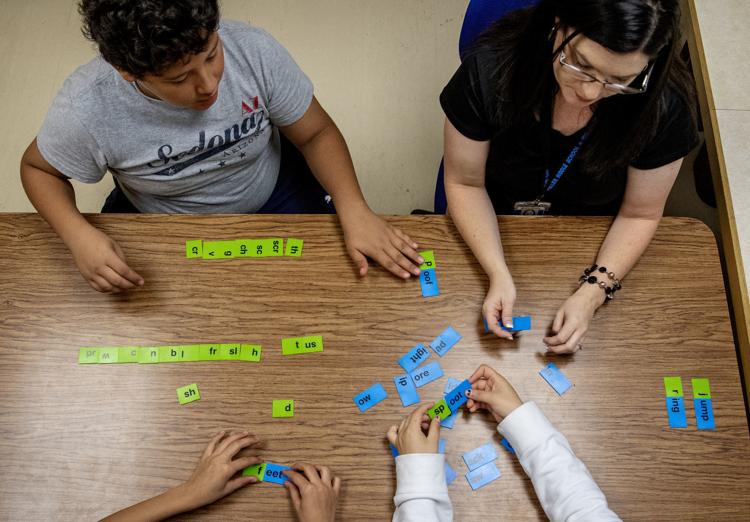 At Culler, the school held a celebration to recognize work it had done with ELL and truant students, but the principal said she knows the school still has a lot of work to do. Test scores dipped in all subjects, as they did with most of the LPS middle schools.
So Hahn said she'll keep working.
Matt Larson, associate superintendent of instruction at LPS, said he was pleased overall with the scores, but echoed Hahn's message.
"We know we have challenges and will continue to work on those to make sure we reach each and every student," he said.
Each Lincoln school's ranking
LPS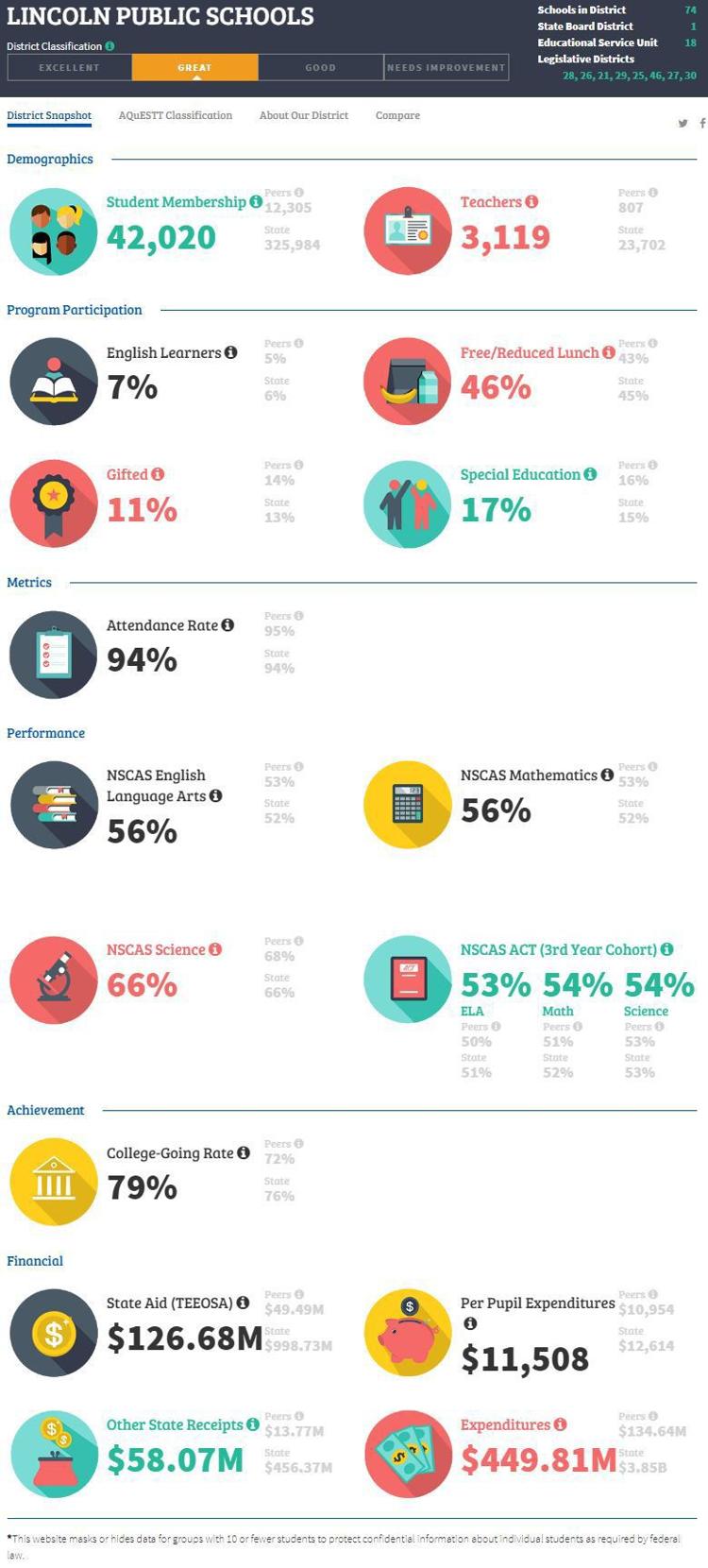 Adams Elementary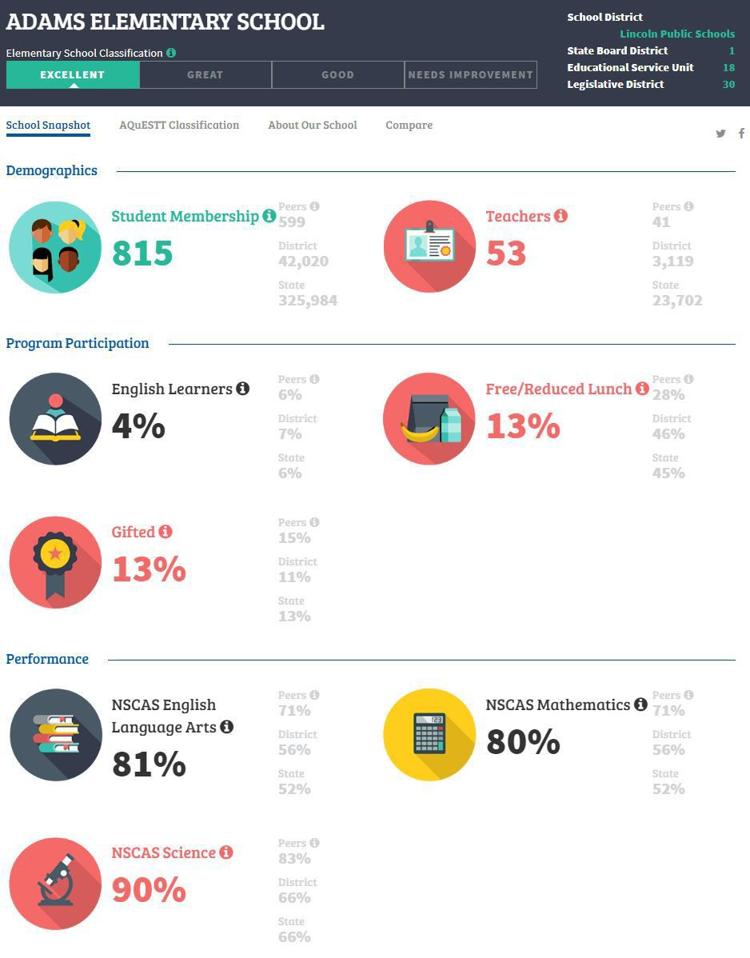 Arnold Elementary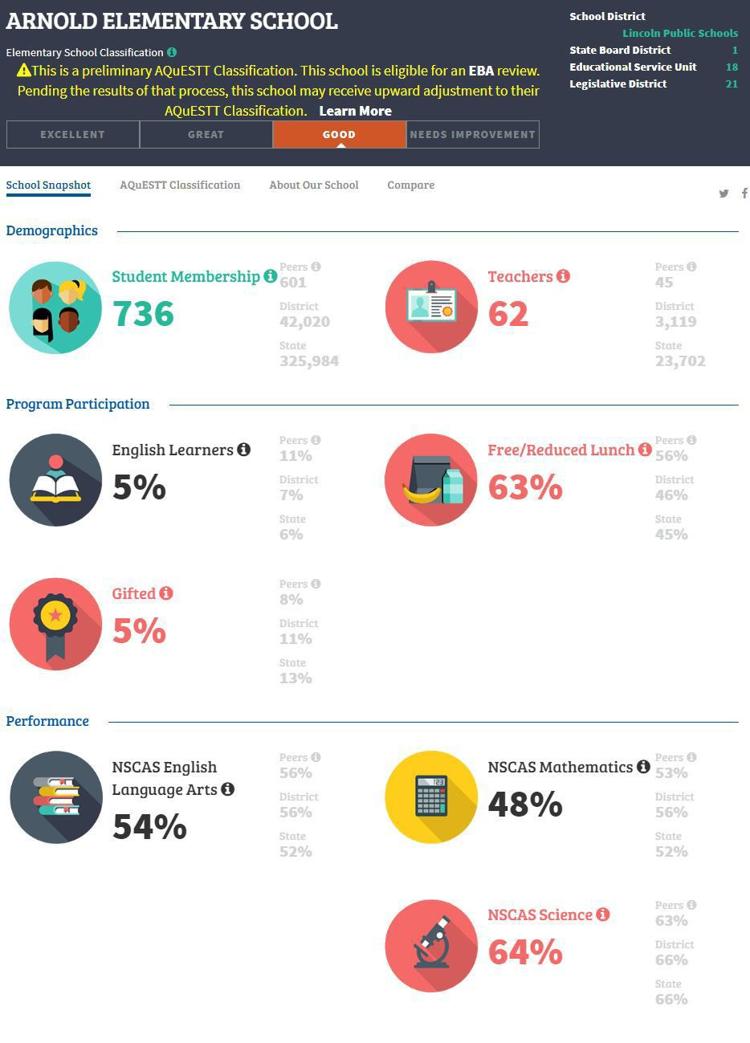 Beattie Elementary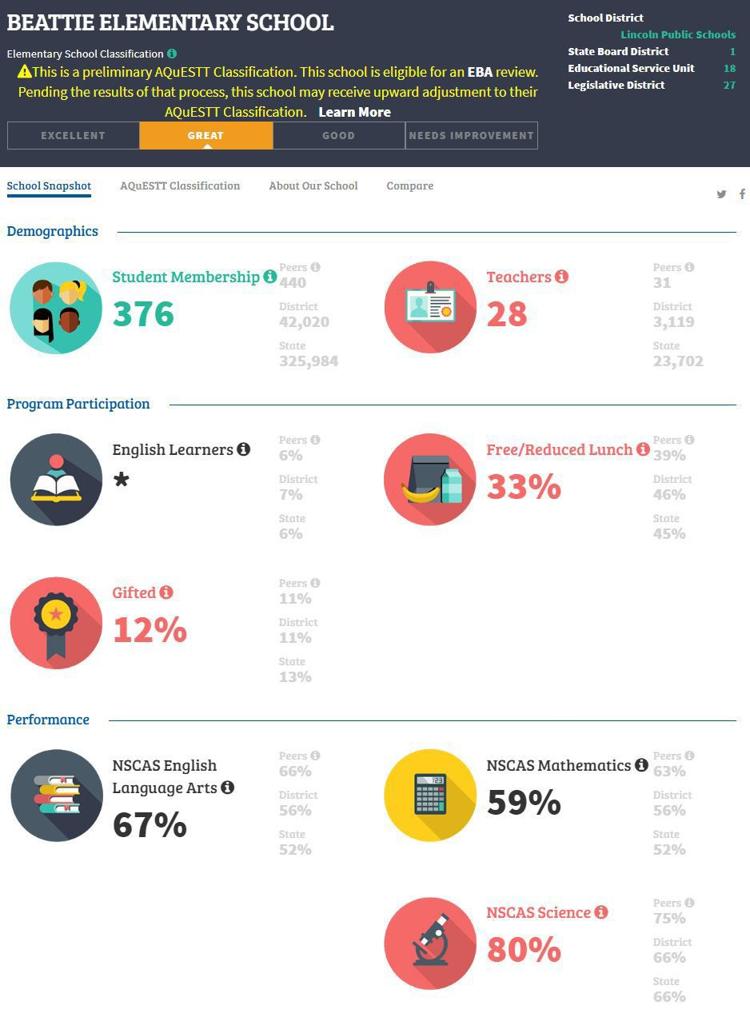 Belmont Elementary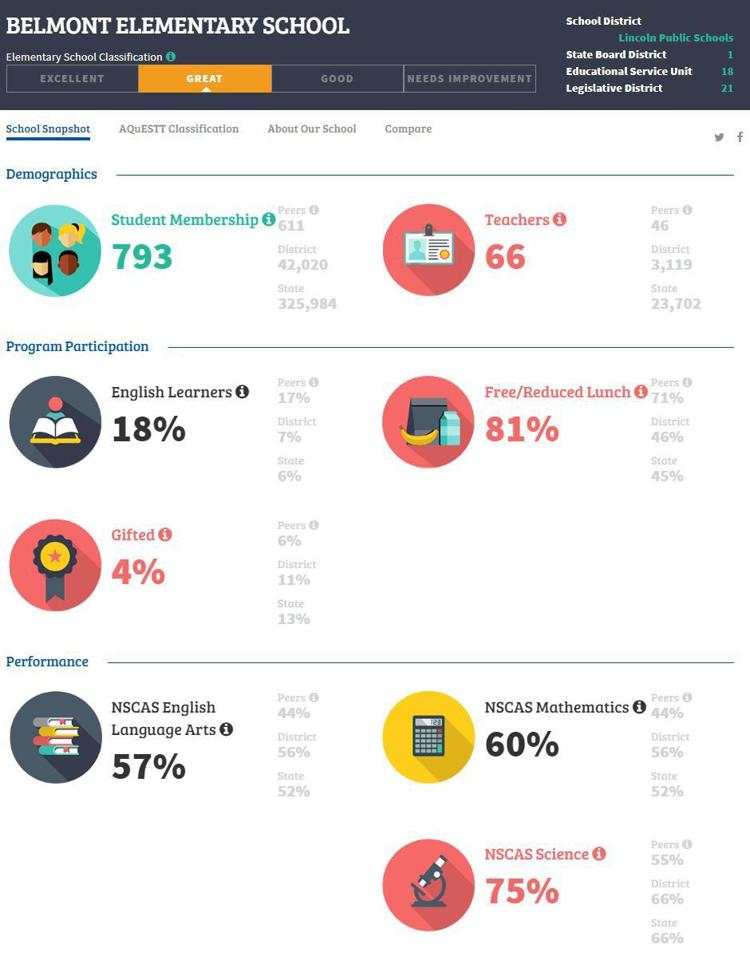 Brownell Elementary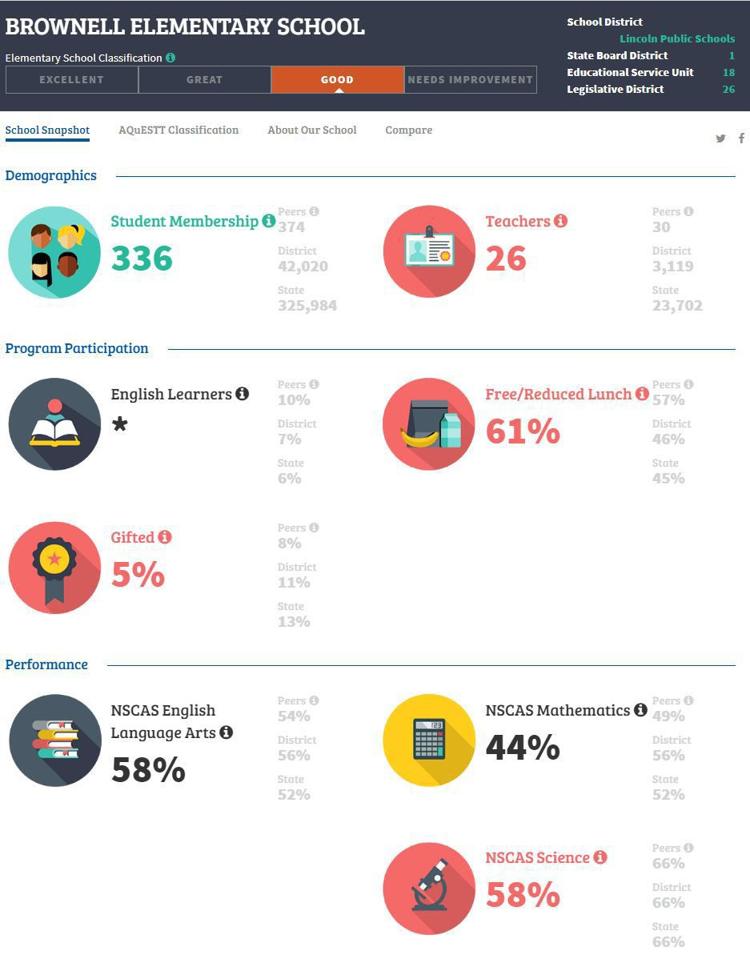 Calvert Elementary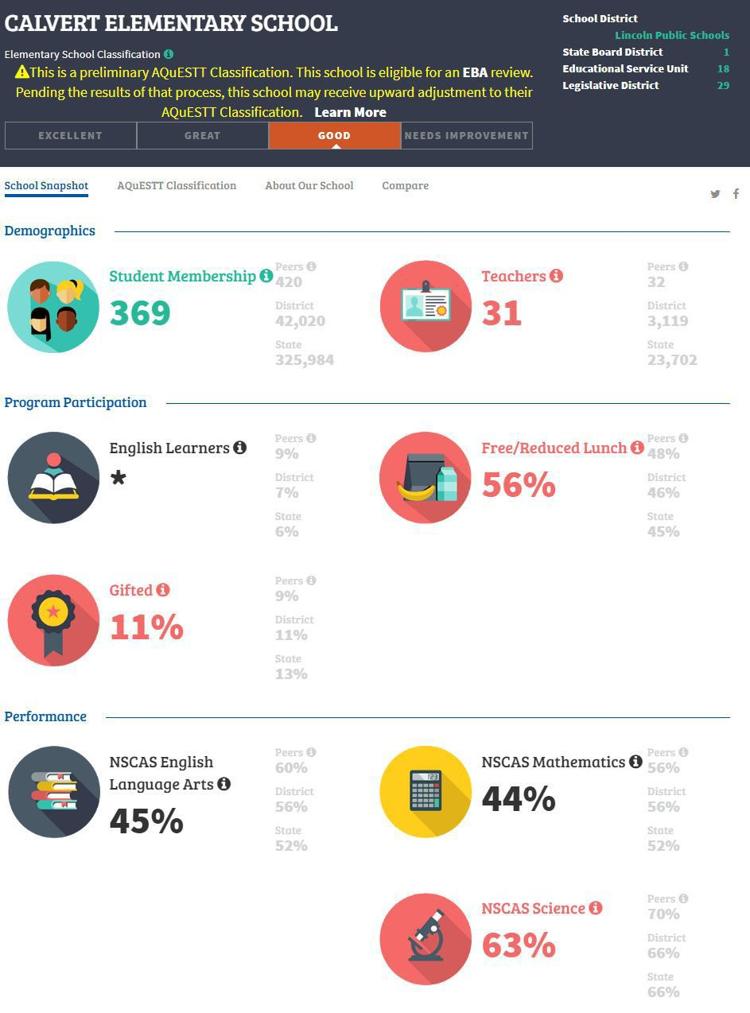 Campbell Elementary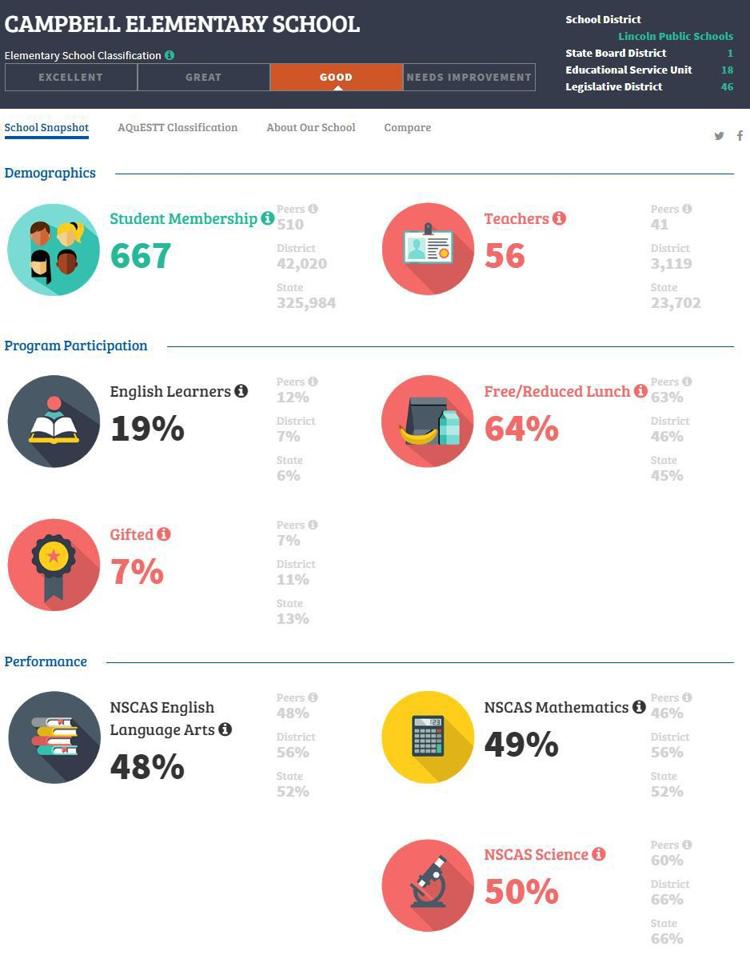 Cavett Elementary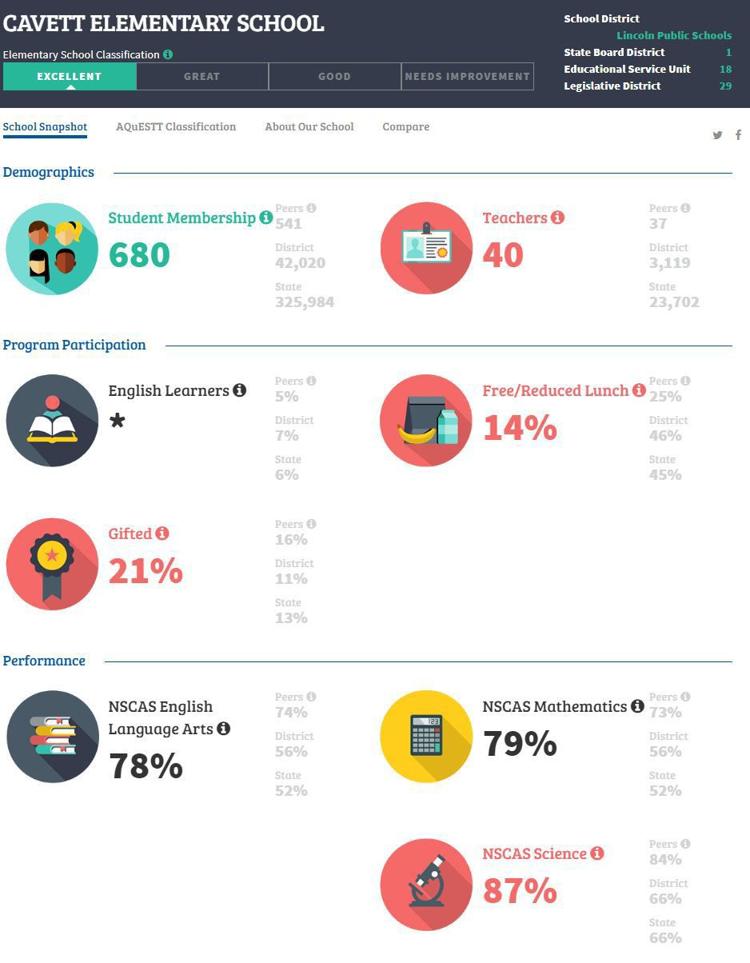 Clinton Elementary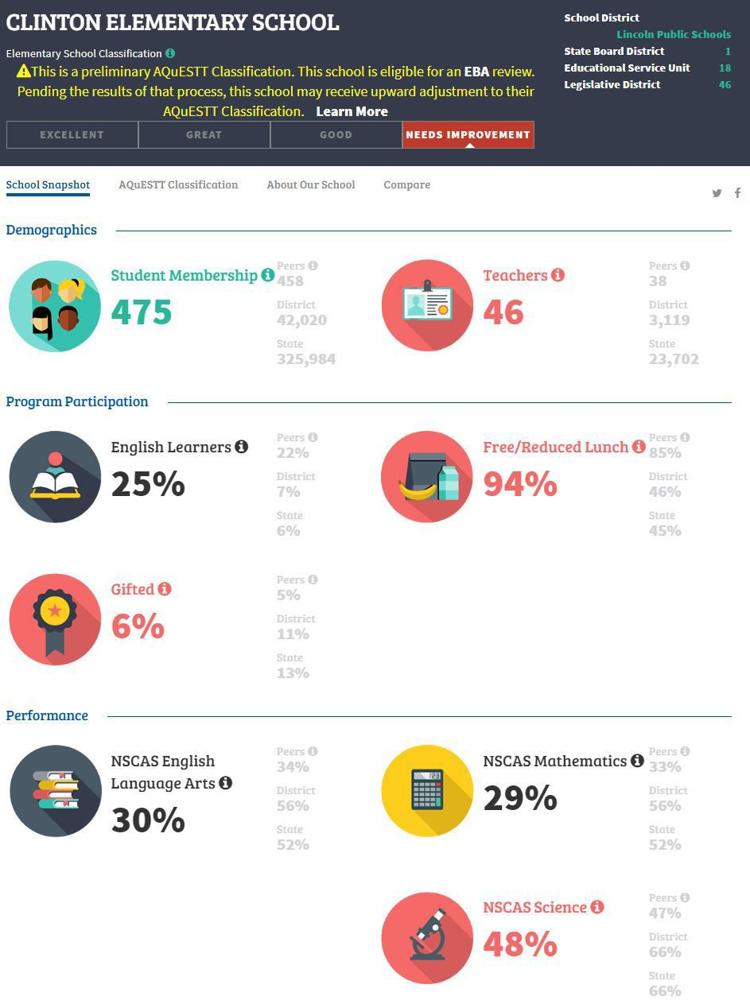 Eastridge Elementary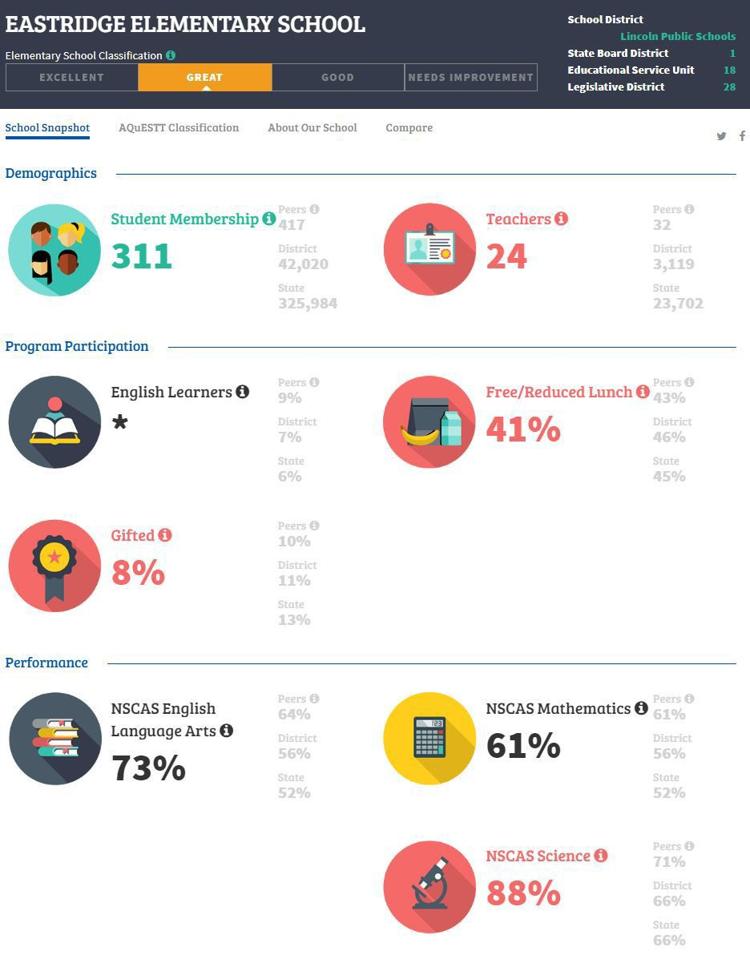 Elliott Elementary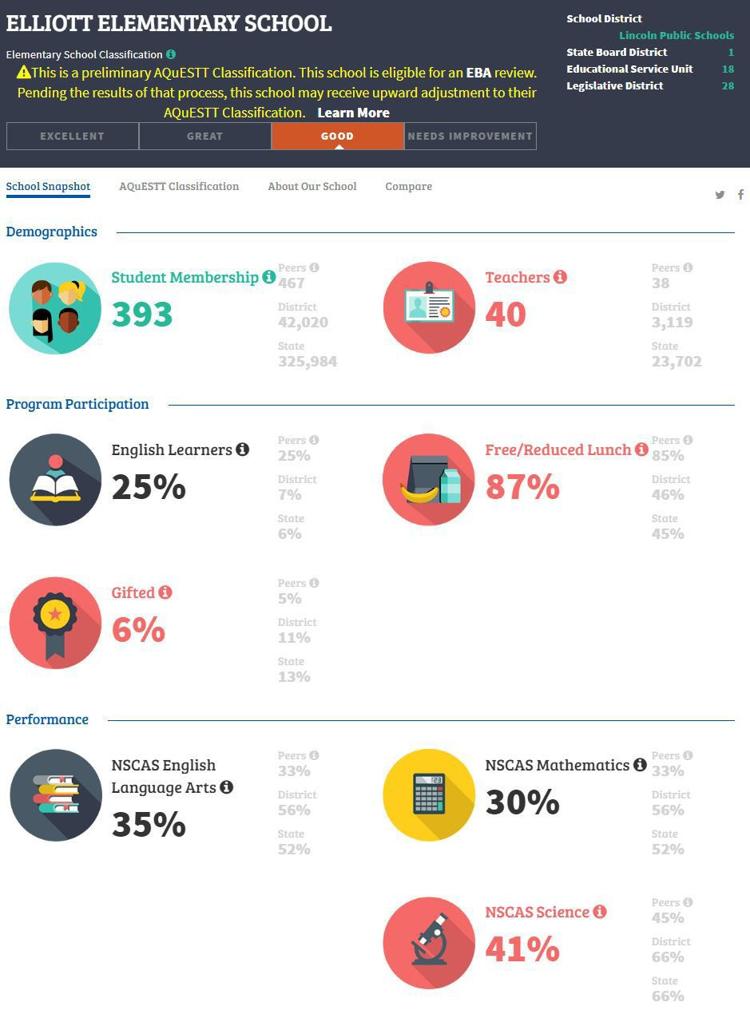 Everett Elementary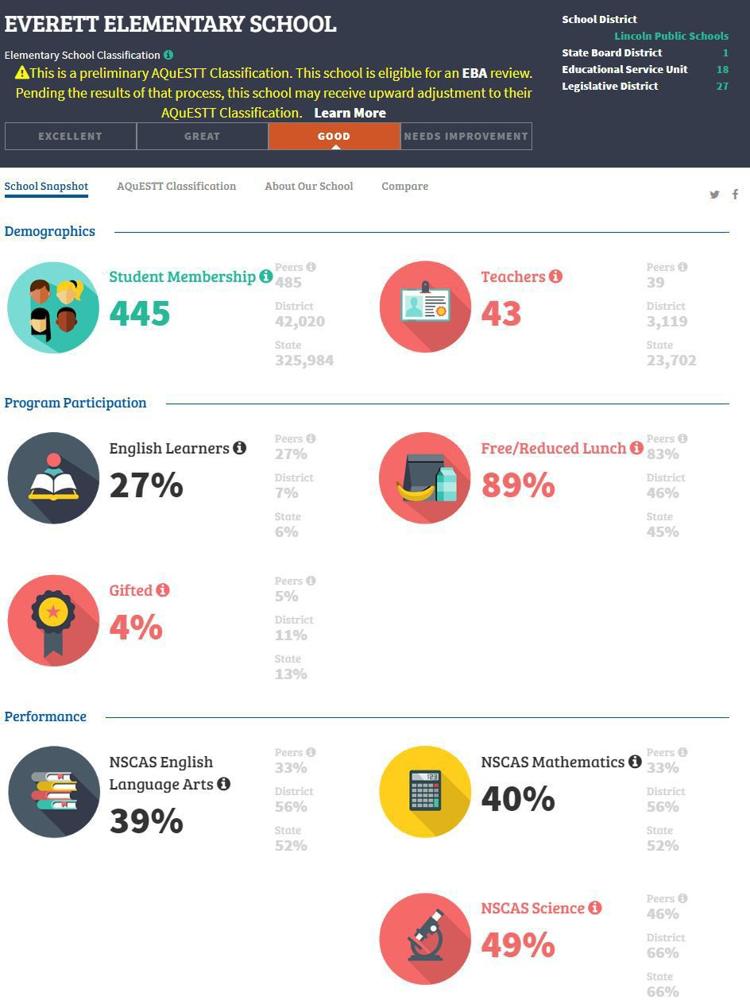 Fredstrom Elementary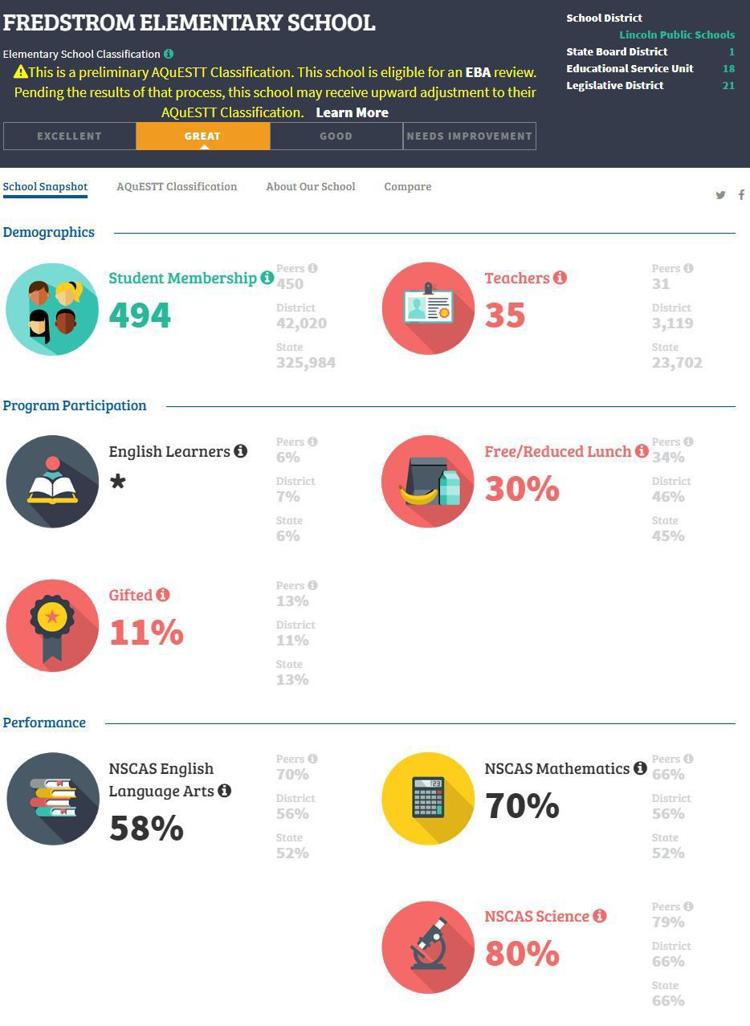 Hartley Elementary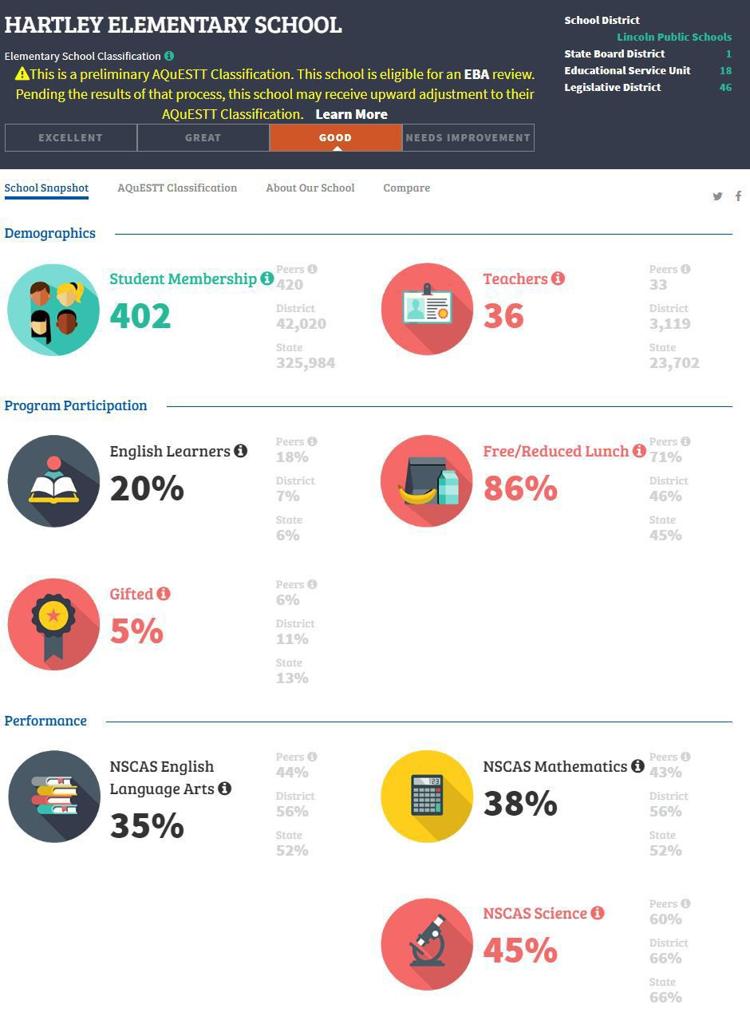 Hill Elementary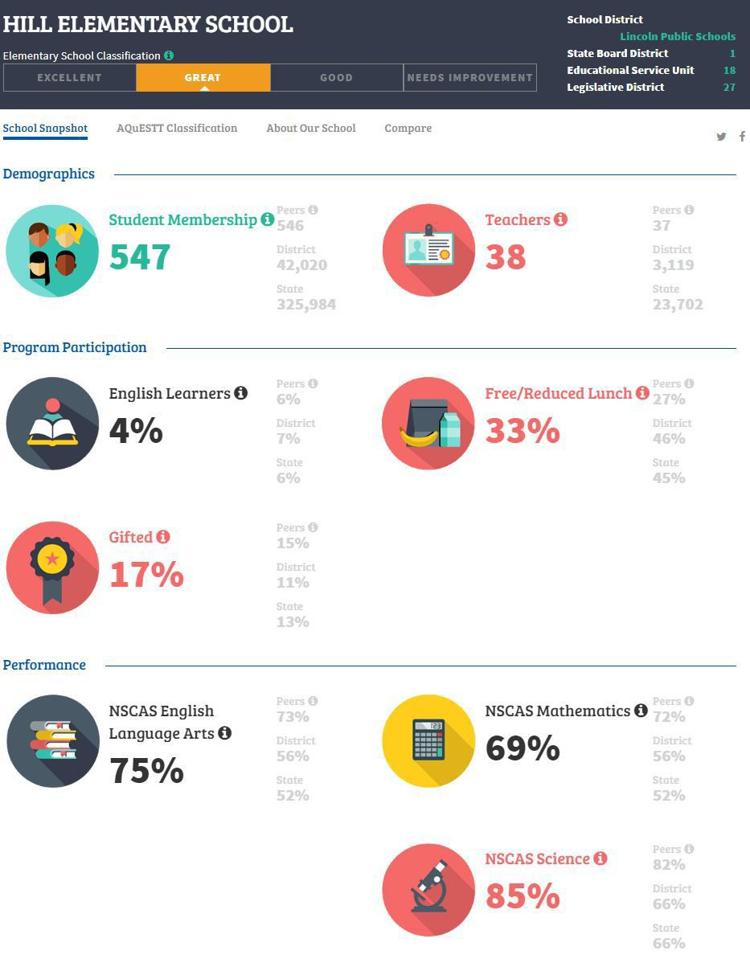 Holmes Elementary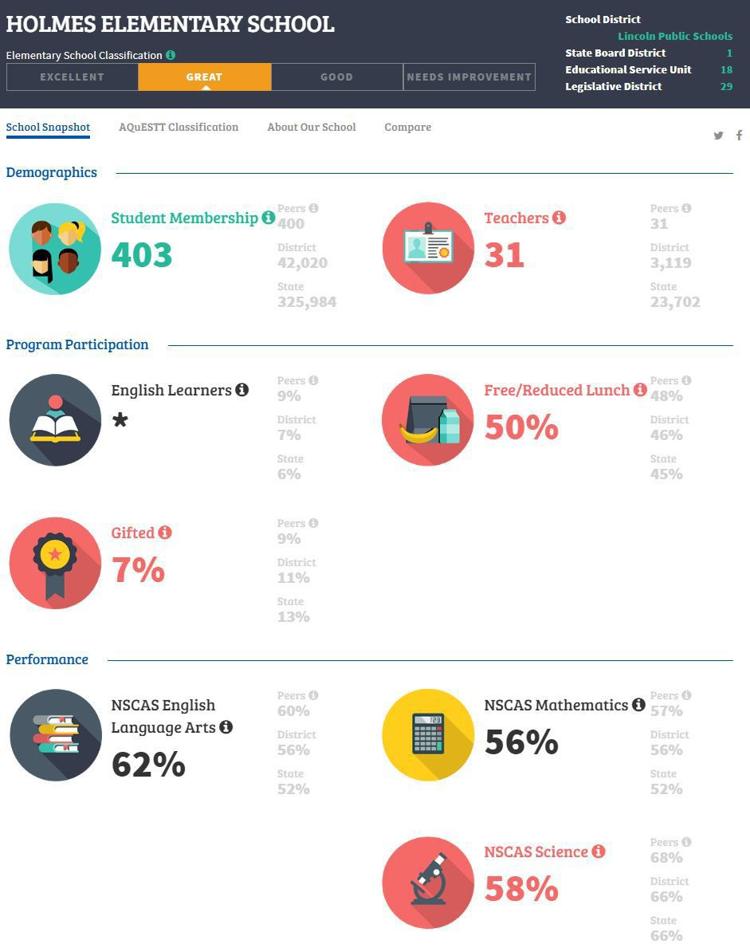 Humann Elementary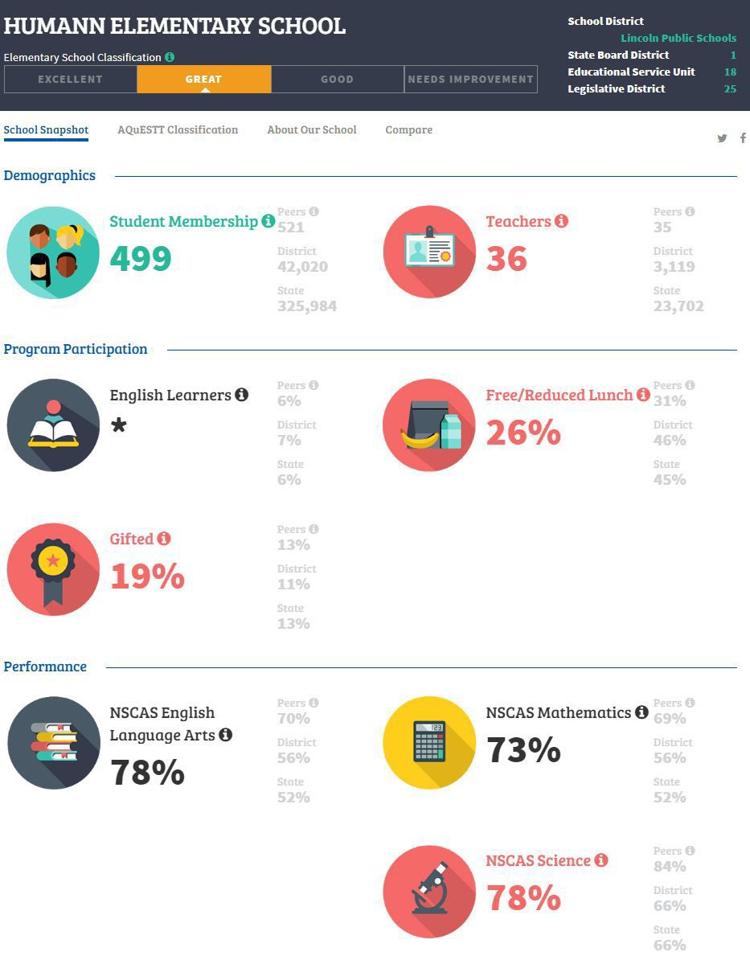 Huntington Elementary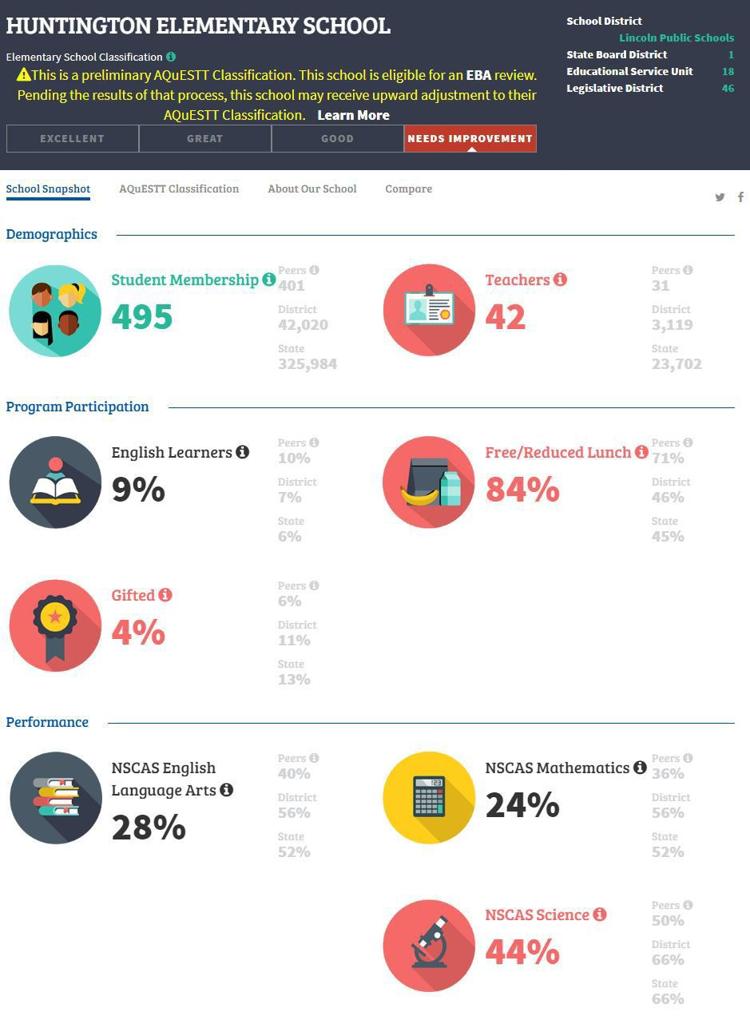 Kahoa Elementary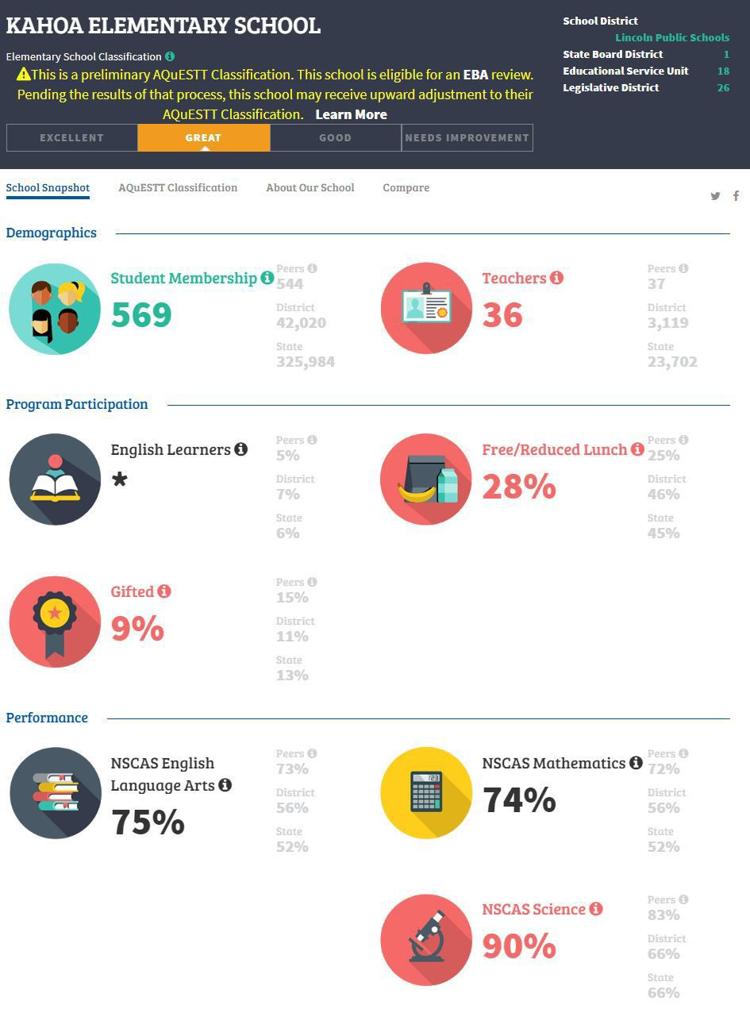 Kloefkorn Elementary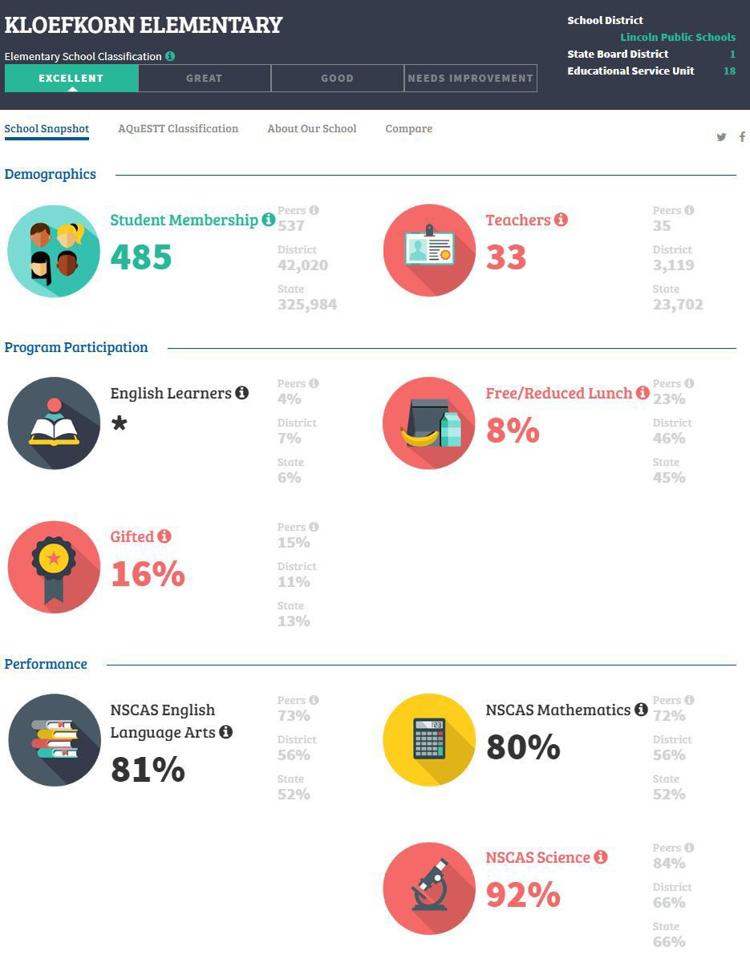 Kooser Elementary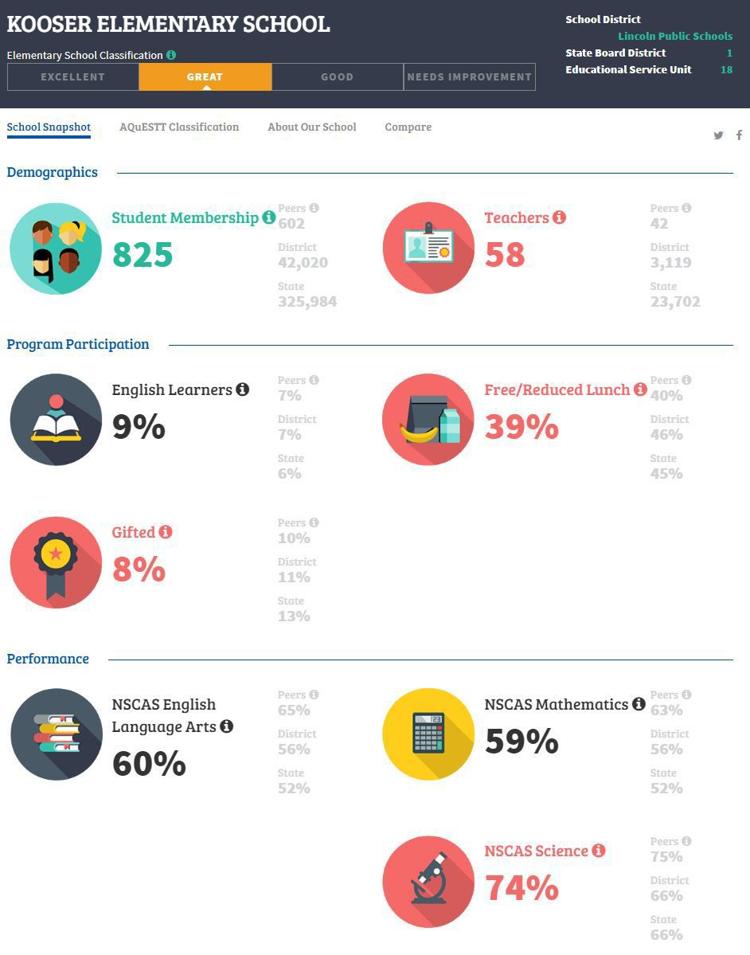 Lakeview Elementary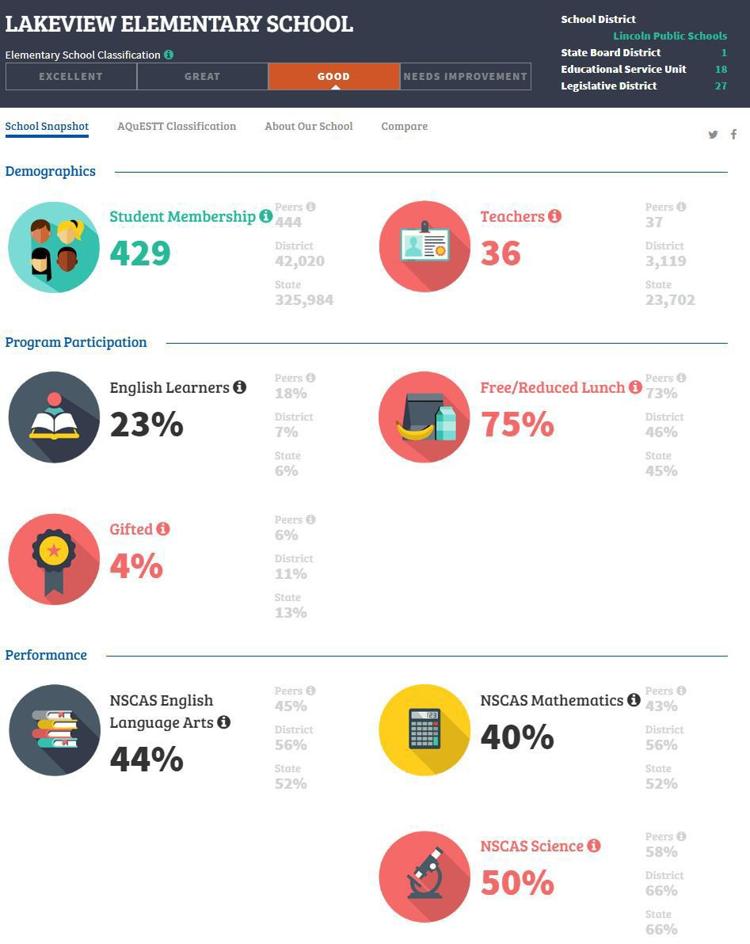 Maxey Elementary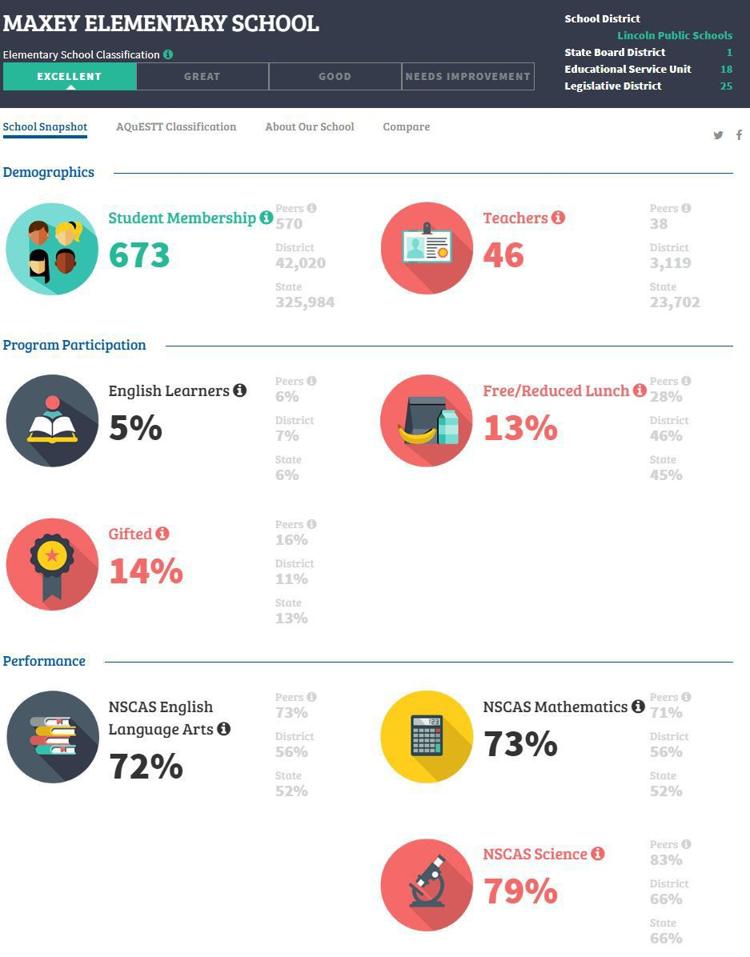 McPhee Elementary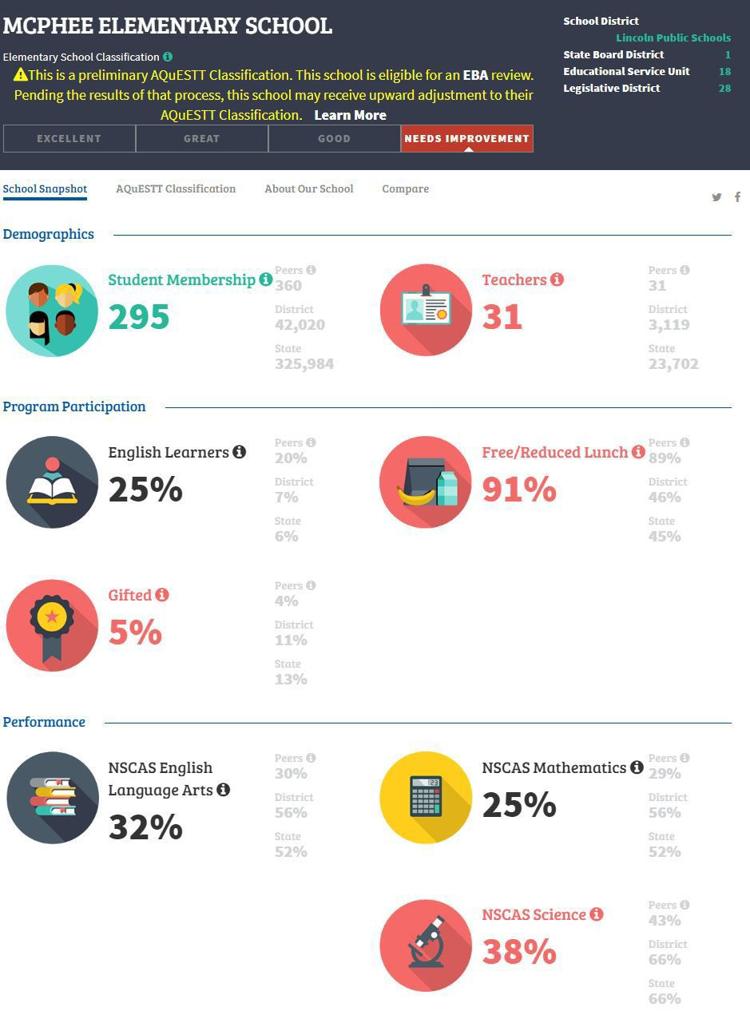 Meadow Lane Elementary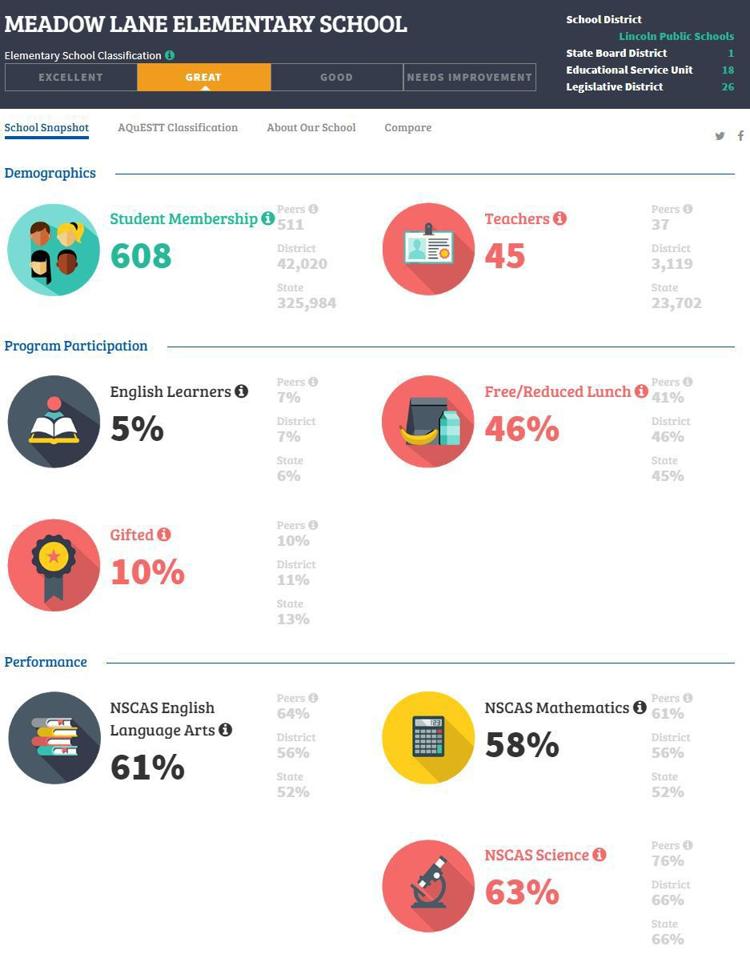 Morley Elementary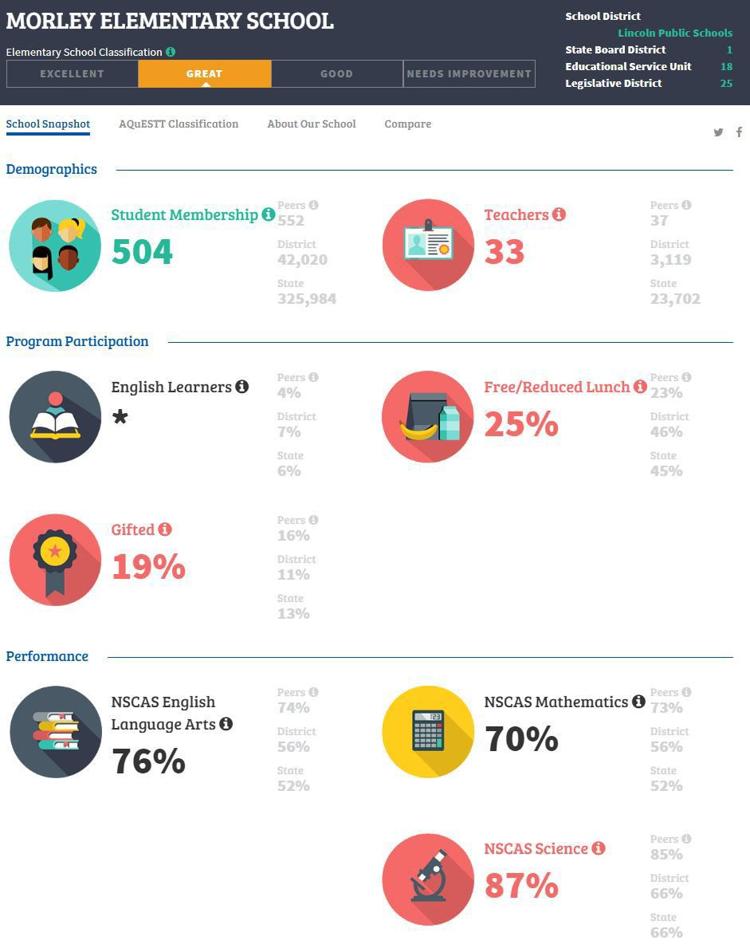 Norwood Park Elementary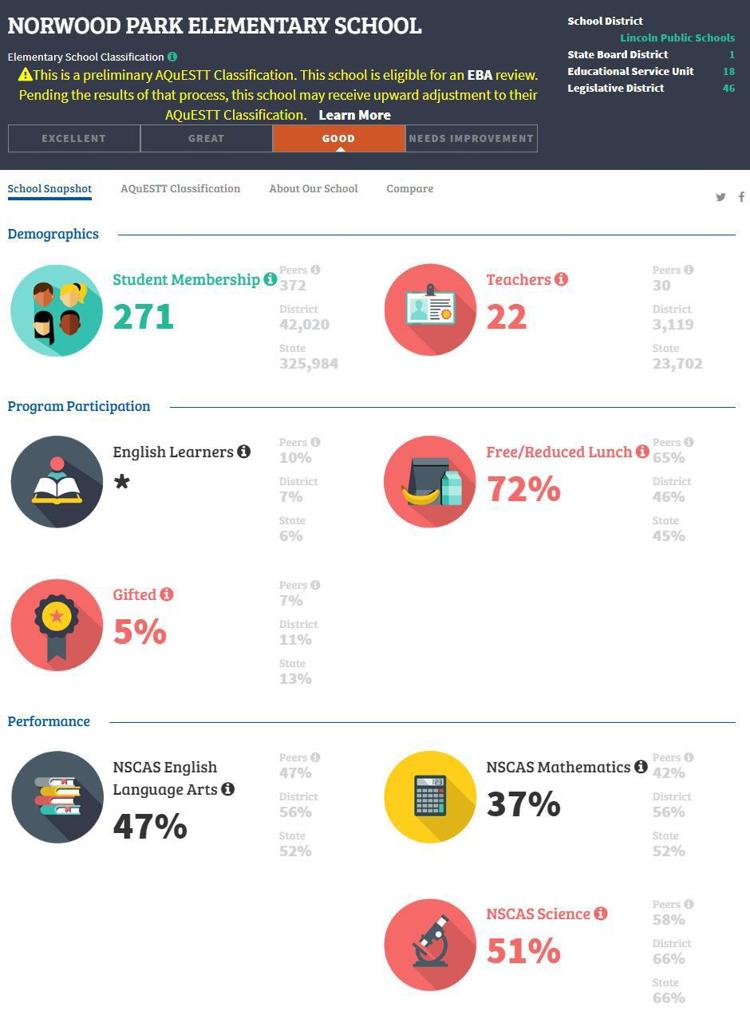 Pershing Elementary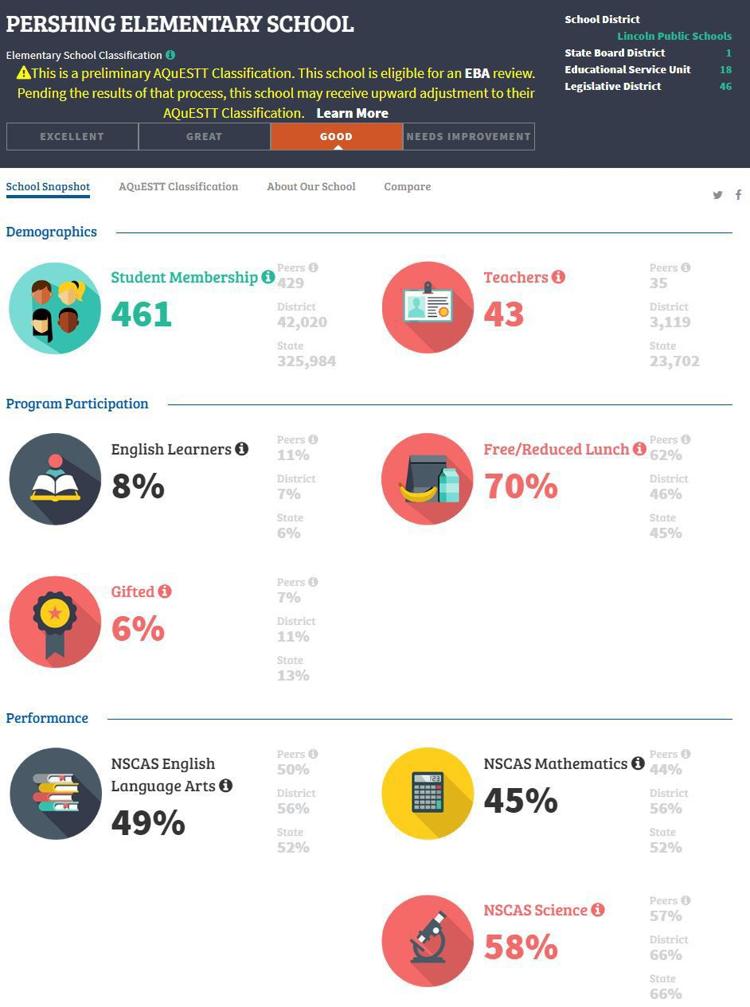 Prescott Elementary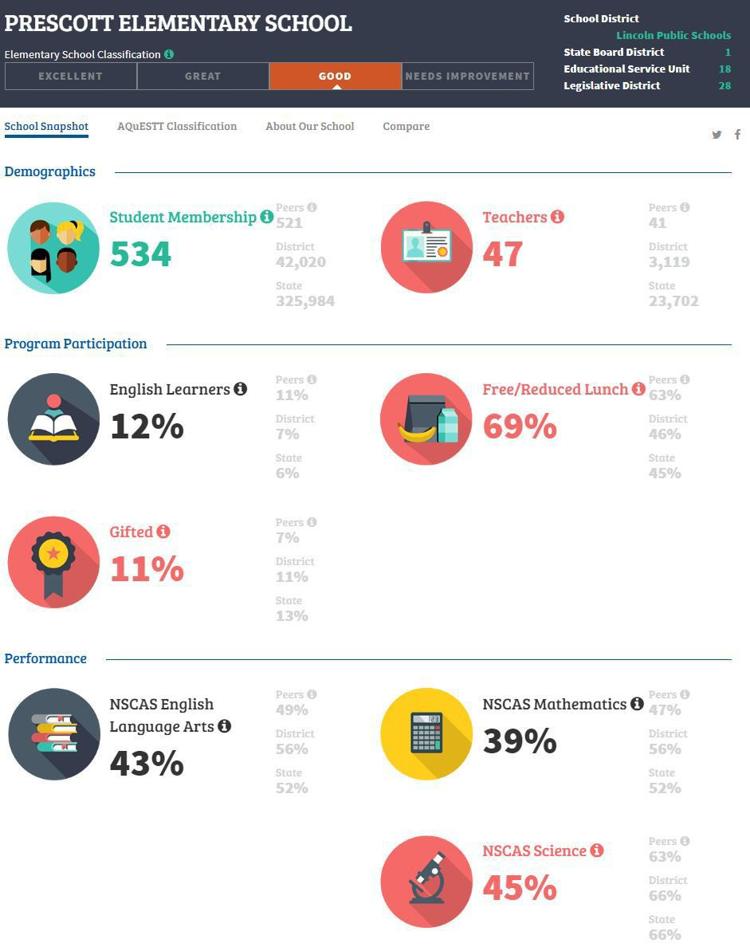 Pyrtle Elementary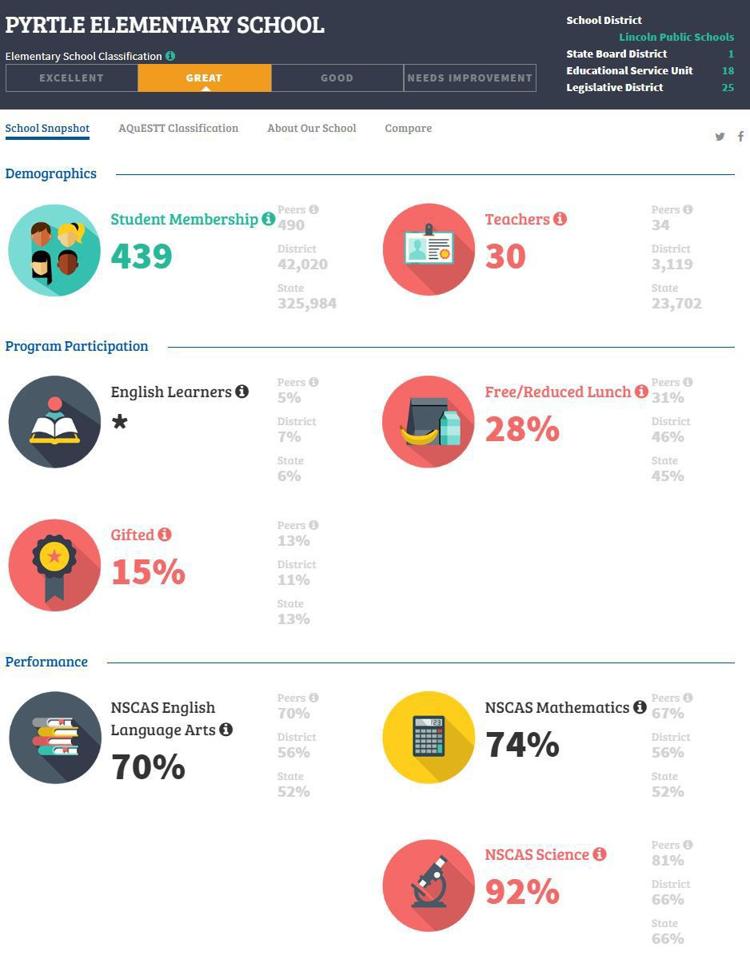 Randolph Elementary
Riley Elementary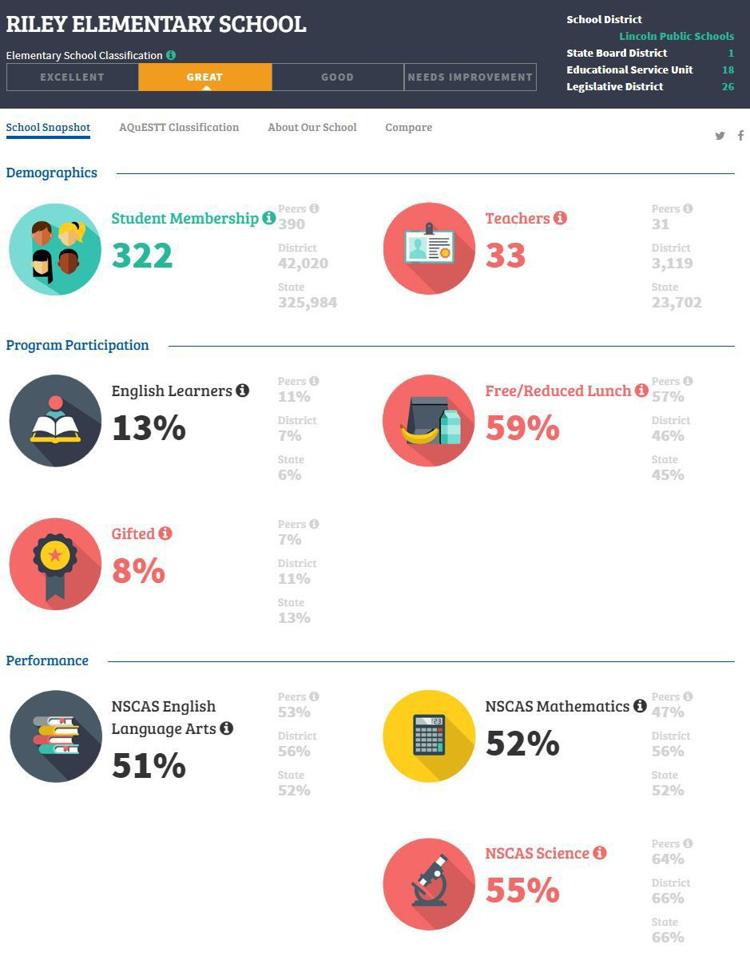 Roper Elementary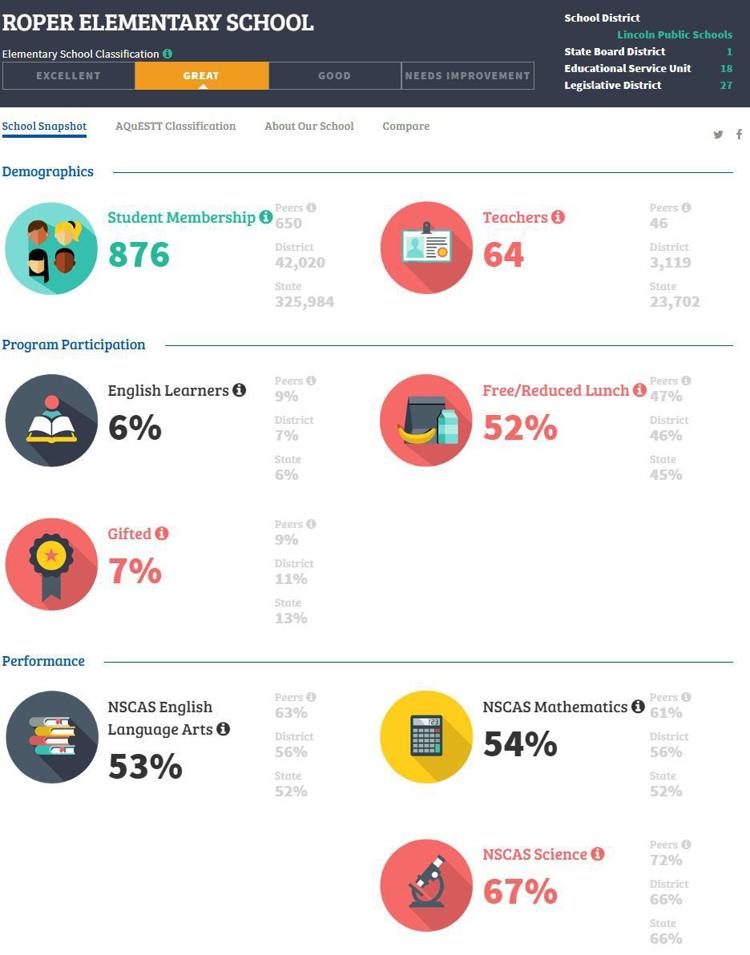 Rousseau Elementary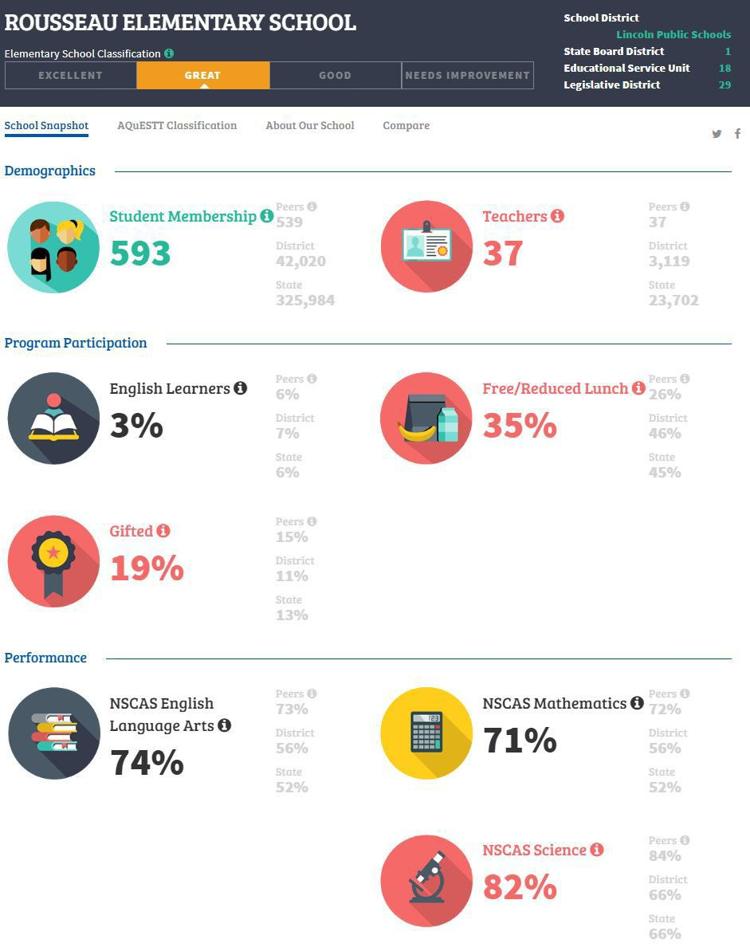 Saratoga Elementary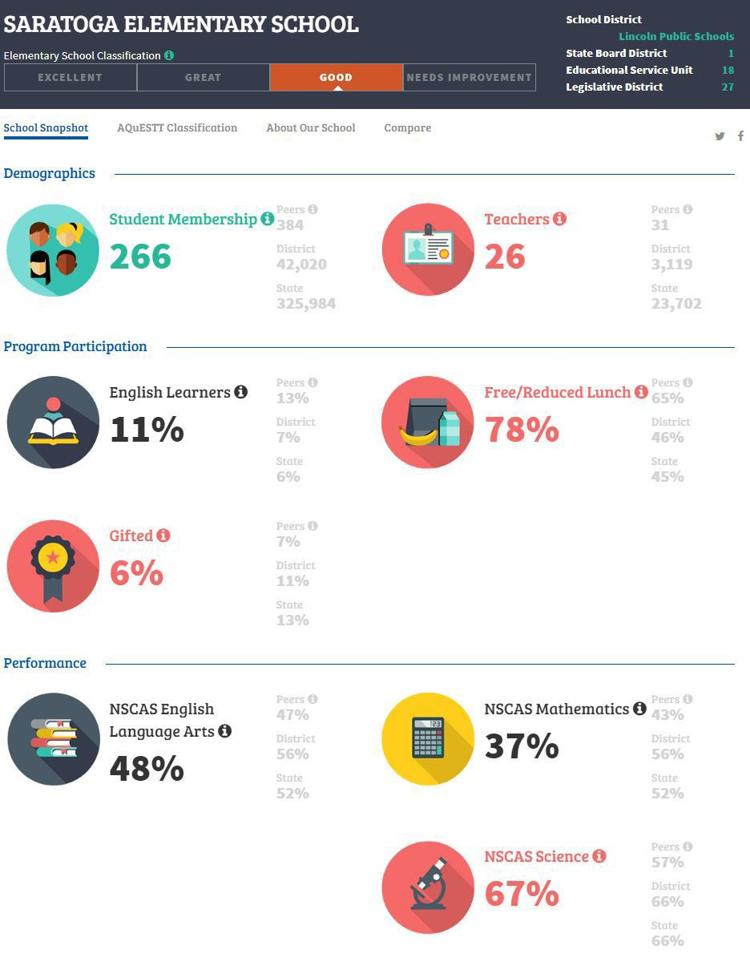 Sheridan Elementary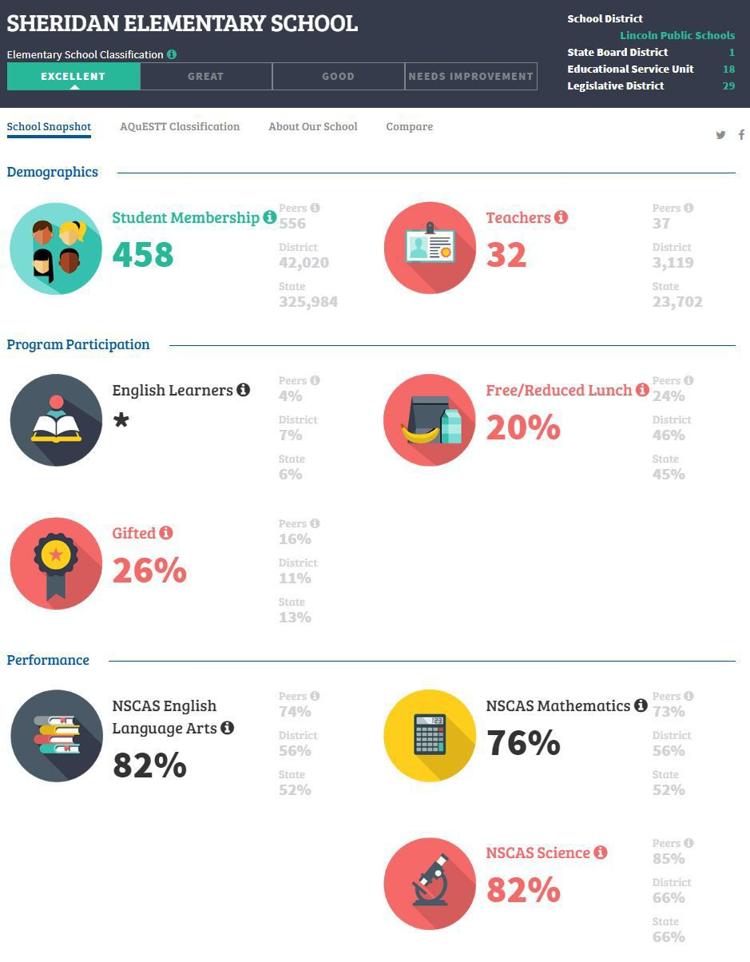 West Lincoln Elementary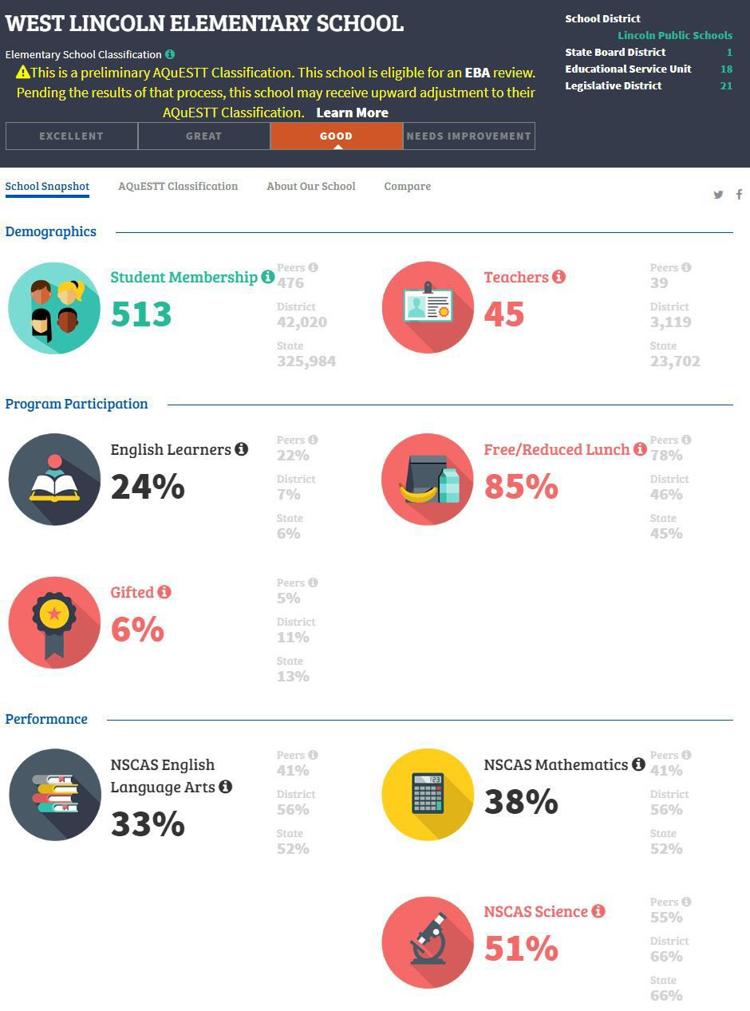 Wysong Elementary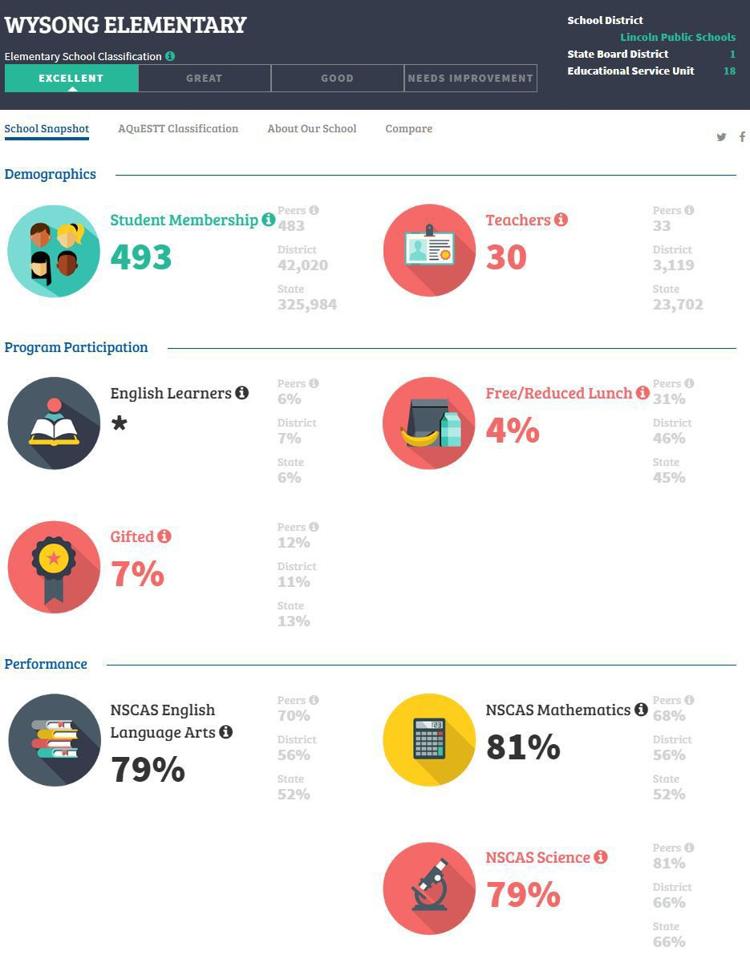 Zeman Elementary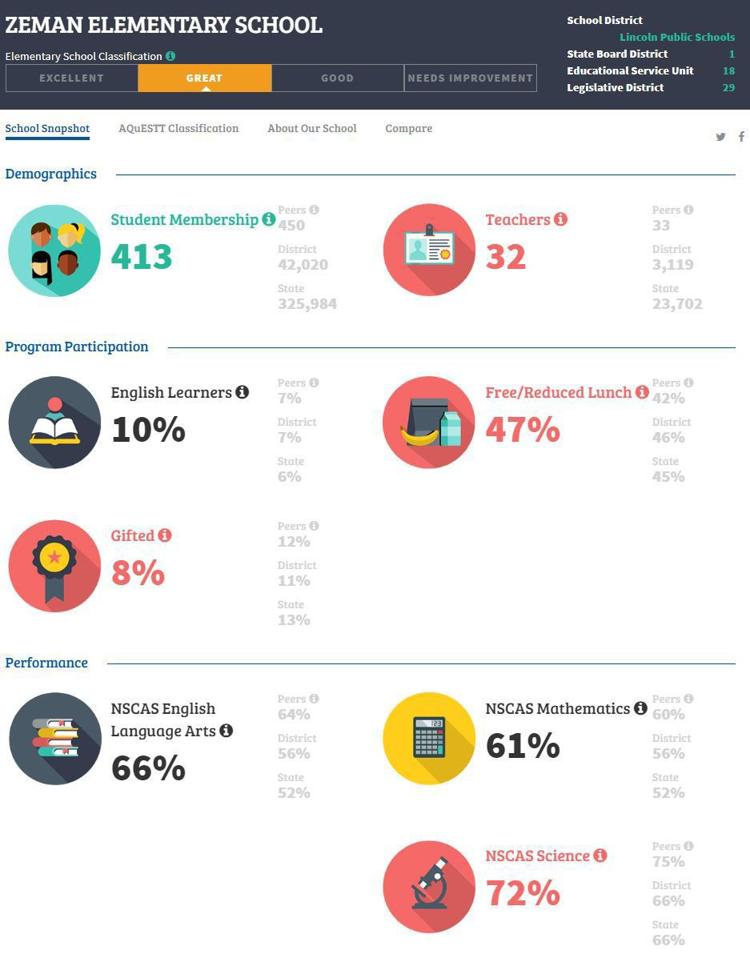 Culler Middle School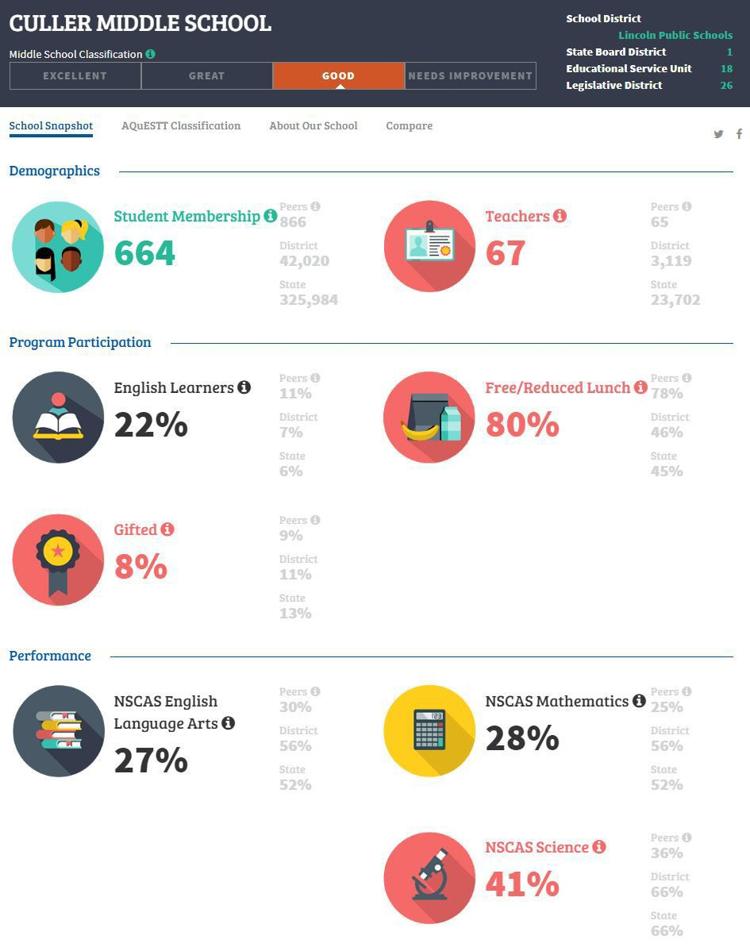 Dawes Middle School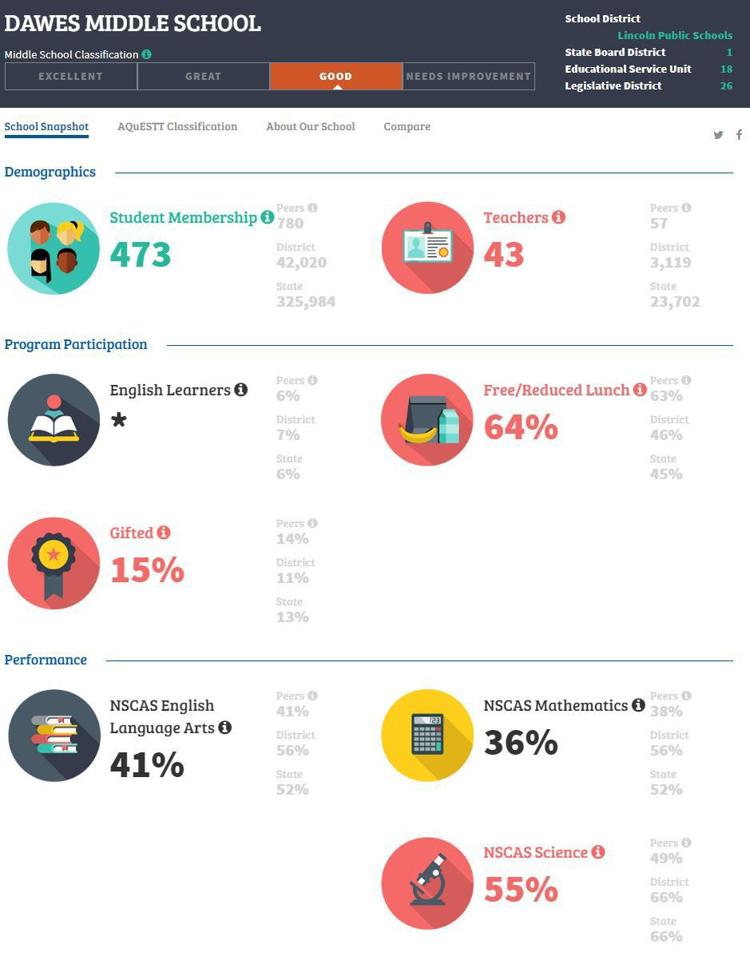 Goodrich Middle School
Irving Middle School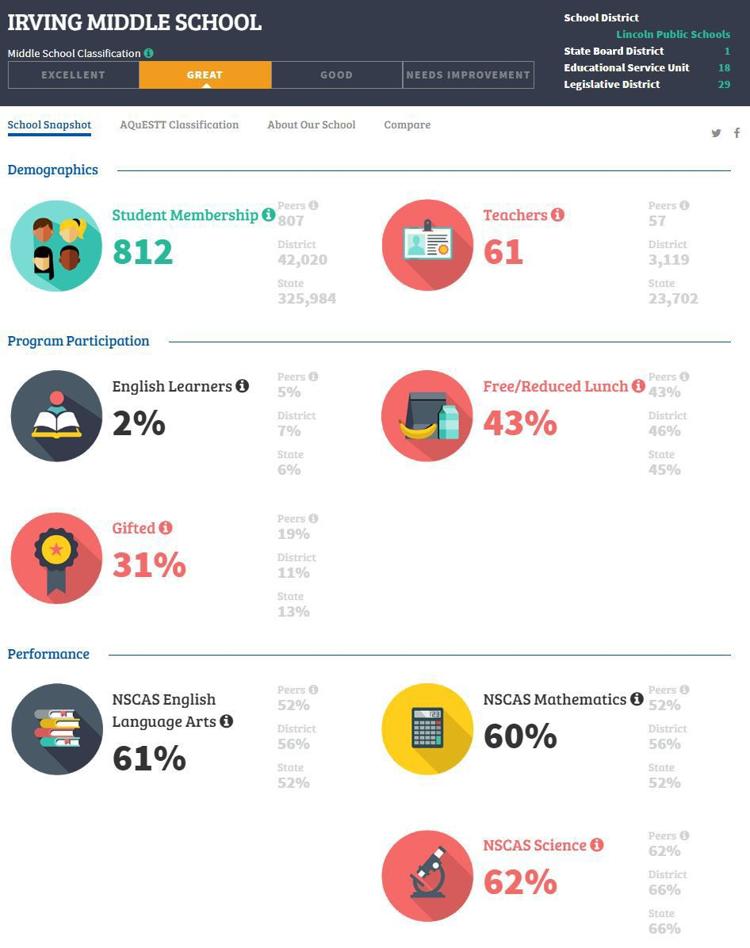 Lefler Middle School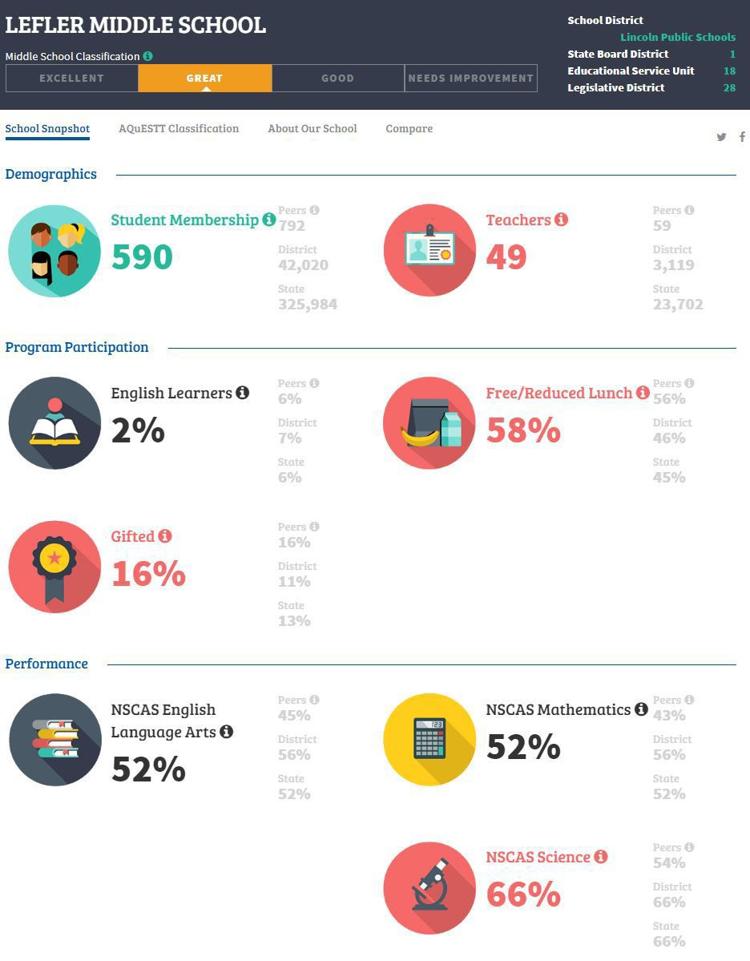 Lux Middle School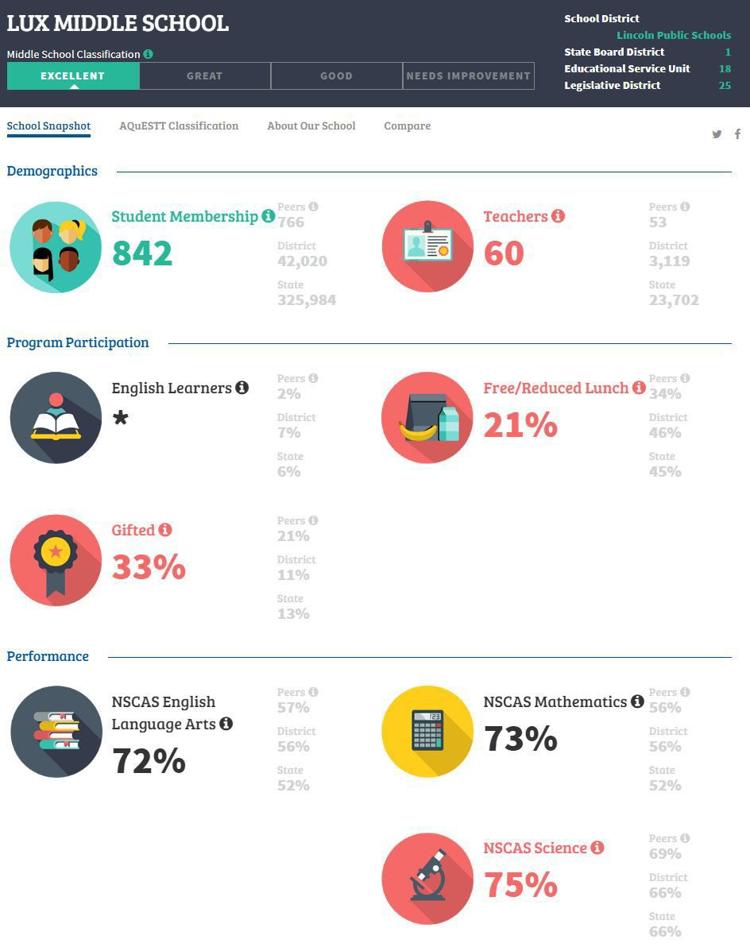 Mickle Middle School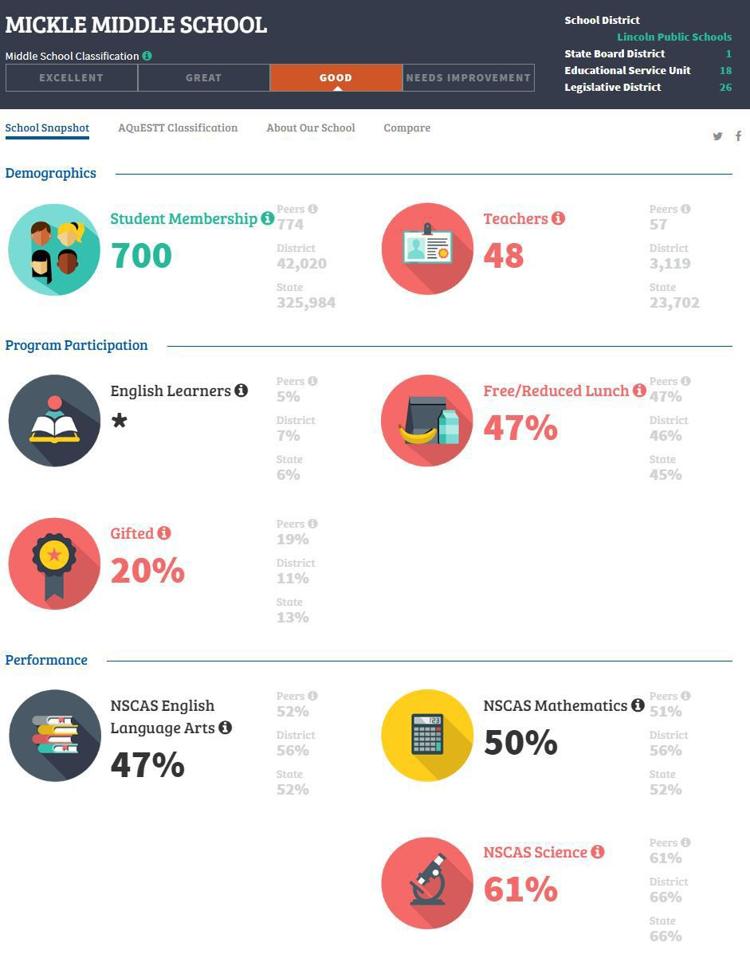 Moore Middle School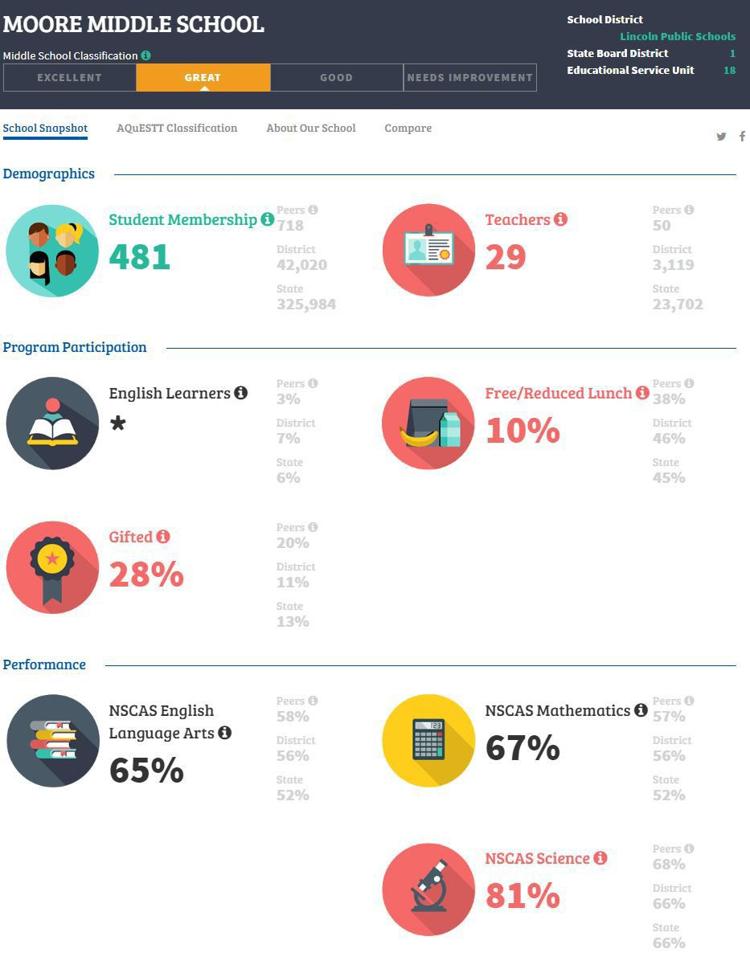 Park Middle School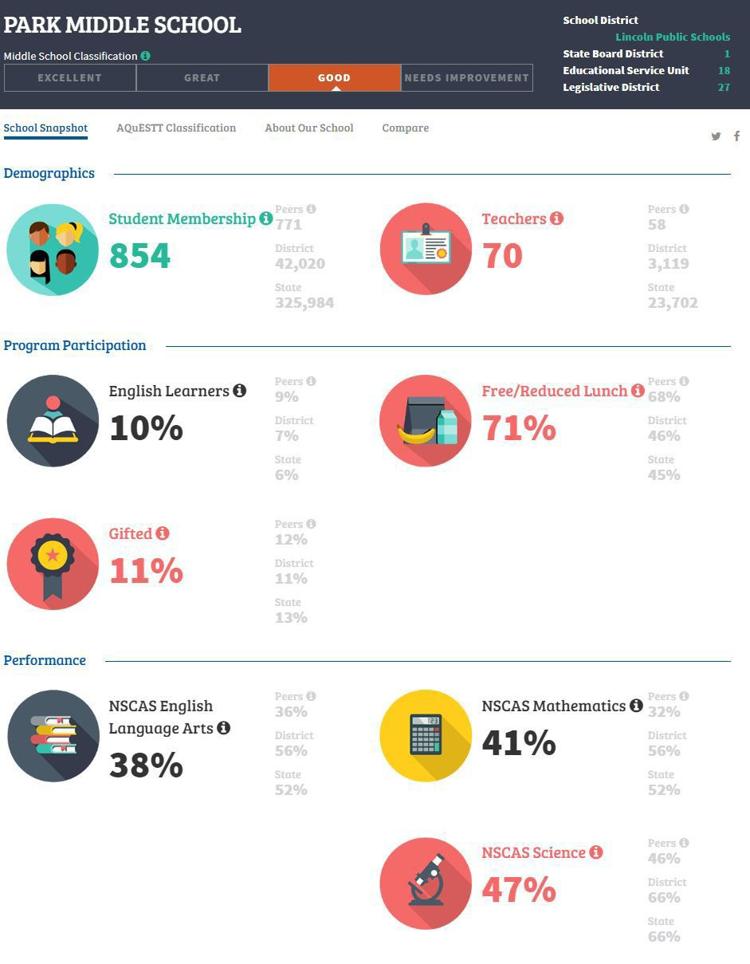 Pound Middle School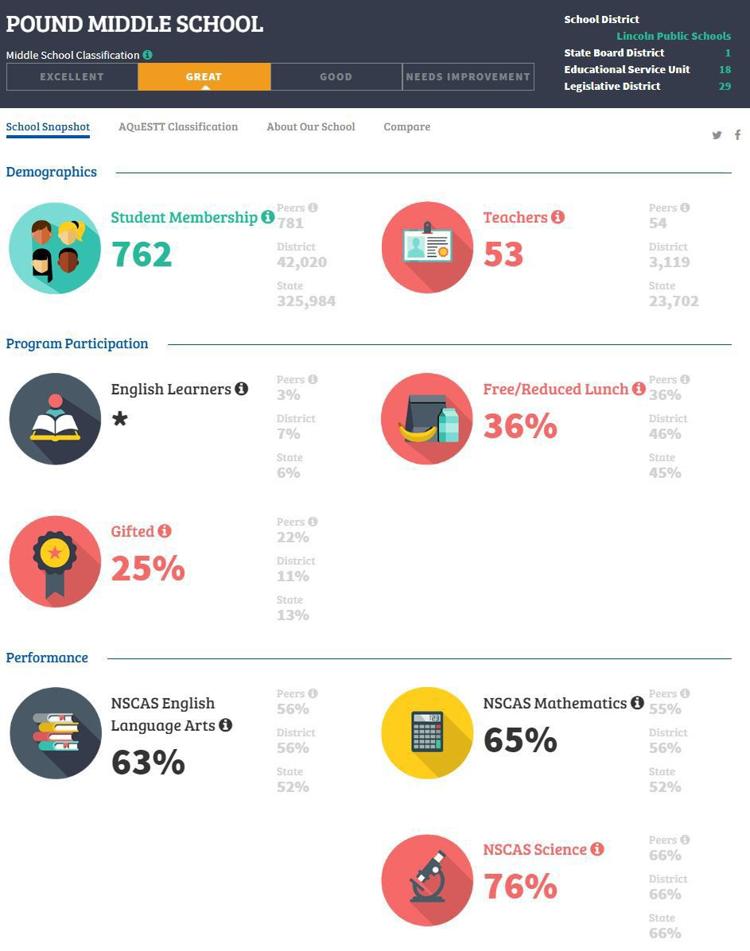 Schoo Middle School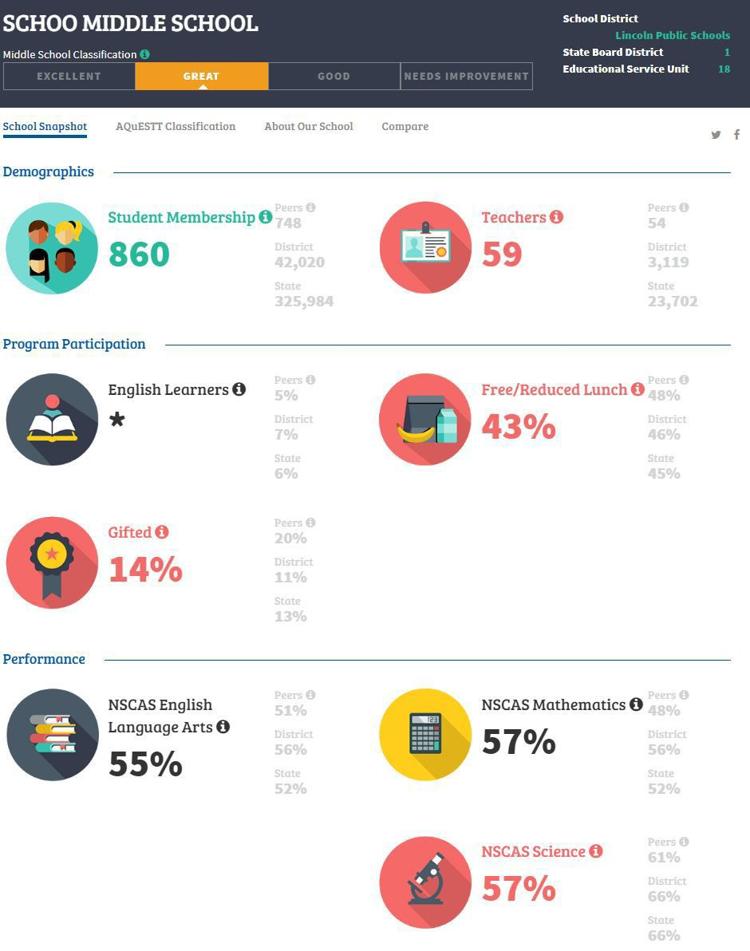 Scott Middle School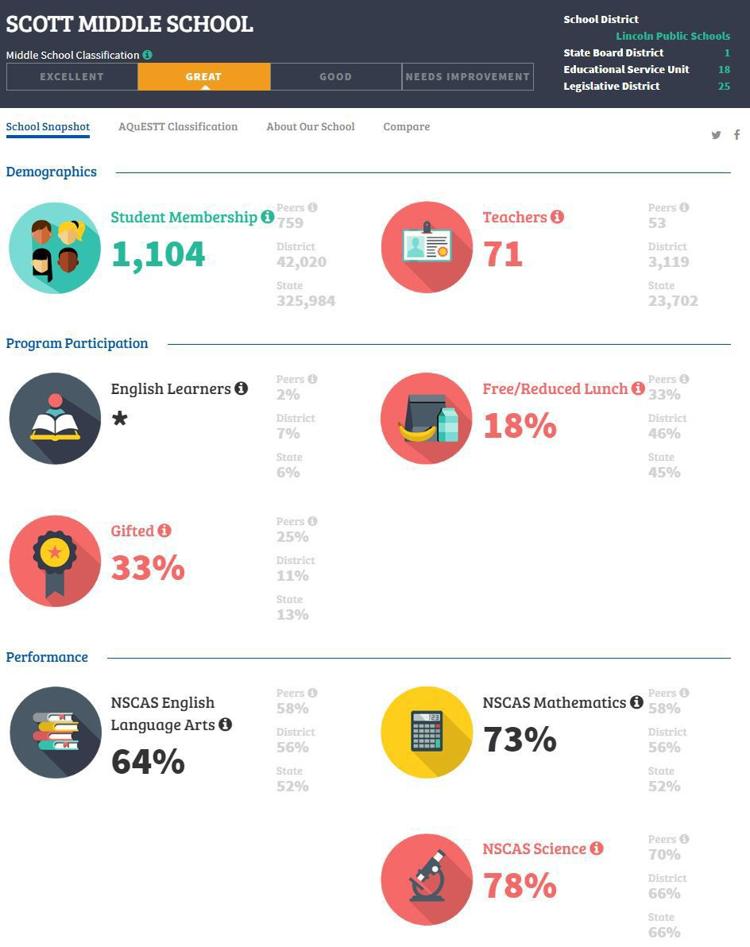 Lincoln East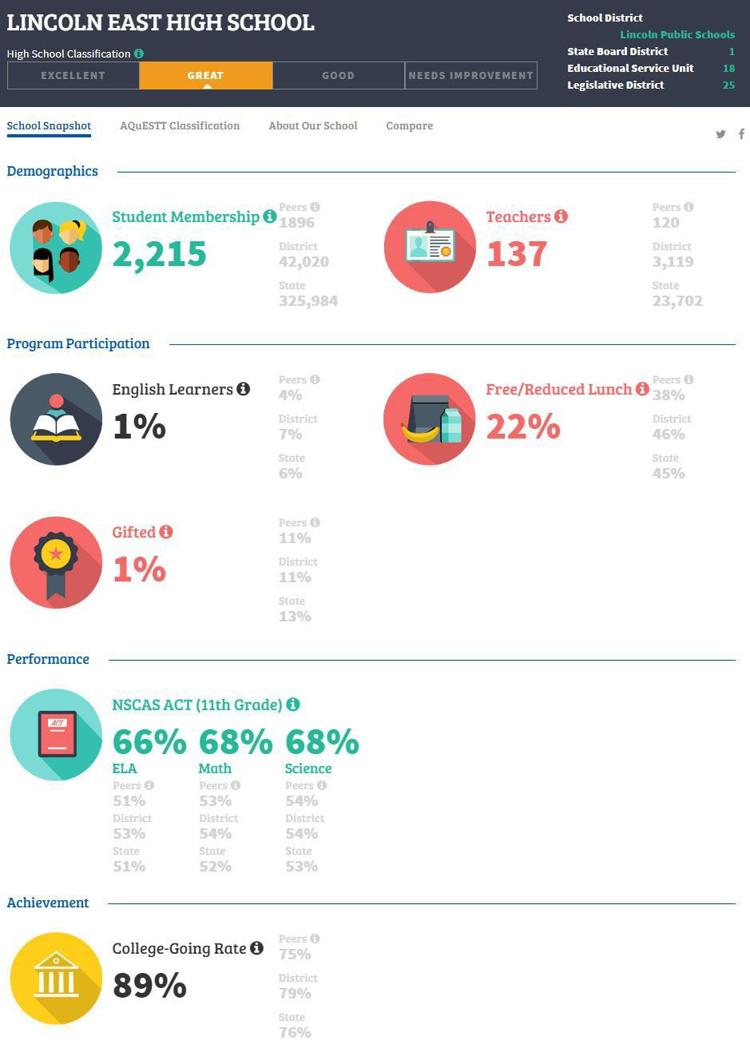 Lincoln High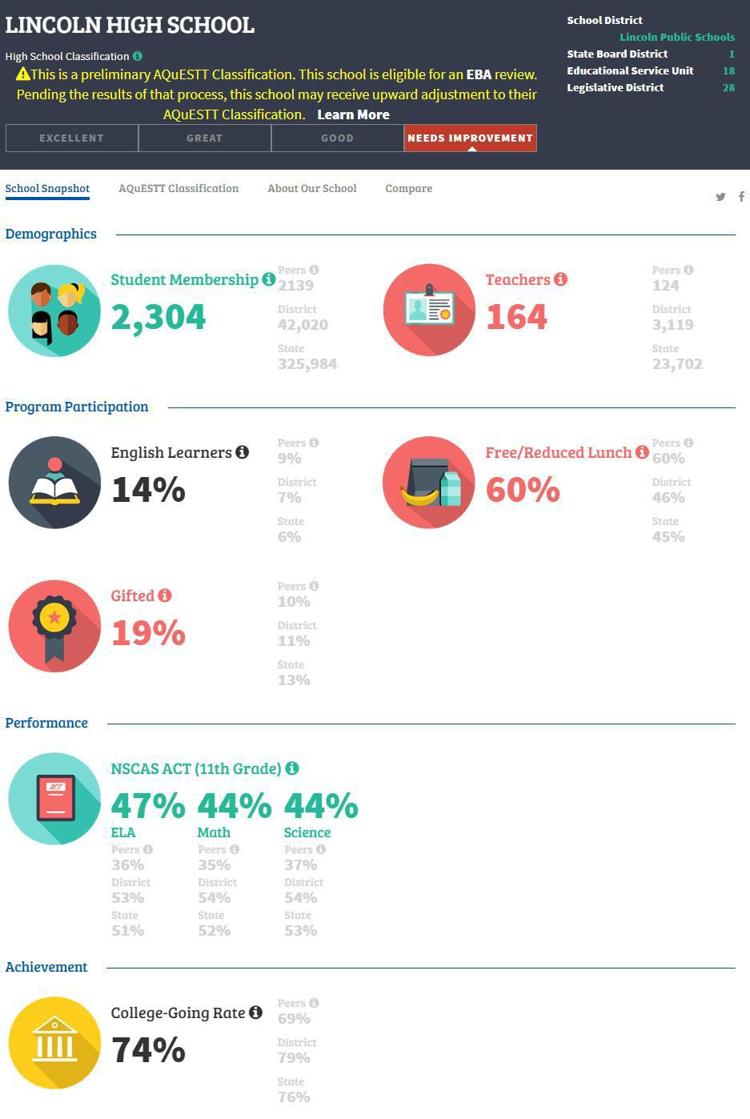 North Star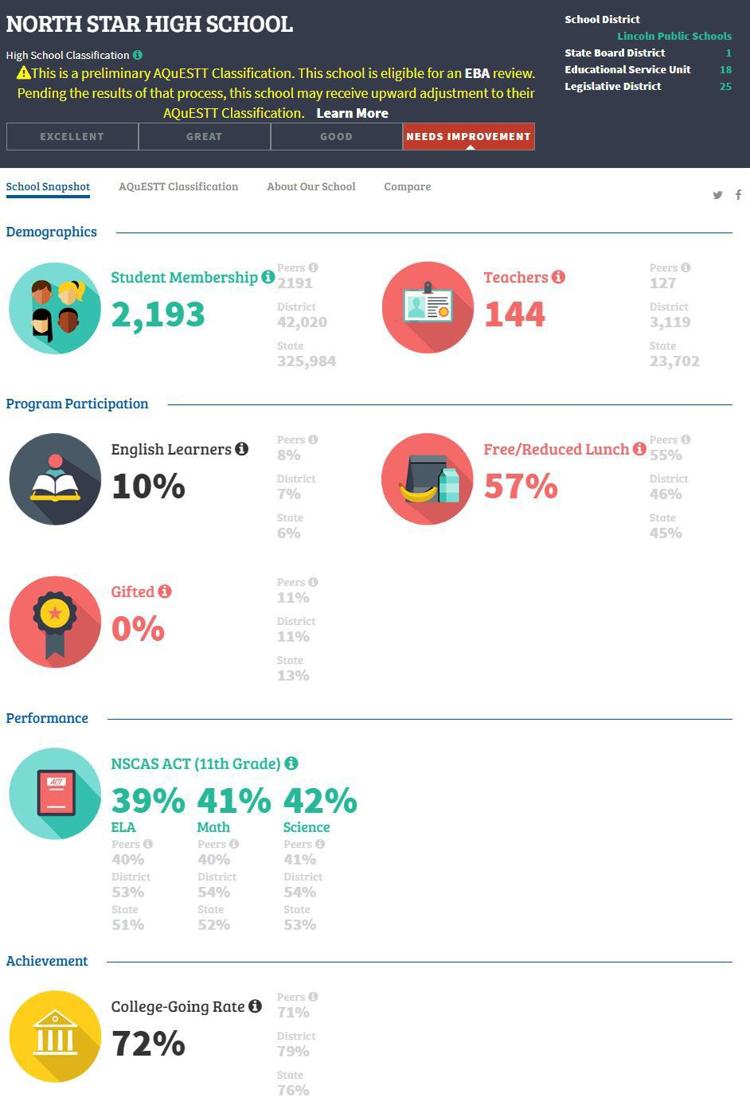 Northeast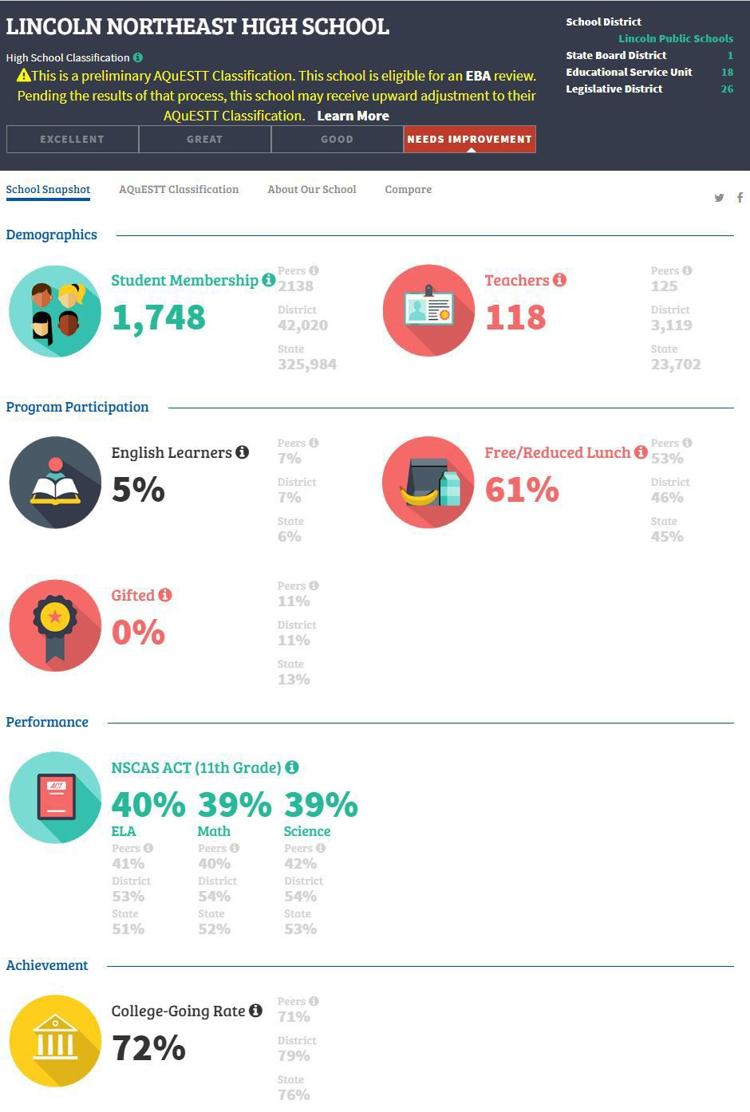 Southeast
Southwest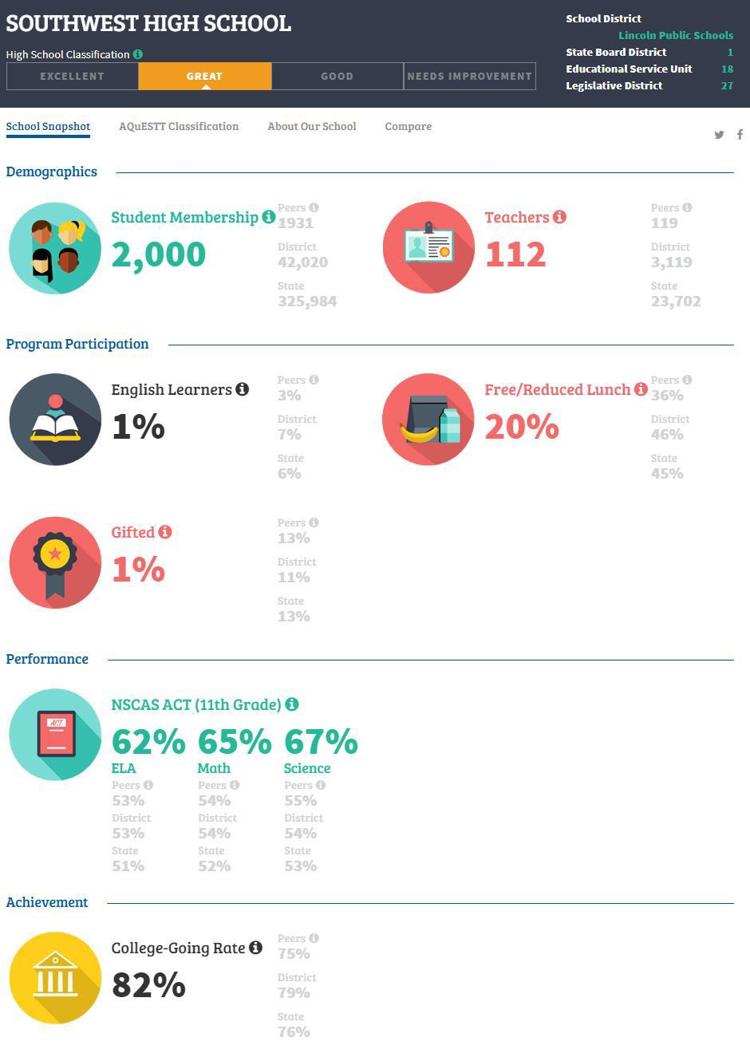 State of Nebraska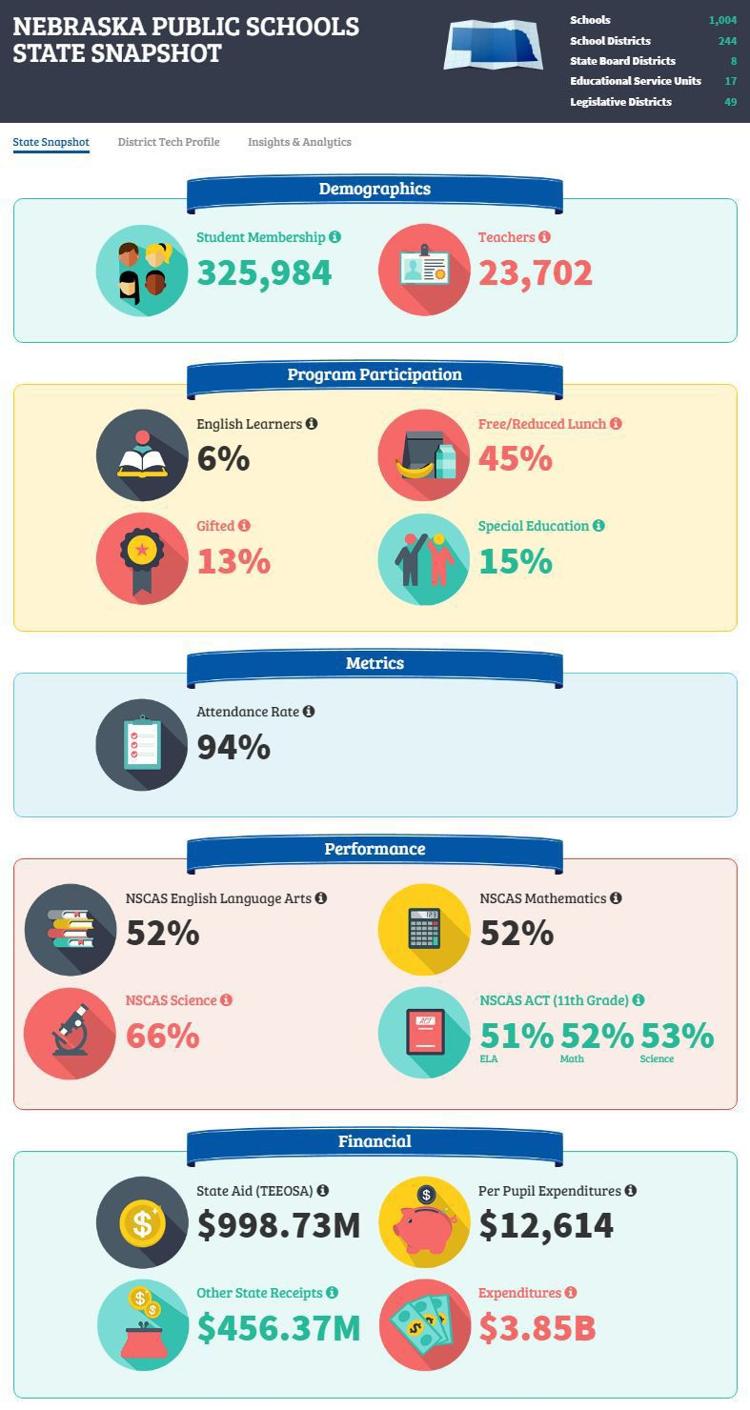 Be the first to know
Get local news delivered to your inbox!