At Belmont Elementary School they talk a lot about having "grit."
If something is hard, Principal Kim Rosenthal said, teachers encourage students to keep going, to buckle down and work through it.
"We have a saying at Belmont. We say it every day. 'The harder you work, the better you get,'" she said. "And we live by that here."
That — among other things — has served the north Lincoln school well in the 2017-18 statewide test results released Friday by the Nebraska Department of Education.
Students in grades 3-8 take statewide tests in English Language Arts and math, and fifth- and eighth-graders take the science tests. For the second year high school juniors have taken the ACT, a college entrance exam used to determine proficiency levels in math, science and English Language Arts.
Belmont — with 83 percent of its students living in poverty and 24 percent who are English language learners — had more students proficient in math than any other Title I elementary school in Lincoln, and the average proficiency level in English Language Arts was among the highest of those schools.
LPS has 20 high-poverty elementary schools that get federal Title I money to help educate their students, because the challenges related to poverty are among the biggest impediments to academic achievement. Five middle schools and Lincoln High School also are designated as Title I schools.
But at Belmont, 59 percent of students were proficient in English Language Arts in 2017-18 — the same as the district proficiency average for grades 3-8.
And 62 percent of Belmont students were proficient in math — above the average district proficiency of 57 percent.
Rosenthal said teachers work together, mining test data to see where students need help. Then they work with small groups to reteach concepts students didn't get the first time.
"The teachers do a lot of planning together," she said. "They're constantly talking about students and what kids need to master a skill."
Belmont — and LPS as a whole — performed better than the statewide proficiency levels. Just 51 percent of Nebraska students tested proficient in English Language Arts and math.
The proficiency rate in English Language Arts didn't change from 2016-17 — when the Nebraska Department of Education updated the standards and gave a new, more rigorous test. 
State officials had expected a drop in scores last year because of the changes, but were hoping to see the proficiency levels increase in 2017-18.
Education Commissioner Matt Blomstedt said one factor in the stagnant progress could be that the state is using a different company to administer a new test.
More rigorous math standards — and a new, more difficult test — were applied for the first time, making comparison to the previous year impossible.
You have free articles remaining.
The state has already revised its science standards, but has yet to change the test — which will be another shift in coming years.
The 68 percent of fifth- and eighth-grade students who were proficient in science statewide is down 2 percentage points from 2016-17. At LPS, 69 percent of fifth- and eighth-graders were proficient in science. 
Blomstedt said he hopes to reach the point where the state system is stable, so schools face the same expectations from year to year — without changes to testing companies and requirements in state and federal law.
"We are hoping that becomes our reality," he said. 
Matt Larson, LPS interim assistant to the superintendent for instruction, said he was pleased that average LPS scores were better than the state average in grades 3-8, in some grades by 7 to 9 percentage points.
Middle schools performed well overall, with increases in proficiency in most schools in English Language Arts.
"There's a solid foundation from elementary school," Larson said. "Middle-school scores are really a K-8 achievement."
But proficiency levels in some Lincoln schools dipped significantly — into the 20 to 30 percent range.
"While we're very pleased overall with the results, we realize unacceptable learning differentials between schools still exist," Larson said.
High school performance on the ACT within LPS dropped below statewide proficiency levels this year. Last year they were slightly better than the statewide averages.
Statewide, 50 percent of the juniors were proficient in English Language Arts and math, compared with 48 percent and 49 percent, respectively, at LPS.
Statewide science proficiency on the ACT was 54 percent statewide, and 53 percent within LPS.
At all six LPS high schools, proficiency rates dipped in nearly all subjects — going as low as 32 percent proficiency in math at Northeast.
Larson said administrators have been working since fall to make sure what's being taught aligns with what's on the ACT.
LPS officials are also trying to embed more "ACT-like instruction" into classes. They're also planning to eliminate lower-level high school reading courses in an effort to make sure all students are exposed to the same level of work, while offering more help to students who struggle.
It's also important to make sure students are taking the necessary core classes, Larson said.
Each Lincoln school's classification
LPS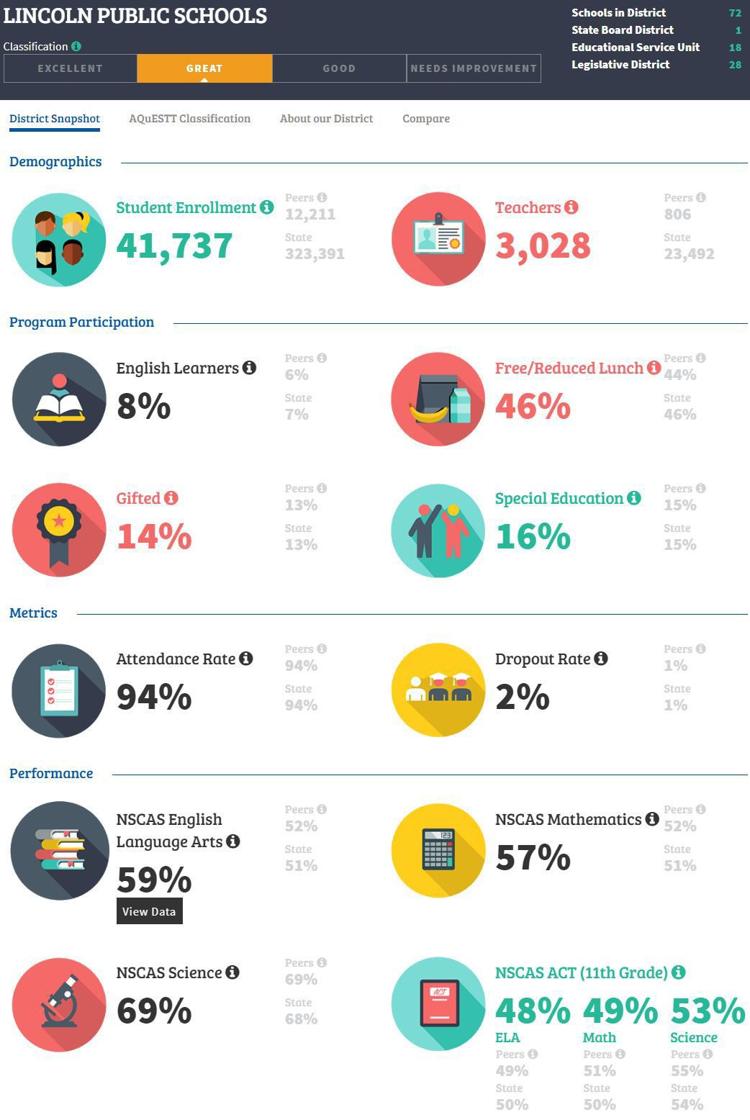 Lincoln East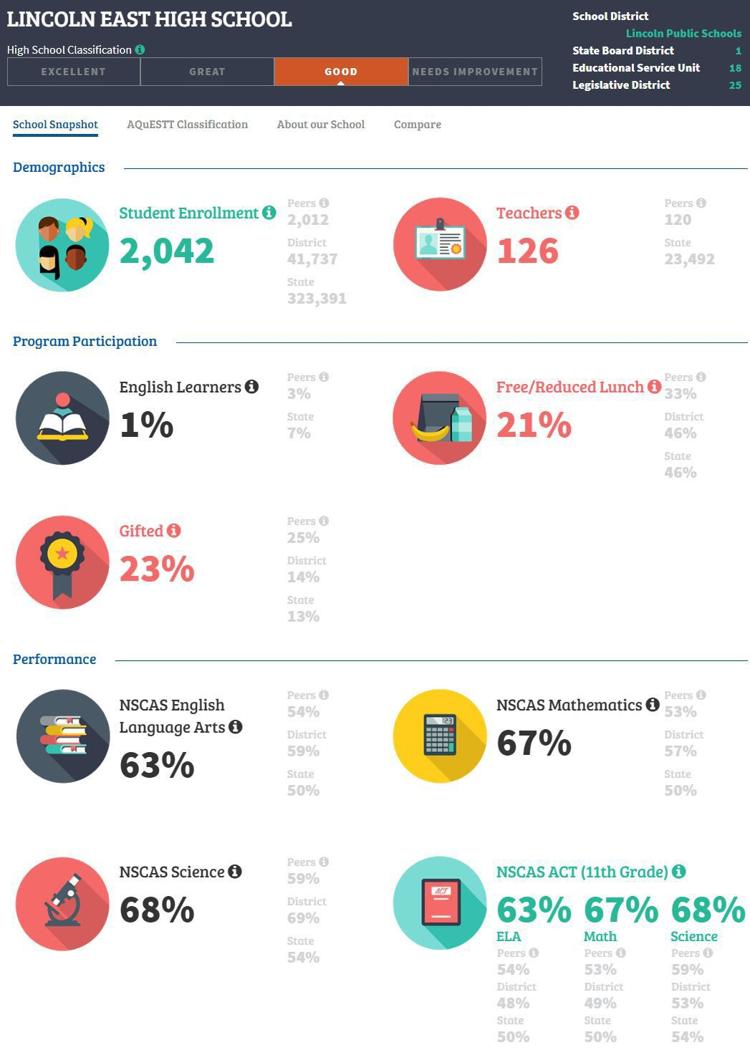 Lincoln High
Lincoln North Star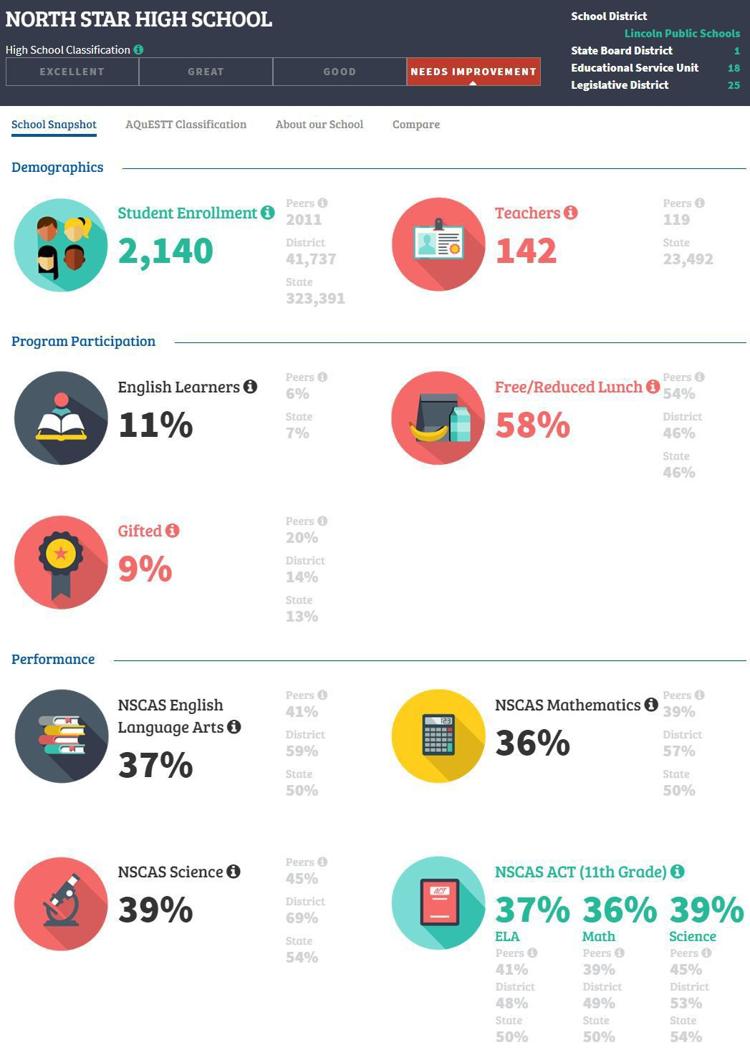 Lincoln Northeast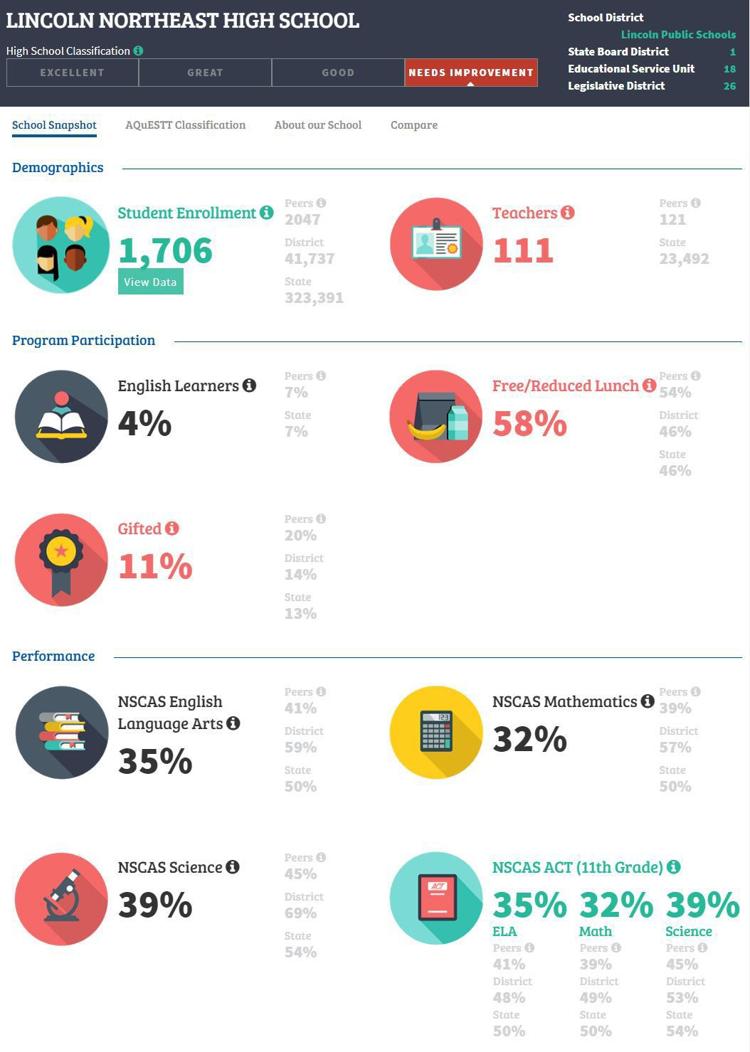 Lincoln Southeast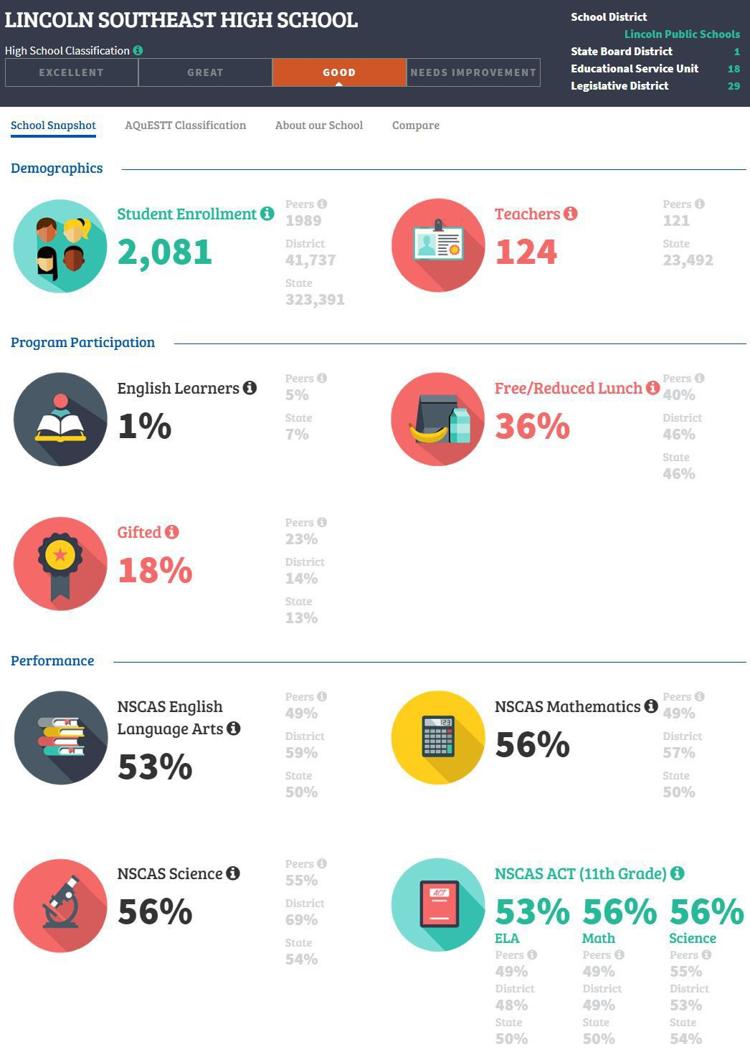 Lincoln Southwest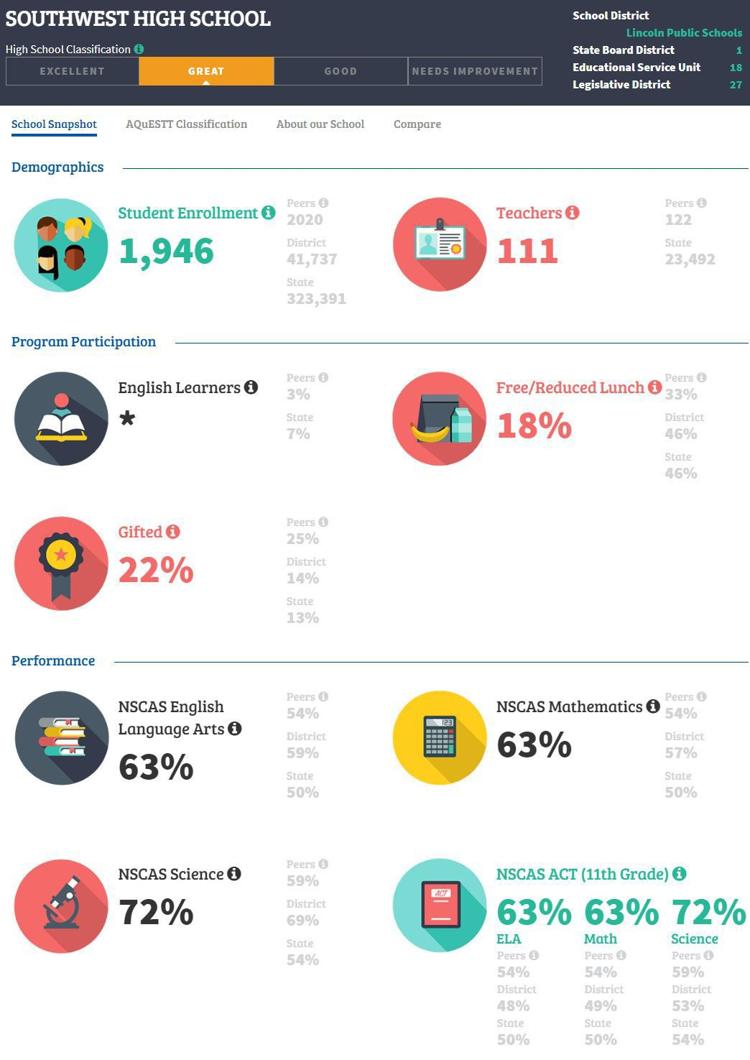 Culler Middle School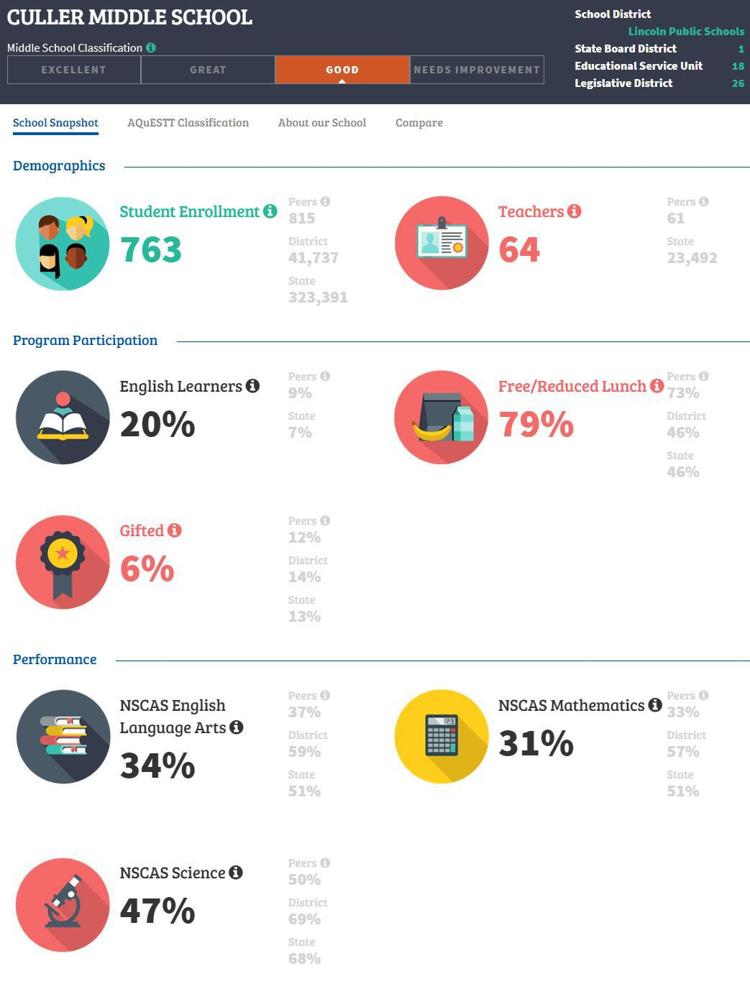 Dawes Middle School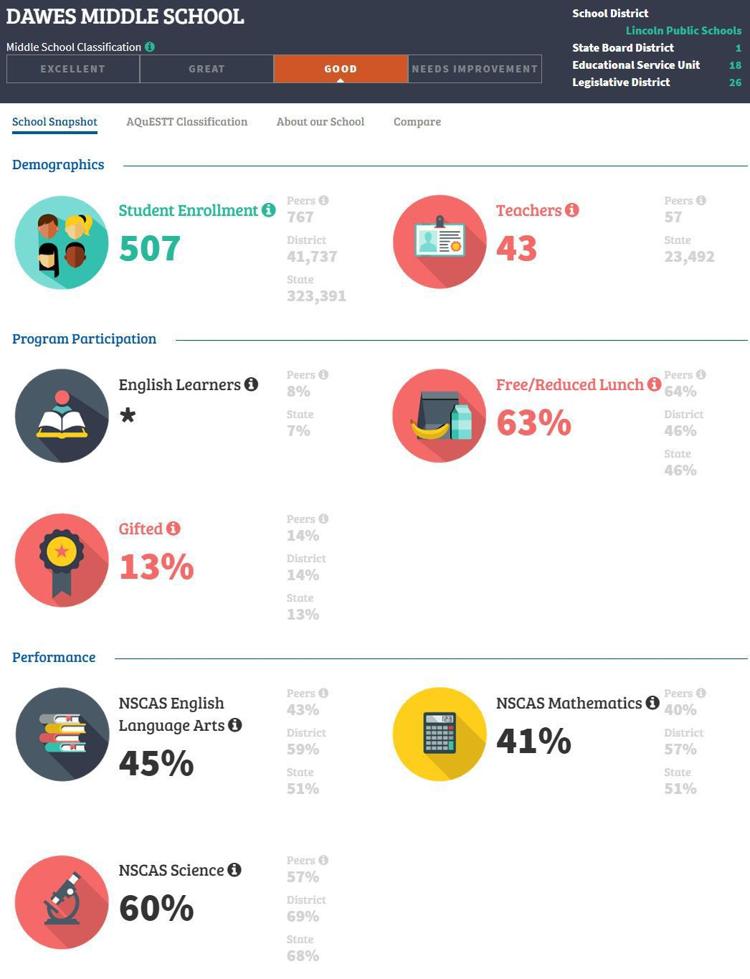 Goodrich Middle School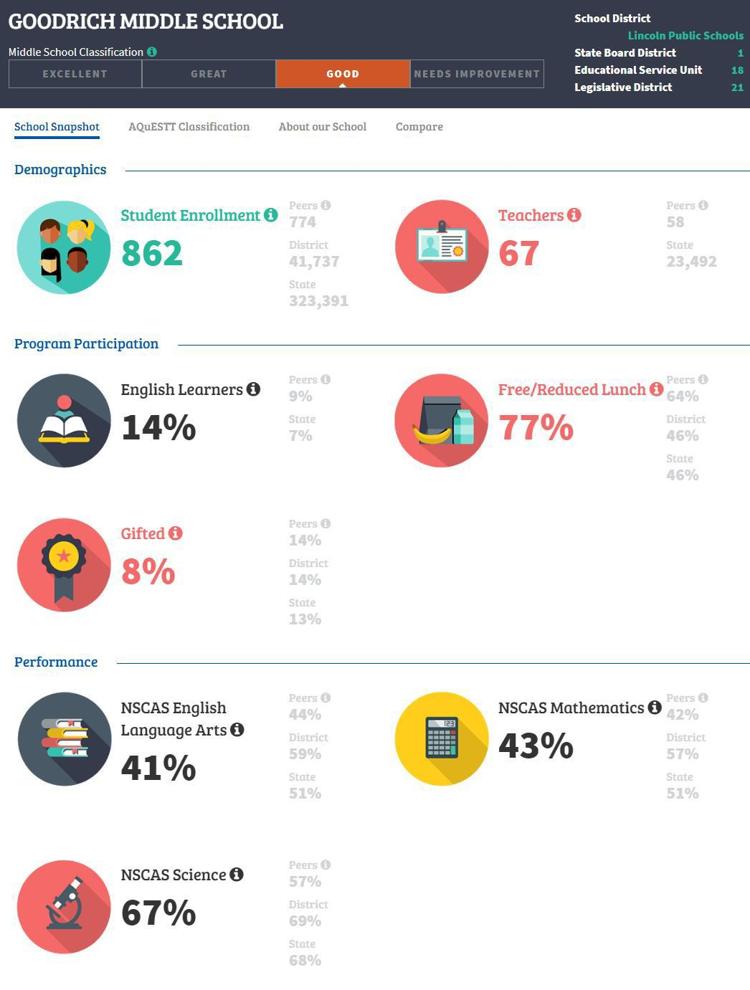 Irving Middle School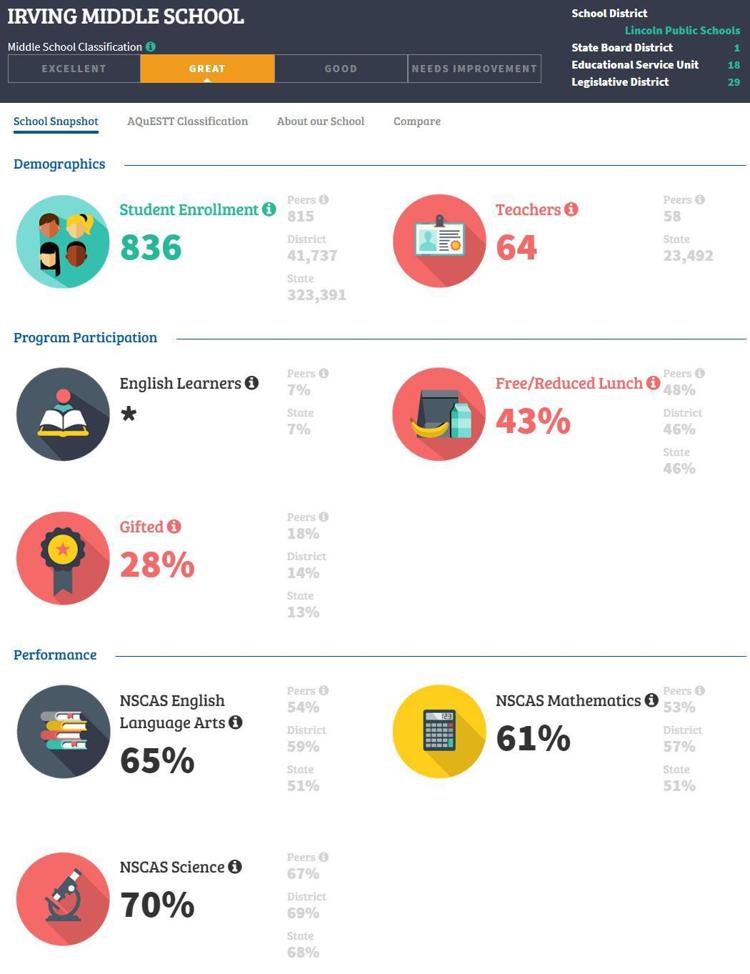 Lefler Middle School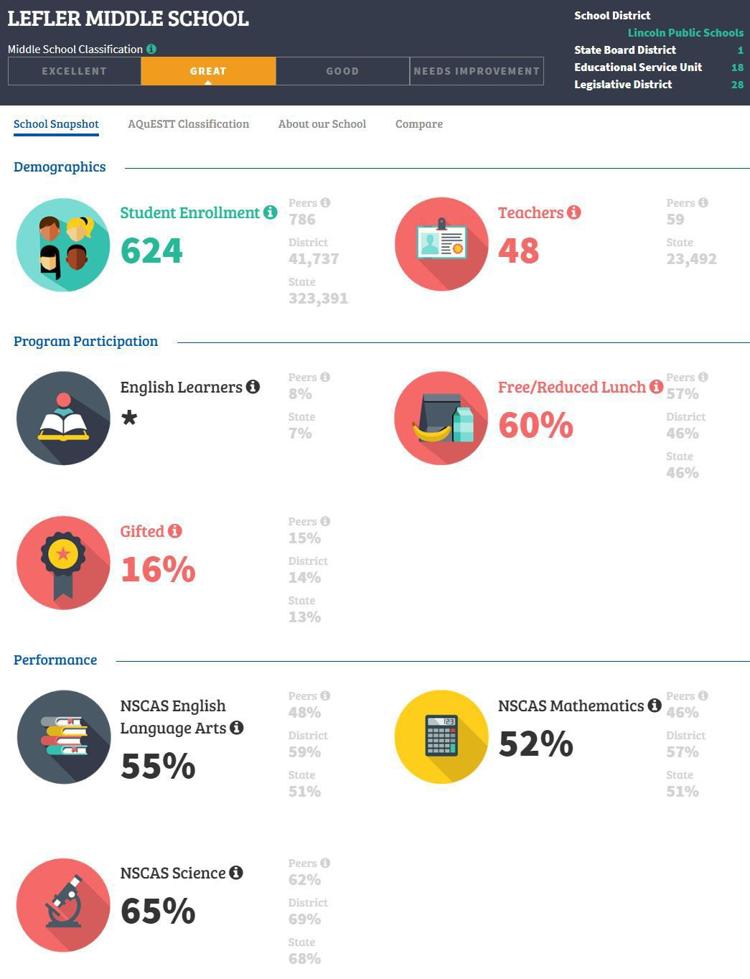 Lux Middle School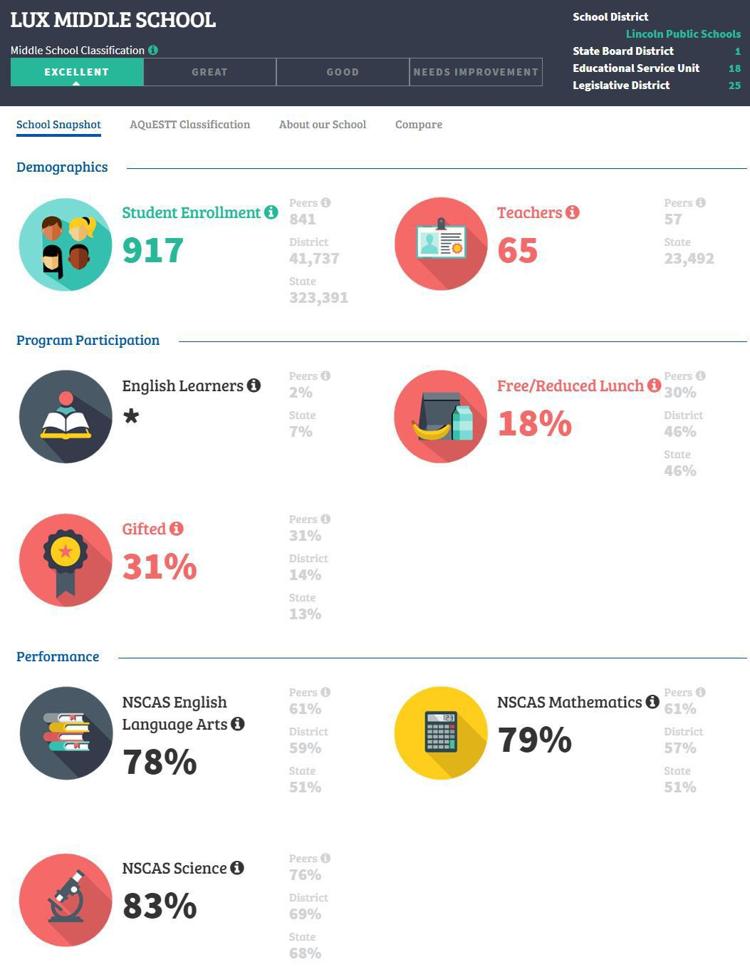 Mickle Middle School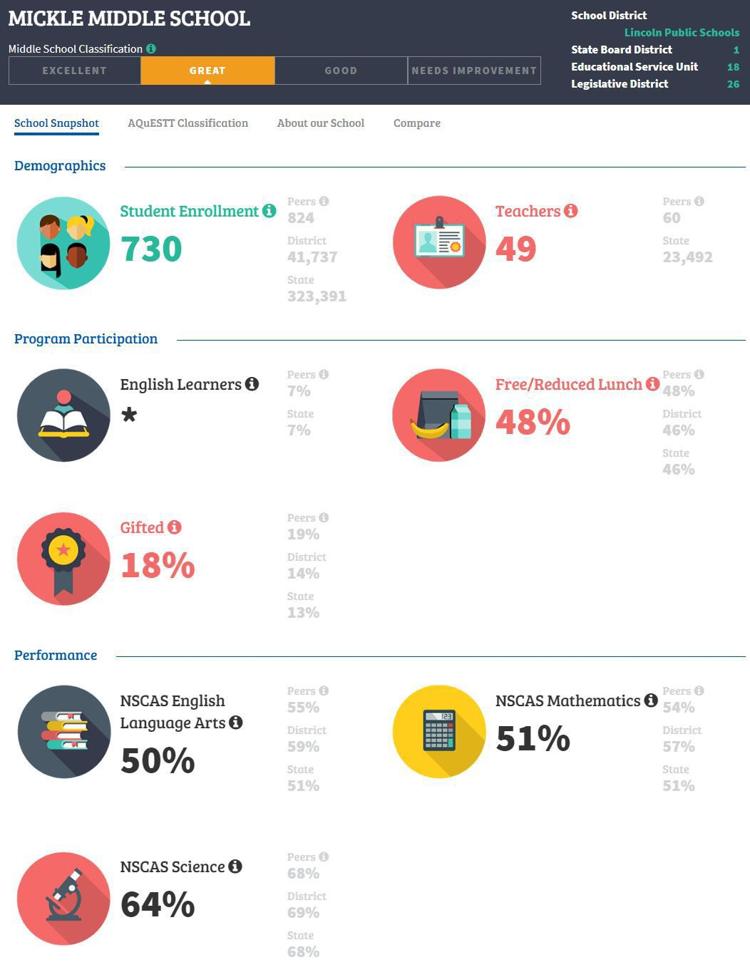 Moore Middle School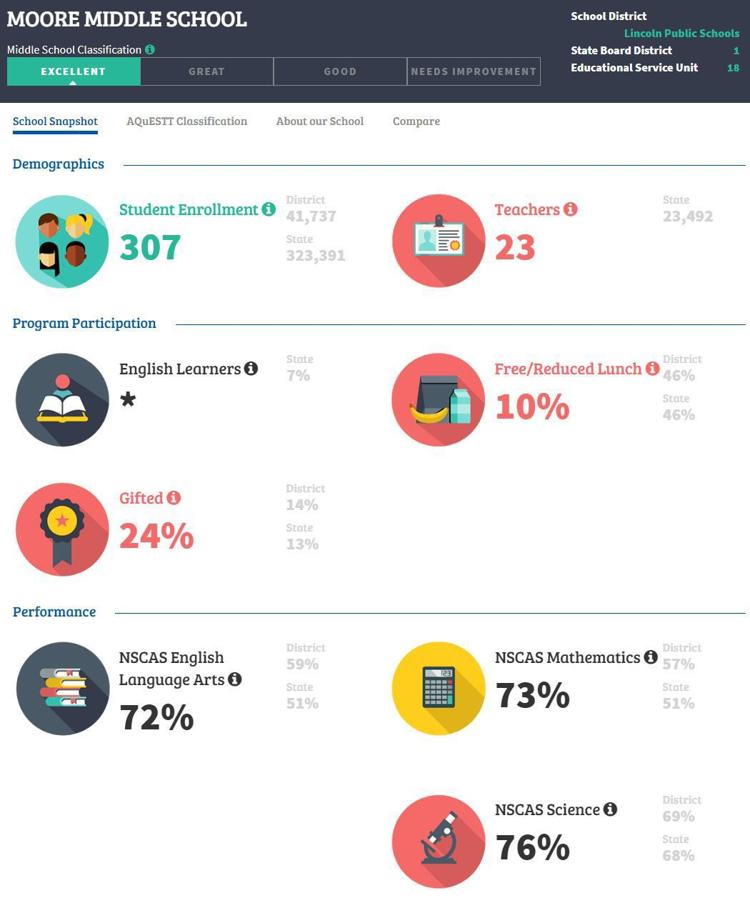 Park Middle School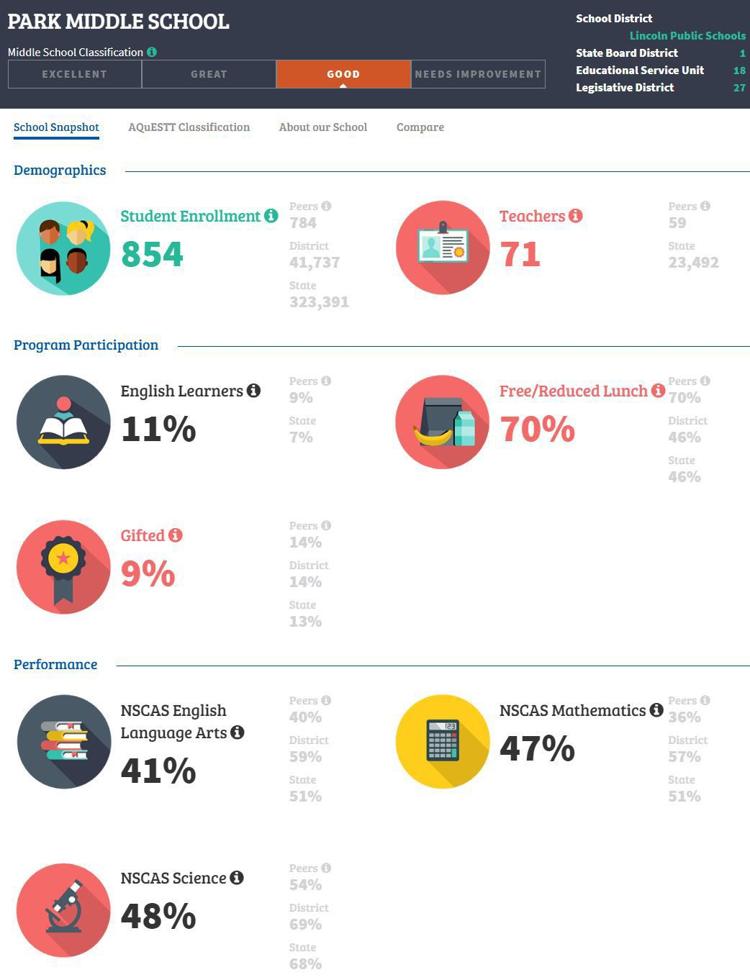 Pound Middle School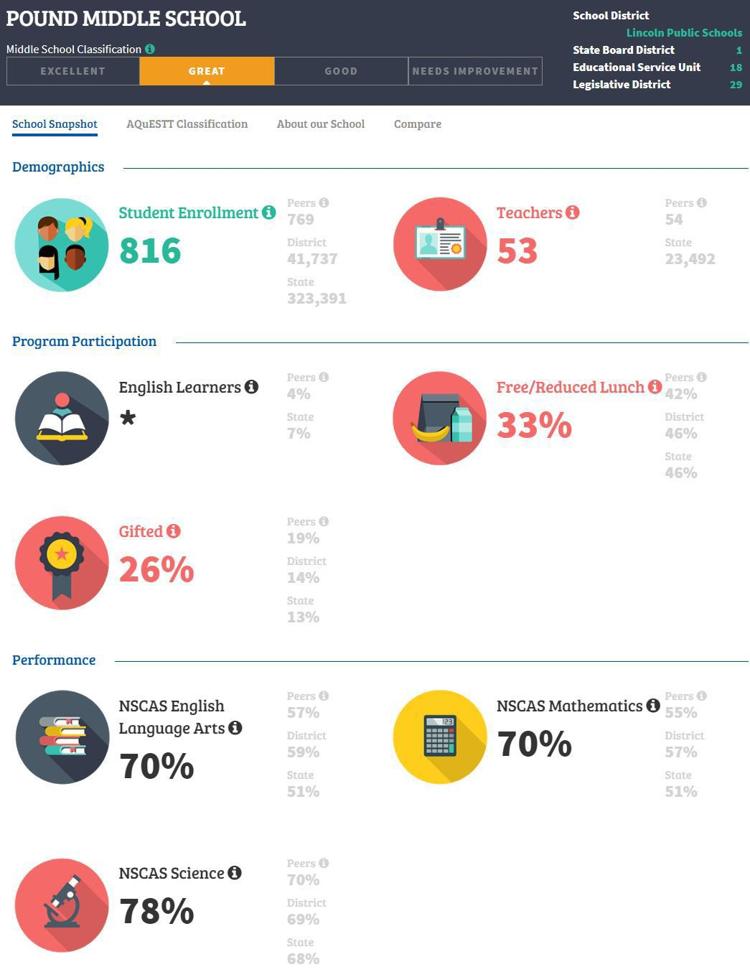 Schoo Middle School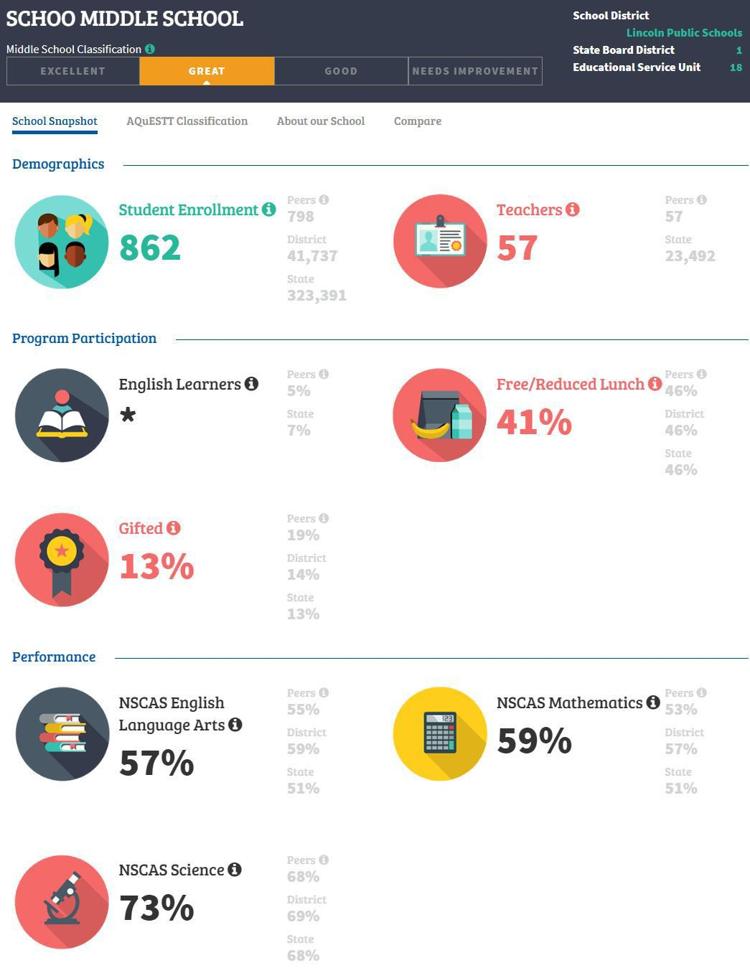 Scott Middle School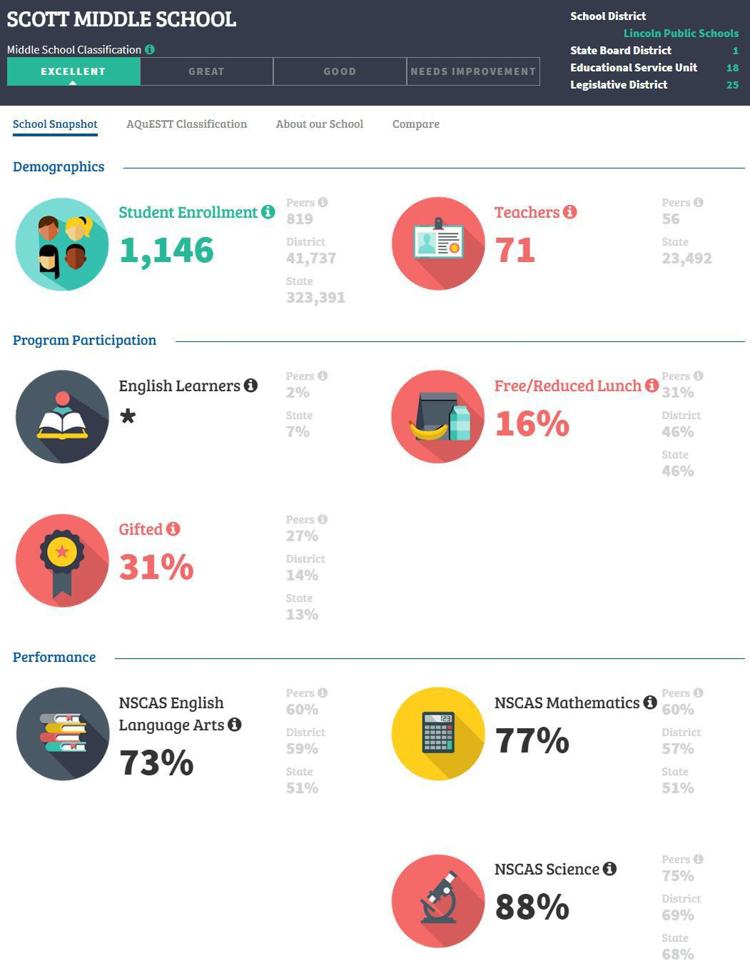 Adams Elementary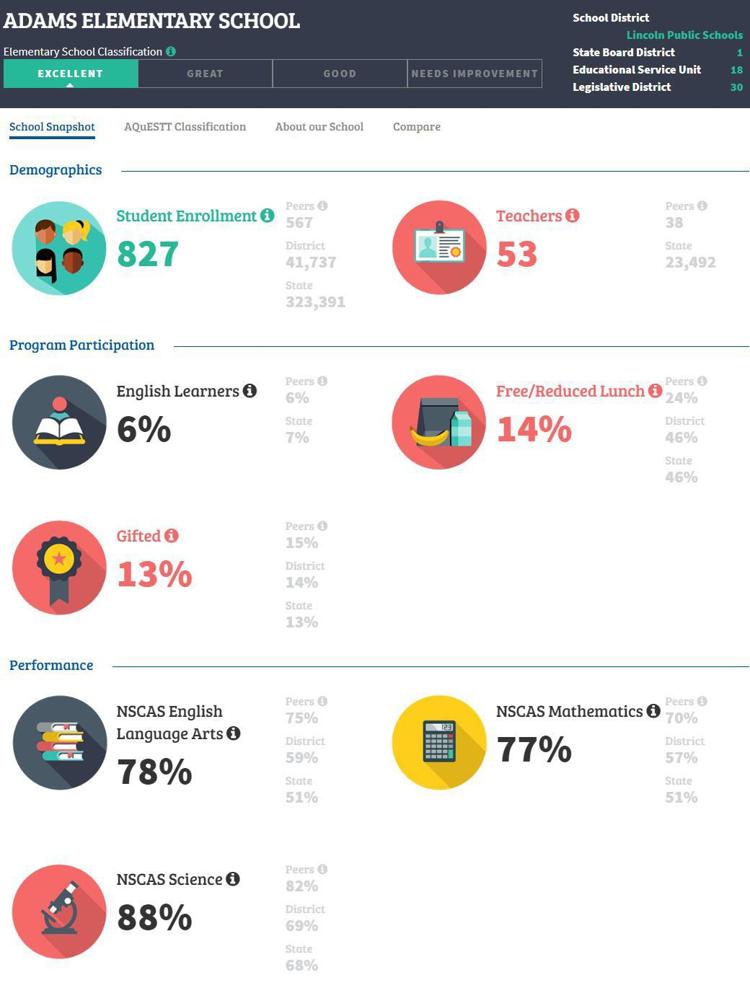 Arnold Elementary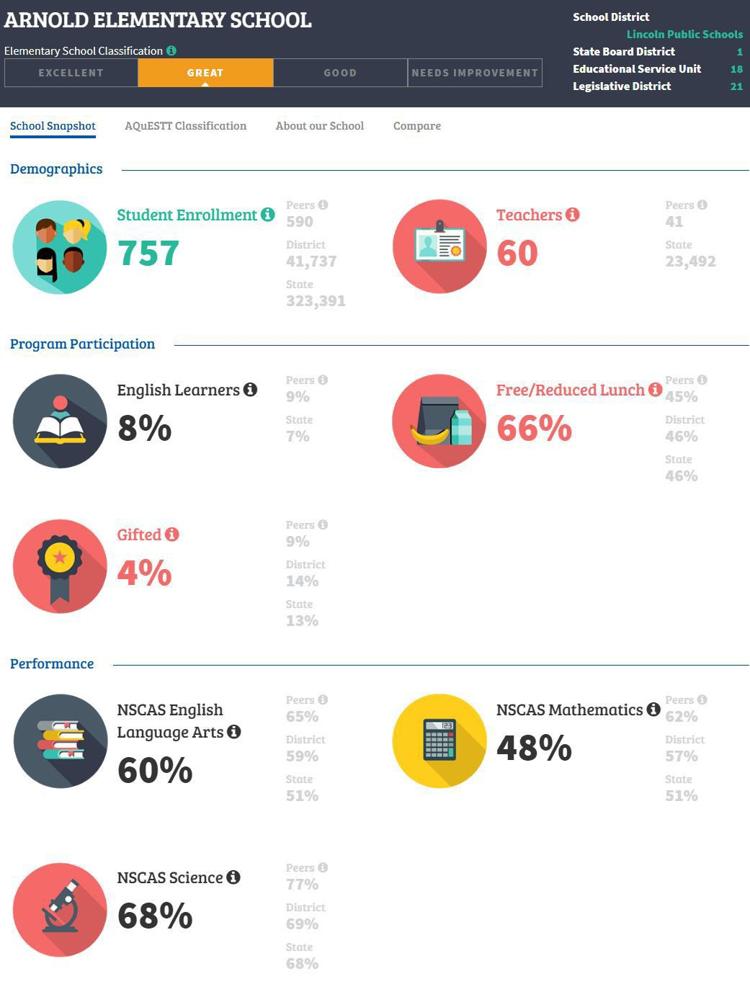 Beattie Elementary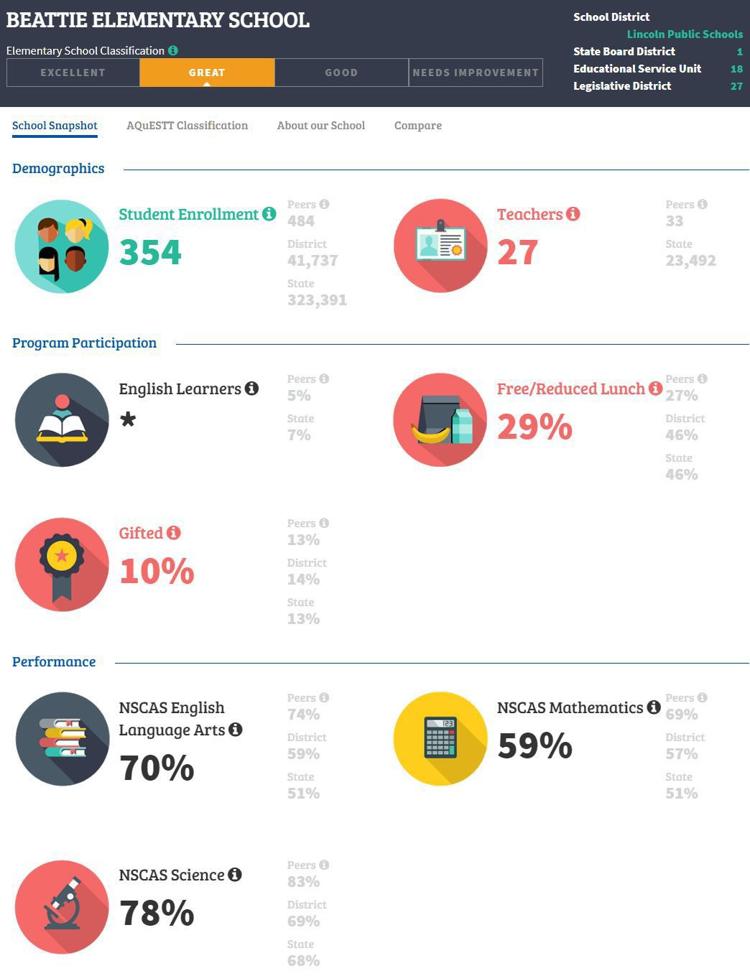 Belmont Elementary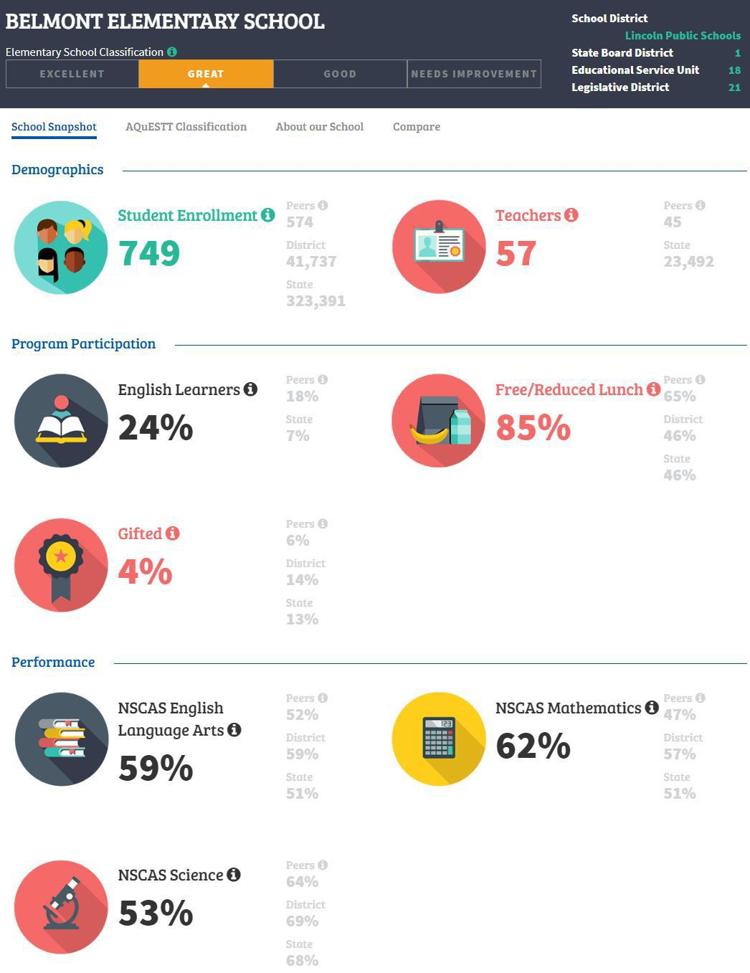 Brownell Elementary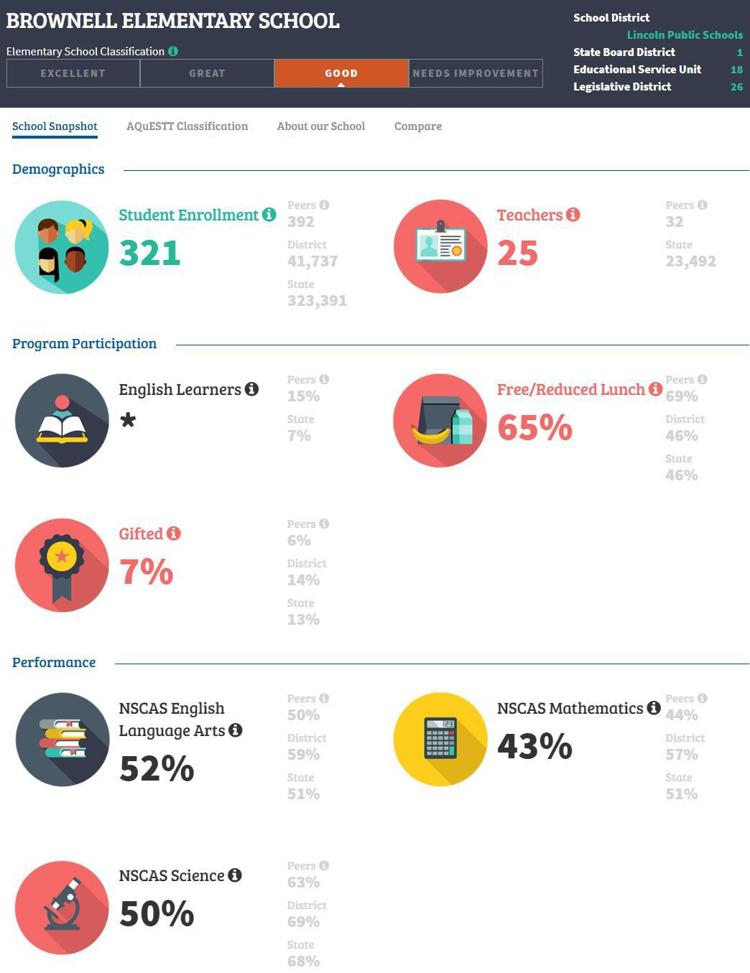 Calvert Elementary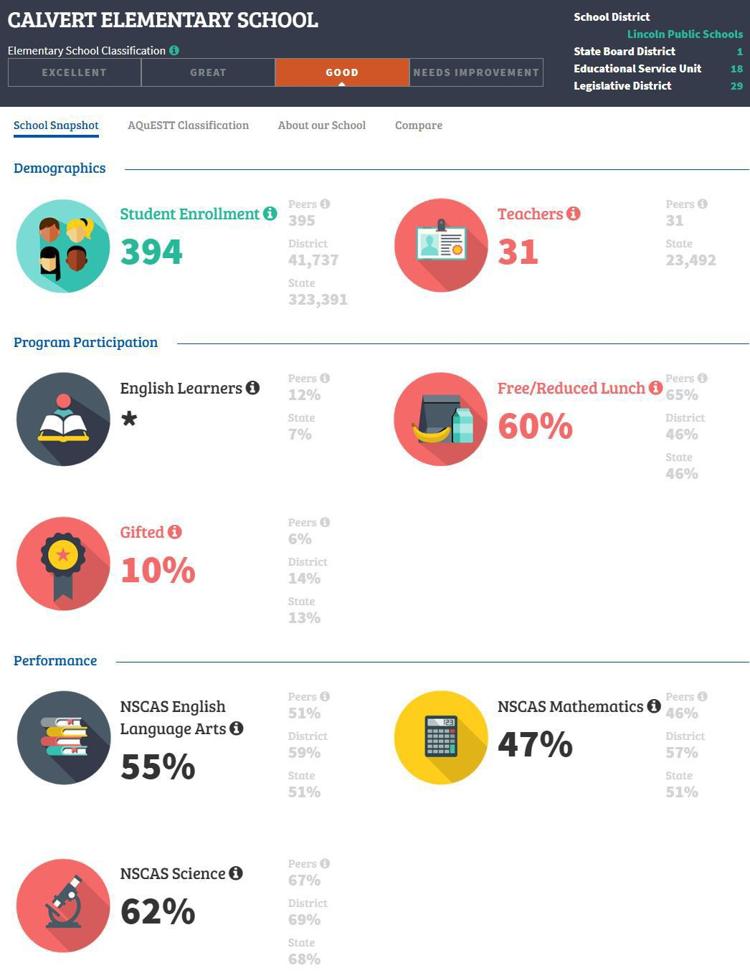 Campbell Elementary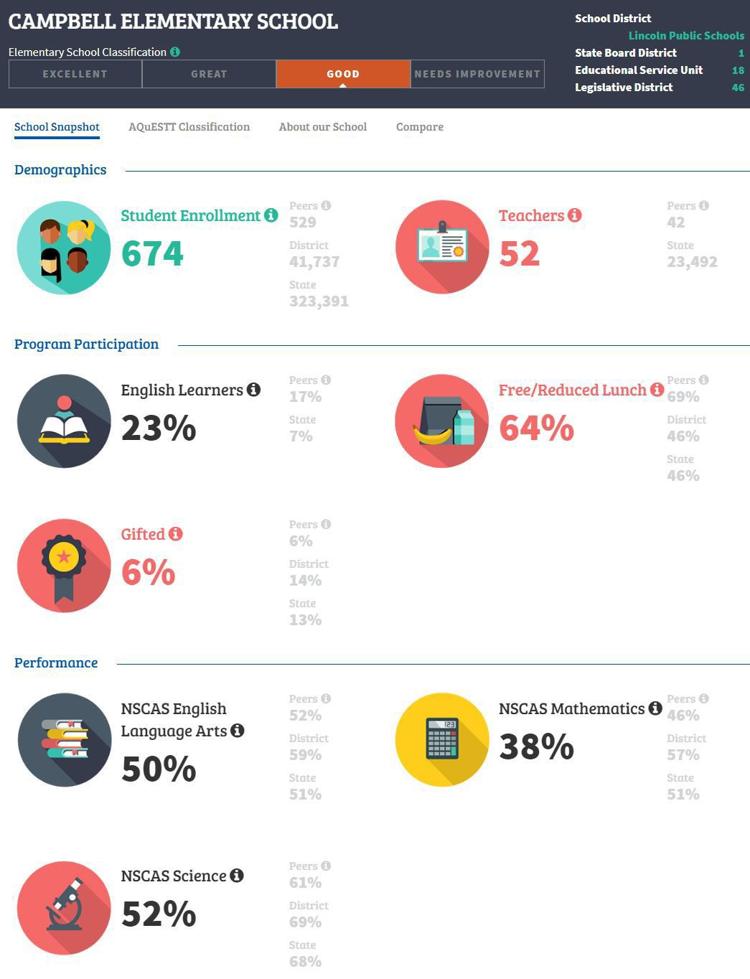 Cavett Elementary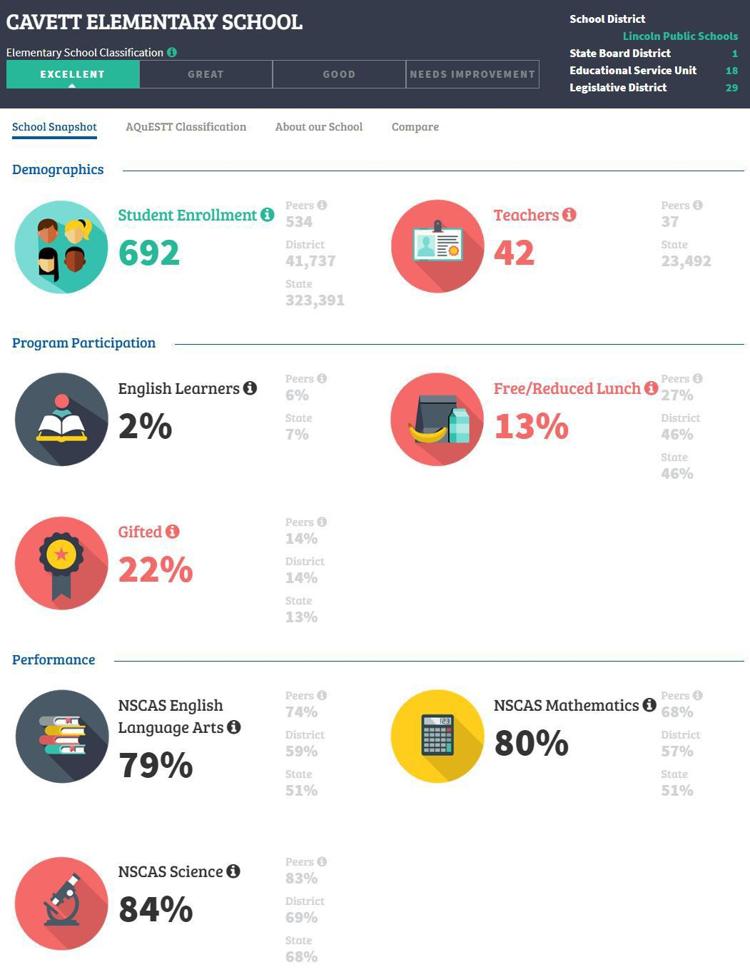 Clinton Elementary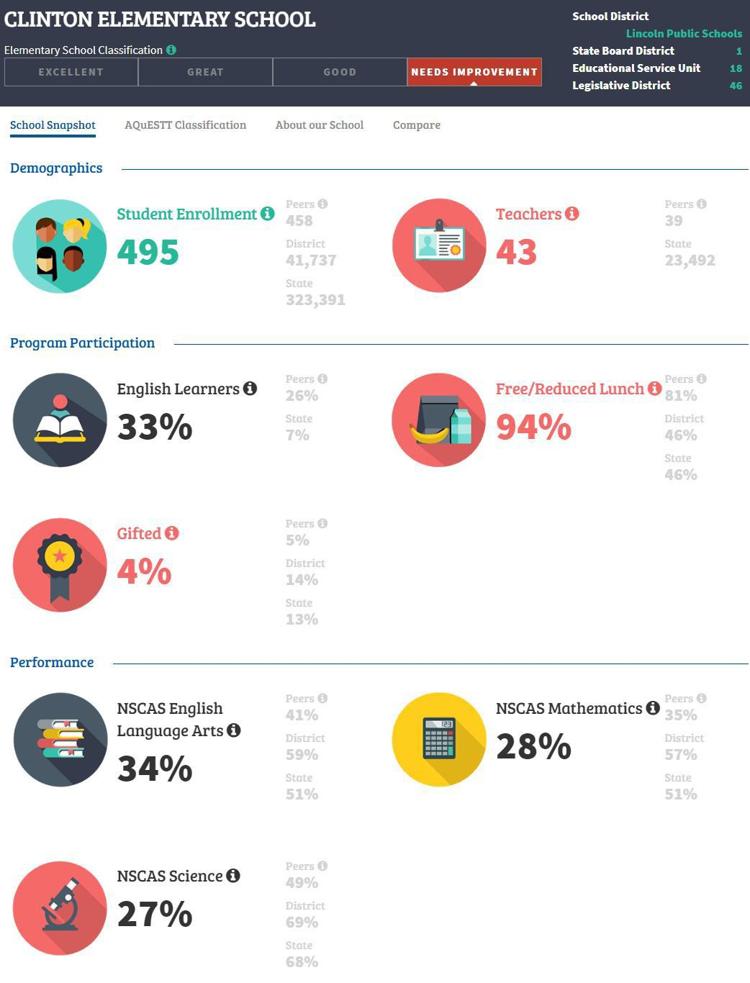 Eastridge Elementary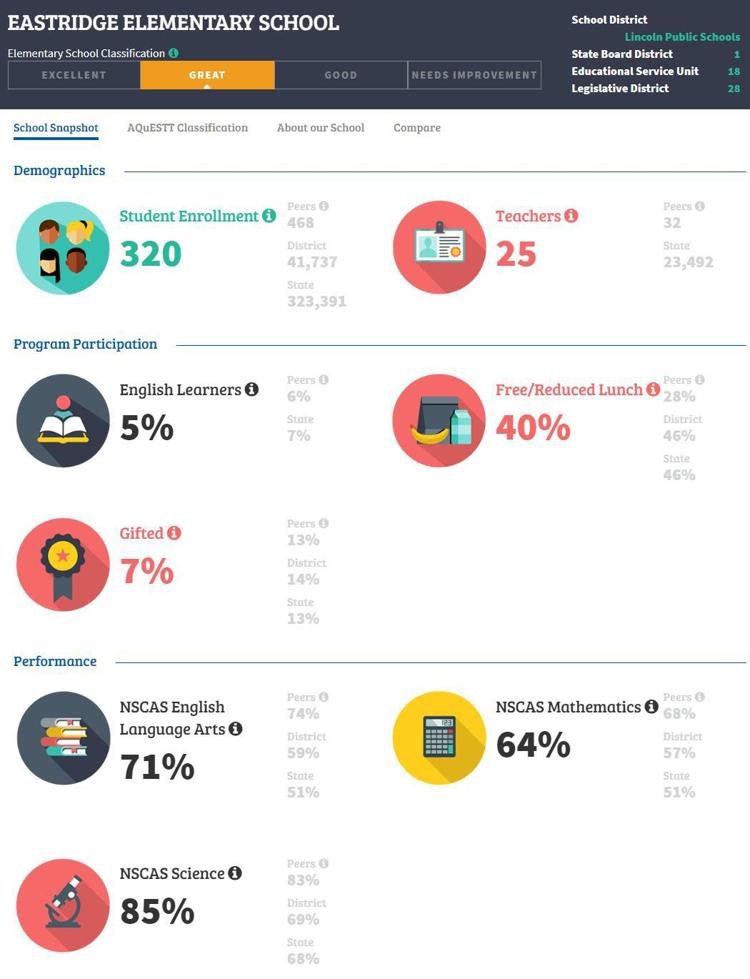 Elliott Elementary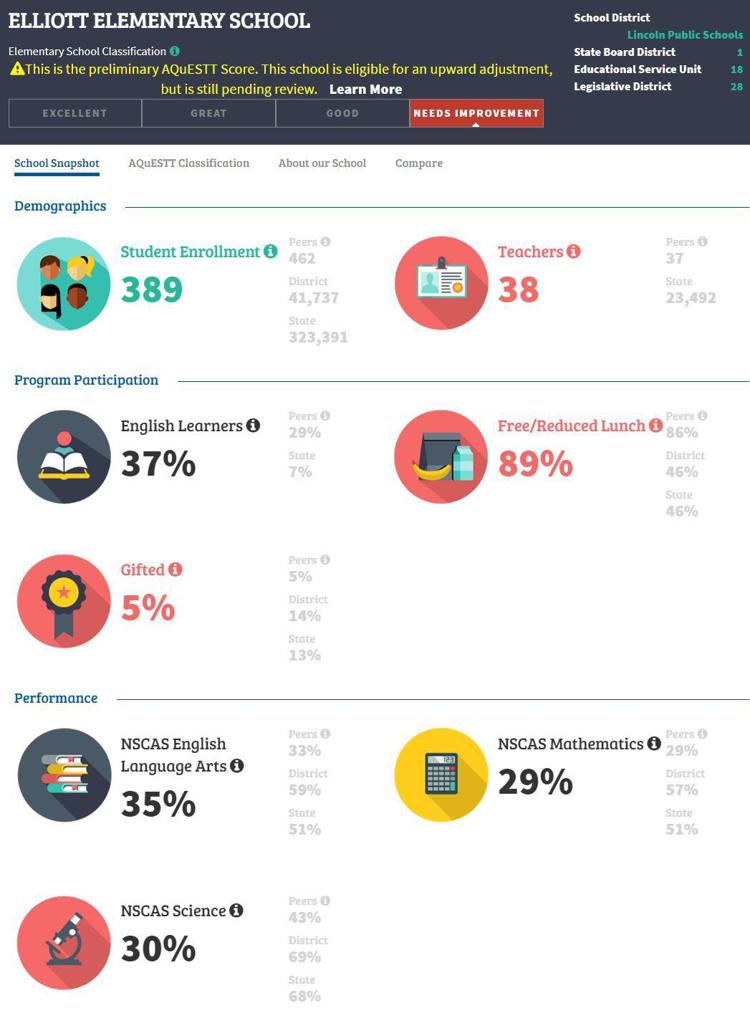 Everett Elementary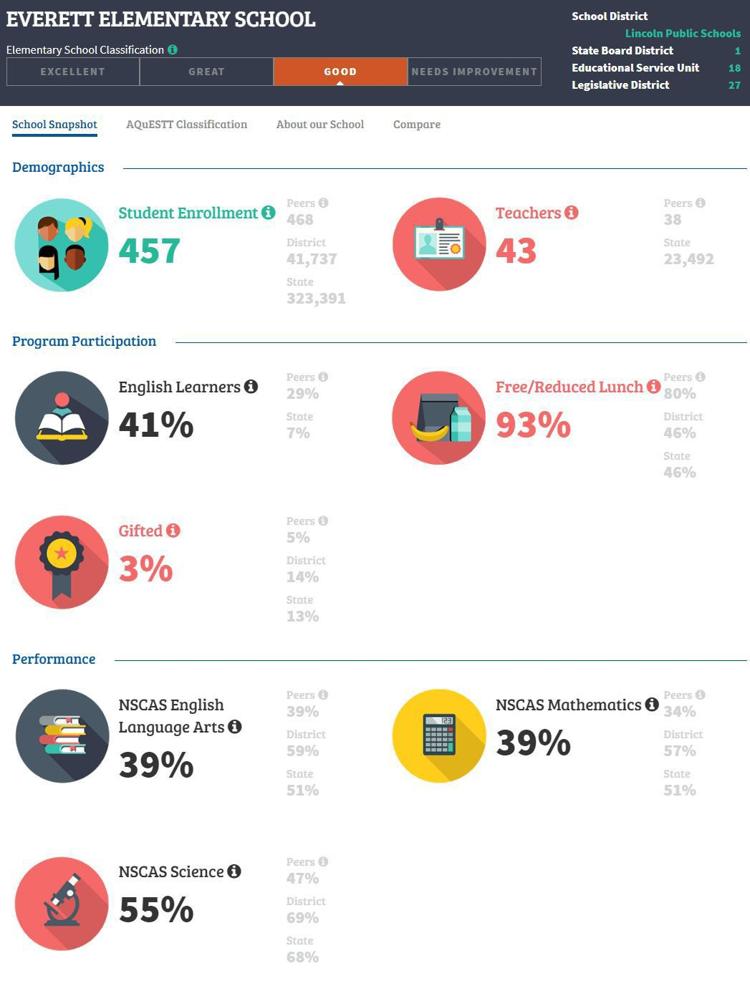 Fredstrom Elementary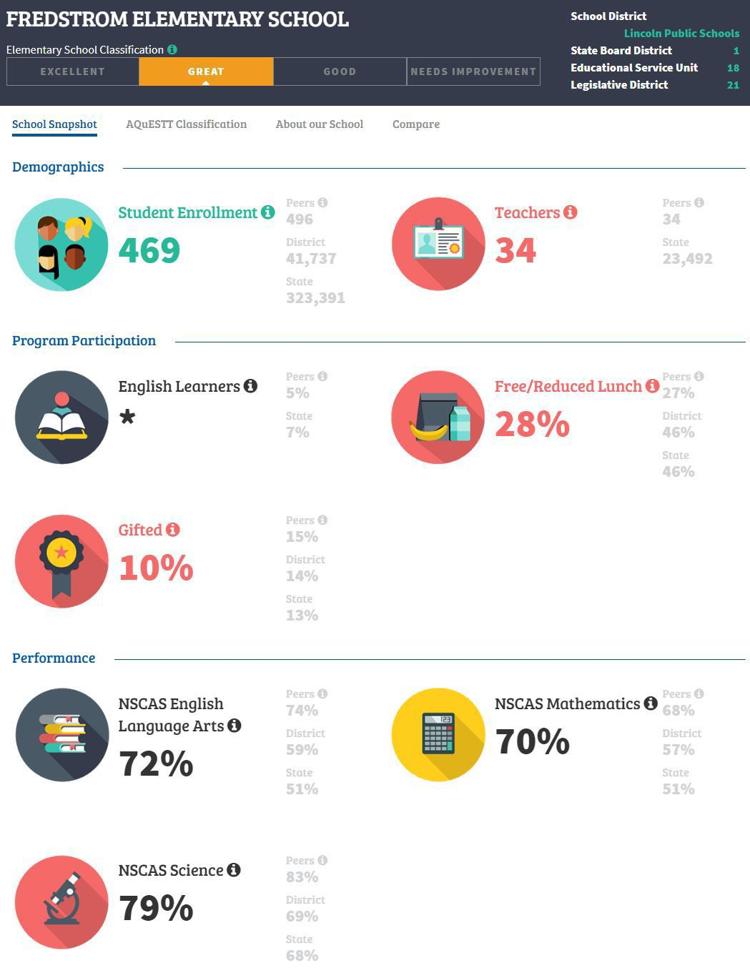 Hartley Elementary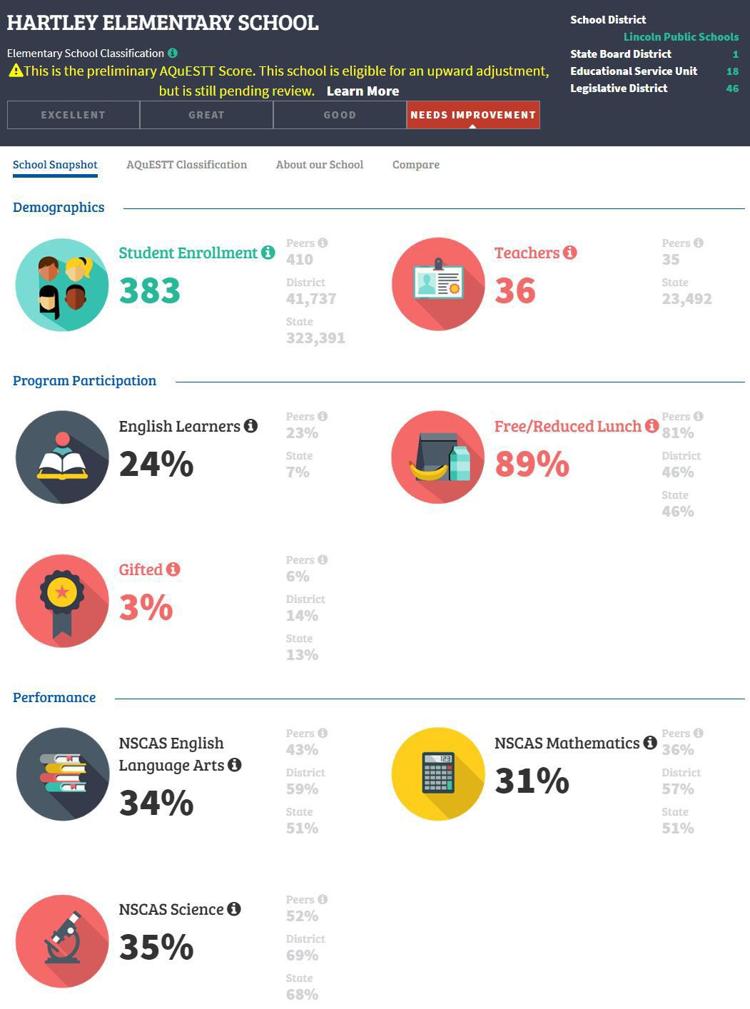 Hill Elementary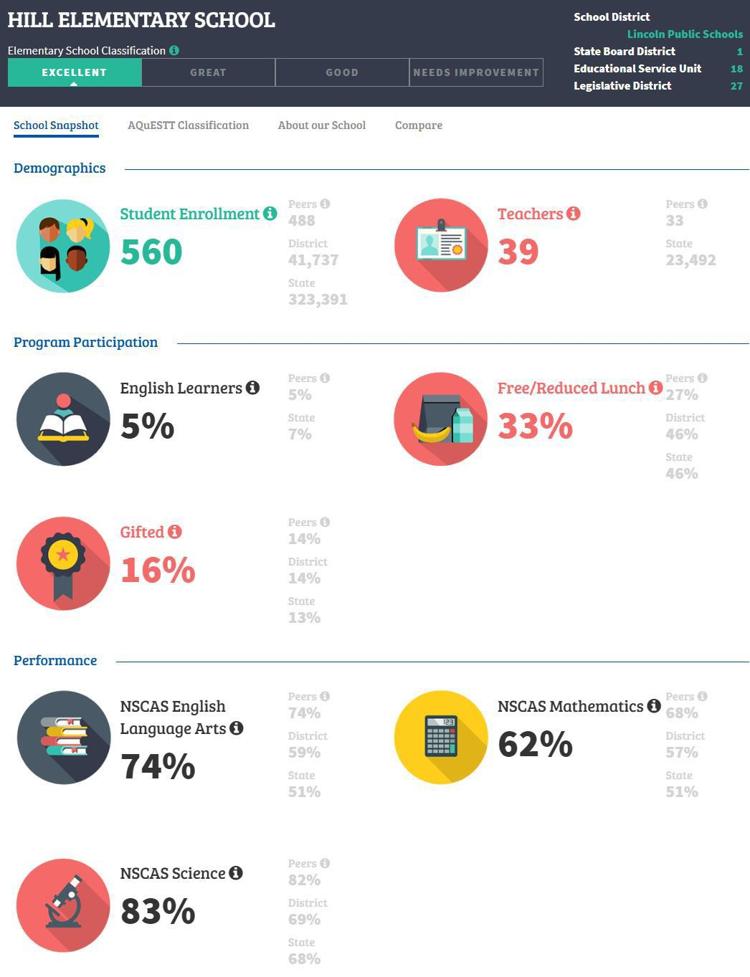 Holmes Elementary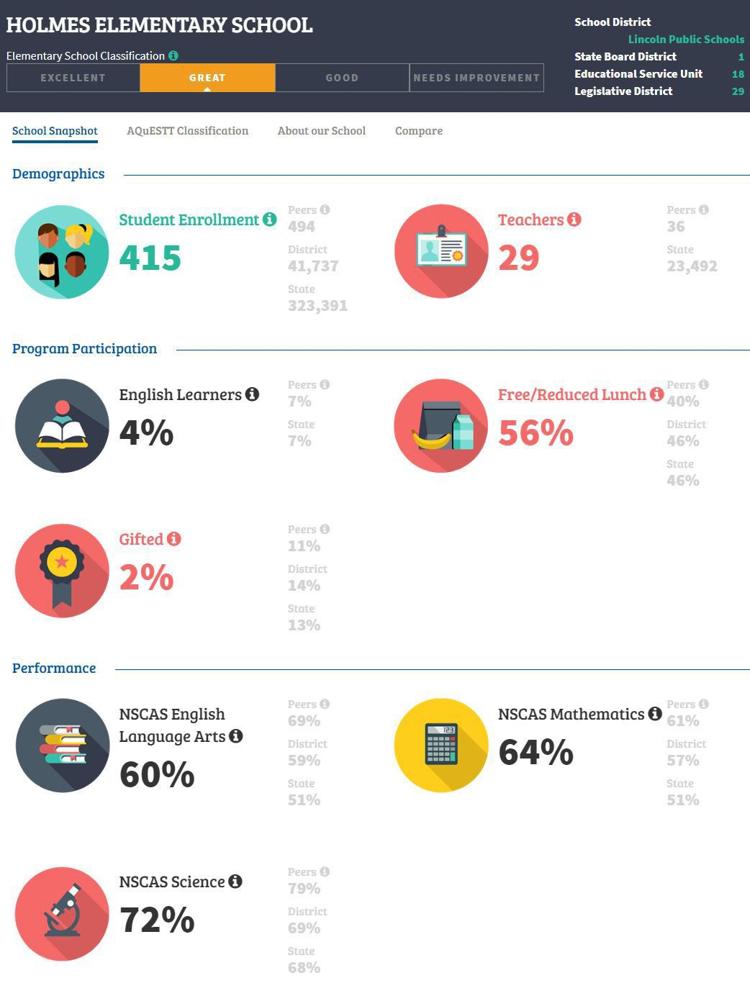 Humann Elementary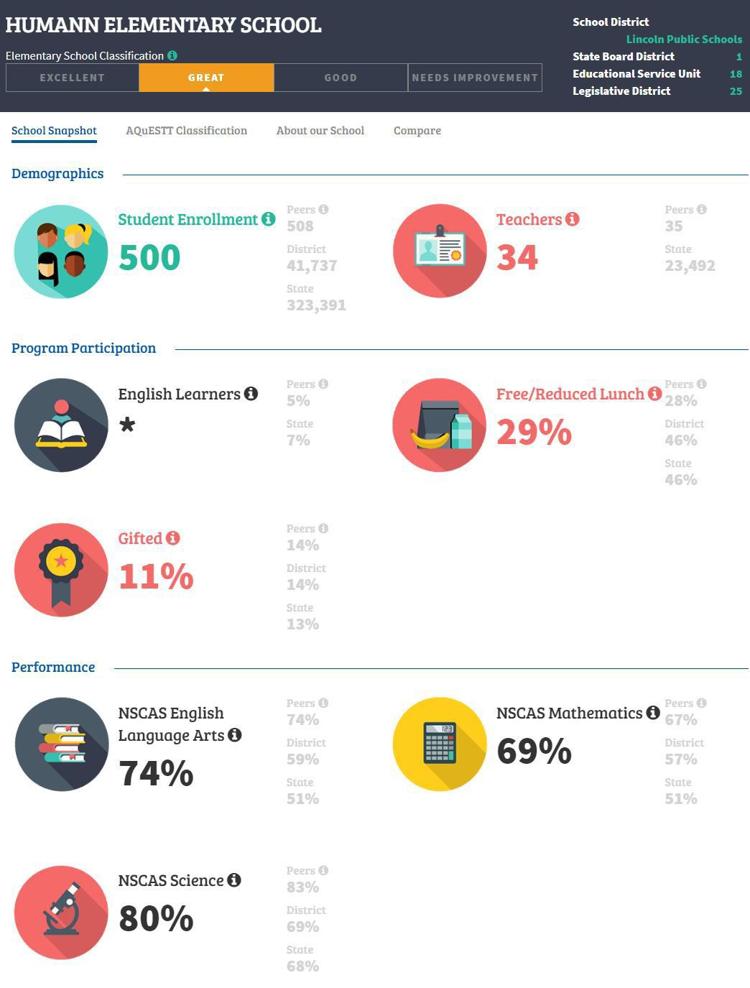 Huntington Elementary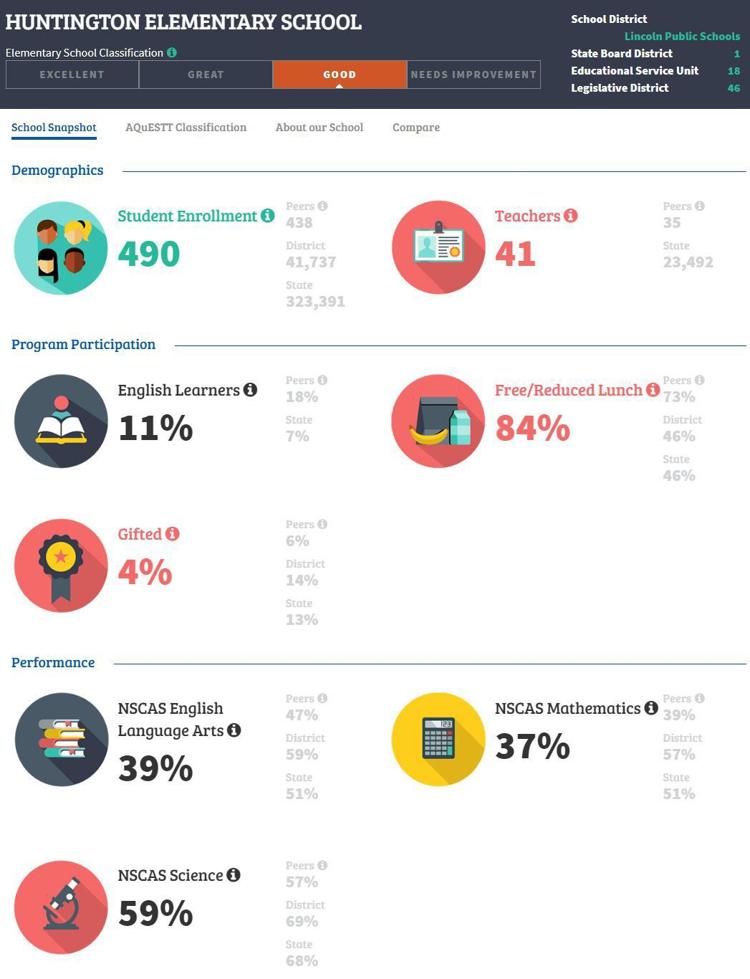 Kahoa Elementary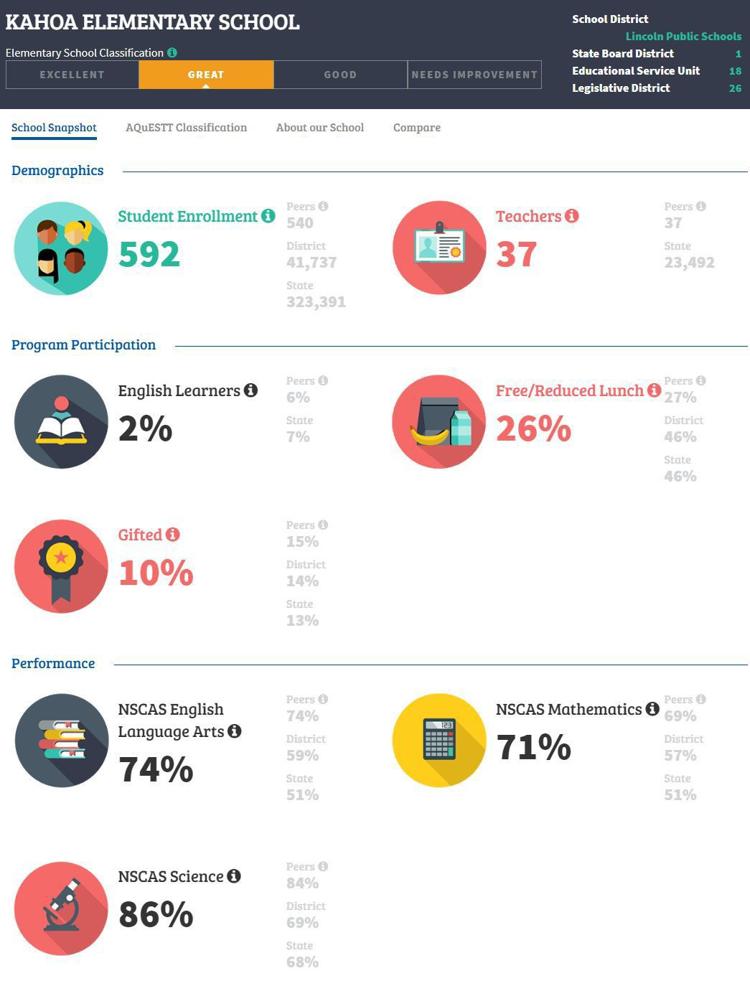 Kloefkorn Elementary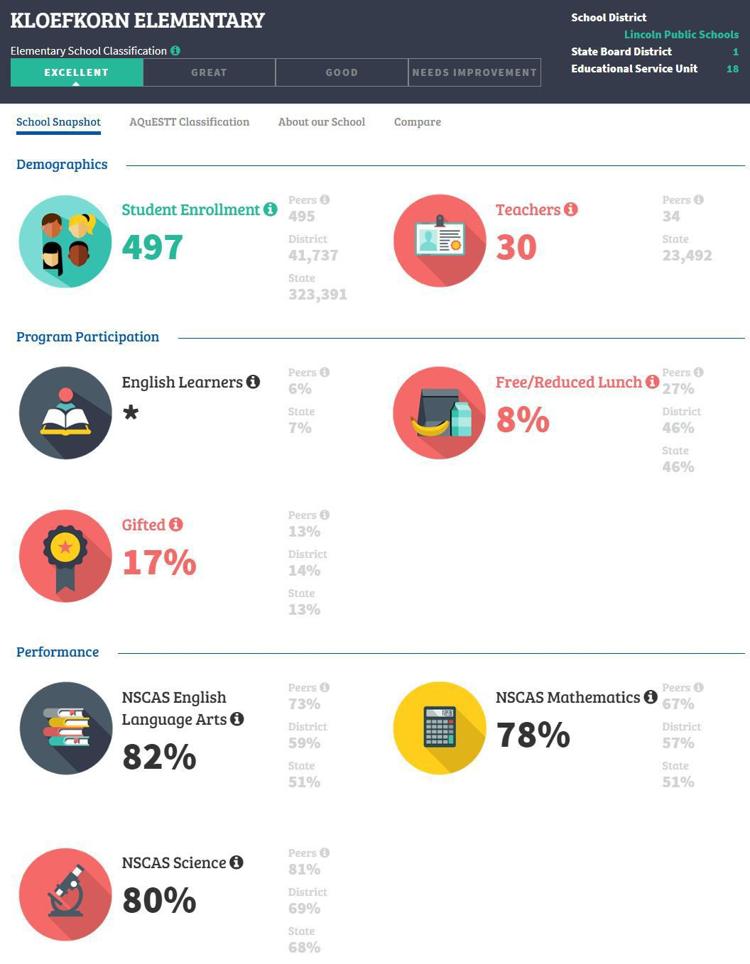 Kooser Elementary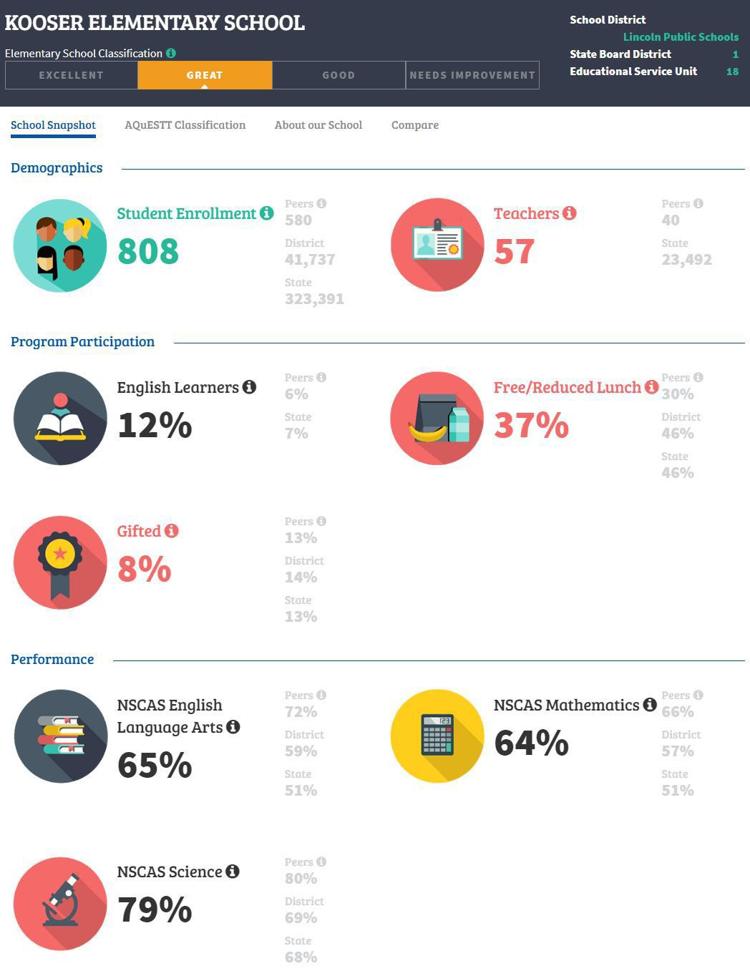 Lakeview Elementary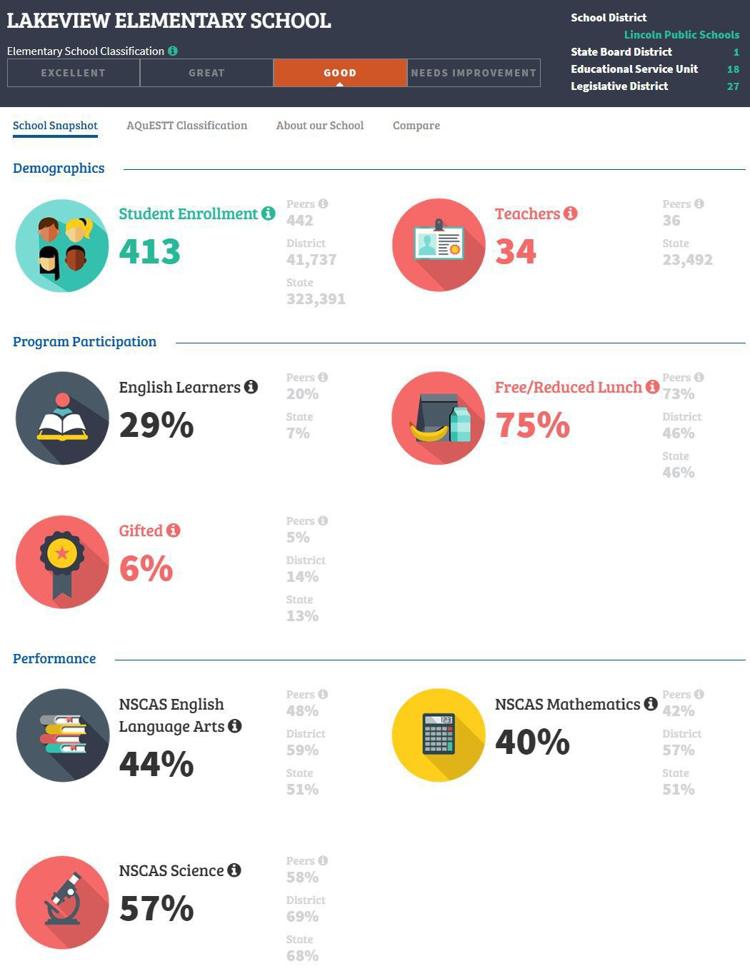 Maxey Elementary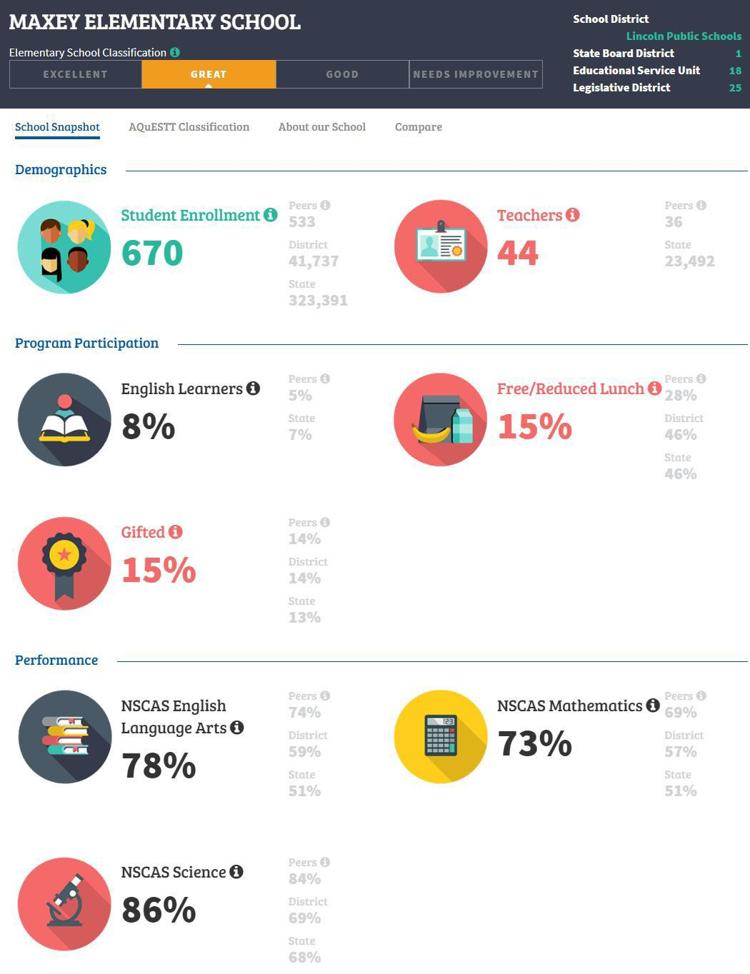 McPhee Elementary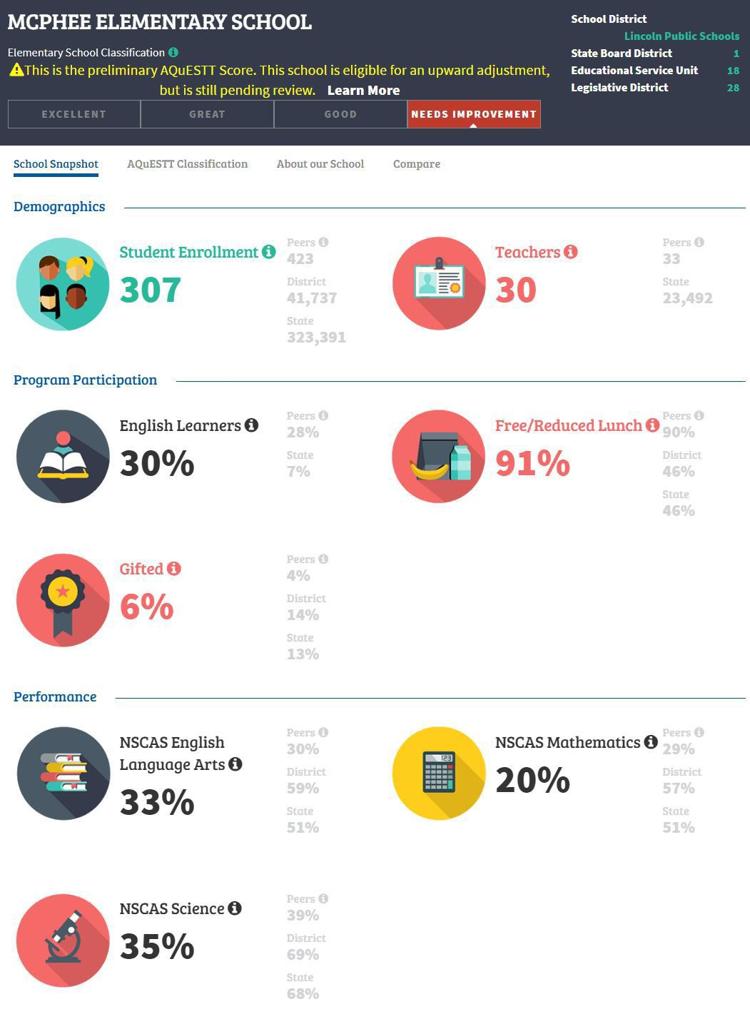 Meadow Lane Elementary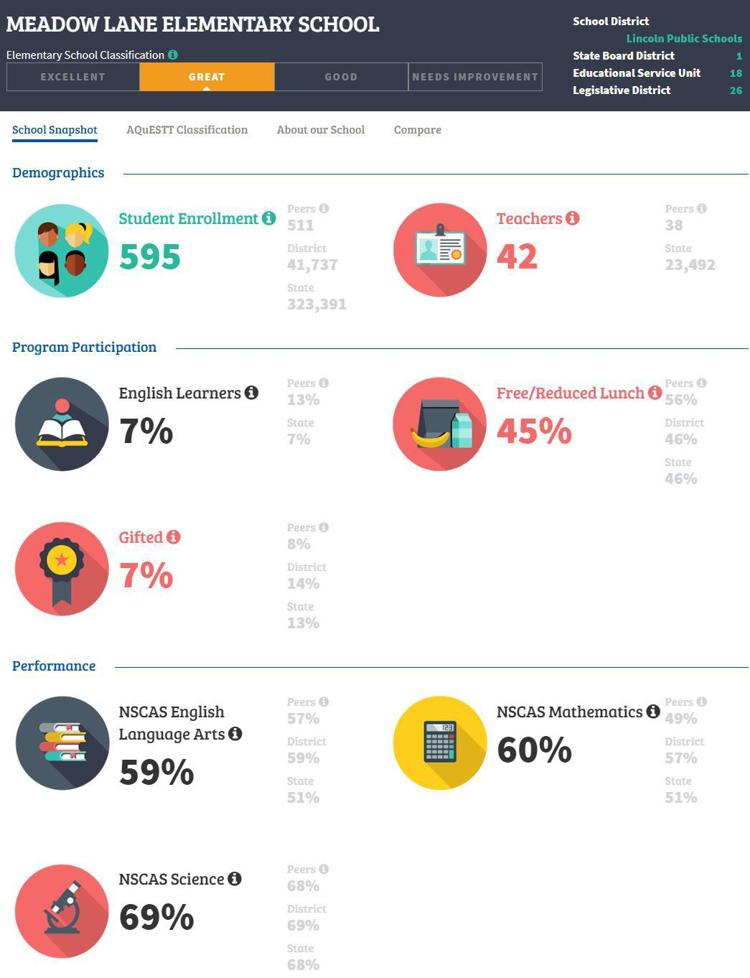 Morley Elementary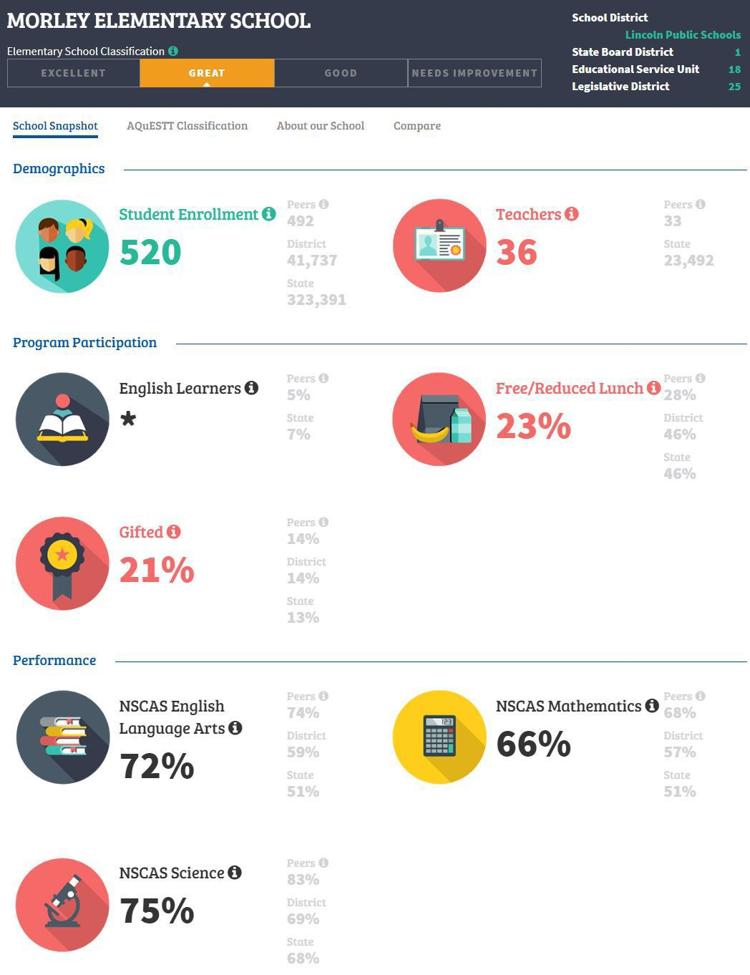 Norwood Park Elementary
Pershing Elementary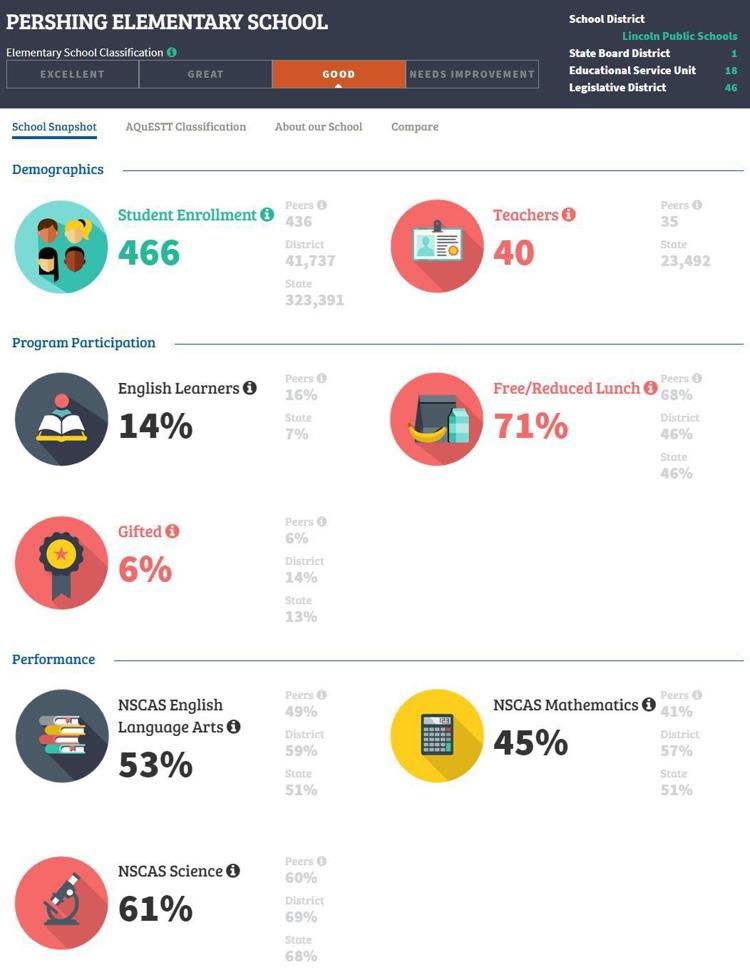 Prescott Elementary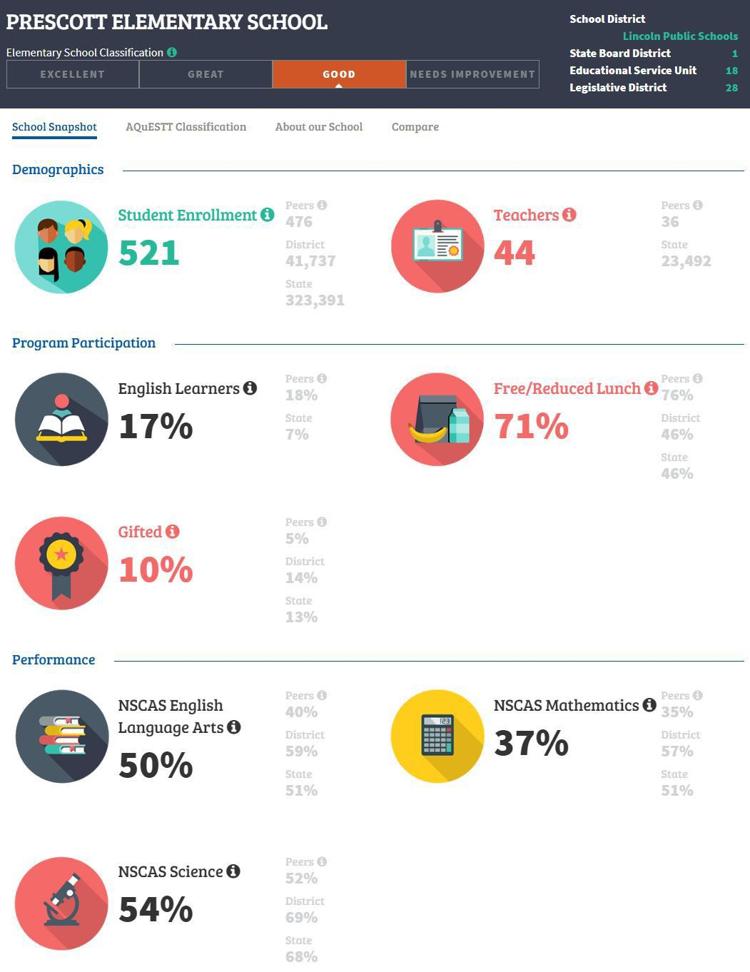 Pyrtle Elementary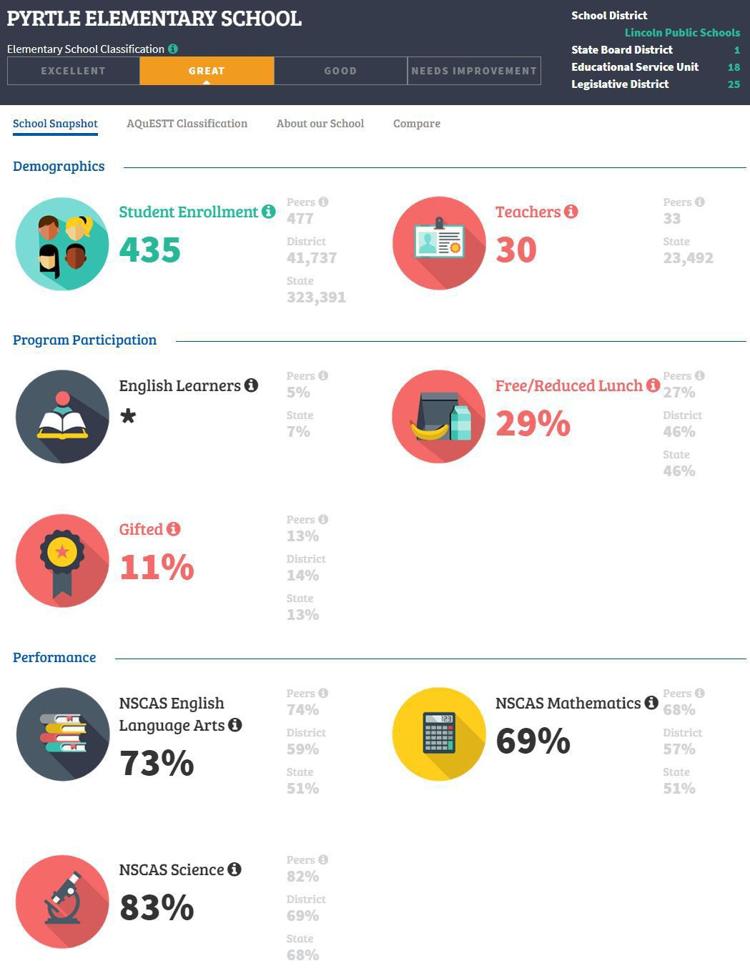 Randolph Elementary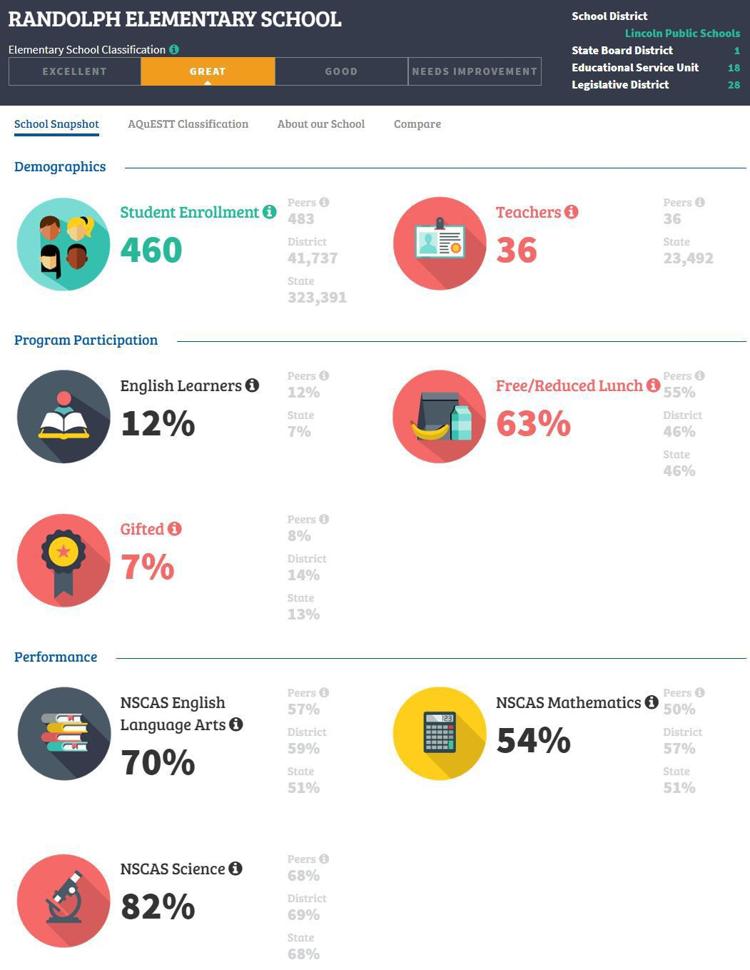 Riley Elementary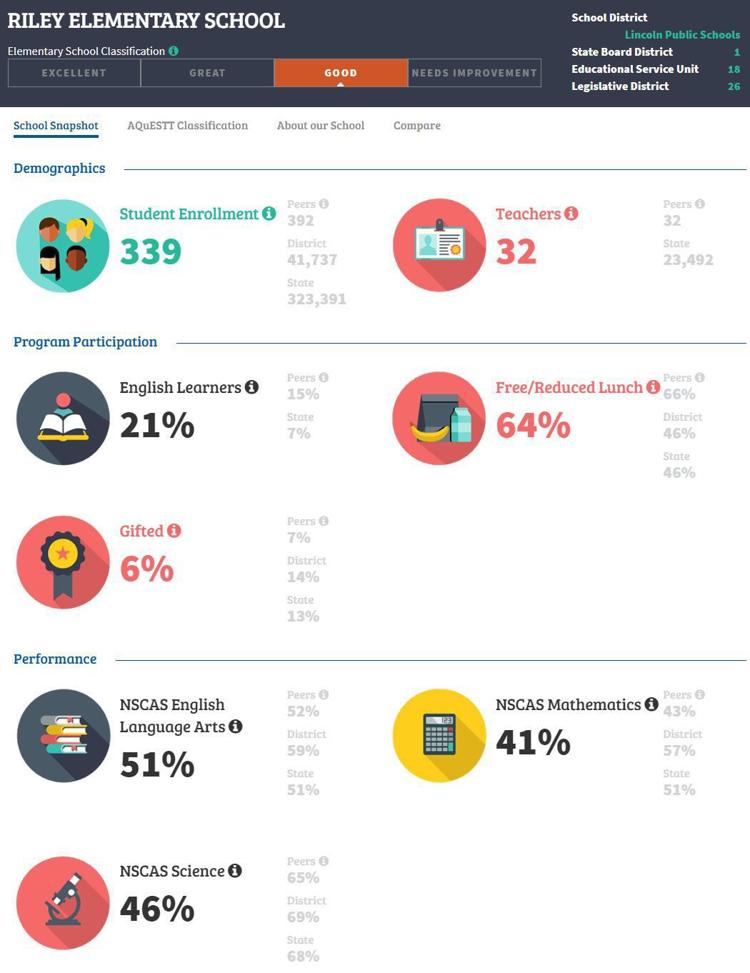 Roper Elementary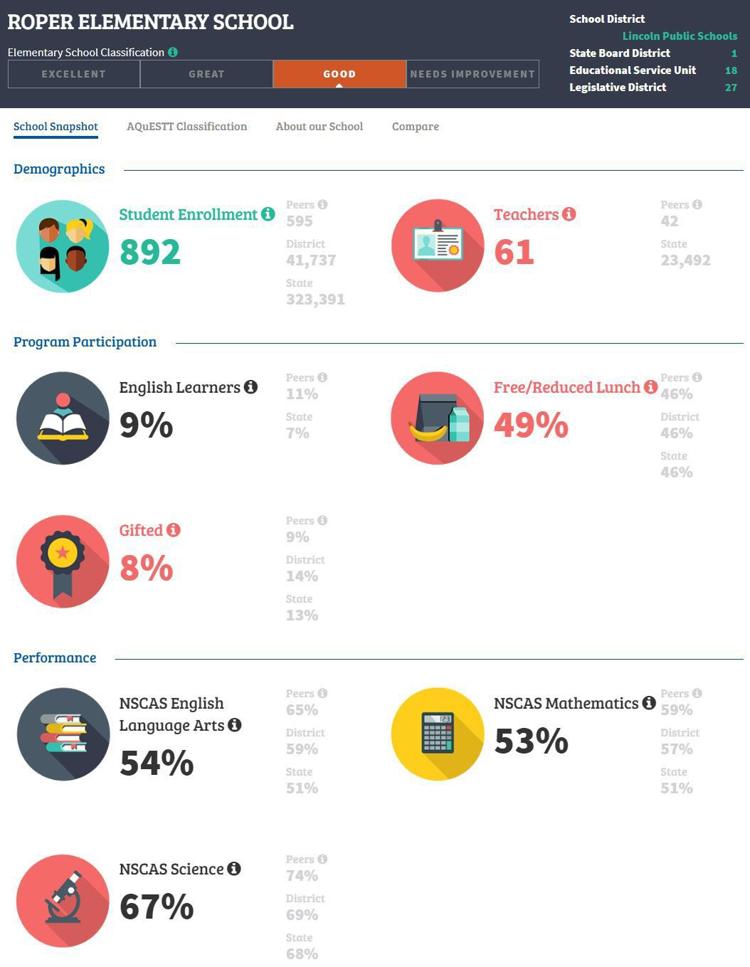 Rousseau Elementary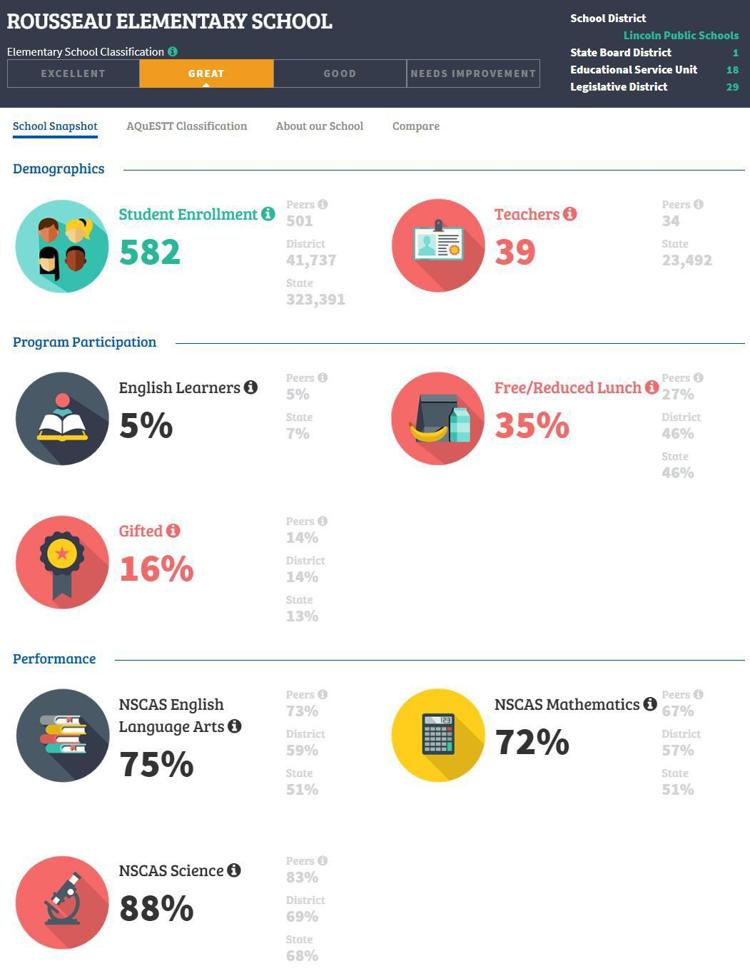 Sarastoga Elementary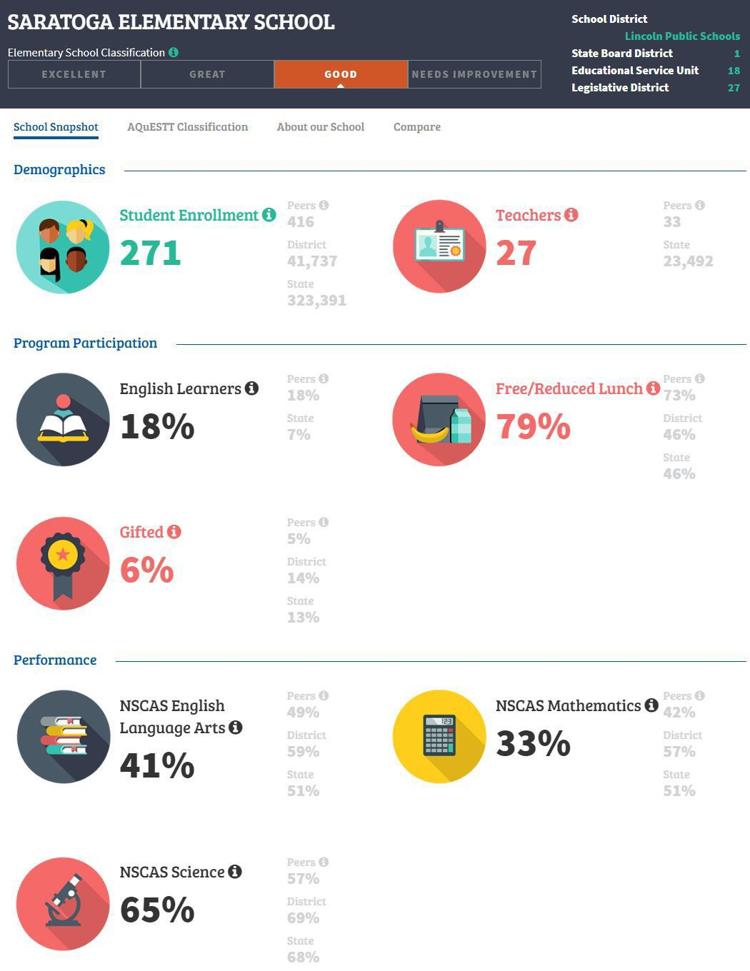 Sheridan Elementary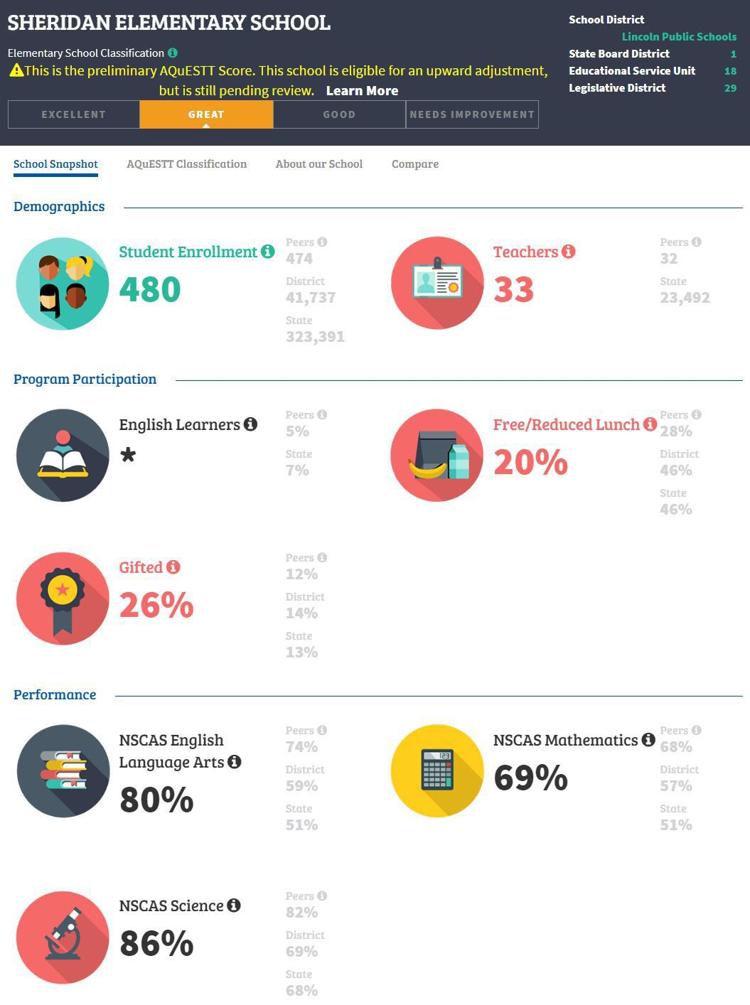 West Lincoln Elementary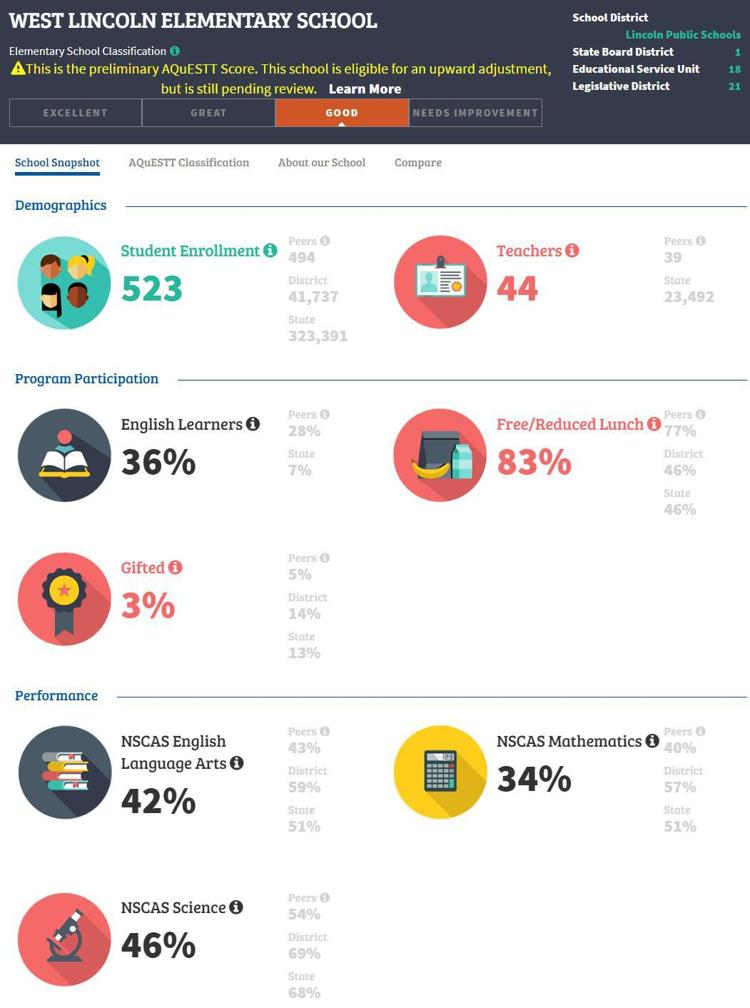 Wysong Elementary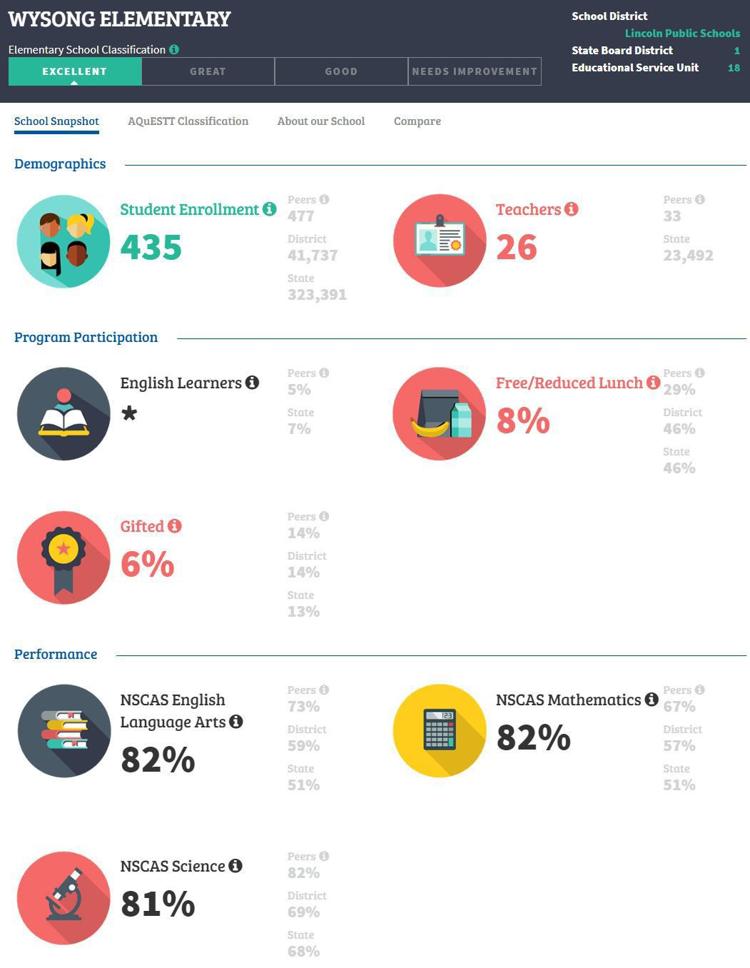 Zeman Elementary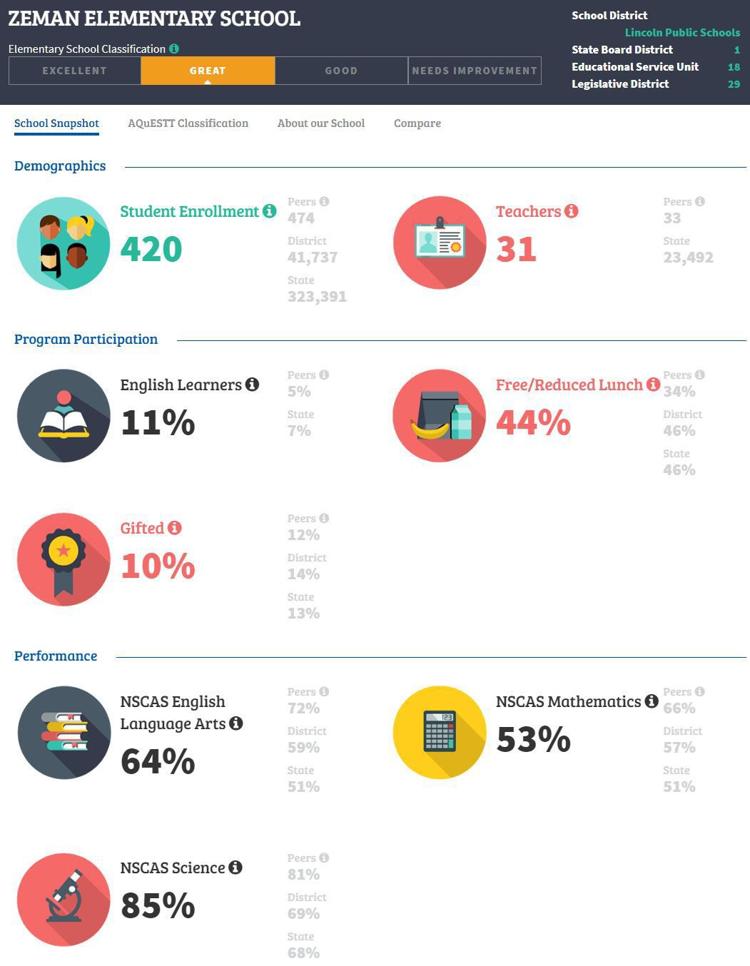 State of Nebraska