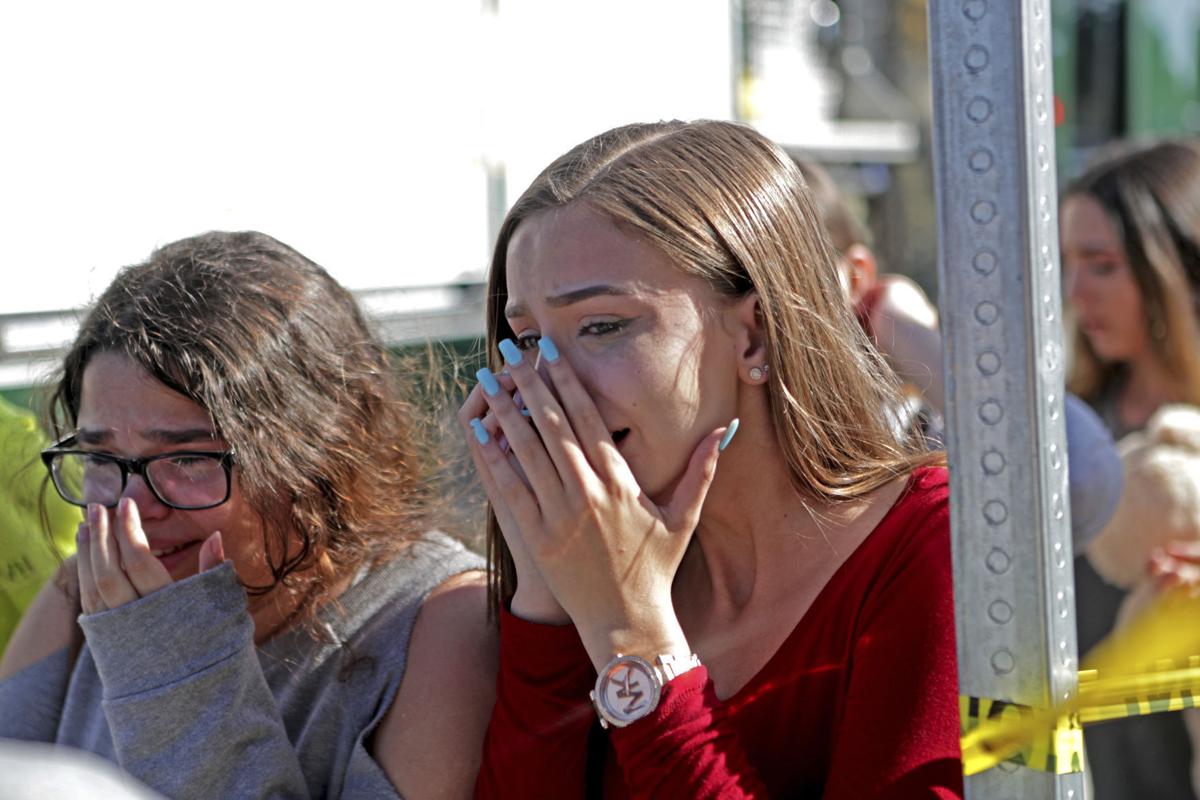 Sixteen-year-old Peyton Holloway learned of Wednesday's mass shooting at a Florida high school while watching the news with his parents and grandparents.
"I was really devastated," said Holloway, a North Star sophomore, on Thursday. "This happens so often, especially now."
Near the end of the school day Wednesday at Marjory Stoneman Douglas High School in Parkland, Florida, a 19-year-old man armed with an AR-15 rifle killed 17 people and hospitalized 15.
Previously, Columbine in 1999 was the deadliest high school shooting in the U.S. with 13 victims.
"People always find a way to get guns," Holloway said, reflecting from Lincoln. "We need to do something, but I don't know what."
Holloway said he attended school on Thursday with the Florida shooting weighing heavily on his mind. Current events were discussed in his fifth-period Human Geography class.
Students reacted to what happened and discussed gun laws. His teacher called for compassion.
"It was kind of hard on us," Holloway said.
Lincoln Public Schools teachers are trained in dealing with trauma, says Brenda Leggiadro, the district's supervisor of counseling and school social work.
"Events like school shootings are so big. We know that they certainly impact all of our students, all of our staff, but in different ways," Leggiadro said.
Leggiadro said LPS encourages students with anxiety about the mass shootings to talk to trusted adults — teachers, parents — and share concerns. And adults should listen.
"They need to know that somebody at school will work to keep them safe — emotionally safe, as well as physically safe," Leggiadro said.
Ursula Vernon-Hansen, facilitator of the LPS Crisis Response Team, encourages adults to answer students' questions as openly and honestly as possible, especially since facts may be skewed on social media.
With school shootings, Vernon-Hansen said oftentimes, there is no good answer.
"One of the typical questions we get from kids is, 'Why did this happen?' And we don't have that answer. We can't tell you why did this happen," Vernon-Hansen said. "The answers that we do have though are all of these coping skills that we can offer you."
Leggiadro also suggested positive expressions of grief, such as sending sympathies to family members or friends in Florida.
"Perhaps they want to reach out to that school community. That would be an appropriate thing to do," Leggiadro said.
Vernon-Hansen says LPS will continue to monitor student reaction to the Florida shooting and provide support as needed. A social worker is assigned to every building in the district.
Reassurance is important too, she added.
"Our children rely on us, and if we're confident, our children will be confident," Vernon-Hansen said.
There's also a social and emotional curriculum called Second Step implemented preschool through seventh grade.
"It's a big part in preventing 'mean' behavior or behavior that could rise to the level of dangerous to other students," Leggiadro said.
LPS Director of Security Joe Wright says there are several safety measures in place, including a crisis response plan at each school, security cameras at all high schools, practicing active shooter drills regularly and emergency protocol.
"Some of these practices are required by federal and state laws, many are school level practices based on school-specific research — and some are best practices developed through lessons learned from events like the one in Florida," Wright wrote in an email.
The Florida shooter, Nikolas Cruz, faces 17 counts of premeditated murder and confessed on Thursday to the shootings.
Among those killed in Wednesday's mass shooting were students, a teacher, a football coach, and the school's athletic director.
"I'm sure none of those kids or teachers woke up that morning and said this is our last day on earth," Holloway said. "We're never guaranteed another day."