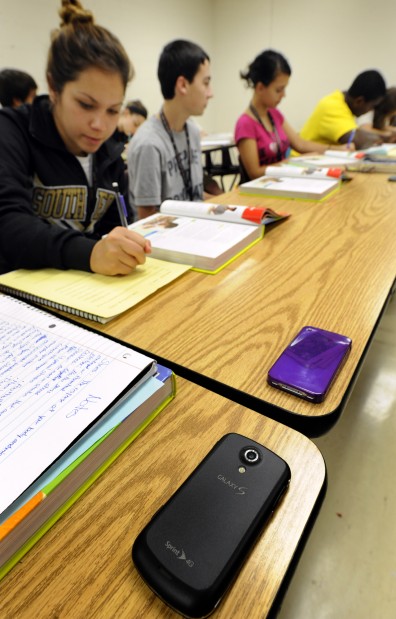 Lincoln Southeast High School health teacher Jeff Smith got tired of the daily cellphone dance.
The what-is-that-you're-messing-with-under-the-table, the why-is-she-moving-her-hands-in-her-pocket, please-put-the-phone-away waltz he and students did so regularly.
So he decided to try something different.
He asked students to put their cellphones on silent and place them on the table in front of them, face down. And not touch them.
In plain sight, he theorized, he could see if students were using them and cut down on the distraction of refocusing, requesting and removing and spend more time teaching.
"I'm just tired of guessing if they're doing that or questioning it all the time," Smith said. "I just wanted to get that distraction out of there."
So far, he said, it has worked well.
"Nobody argued about it," he said. "I don't think anybody really minded."
Cellphone, smartphone and iPod use is a constant battle in schools, where teachers and administrators struggle to monitor behavior that has become second nature to high school students.
Most school officials acknowledge that cellphones are virtual extensions of teenagers' bodies, and one of their goals is to teach students when it's appropriate to use such devices and when it's not.
"We also realize in this day and age that cellphones, smartphones and the ability to have almost instantaneous contact with parents has become more a part of our culture," said Southeast Principal Brent Toalson.
Most Lincoln Public Schools administrators have decided it's not appropriate to use them in class, though many teachers say they sometimes let students look up information on cellphones as part of a class discussion. And more and more apps are available to aid in teaching, though those don't appear to be used often by Lincoln teachers.
Mobile technology, especially the advent of smartphones, presents another nefarious opportunity: cheating.
There have been some highly publicized instances of using technology to cheat, including a recent case in Stuyvesant High School in New York where 70 students apparently used cellphones to text photos of test pages from state Regents exams.
And a 2012 study by a private intel company called McAfee showed that nearly 16 percent of teens surveyed admitted to cheating on a test by looking up answers on a phone.
LPS administrators and teachers say they deal with a few cases of technology-assisted cheating, but that it is not widespread. Still, it crops up as part of a culture in which technology creates an expectation of easy access to information and instantaneous answers.
"It's not something we have to confront on a regular basis," said East High Principal Sue Cassata. "Cheating was always a part of our culture, now there's more access to information."
The bigger problem with cellphones is the nuisance factor: Students texting or checking Facebook or Twitter when they're supposed to be listening to the teacher or doing classwork.
That's why Southeast's Toalson decided to ramp up enforcement of the school's cellphone policy when he became principal this fall.
The cellphone policy -- which remains unchanged -- allows students to use them when they're not in class. That means they can check their phones during passing periods, at lunch and before and after school. Toalson said staff wasn't uniformly enforcing the policy, so they agreed to start doing so this year.
Now, teachers confiscate phones used in class. More annoying to students is the 50-minute detention that accompanies the confiscation. A second offense warrants another 50-minute detention, and a parent has to pick up the phone. A third offense yields an out of school suspension and a meeting between parents and administrators.
"Our purpose with the cellphone thing is just to be consistent and to make sure we try to focus on learning and to the best that we can, prevent distractions during that time," he said.
The policy is similar to East High's, which doesn't include detentions; however, a parent must pick up the phone the first time it's taken away, and students get an in-school suspension for a second offense and an out of school suspension for a third offense.
Additionally, East administrators don't let students use their phones during passing periods. They agreed to try it last year after a well-planned and researched request from the student council, but stopped allowing phone use this fall because teachers didn't think it worked well.
Cassata said they might revisit the request again this year after more discussions with the student council.
Northeast has the strictest cellphone policy, although administrators modified it slightly this year. In past years, students were not allowed to have phones in school at all. Now, they just can't use them while school is in session.
Southwest High School has a less stringent enforcement strategy. Teachers take the phone and give it back after class. Associate Principal Susette Taylor said repeat offenders face stiffer consequences, but the penalties are decided on an individual basis.
In Smith's classes at Southeast, which have tables instead of desks, it was more difficult for the teacher to see what was happening.
But students didn't need to be reminded of his policy. A few even said they liked the rule.
They leave the phones alone because they prefer the phones remain on their own tables and not their teacher's, Smith said.
"These kids don't want to part with their phones."