Rodney D. Bennett was named as the priority candidate to become the 21st chancellor of the University of Nebraska-Lincoln on Monday.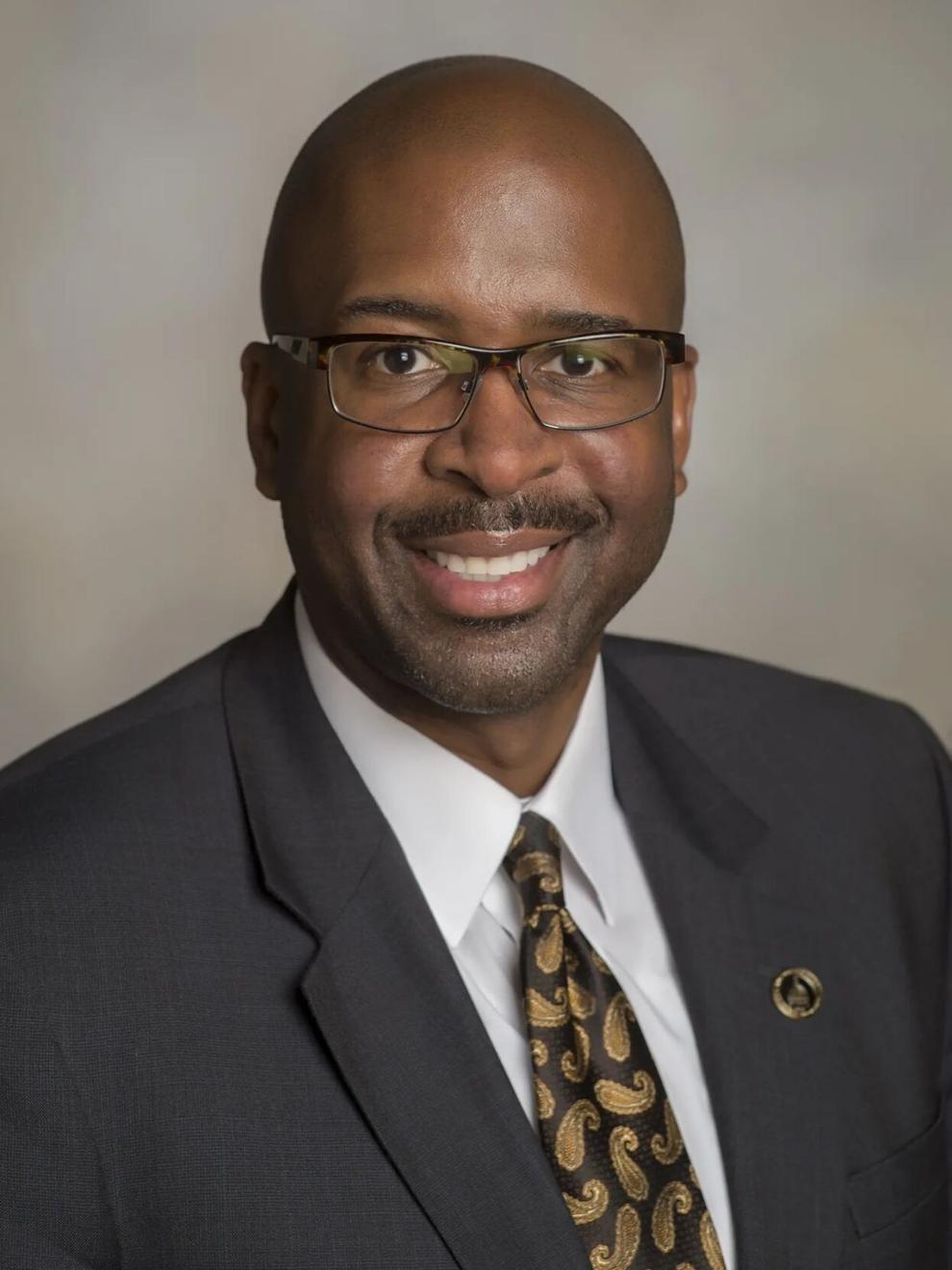 Green's last day as UNL's top leader will be June 30. Bennett's appointment to the position will go before the NU Board of Regents on June 22.
In a phone interview, Bennett said UNL is "one of our country's most important universities" and said he believes the state's flagship campus has a chance to set a new standard for public land-grant universities.
"I think in some ways some of our institutions have got a little bit comfortable with who they are and what they do," Bennett said. "I think we have an opportunity to sort of reaffirm our commitment to the work we do for the people we are serving."
Carter called Bennett, "the right leader at exactly the right time" to move UNL forward, and lauded his appreciation for and understanding of the role of public land-grant universities.
While Bennett is the first external hire to lead UNL in more than two decades, as well as the first Black administrator to oversee the state's largest university campus, Carter said those factors didn't play into his decision: "I was trying to find the best candidate, period."
"What impressed me the most is (Bennett) understands the importance of the University of Nebraska writ large, but also that the flagship campus plays a critical role in that success as well as the success of the state," Carter said.
The NU president also said Bennett is high-energy, a "champion for student success," and has a proven track record in growing research expenditures and managing campus facility growth and renewal.
Bennett, who was also recently a finalist for a leadership search at Utah State University, said he plans to be an active leader who engages with stakeholder groups from students and faculty to athletics to agricultural interests.
"I think, overall, student engagement is probably highest on the list," he said. "The best time to establish a relationship with a future alum is upon their first arrival. It's important to give them an experience that endears them to the university right away."
Bennett also said faculty have "the single greatest impact on student success" and he wants to empower those employees in support of that mission.
A native of Knoxville, Tennessee, the 56-year-old Bennett holds a bachelor's and master's degree from Middle Tennessee State University and a doctor of education in educational administration from Tennessee State University.
He served as the assistant dean of student life at his alma mater before becoming the dean of students at Winthrop University in South Carolina. Beginning in 2001, Bennett was the dean of students for 34,000 students at the University of Georgia and oversaw a budget of $86 million.
Bennett later served as vice president of student affairs at the Athens-based campus from 2004 to 2013, when former NU President Hank Bounds, then the commissioner of the Mississippi Institutions of Higher Learning, tapped him to lead Southern Miss and its 14,000 students.
When he was hired, Bennett became the first Black president of a predominantly white university in Mississippi.
Shortly after his appointment, however, an EF-4 tornado struck Hattiesburg in February 2013, cutting across a portion of the Southern Miss campus and causing $30 million in damage to several buildings and landscaping.
Carter said Bennett's effort to rebuild the campus in the aftermath of the tornado ran parallel to his efforts to address budgetary problems and raise Southern Miss' stature in other ways.
Bennett implemented a financial sustainability policy and trimmed from the budget, also forgoing a more than $72,000 raise in the process, choosing instead to put that money into an endowed scholarship fund.
He also is credited with expanding academic offerings, growing the number of doctoral degrees the university was granting, and increasing its research expenditures, which led Southern Miss to be delegated as a "Research 1" university – the highest classification available.
UNL is also classified as an "R1" university according to the Carnegie Commission on Higher Education.
Carter said Bennett is also "a tremendous community outreach person" who will be visible in the community and plans to visit every high school in Nebraska, a move Bennett said was geared toward securing the pipeline of future students to UNL.
While Southern Miss charted growth in its academic enterprise and physical infrastructure under Bennett's watch, the university also found itself embroiled in scandal.
University officials, former NFL quarterback Brett Favre, the Mississippi Department of Human Services, and a nonprofit crafted a deal to use $5 million in Temporary Assistance for Needy Families funds to build a volleyball facility on Southern Miss' campus in violation of federal law.
Eight people have been indicted and six have pleaded guilty for their involvement, but recent reporting shows Bennett raised concerns about the project with Mississippi's Gov. Phil Bryant, saying Favre needed to honor his agreement, according to court filings.
"I've asked Brett to not do the things he's doing to seek funding from state agencies and the legislature for the volleyball facility," Bennett texted in January 2020. "I will see for the 'umpteenth time' if we can get him to stand down. The bottom line is he personally guaranteed the project, and on his word and handshake we proceeded. It's time for him to pay up – it really is just that simple."
On Monday, Bennett said he believes he acted appropriately throughout: "I think when anybody sort of pulls back the layers of the volleyball arena, I think what they will see is my behavior and the actions I took from start to finish were within what's expected both from board policy and state law."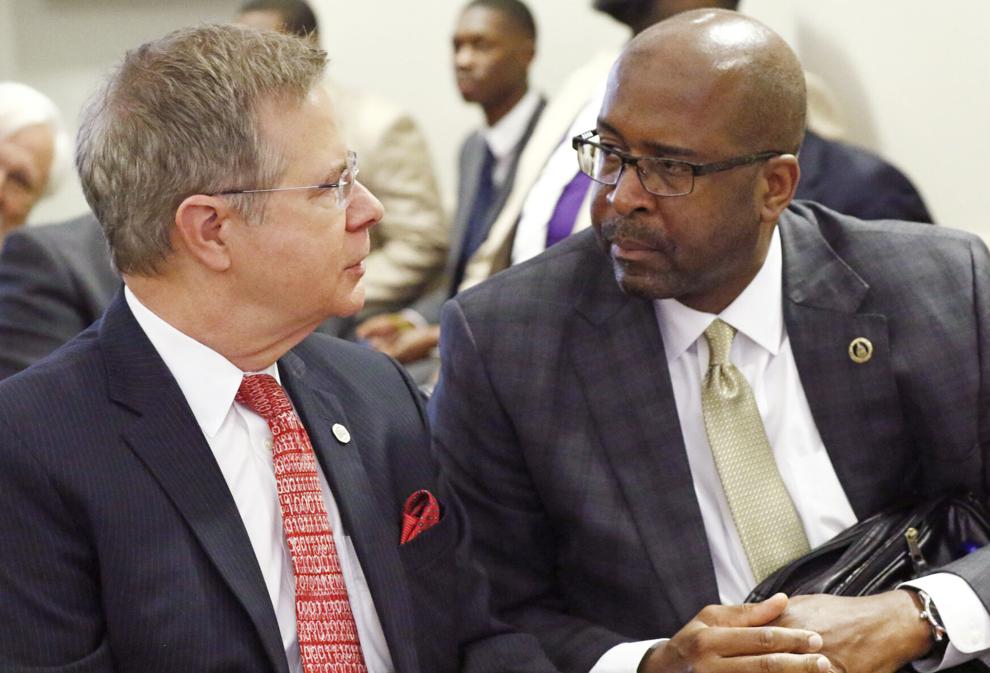 Bennett's departure from Southern Miss in 2022 was not related to the volleyball stadium scandal, he said. Rather, he expressed to the university's board he did not plan to seek renewal of his contract and intended to look for a new position.
It just so happened that UNL, where Bennett had made several connections, including with regents, former Gov. Pete Ricketts, and Husker Athletics Director Trev Alberts, was soon going to be looking for a new leader.
In 2016, for example, he shared a stage with several members of the Board of Regents, then-Gov. Ricketts, and others at Bounds' investiture ceremony, where he was the keynote speaker.
More than eight years ago, when then-Regent Jim Pillen was conducting background research on Bounds as the NU board was deciding on who to hire as president, he spoke at length with Bennett, he said in a brief interview on Monday.
"It was Good Friday, the university was shut down, but he gave me two hours to answer my questions," said now-Gov. Pillen. "I've crossed paths with Rodney several different times since then. He's going to be great for Nebraska, he's an extraordinary human being."
Bennett's designation as the priority candidate comes after Green announced his plans to retire at the end of the school year after more than seven years as chancellor.
Following Green's announcement, Carter convened a 16-member search committee and hired AGB Search to conduct "a rigorous national search" to find a replacement. That search was expected to cost roughly $115,000, according to a contract between both entities.
On Monday, Carter said there was "great response from all over the country" to the UNL job, despite there being widespread openings in higher education leadership positions.
"I wasn't sure how we would attract given that situation, but we had a competitive pool," he said.
As the priority candidate under Nebraska statute, Bennett will be subject to a 30-day vetting period before his hiring can be finalized. A series of public sessions will be scheduled for Bennett to meet students, faculty, and staff, the university said.
If his hiring is approved by regents – no contract has been finalized, but university officials said they "intend to be competitive on compensation, particularly among UNL's Big Ten Conference peers – Bennett will find a range of challenges awaiting him on campus.
UNL has faced dwindling enrollment in recent years due to a combination of larger-than-usual graduating classes and smaller incoming classes, resulting in the lowest number of students on campus since 2008.
That has put financial pressure on UNL and required campus leaders to look for ways to trim the campus budget by closing open positions or moving certain programs from state-aided funding to other sources.
Bennett will also be involved in managing several ongoing facility projects across UNL's campus, including a planned renovation of Memorial Stadium, a new music building, the opening of the Kiewit Hall at the College of Engineering and more.
Bennett and his wife, Temple, have two adult daughters, Colby and Logan.