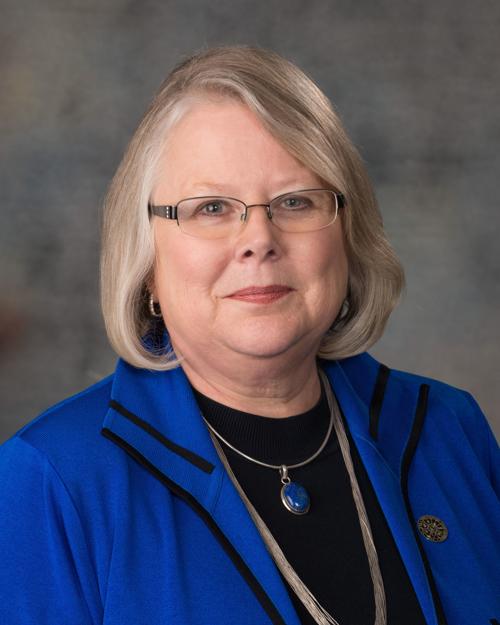 Top campus and system leaders at the University of Nebraska have, with few exceptions, been men throughout the institution's 150-year history.
Just three chancellors — Gladys Styles Johnston at the University of Nebraska at Kearney, Carol Aschenbrener at the University of Nebraska Medical Center, and Nancy Belk at the University of Nebraska at Omaha — have been women, while each of the University of Nebraska-Lincoln's 20 leaders have been men.
Each of the seven presidents tapped to oversee the NU system organized 51 years ago have also been men.
But Thursday, the Board of Regents appointed Susan Fritz as interim leader of a system where more than half of the student body and faculty are women.
"It is the privilege of a lifetime to be entrusted with this role by the Board of Regents," Fritz said. "I know from personal experience that the University of Nebraska is a powerful force for change and growth for young people and communities alike."
Calling Fritz's appointment at president a "truly historic day," Regent Tim Clare of Lincoln said the board recognized the system's current provost as someone who "knows the university inside and out."
Fritz grew up on a row crop farm and cattle ranch in southern Seward County, just 18 miles outside of Lincoln. The Capital City's skyline is visible from the top of a hill on the property where her father still lives.
"Agriculture is absolutely my home base," Fritz said. She continues to own and operate Fritz Family Farms near Crete, a corn, soybean and alfalfa farm, as well as a cow-calf operation, with her husband, Russell. Her three children and seven grandchildren all live in Nebraska.
Attending UNL as a first-generation college student, Fritz earned a bachelor's degree in business administration, a master's in adult education and agricultural education, and a doctorate in community and human resources.
Fritz, 61, became an instructor in UNL's Department of Agricultural Leadership, Education and Communications in 1989 before rising to department head, associate dean of the College of Natural Resources and associate vice chancellor for the Institute of Agriculture and Natural Resources.
She later became interim dean and director of UNL's Agricultural Research Division and the Nebraska Agricultural Experiment Station before joining central administration — at future UNL Chancellor Ronnie Green's recommendation — as an associate vice president for academic affairs in 2011.
She was named interim provost in 2014 and later promoted to the senior administrative position on a permanent basis.
About two weeks ago, Clare and Regent Jim Pillen of Columbus, the board's vice chair, approached Fritz about becoming interim president, she said after Thursday's regents meeting.
You have free articles remaining.
"I was absolutely honored to be approached," she said.
As someone intimately familiar with NU as a student, faculty member and administrator, Clare said regents believe Fritz is best positioned to maintain NU's momentum in growing enrollment, improving student outcomes, expanding research opportunities and collaborating with stakeholders.
"We can't miss a beat," Clare said. "The needs of our students and our communities and our workforce are simply too great to hit pause while we conduct a search for the next president."
The board voted 7-1 to approve Fritz, with Regent Howard Hawks of Omaha declining to say why he voted against her appointment: "It's immaterial now. My job is to support Susan."
Fritz said Hawks told her after the vote that she has his full support.
Fritz will become interim president-elect Saturday. On Aug. 15, she will assume the interim president position with Hank Bounds' departure.
As interim, Fritz will earn an annual salary of $540,000 — roughly the same earned by Bounds, and well above the $350,000 regents approved for interim President James Linder five years ago.
Like Linder, Fritz agreed to not submit her name as a candidate to become NU's next permanent leader. Once a new president is named, she will continue serving as executive vice president.
While becoming the first woman to lead NU is "absolutely awesome," Fritz said women and men served as mentors and role models to help her rise to take charge of the university.
"It is very exciting for women everywhere that I will have this opportunity, particularly young women as they think about their careers or where they might want to go or who they might want to become," she said.
Regents on Thursday also approved a contract with AGB Search, the executive search arm of the Association of Governing Boards of Universities and Colleges, for $169,750, plus reimbursable expenses, to aid in the search for NU's next top leader.
Three former university administrators — Rod McDavis, the managing principal for AGB Search and former president of Ohio University; Sally Mason, president emerita of the University of Iowa; and Garry Owens, founding dean of the College of Visual and Performing Arts at Texas Tech University — will work with NU on the search.
AGB will soon get with regents, students, faculty, staff and others in developing a profile of the qualities and characteristics the next NU leader should have before it begins recruiting candidates.
NU appears to be following a similar timeline to its last presidential search. In March 2014 — about two months after President J.B. Milliken announced he would be leaving NU to become chancellor of City University of New York — regents appointed Linder, then a senior associate to the president for innovation and economic competitiveness, as interim.
The regents' action Thursday comes a little more than two months after Bounds announced he would step down as NU's top administrator and return to the South with his family.