Larysa Hlyniuk is not your typical middle school student.
She is, in fact, a mom who left her home in Ukraine a year ago, landed in Lincoln and sent two of her children off to Culler Middle School, where they began the arduous process of learning English.
In September, she joined them in that effort, which is why, on Thursday afternoon, she sat in a class with seventh and eighth graders from Iraq and Thailand, Vietnam and Mexico, El Salvador and Brazil.
She wasn't the only adult: Havana Salo, a long-haired eighth grader, sat at a table across from her dad, practicing the difficult concept of time, American-style. It is a quarter after one, a quarter to four.
A couple from Libya, whose child attends Culler and a different class for beginning English Language Learners, joined their younger counterparts in a game to master the alphabet, naming the letters, their sounds, the words that include them.
Their teacher, Ashlea Jurgens-Woitzel, guided them from one activity to another, unfazed by the nontraditional students who are part of the first family literacy program at the middle school level.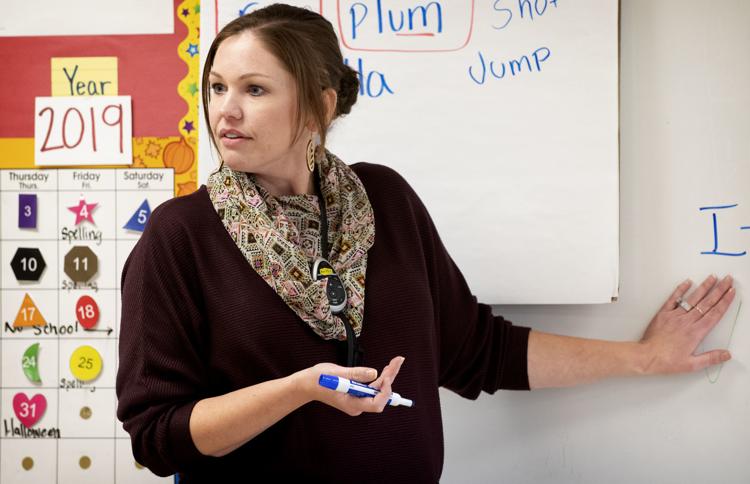 For a decade, Lincoln Public Schools has had family literacy classes at elementary schools, teaching English to the parents of students and inviting those parents into their children's classroom on a weekly basis to learn alongside them.
The family literacy programs at 12 elementary schools are designed to teach parents English (with the help of Lincoln Literacy and Southeast Community College instructors). Their purpose is broader than learning a new language, though, helping parents navigate a new culture and community and learn about their children's education.
The classes feature speakers from the community and tackle practical skills, like banking or reading an electric bill or understanding students' report cards. The programs offer child care for younger siblings.
The time parents spend with their children in their classroom is important, said Monica Asher, the district's family literacy coordinator, because it allows them to see what their children are learning, to get to know the teacher, to understand how to work with their students at home — and to begin to feel like a part of the school.
"The point is to understand how the parents are a part of the child's education," she said. "Specifically how an American class works and how they fit in the picture."
That's worked well at the elementary school level, but doing something similar at the middle and high school level has been more problematic.
For one thing, by the time students reach middle and high school parents are, well, not so cool. Sometimes, frankly, they're downright embarrassing.
You have free articles remaining.
"That's really the challenge here but we really wanted to start it here and see how it works," she said.
LPS has offered space at Park, Culler and Lincoln High for adult literacy classes, but this is the first one to include the community connection and bringing parents into the classroom with students. 
They decided to have all the parents go to one class — which their own children may or may not be a part of — a beginning-level ELL class taught by Jurgens-Woitzel.
Students of some of the parents already have moved on to higher ELL levels, and parents would struggle in some of the regular education classes their students attend.
Havana said she doesn't mind having her dad in her class, nor do other students.  
"The students want to be helpers," Jurgens-Woitzel said. "They take pride in being the student who can help, to catch (the adults) up."
Principal Michaela Hahn said she sees the family literacy program as a starting point to get all families more involved, not just those learning English.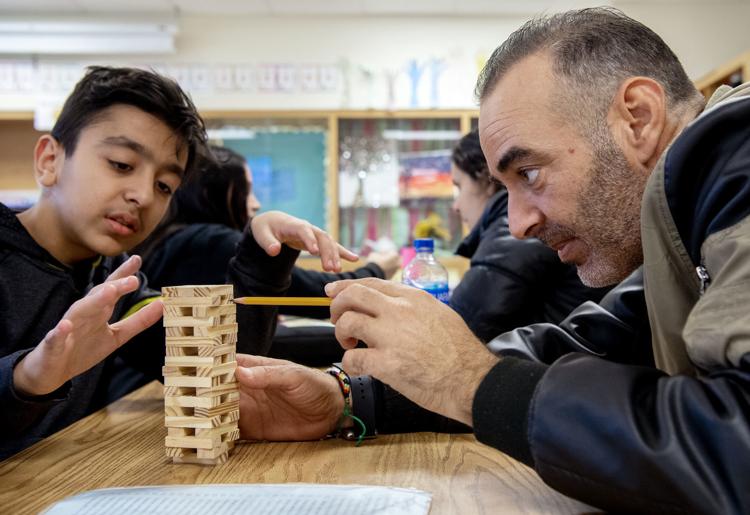 "I saw this as a really good launching pad for family engagement," she said.
A new statewide family engagement center designed to support such efforts in schools across Nebraska provided funding, Asher said.
Hlyniuk, the mother from the Ukraine whose students are in a different class than the one she attends, said she listens to the students talk to each other, follows their lead as they learn to write and speak English.
She appreciates those who help her, she said, and enjoys the freedom of the American classroom, a different atmosphere than those in her home country.
So, asks a visitor, does she like learning in a classroom with students the same age as her children?
"Like," she answered, smiling. "Very like."