While the brain can begin repairing itself in the days and weeks after a concussion, new research from the University of Nebraska-Lincoln shows symptoms of the trauma can last much longer.
In some cases, the cognitive delays the brain experiences post-concussion may be permanent, according to a study conducted by scientists at UNL's Center for Brain, Biology and Behavior.
To measure the electrical activity of two groups of male athletes — those who had suffered multiple concussions, and those who had not experienced a previous brain injury — the center used high-density electroencephalography (EEG).
The findings of the experiment demonstrated that athletes who had suffered a concussion more than a year earlier displayed delayed brain responses one-tenth to two-tenths slower than their concussion-free counterparts.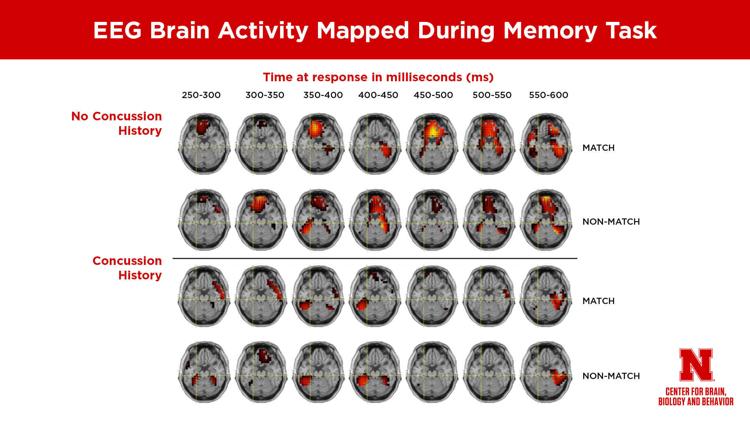 According to Dennis Molfese, a professor of psychology at UNL and the author of the study, the difference is "a really big deficit."
Other results of the study showed that athletes who had previously suffered a concussion needed to use larger areas of their brains to complete memory tasks.
The shortened neurological pathways formed by the brain as it continually develops are altered during brain injuries such as concussions, forcing the brain to find new avenues to process information.
Creating new pathways for electrical signals to travel in the brain can take time, and the brain has to re-learn a new network each time an injury takes place.
"For those with a concussion, at least a year post-injury, their brains haven't figured it out yet," Molfese said.
Molfese added that the results of the study show similarities to a 2013 experiment that tested athletes immediately after a suspected concussion, further demonstrating just how serious and long-lasting brain injuries can be.
"The brain's design is incredible," he said. "Up to a certain point, it is able to compensate. But if you keep piling on the injuries, it loses that ability."