Anica Brown's kitchen island is a science lab now, with test tubes and beakers and droppers full of liquid, a camera trained on the seventh-grade teacher from Pound Middle School in protective eye gear.
There's a green screen in Kooser Elementary librarian Betsy Thomas' home, perched amidst the pirate swords and hardhats, the fake mustaches and overalls and — when the occasion calls for it — a borrowed giant T-rex costume.
Piles of library books litter Susan Dinsdale's home — "Where the Wild Things Are" and "Scrambled States of America" and "The Bear Who Wasn't There" vying to be recorded by the Pyrtle Elementary School kindergarten teacher.
Mar'Lakuittia Overstreet uses a small video camera to record lessons twice a week to her English Language Learners at Lincoln High, explaining vocabulary and grammar step by step, following up with a second video reteaching the same concepts — because she knows students who speak nine different languages need to see her face to grasp those lessons.
This is education in a pandemic, a place where classrooms and hallways, band rooms and gymnasiums, auditoriums and cafeterias have been abandoned for bedrooms and kitchen tables, home offices and couches.
For two weeks, Lincoln Public Schools teachers have been delivering lessons remotely — after two weeks of review material provided to students — using Google Classroom, Zoom, email, the district's online grading system, public access and local cable TV and a host of education apps.
It's been a steep learning curve, say those teachers, mastering technology and how to teach students who aren't sitting in front of them; figuring out how not to overload parents now working and overseeing schoolwork at home, fine-tuning how much material is the right amount, the best formats to truly engage students through cyberspace.
Making sure students can connect electronically, then finding ways to make sure they do — has been the biggest challenge and has driven many decisions.
They worry about the technology gap and work through social workers and counselors to find students who don't have Wi-Fi and connect them through deals for low-income families or with hard-to-get hot spots designed specifically for LPS students. And they know internet access isn't the only barrier.
"There are a host of reasons why students aren't engaging," said Matt Larson, associate superintendent of instruction. "Sometimes it's just that families are overwhelmed with their own personal circumstances."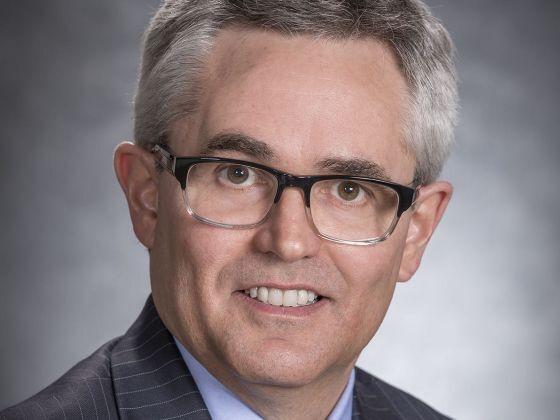 Teachers say they know some students are working or watching siblings. One teacher said a parent called to apologize for her student not keeping up with work — she'd just had a C-section and brought triplets home from the hospital.
Preliminary — and rough — estimates by building principals show the percentage of high school students who are doing schoolwork varies from 40% to 70%. In middle school, it has ranged from 45%-85%, Larson said, with lower engagement at the schools with the highest poverty levels. Not surprisingly, in advanced placement or differentiated courses engagement levels are as high as 80%. Similar non-differentiated courses can dip to 50%.
Several teachers said the number of kids participating has increased significantly since they've shifted from review to new material.
During the first week that LPS started new content, videotaped lessons for elementary school students on the district's remote learning site got 450,000 views, and that didn't count students who watched the videos on the public access channel or KLKN TV.
There have been bright spots in the scramble to do school differently, but not seeing students every day has been hard, and the toughest part, hands-down, is the not knowing — a sentiment echoed by every teacher interviewed.
"Are the kids OK? Are they safe, are they fed?" said Lincoln High English teacher Sydney Jensen. "Those are our main concerns. And being able to teach students along the way — but that's not number one."
Creating a new system on the fly
The two weeks of review material compiled before the closures and social distancing restrictions began raining down in earnest, gave the state's second-largest school district much-needed time to figure out how to finish the school year with nobody in school.
"We were changing the way school had been conducted for nearly 100 years," Larson said.
District-level directors worked through the big questions: what to do about grading and graduation, the needs of special education students, how to contact families, how to leverage the array of online resources. Curriculum specialists began figuring out how the actual learning would work.
For the first three days after spring break when teachers reported to school for what would be the last time this year, instructions announced over the intercom changed with frustrating regularity.
"I'm reminiscing about what happened during that time," said Curriculum Director Takako Olson. "I don't think I've ever made that many decisions that quickly, in such a short amount of time."
At Lincoln High, Jensen, who teaches English, set up a Google Classroom for staff to share ideas. Teachers added short tutorials on different apps — Jensen and her dog demonstrated how to remove unruly students from a Zoom chat; world language teachers offered their expertise on an app called "Flipgrid" that allows students to record themselves doing short assignments.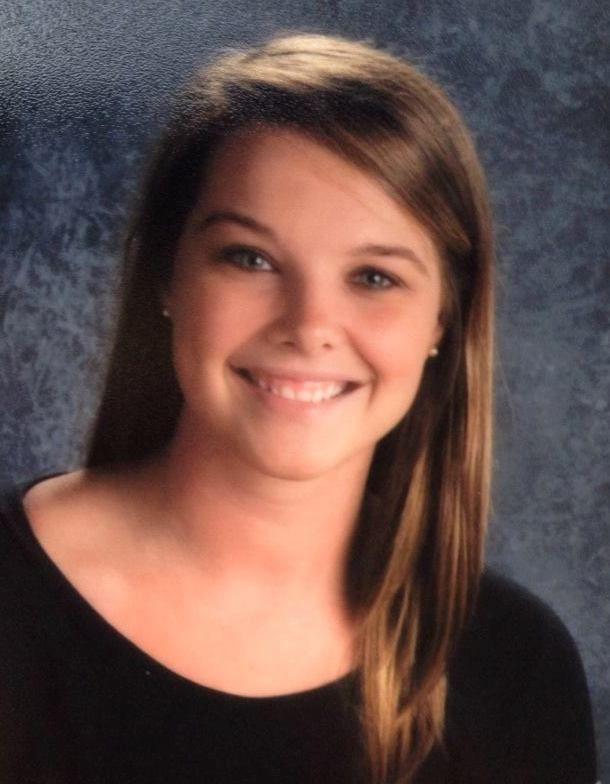 "We always felt that Lincoln High (staff) was good at collaborating," Jensen said. "But the absolute terror of doing this brand-new thing and changing everything about the way we do business has really motivated people to exponentially increase the amount of collaboration."
At first, Jensen said, she felt like she was overwhelming students with the information she was sending them, so she followed the recommendation of another teacher, who uses a "hyper-doc" — a one-page sheet laying out everything kids need to do that week. That helped, she said.
"As much as teachers are being asked to step outside their comfort zone and try new things, kids are in the same boat," Jensen said.
One of the challenges of remote learning has been that everything just takes longer, said Alice Hillhouse, a Lincoln High math teacher. Communicating remotely with students over email, or even Zoom, is a more time-intensive process. And the virtual staff meetings and planning for next fall haven't stopped.
Another challenge: gauging whether students are doing the work.
Some education apps — offered to students as optional work in addition to district assignments — help elementary-level teachers track which students are actually doing the work, and help high school teachers figure out if students are really understanding concepts in math courses.
The first week of remote learning, Hillhouse said, gave teachers a chance to see what worked and what didn't.
"There are some great online tools," she said. "The challenge is to make it the right amount to actually get kids engaging in it. It doesn't do any good to put out great content if they're not looking at it or decide it's too much, they're not going to do it."
Larson figures the innovation forced by circumstance will pay dividends later.
"The positive of this is it brings out a lot of teacher creativity and innovation that will continue into future educational efforts, no matter what form that takes."
Making it work
Anica Brown and Kirsten Smith started a new science curriculum this fall with their seventh grade students at Pound, an approach they'd studied, attended workshops about and experimented with last year.
It is a new way to teach: Instead of starting with scientific terminology, they guide students to ask questions that ultimately lead students there, a problem-solving approach that helps students understand the process.
They didn't want a pandemic to shut them down.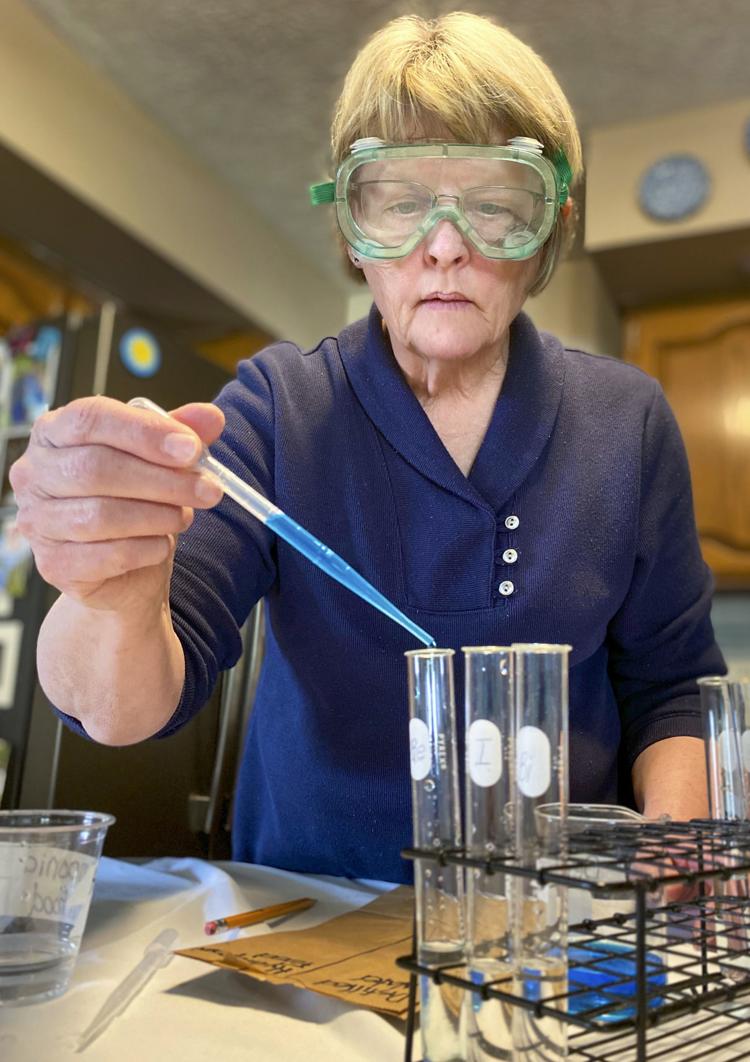 "We didn't want to stop and give them a textbook to read for the last eight weeks of the year," Brown said.
So they found apps that allow students to work in small groups, and apply electronic "sticky notes" to brainstorm their ideas on a page. They bring the kids together through apps or Zoom meetings to create models based on the answers to the questions — one teacher taking notes online, the other drawing that model on a large piece of paper tacked up on a wall in her house.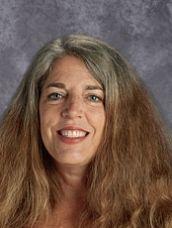 They video experiments they do at home, make slides of other lessons. Those last three days in school they gathered up all their lab equipment and took it with them, Smith said.
Of the 245 kids they teach between them, more than 150 have been participating in the lessons. The group lessons allow the students to connect with each other, as do Zoom meetings.
"They need to be social and we are trying to make that happen and still teach science," Brown said.
At Kooser Elementary, librarian Betsy Thomas wanted to find a way to connect with kids, and to encourage them to use the "daily learning challenges" on the district's library services website compiled with the help of school librarians.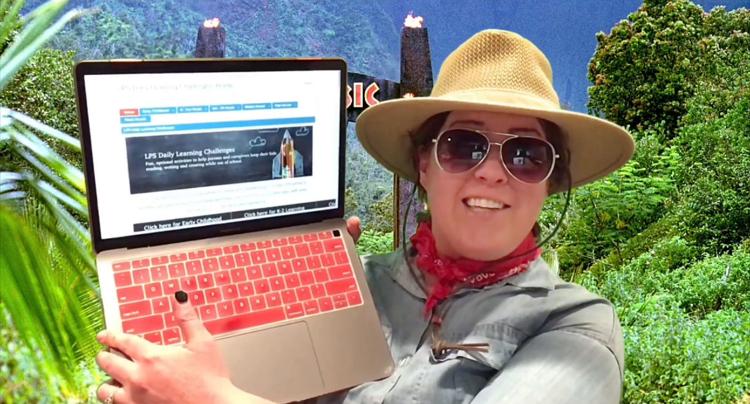 "My goal really was to advocate for all these great things the library team has done," she said. "Every day is like a challenge to me to find something that's funny."
So she got a green screen and a large collection of costumes and made videos based on the daily themes.
She channeled her "inner Swedish muppet chef" for doughnut day and tossed flour all over her floor. She tried making an Oreo with toothpaste for April Fool's Day, took a bite and decided that's a joke too terrible to play. She borrowed a friend's T-Rex costume for Dinosaur Day and read to a friend's chickens. She became Mary Poppins and a pirate and rode a forklift in her husband's empty warehouse.
"I miss the kids a ton," she said. "I miss the staff. If they can't come to me I'm doing my best to come to them."
At Pyrtle Elementary, computer science teacher Matt Rinne is making videos for students across the district, suggesting both "plugged" and "unplugged" activities, some of which star his two young daughters.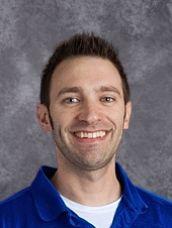 Dinsdale said elementary teachers post district-made lessons in reading and math, recording a video introducing those lessons each day. She reads books aloud and posts them on the district website. She fields questions from parents, who share videos of what their students are doing. The kindergarten teachers are working together to provide the same supplemental material and created a sort of electronic checklist for parents, with links to different sites and videos, cutting down on the number of emails.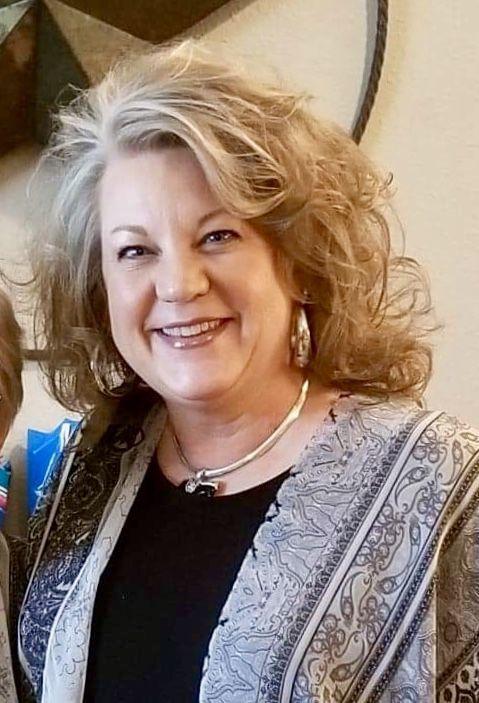 Lincoln High's Overstreet, who teaches higher level ELL students, said she's relied heavily on the bilingual liaisons, who contacted each one of her students.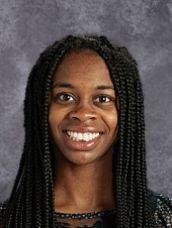 Since schools closed their doors, she's gotten two new ELL students and is trying to get to know them remotely.
But encouraging her students to connect online has been tough, because face-to-face instruction is an integral part of learning a new language.
"Sometimes the students with language barriers may not understand, no matter how much I do videos," she said. "It's really hard to get it."
Science Focus Program teacher Emily Rose Seifferlein and Arts and Humanities teacher Maggie Elsener are looking for ways to make virtual end-of-the year projects unique to their programs special, minus the parents and community members such events have always drawn.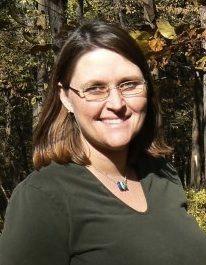 There are other things remote learning can't replace: Reading books to a camera lens is awkward, no small voices interrupting with questions, no one's rapt attention surrounding you.
"There's a lesson to be learned here," Dinsdale said. "We've learned the value of people ... I think teaching remotely is harder than teaching in the classroom by a long shot ... We're social beings."
That's why teachers say their overriding philosophy in this strange time is to be kind, to be generous and flexible, why weekly Zoom meetings with students are more about connecting than academics.
"They don't have questions about chemistry and geoscience. They want to see us and see their friends and connect that way. That's really important," said Rose Seifferlein. "It's all about relationships. People always say that when you first start to teach. A situation like this really shows it to be true."
Concerned about COVID-19?
Sign up now to get the most recent coronavirus headlines and other important local and national news sent to your email inbox daily.