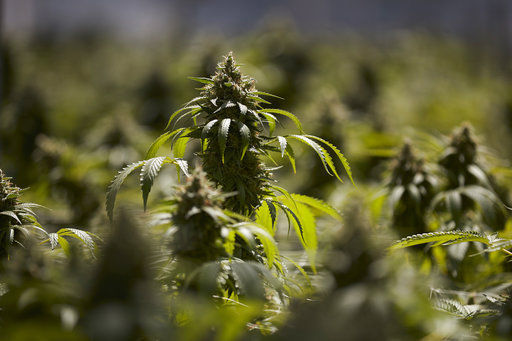 Doane University leapt to the forefront of cannabis studies when it launched a series of self-paced online courses covering everything from cultivation of hemp plants to the business of hemp last November.
The entry-level courses, offered as part of Doane's contribution to an extensive library of massive online open courses — best known as MOOCs — remain the only classes available on the topic maintained by edX, the online education tool.
But the sheer level of interest in those classes, as well as the certificate available for completing them, has led Doane to expand its online-only cannabis studies program into a series of eight-week classes available to students both on-campus and via remote education.
"It became immediately clear to me, based on the success of the certificate program, we really needed to deepen the academic side of what we were offering," said Andrea Holmes, a professor of chemistry who was appointed the director of cannabis studies in Doane's School of Integrative Learning.
The 2018 Farm Bill legalized the production of hemp, and many states, including Nebraska,  have enacted legislation allowing farmers to cultivate it for a wide variety of commercial and industrial uses, with some restrictions.
Holmes said the initial classes offered through DoaneX didn't allow for a deep dive into the topic the way she initially envisioned following a sabbatical she took in 2018-19 to learn more about the cannabis industry.
The new cannabis studies program will gives students a new slate of seven elective classes — from the "History of Cannabis" to the "Agronomy of Hemp," to courses on "Medicinal Cannabis" or "Cannabis Testing Methods."
"There are so many fields in this industry that need to be covered in-depth," Holmes said. "It's absolutely critical we offer these types of courses because they loan more academic credibility to the student through their transcripts or qualifications when they go to get jobs."
The courses, which will each allow students to earn three credit hours, were carefully selected and balanced between entry-level and more intermediate-level courses that cover both the science and social science aspects of cannabis, Holmes said, and will be taught by a handful of faculty with backgrounds in biology, chemistry, agriculture and history.
And, based on the demand, Doane could add multiple sections of each class beginning this fall, Holmes added.
The leap from MOOC to on-campus elective offering could pave the way for further expansion of Doane's cannabis studies program.
Holmes said she's planning to put a proposal for a full degree program before the Faculty Council later this fall that could create a cannabis studies major program in time for the 2021-22 school year.
As she envisions it, the program would have two tracks — a bachelor of science and a bachelor of art — allowing students to pursue the scientific side of the cannabis industry, or the business, economics, law and regulatory end of it.
Doane is in talks to allow students from other colleges and universities to take the cannabis-related classes for credit, and the faculty involved in the nascent program are compiling a textbook that could be published by the end of the year, Holmes said.
"We could not find a single textbook that we could add into the course, so we decided we would use the content we're accumulating and build an interdisciplinary textbook," she said.
Andrea Butler, Doane's associate vice president of academic affairs and dean of the School of Integrative Learning, said the courses being developed on cannabis are a good example of the type of innovative and interdisciplinary education the school wants to offer.
"We encourage our faculty to engage our students through exploration, discovery and real-world application of knowledge, which, in turn, provides practical skills to our students," Butler said. "Our cannabis courses have been designed in this way."
Holmes, who is also a co-founder of Precision Plant Molecules, a Colorado-based cannabinoid-isolation company, said she's proud to be building a new academic discipline from the ground up in Nebraska.
"It's a completely different experience to build a course without precedent, on a subject matter where the science is so rapidly emerging," she said. "For this one, we have to design everything from scratch, but that's what makes it superexciting."
Be the first to know
Get local news delivered to your inbox!