Debate over school resource officers moves to Legislature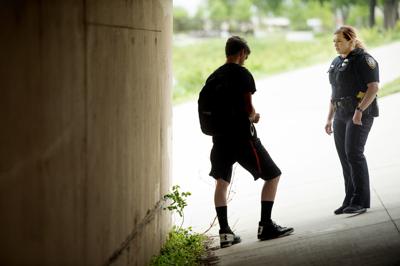 A debate that began last spring when Lincoln Public Schools added school resource officers to middle schools has moved to the Legislature.
The shooting at a high school in Parkland, Florida, a year ago that mobilized a group of Lincoln parents to push for more school resource officers led to an interlocal agreement between the city and LPS to address several school safety measures — including more school resource officers.
But adding school resource officers became a sticking point. The NAACP, ACLU of Nebraska, gun control advocates and other opponents argued SROs contribute to the "school-to-prison pipeline," exacerbating well-documented disparities in school discipline and referrals to law enforcement agencies that unfairly affect students of color and those with disabilities.
Thursday, the one-year anniversary of the Florida shooting that killed 17 people, those same concerns played out at the state Capitol during a hearing on two bills. Lincoln Sen. Patty Pansing Brooks' LB390 would clarify the role of school resource officers, and mandate training and collection of data on referrals for prosecution. Omaha Sen. Ernie Chambers' LB589 would eliminate school resource officers entirely.
Pansing Brooks said that during visits to schools across the state as part of a study on dyslexia and reading literacy she asked about school resource officers and learned that in some schools kids were being charged for schoolyard fights.
"While I had heard of these practices taking place in other states I was quite taken aback by the revelation that this was happening in Nebraska," she said. "I do not believe that most parents want our juvenile justice system having jurisdiction over things that should be handled through restorative justice and conflict-resolution training, as well as school disciplinary measures."
In Lincoln, the concerns led to a memorandum of understanding that delineates the role of SROs, requires training and the collection of data to evaluate the program.
LB390 would mandate such memorandums and require a minimum of 20 hours of training for law enforcement officers and at least one administrator and teacher.
The training would cover school law, student rights, understanding special-needs students, conflict resolution and de-escalation techniques, ethics for school resource officers, teenage brain development, adolescent behavior, diversity and cultural awareness, implicit bias, trauma-informed responses and preventing violence in school settings.
The memorandums also would require that records be kept on student referrals for prosecution, broken down by race, gender and identified disabilities, specify that non-criminal matters should be handled by school administrators, dictate when parents should be notified and at what point students should be advised of their constitutional rights.
The memorandums would be filed with the Nebraska Department of Education and schools could use a model memorandum developed by the department or create one of their own.
Chambers said he appreciated what Pansing Brooks was trying to do, but it doesn't solve the problem: that police have expanded their jurisdiction without any legal authority. 
"They don't need to be there," he said. "You cannot make a pig beautiful by putting lipstick on her."
Chambers enumerated disparities in school discipline and referrals to prosecution highlighted in an report from the ACLU of Nebraska and talked about the incidents as he grew up that led to a distrust of police by African-Americans.
The idea that police are necessary for safety reasons plays into people's fears, he said, and one officer won't be able to stop a shooter.
"The schools are there to educate," Chambers said. "When you put a noneducation piece in the schools you upset the universe of that system."
Jenni Benson, president of the Nebraska State Education Association, and Rita Bennett, President of the Lincoln Education Association, both supported Pansing Brooks' bill.
Benson said safety is essential to learning, but effective school safety starts with prevention and building relationships with students. Zero-tolerance policies have a negative effect and teachers should not use school resource officers or other school personnel as a substitute for effective disciplinary policy.
"My concern is the pendulum has swung too far toward a stage of punitive measures," she said. "Studies show that behavior that once led to a trip to the principal's office and detention . . . now leads to suspension, expulsion or even arrest."
Leaders of the Lincoln YWCA, the Malone Community Center and retired educator Jake Kirkland all spoke in support of LB390.
"I am a retired educator with over 40 years in the educational system in Nebraska. I'm also an African-American male that is very much aware of what's going on in our school system, particularly as it impacts students of color."
People of color had little say in the move to add more school resource officers, he said.
"Many of us disliked it, especially if you were a person of color. You knew how the relationship or lack thereof existed between students of color and our law enforcement system," he said.
Pansing Brooks' bill is a starting point, he said, and his biggest concern is ensuring someone is in charge of making sure the requirements of the bill get done.
Greg Gonzalez, deputy chief with the Omaha Police Department, also spoke in favor of LB390.
OPD contracts with Millard, Elkhorn, Omaha Public Schools and District 66 to provide school resource officers and has had nothing but positive results, he said. The contracts include memorandums of understanding and training that exceeds what's required in the bill, he said.
"About six years ago when I was promoted, we were under fire not so much for who we arrested but why," he said. "The goal was to keep kids in school. We had that paradigm shift with SROs and that's what we're doing. Arrests are down dramatically."
Officials from several police departments opposed Chambers' bill to eliminate school resource officers, including Steve Hensel, Crete police chief and president of the Police Chiefs Association of Nebraska.
In the Crete schools, which have a large percentage of Hispanic students, the school resource officer has been there for five years and she has taken only one student into custody for an outstanding warrant, he said.
"Law enforcement's most fundamental task is to serve," he said. "Nowhere is this service seen with more variety and positive impact than through an effective school resource officer program. School resource officers enrich the lives of Nebraska children."
The ACLU of Nebraska supported both Chambers' and Pansing Brooks' bills.
The Judiciary Committee did not act on the bills Thursday.