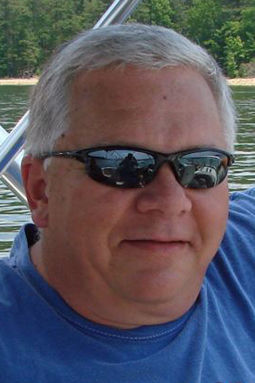 There are so many stories.
Daryl Blue wrote hundreds of them as a stringer covering high school sports for the Omaha World-Herald and Lincoln Journal Star.
And the longtime Lincoln Northeast High School journalism teacher was a part of thousands of them, stories that unfolded this week on social media as word spread that the retired teacher had died unexpectedly April 19.
Mike Reilley, one of Blue's former students, posted photos and memories of his teacher and friend on Facebook.
He expected a few close friends to chime in. They did, but so did many others, a thread with more than 100 comments, stories of the influence Blue had on a generation of Northeast students.
"I couldn't believe it," said Reilley. "It just shows the reach and impact he had and how grateful people were. I hope we all had the chance to tell him that."
Reilley was a student at Northeast in the early 1980s who wrote for the school newspaper, and was sports editor his senior year.
Blue helped him get on at the Daily Nebraskan in college, and Reilley went on to work for the Los Angeles Times, Chicago Tribune and Washington Post, founded a journalist research site and began teaching aspiring journalists in college.
He's not sure any of that would have happened were it not for Blue.
Reilley grew up in northeast Lincoln, the son of a blue-collar, Irish, union card-carrying man determined that his son learn to be a carpenter or an electrician, get his union card and a good job.
During parent-teacher conferences Reilley's senior year, Blue had a conversation with his dad.
Do you want your son to hate you in 10 years? the teacher asked the father. You need to get out of his way and let him take his own path in life.
Reilley's dad took the advice, then celebrated when the first of his children graduated from college and got his master's degree. He would call the press box to talk to his son when Reilley was covering NFL games. 
Blue never said a word to Reilley about that conversation, which he learned about years later from his mom.
That was the thing about Blue, Reilley said. He could get through to a 17-year-old kid and a middle-aged, stubborn Irish man. They all liked him.
His students recall him being tough, pushing them to be better but not sapping their confidence, handing back stories full of edits in red ink.
"You didn't feel like curling up with a bottle of whiskey," Reilley said. "You still felt pretty good about yourself and wanted to do better next time."
Blue taught journalism like a trade, and he practiced that trade, writing for the Lincoln and Omaha papers for years until his death. 
Ken Hambleton, a retired sports writer for the Journal Star, met Blue in the 1970s.
They became close friends -- along with fellow sports writer (and Hambleton's wife) Ryly Jane Hambleton -- covering high school sports in small towns and terrible weather and always, always on deadline. He was an expert at grammar. Always got the good quotes. Always made sure they were accurate.
You have free articles remaining.
"He was just good," Ken Hambleton said. "Copy editors loved working with his stuff. You never had to fix anything."
He recalled the sports writers standing together, years ago, on the sidelines of an eight-man football game in Dwight, huddled next to bins full of burning wood to try to ward off high winds and subzero temperatures.
"It was the days when we had Bic pens we'd stick inside our mouths (so they wouldn't freeze)," Ken Hambleton said.
The different colors of ink -- used to distinguish the statistics of the two teams -- covered their lips by the end of the game.
The sports writers did it for the same reasons, because they grew up loving sports.
When Blue was a kid in Shelton, he'd sneak out to his dad's pickup at night because he could listen to KMOX-AM out of St. Louis, Hambleton said. He'd listen to the then-St. Louis Hawks and the Cardinals. Then he'd come inside and write a story. 
"The only hangup was sometimes he'd forget to turn off the radio and his dad would find the pickup dead (in the morning)," Hambleton said.
Blue grew up playing sports in his small town. He was dubbed the "Bulldog Blaster" as a high school fullback. He played American Legion baseball in the summer, and was known as "The Bullet" in basketball -- a nickname that followed him to Northeast's student/faculty basketball games.
He earned his degree from the University of Nebraska-Lincoln in 1971, spent a year teaching journalism in Waverly and in 1972 joined the staff at Northeast, a job he'd keep for 32 years.
"Ice Blue" to his friends, he helped the faculty regularly demolish the student teams, Reilley said.
Blue helped organize the Nebraska Basketball Developmental Association, the state's oldest summer basketball program created to promote the development and growth of the sport.
He loved all things Husker and worked on the Nebraska athletic department's stat crew. His friends are encouraging those who attend his funeral Thursday to wear red.
He has three grown sons, and a stepdaughter and stepson with Deb Hammond, whom he'd been with for 25 years. They have 11 grandchildren. 
"He loved his kids," Hammond said. "But he loved being a grandpa more than life itself."
Four of those grandchildren live in Lincoln, and he picked them up from school and taxied them from preschool to day care.
His favorite activity -- since health issues restricted his ability to run around -- was coloring with them. And telling them stories.
When he'd bring two of those grandkids home after school, they'd sit in the pickup with him and talk politics and sports, Hammond said.
"They know more about sports than some adults do," Hammond said. 
He had special relationship with all 11, she said, and had been working on a book of their conversations -- along the lines of Art Linkletter's "Kids Say the Darndest Things." He was going to call it "Grandpa's Talks."
He loved talking to all his students, too, and not just the ones in journalism. 
He counseled at-risk students, helping them work through tough problems with drugs or pregnancy or in their homes, Reilley said. He kept a big box of Kleenex on his desk.
"Daryl would sit there and listen," he said. "That's the mark of a great journalist, too."