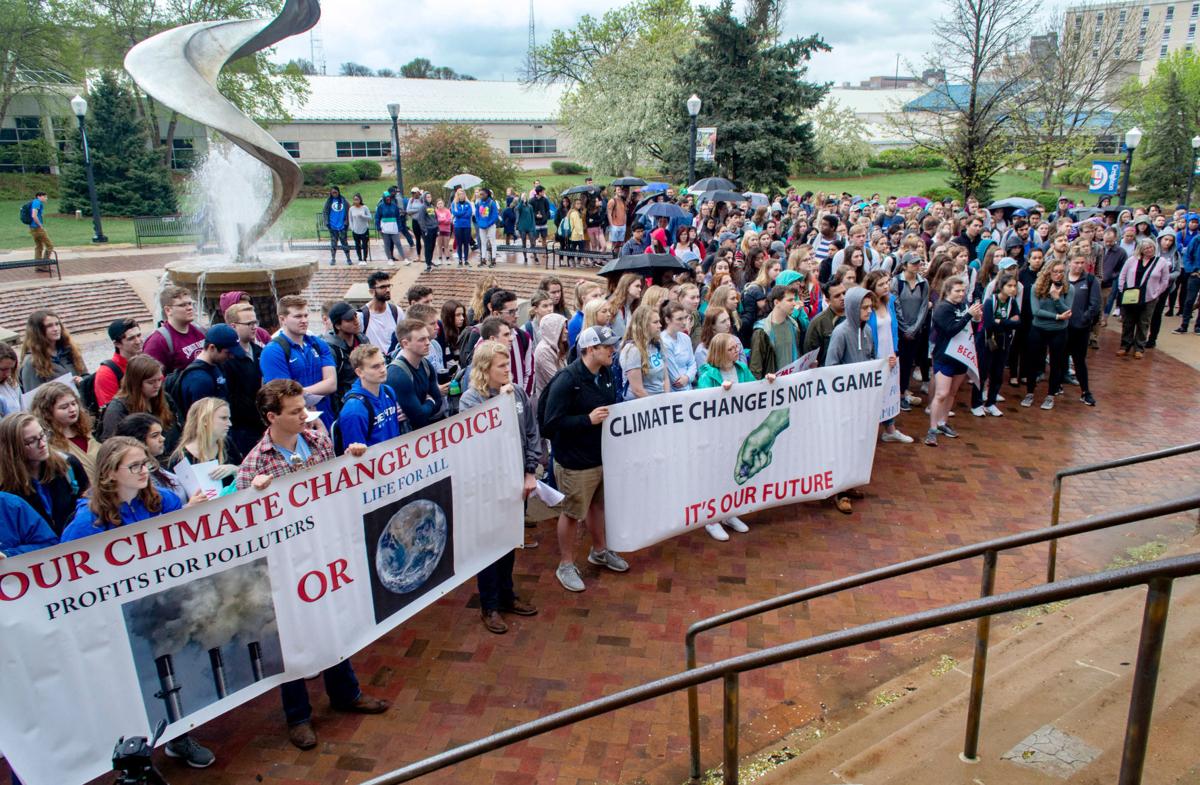 Months after a widely supported Creighton University student referendum called on the university to divest from coal, oil and gas companies, Creighton announced it plans to shed some of its fossil fuel investments.
On Tuesday, Creighton announced it would reduce its investments in fossil fuel companies from 8.9% to 5.7% of its portfolio, effective on Friday, when its board of trustees will meet.
The change marks a reversal from the Creighton administration's earlier stance. Last year, the university's president, the Rev. Daniel Hendrickson, rejected the students' call to divest the endowment from fossil fuel companies, saying it did not align with the university's goal of maintaining a diversified investment portfolio.
In a statement about the decision to divest, Creighton said the reduction was part of a "thoughtful, multifaceted approach" to its overall sustainability plans, which includes an energy master plan and reducing the university's carbon footprint.
Students celebrated the decision but pointed out Creighton's announcement did not include a commitment to steer clear of future investments in fossil fuel companies.
"The news is positive, but here is yet again another issue of transparency," freshman Antonio Angel said in a statement from Divest Creighton, the student organization. "Without concrete commitments to stay out of fossil fuels, how do we know that the board is acting in accordance with the moral imperative?"
Emily Burke, a junior sociology and justice and society double major from Milwaukee, said current events and continued pressure from students helped nudge administrators and board members to change course.
Georgetown University became the second Jesuit-linked institution to adopt a divestment strategy in early February, saying it planned to end its investments within the next decade. In 2018, Seattle University made a commitment to end its fossil fuel investments by 2023.
"I think the pressure of Georgetown, which is a comparable institution, got to them," Burke said. "I think that might have cracked them a little bit."
Since last November's vote, in which 86% of those who cast a ballot supported an 11-page referendum written by students calling on divestment, Burke said the Creighton Climate Movement has worked to keep students engaged and broaden its support.
The students have made and shared videos to raise awareness and participated in a January forum where divestment was discussed, Burke said.
But, she added, Creighton students are no longer interested in talking only.
"After the forum that happened in January, students looked around and said 'We're dialoguing for the sake of dialoguing,'" Burke said. "We've taken the appropriate steps and followed institutional channels. It's gotten attention, but the demands we've made have not been addressed."
On Thursday evening, students, faculty and members of St. John's Parish on Creighton's downtown Omaha campus will march to the Mike and Josie Harper Center for Student Life and Learning, which Burke said draws a line between Creighton's Jesuit mission and the Trustees' fiduciary responsibility.
"While marching, students will identify each board member by name and by relevant connections to the fossil fuel industry and pray for each member's realization of power," an announcement for the event states.
Divestment campaigns are continuing elsewhere in Nebraska, too.
Earlier this month, four University of Nebraska students from the newly formed Divest UNL, a student coalition across all four NU campuses, addressed the Board of Regents and called on the university to join the divestment movement.
As of Sept. 30, roughly 5.8% of the $1.5 billion the NU Foundation manages in investments was tied to fossil fuel companies, accounting for about $92 million in all.
Seth Keith, a law student at UNL, said divestment was "a big idea whose time has come" and added the university, which conducts research into reasons for and effects of the changing climate, could "no longer ignore the science."
"I encourage you to find your courage, find your resolve," Keith told regents.
Board members have not taken any action on divestment, but Regent Bob Phares of North Platte, who leads the Business and Finance Committee, said the issue was being studied.
"We've asked (the foundation) to do a review of those investment programs," Phares said. "We're waiting for that to return to us."
Phares added student regents would be involved in those discussions and a clearer picture of what NU's path to divestment could potentially look like may be available later this spring.
Creighton students, many of whom believe divestment fits within the university's Jesuit background, plan to continue their pressure campaign pushing for divestment, according to Burke.
"We're trying to leverage the power we do have here, and that's purely numbers," Burke said. "The institution exists for students, but to what degree does that actually play out?
"By using the numbers we have and getting high turnout, that's when we really feel powerful," she added.