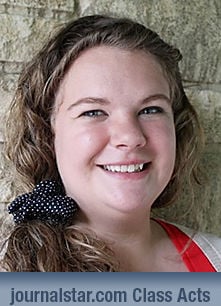 Samantha Williams
Lincoln Lutheran
My Top 5: 1. National Merit Scholar. 2. National Art Honor Society president. 3. Speech Team captain. 4. 50,000 pages of leisure reading in 365 days. 5. Chief purveyor of Elvis fun facts
My future: University of Oklahoma, History and Art History
What was the one thing your parents got right that most contributed to your success?
My parents were willing to take me to the library an obscene number of times per week and were only slightly judgmental about my affinity for late fees.
A lesson from high school that will forever bring a smile to my face...(
is that orange marmalade is key to success in competitive speech.
If I could fast-forward 10 years, I see myself...
living a life where my weird research on Russian history is relevant to my life and the lives of others.
Melinda Williams and Steve Williams