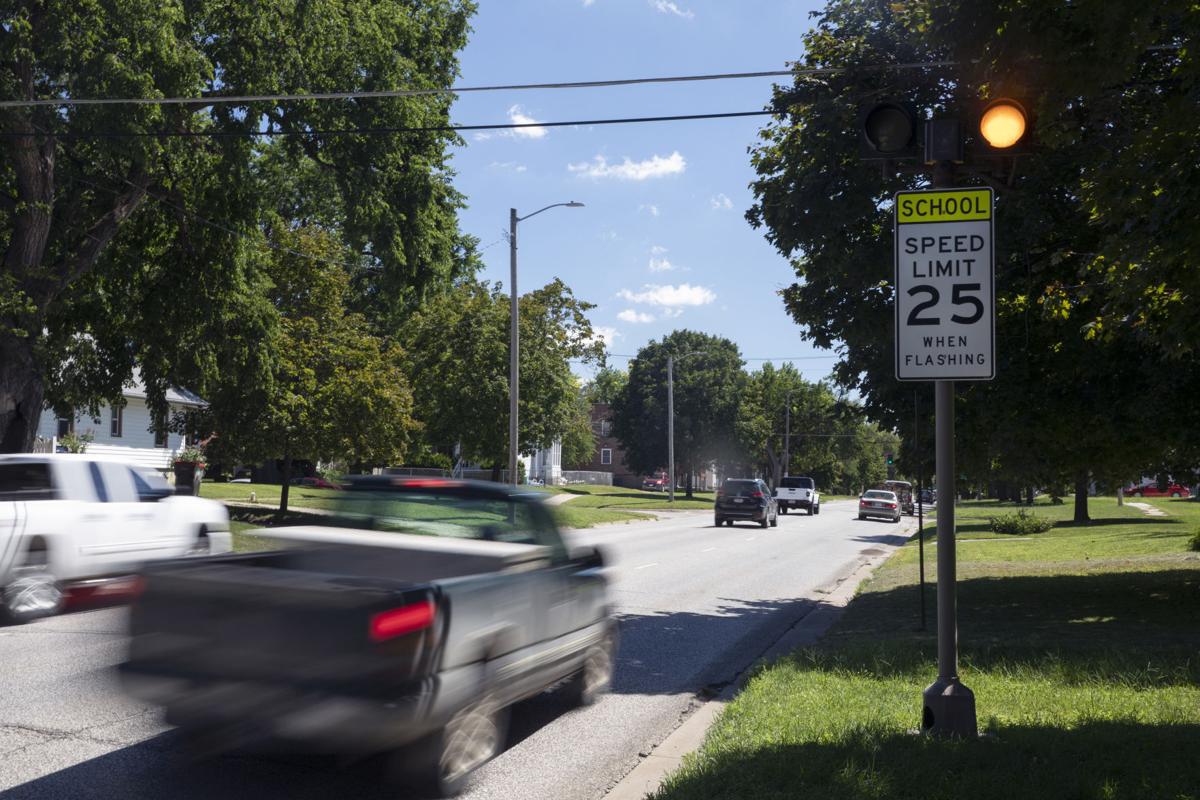 Lincoln traffic engineers plan to lower the speed limit in school zones across the city from 25 mph to 20 mph in a multi-year, phased-in effort to make zones around the city's 83 schools safer. 
The new school zone standards would require new signage in residential school zones where the speed limit would be reduced for the first time, traffic engineering manager Mark Lutjeharms said during a Monday briefing of the Lincoln City Council.
In an effort to rein in some of the school zones, traffic engineers would also consider school zones only the streets directly adjacent to the school, while other schools could have crosswalks added. 
Reducing the size of some school zones could mean, for example, the removal of signs with flashing yellow lights, like the ones on South Ninth Street near Park Middle School, he said after the meeting. 
In 2018, the city paid Toole Design Group $182,000 to analyze all the school zones in the city with a goal of helping ensure uniformity.
Lincoln Transportation and Utilities officials plan to announce later this week which schools they will likely focus on first.
Traffic engineers will only have crews do minor changes this year, such as replace old signs and refresh existing crosswalk markings, transportation officials said.
Larger changes will take time, additional traffic engineering and design work and money the council will need to budget for in the future, they said.
The changes pose challenges to some school zones like the one around Campbell Elementary School, which borders Superior Street. 
Lutjeharms said traffic engineers will study that zone further and may have to reduce the overall speed limit from 40 mph on that stretch of Superior Street.
Traffic engineering rules governing speed limits do not allow cities to reduce speed limits further than 15 mph from the posted limit for a school zone, so Lutjeharms said the city may have to consider reducing the speed limit on Superior Street to 35 mph.
Councilman Roy Christensen asked why the city would lower the school zone speed limit in residential areas only to 20 mph and not to 10 mph in accordance with the typical 15 mph reduction. 
"That variation (in speeds) is oftentimes what leads to crashes, (more) than the speed itself," Lutjeharms said.
Whether the new standards would lead to changes at 84th Street and Leighton Avenue wasn't clear Monday. 
In 2017, parents of children who cross 84th Street to get to Mickle Middle and Kahoa Elementary schools called on the city to put in a school crossing zone there to improve children's safety, and the City Council passed a resolution requiring the action.
But city engineers refused to sign off on the proposal because they believed it would make the intersection less safe. 
On Monday, LTU Director Liz Elliott said traffic engineers may revisit that intersection and address that resolution in the coming years as the city implements various school zone changes.
City traffic officials have already collaborated closely with Lincoln Public Schools in drafting the standards, and they will continue to reach out to school principals and hold public events later as projects arise.
"It's going to take some times to really flesh out some of the details," Elliott said.