Keziah McIntosh loves to run.
She raced the boys in her neighborhood, who learned that racing a girl -- that one anyway -- meant you'd lose.
She raced around the Campbell Elementary School playground and when her dad signed her up for a competitive track club she ran her way to the Junior Olympics three years ago and to the regional competitions the next two years.
"Racing people gives you these butterflies," said the 11-year-old who will go to Park Middle School this fall. "I like those butterflies."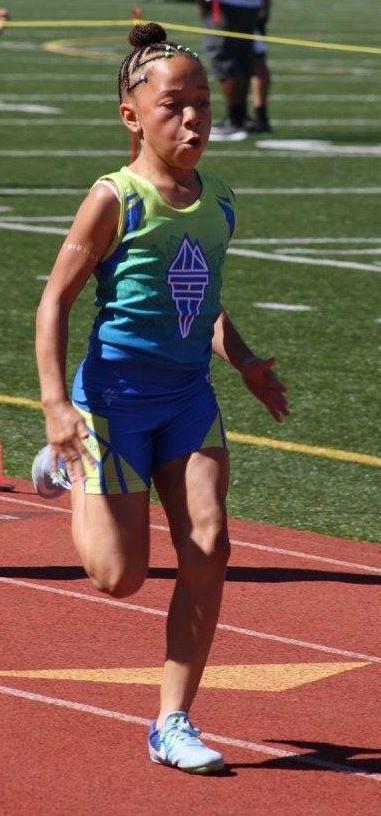 This year, Keziah has been running a different kind of race, channeling all that energy and those butterflies into good grades and being a leader at Campbell Elementary and its after-school program -- skills she hopes to hone later this month at a national leadership conference in Washington.
Keziah describes herself as an extrovert (that's when you like to socialize, right?), which means she speaks her mind and sometimes -- early in her fifth-grade year -- she said what was on her mind when she should have been listening.
Teachers call it "blurting out."
Now, that's not the only time Keziah speaks. She talks to her friends, especially the quiet friends who, once Keziah draws them out, become less quiet. And she says things she knows are important.
"When I have something to say, I say it," she said. "When someone is getting bullied or when people think it's OK to treat disabled people like babies."
That last thing really irritates her, because people with disabilities are just people and she finds it incredibly annoying when others talk to them in condescending voices.
Emily Koopmann, the coordinator of Campbell's Community Learning Center, chose Keziah to speak to the Lincoln Board of Education about the after-school program.
"She is just a natural speaker," Koopmann said. "She's naturally enthusiastic. There's no moment when Keziah is like 'No, I don't want to.' She encourages everyone else to participate."
And here's another thing about the budding leader: She's competitive.
She likes to win 100-meter sprints and relays and she's determined to beat her cousin, who told her about the Junior Olympics and is still just a bit faster.
All of which means that when she noticed a lot of her friends were getting Distinguished Coyote Awards -- monthly school awards named for the Campbell mascot -- she wanted to earn one herself.
They're given to students who are respectful, who are good leaders, who are kind and show grit and take initiative. 
Keziah had checked lots of those boxes, so she began paying attention to when she should be talking and when she should be listening, and before fifth grade was out she was standing on the school stage accepting a Distinguished Coyote Award.
"She's spunky," said Campbell Principal Julie Lawler. "She is just a ray of sunshine and she's a go-getter. There's no limits to her -- she's going to figure it out and make it happen."
Civic Nebraska, which runs Campbell's after-school program, also awarded Keziah its Strengthening Democracy Award for being an outstanding student leader.
She's always part of things, Koopmann said, was on the student council that met after school and in the Smart Girls Club.
Then, as if the year hadn't been going well enough already, her P.E. teacher nominated her for the Junior National Leadership Conference in Washington -- six days in the nation's capital seeing the sights and attending sessions to strengthen her leadership skills.
Her dad, Lawrence McIntosh, was thrilled his daughter had such an opportunity because he'd had mentors through a Gallup leadership program who helped him years ago, when he'd come to Nebraska from Chicago to live with his grandma because he was getting in trouble there.
"That's the thing that helped shape my life and feel this trip is similar," he said.
So he's trying to raise the money to get Keziah to Washington, through a GoFundMe account.
Keziah said she's excited to learn more about being a leader and to see the memorials and the seat of the nation's government.
But the highlight? Getting to spend the night at the Maryland Science Center, to explore the place and conduct experiments and check out the space exhibits -- and maybe some mummies.
Plus, she's seen the movie "Night at the Museum."
"I wonder if the animals are going to come alive," she said. "Probably not. But if they did, I'd film it."