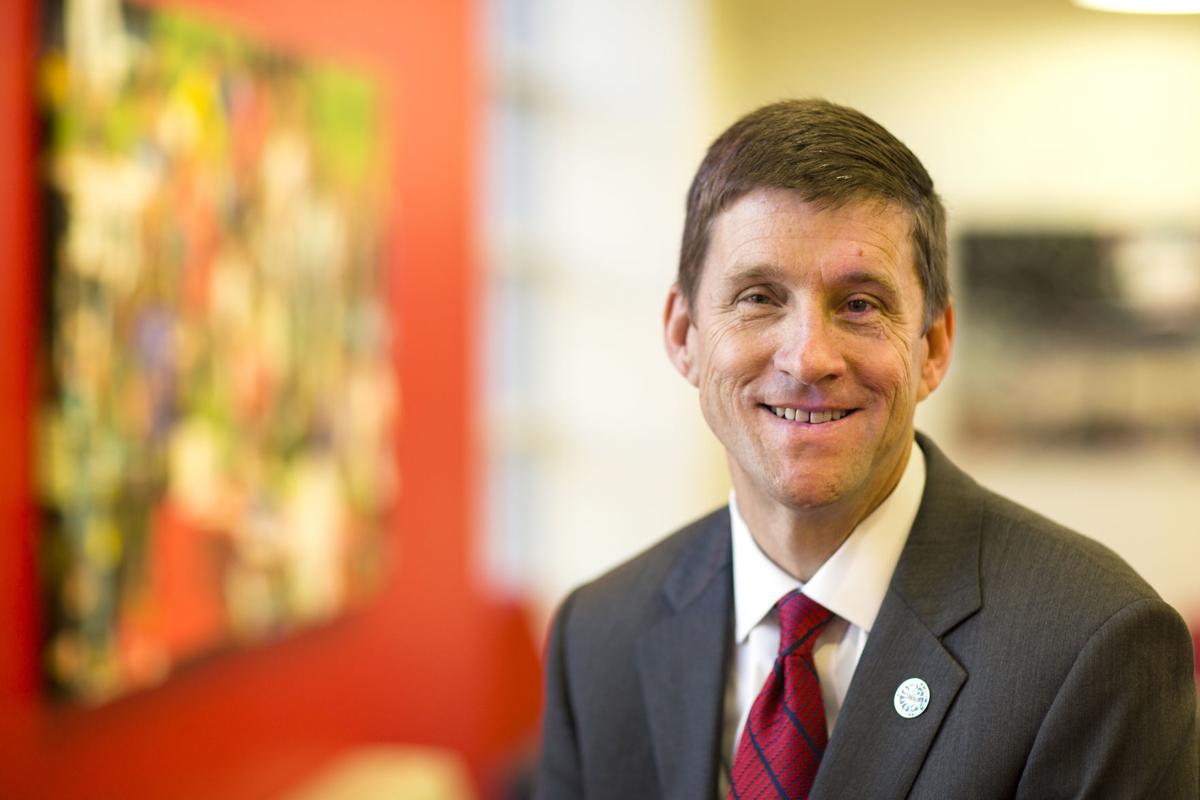 University of Nebraska President Hank Bounds told the Nebraska State Chamber of Commerce and Industry on Tuesday the future of the university is closely tied to the future of the state.
Speaking at the Chamber's annual economic development summit, Bounds told business and government leaders Nebraska's future is likewise dependent upon a flourishing higher-education system driven by NU.
"Everything that happens at the University of Nebraska absolutely matters to your bottom line, whether you are a business leader or a state senator," Bounds said. "When we grow, you grow. When we're not growing, you're not growing."
To achieve economic growth, Bounds said Nebraska must create and attract more of what he called "H3" jobs in high-skilled, high-wage and high-demand fields.
Those jobs are created by investing in the education, research and outreach done by the university, state and community colleges, as well as private institutions, Bounds said.
Continued cuts to those institutions could put the state on a dire trajectory, magnifying what he called a crisis of top talent leaving the state for opportunities elsewhere, despite the oft-cited economic talking points.
While unemployment in Nebraska has fallen below 3 percent, lower than the national average, Bounds said there is more to the story.
According to the Nebraska Department of Labor, those of working age only marginally attached to the labor force — working part-time or no longer looking for work — cause the unemployment rate to double to 6 percent.
Plus, Nebraska ranks fourth nationally in the number of workers, 75,000 in all, who hold two or more jobs.
"That doesn't sound like prosperity to me," Bounds said. "It sounds like a lot of our fellow Nebraskans are doing what they have to do to pay the bills."
And based on a Pew Charitable Trusts study of data from the U.S. Bureau of Economic Analysis, Nebraska is the only state in the country where estimated personal income actually fell last year, down 0.6 percent from the year before.
The highest personal income growth in the country was in Utah, up 4.1 percent from the previous year.
Bounds chalked Nebraska's sluggish growth up to the lack of "H3" jobs available for college graduates and others in professional fields. Only 1 in 10 jobs in the state fit the "H3" bill, according to labor department data.
You have free articles remaining.
Instead, Bounds said a push for more jobs that are simply high-demand — often paying wages between $10 and $17 per hour without health insurance or other benefits — result in more workers enrolling in Medicaid or other programs, creating a further drain on state resources.
Focusing on filling high-demand jobs is important, Bounds added, but the state "can't be content to only fill the $15-an-hour jobs."
"People won't move to Nebraska for $15-an-hour jobs," he said, and those jobs don't expand the tax base across the state.
Nebraska needs to invest in its institutions of higher education, Bounds said, to recruit and retain top talent, both students and faculty, that will create or fill the "H3" jobs he said are critical to the state's future.
About half of the students who score 28 or above on the ACT exam measuring college readiness leave the state for other schools, often never to return to the state.
Bounds said Nebraska could do more to keep those students here through investments in need- or merit-based scholarships that would keep the state's schools competitive in the national market, and urged Chamber members to back those issues in order to create more opportunities in the state's economic future.
"If we don't send the right signal to join hands and do everything possible to grow our workforce with the kind of high-wage jobs that we envision for our children, then we're not going to be competitive," he said.
Earlier at Tuesday's summit, Gov. Pete Ricketts said the investments in education Bounds said are necessary to elevate the state's economy may be affected by the Medicaid expansion approved by voters in November.
Ricketts said he'll propose some "creative ways to implement" the successful ballot initiative next year while warning "everything else gets tweaked to make room" in the state's next biennial budget.
Adding an estimated 90,000 adult Nebraskans, largely described as the working poor, to the Medicaid program will require decisions as to how the new spending requirements will "bounce off other priorities," he said.
"It's a very big project," Ricketts said, suggesting state funding for K-12 schools, higher education, as well as the potential for tax relief, could suffer as a result.
Estimates from the legislative fiscal office are that state matching fund requirements for expanded Medicaid assistance would be $19.8 million in fiscal 2020 and $32.2 million in fiscal 2021.
Pointing to his administration's initiatives to help move unemployment benefit recipients into jobs and helping food stamp recipients acquire higher-paying jobs taking them out of those programs, Ricketts said he may want to "think about (Medicaid expansion) in the same way."
The goal, he said, would be to improve people's lives while reducing government costs.