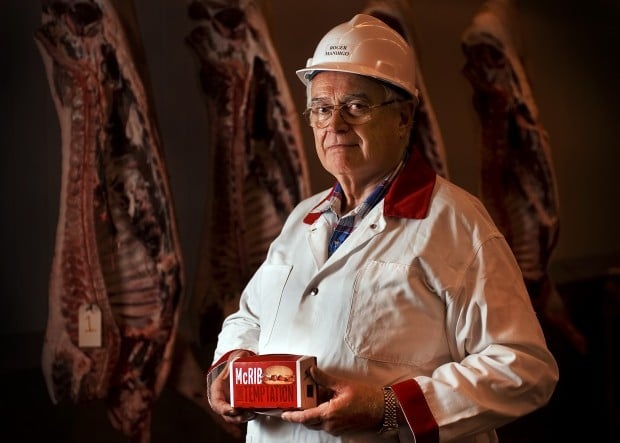 Move over, Richie Ashburn and Bob Gibson.
Another Nebraskan has made it to the hall of fame.
Of course, meat scientist Roger Mandigo of the University of Nebraska-Lincoln never had Ashburn's ability to hit to all fields or Gibson's ability to back batters off the plate with an inside fastball.
His induction Saturday in Scottsdale, Ariz., was into the Meat Industry Hall of Fame. And his biggest claim to fame outside that industry is research that led to the introduction of McDonald's McRib sandwich in 1981.
But the company is no less exclusive.
Among the 10 other honorees were Col. Harland Sanders, founder of Kentucky Fried Chicken; Dave Thomas, founder of Wendy's Old Fashioned Hamburgers; and Ray Kroc, founder of McDonald's.
And it just happens that Mandigo's return coincides with what the Wall Street Journal describes as the first nationwide featuring of McDonald's McRib sandwich at 14,000 restaurants, including more than a dozen in Lincoln, in 16 years.
Wouldn't this be a great time for a big guy -- squeezed into a small, obscure, windowless office during an $18.3 million renovation at the Animal Science Building -- to step up, at last, and claim credit for his high-profile work?
"I get credit for inventing the McRib fairly often," Mandigo conceded in an interview earlier this week.
But taking credit was not something he did back in 1981. And he won't be doing it now, in his 44th year at UNL.
That's because, despite common misperception, it's just not true.
"We played an important role in the technology to bind pieces of meat to each other. I didn't invent the McRib sandwich," he said. "McDonald's did that."
All this is said with the kind of smiling patience that a McDonald's associate is supposed to demonstrate when asked for the 44th time during the lunch rush to hold the pickle.
Pickle slices, by the way, are part of the standard preparation of the McRib. As its ravenous fans, including Steve Glass of Walton, know so well, a McRib is a pork patty that's also garnished with raw onions and smothered in barbecue sauce.
Glass, 47, had two McRibs on his lunch tray Thursday as he made his way to a table at the McDonald's near the intersection of 10th Street and Cornhusker Highway.
That's right, two. "I haven't decided whether to eat the one now or eat it later," he said.
Rapid progress on the first one seemed to leave the choice between one and two very much open to question for a guy who likes "something different -- not a burger."
Glass is not one to worry about what's under the barbecue sauce. "It's like a hotdog," he said. "What's in a hotdog? If it tastes good, go ahead."
Decades ago, it was Mandigo who was going ahead with a research initiative launched by the National Pork Producers Council. Its members were looking for another reliable source of demand for pork shoulder.
There were never any royalties associated with the results, Nebraska's newest hall of famer said.
And to this day, the McRib comes and goes from the McDonald's menu for reasons that have to do with its intense popularity and a national supply of pork trimmings that's typically a lot more limited than the supply of beef trimmings.
"If you suddenly start to buy a large amount of that material," said Mandigo, "the price starts to rise."
As the cost to McDonald's rises, the McRib tends to go out of circulation again. And then the same parts of a hog tend to flow back into the processing lines for Spam, Vienna sausages and other specialized products.
Anything else that goes into periodic McRib feeding frenzies is not for Mandigo to analyze. "It's a function of a business strategy and that's McDonald's decision, not mine."
The official word on that subject comes from Ashlee Yingling at the headquarters of McDonald's USA.
The McRib is in something called "a national limited time promotion for the month of November in the U.S.," Yingling said by e-mail.
This is only the third time that's happened in the 29 years since it hit the market. The rest of the time, the company has chosen a regional strategy.
"To keep it relevant and appealing," Yingling said, "it will continue to be offered as a limited-time promotion on a regional basis."
Does Mandigo eat this sandwich that he did NOT invent? "Every chance I get," he said.