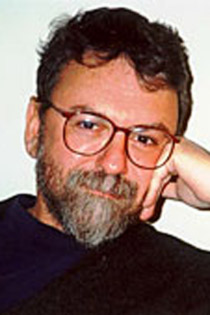 A popular University of Nebraska-Lincoln English professor and author died unexpectedly Saturday in Lincoln at 61.
Services are pending for Gerald Shapiro, a Cather professor of English who was diagnosed with Hodgkin's disease in his 20s.
Known nationally as a compiler of Jewish fiction and the author of several books, including "Bad Jews and Other Stories" and "Little Men," Shapiro's writing and anthologies earned him numerous awards, including the Ohio State University Short Fiction Prize for "Little Men" and the Edward Lewis Wallant Award for "From Hunger." He also received a special mention award from Pushcart Press for two stories, "Lakeview" and "The Marine Mammal Guy."
In 2004, Shapiro co-wrote the screenplay for "King of the Corner," based on a collection of his short stories and focusing on the place of secular Jews in contemporary American Society. The film's co-author, Peter Riegert, starred as the lead role, Leo Spivak.
Shapiro also wrote a story in 2008 about Hanukkah for National Public Radio that was featured on the "Hanukkah Lights" program.
He came to UNL in 1987 with his wife, Judith Slater, also an English professor. Shapiro grew up in Kansas City, Mo., in the only Jewish family in the neighborhood, receiving a traditional Jewish education and raised in "an extremely traditional Jewish home." His experiences navigating the world surrounded by non-Jews informed his often-comedic writing.
So did his battle with Hodgkin's disease.
"The experience changed me, I suppose," Shapiro said of Hodgkin's disease in 1999, "but not in the way one would have predicted. It did not make me into a more serious person."
His character Shifman in "King of the Corner" battles Hodgkin's disease, a "shlimazel" suffering through indignities and misfortunes.
"I wanted to write a story about cancer, about a serious illness," Shapiro said. "But as so often happens when I start writing a story about something that is very serious, it turned into something that, while serious, was couched in terms that were essentially comic."
Shapiro earned a College of Arts and Sciences distinguished teaching award in 1997. He regularly taught fiction writing, 20th century fiction and Jewish-American fiction.
Shapiro earned his bachelor's and master's degrees at the University of Kansas and received his Master of Fine Arts from the University of Massachusetts.
Susan Belasco, chairwoman of the UNL Department of English, said Shapiro was "a talented writer, a gifted teacher and a superb colleague."
Eileen Boehmer, a 31-year-old staff assistant in the University of Nebraska College of Law, said she took Shapiro's Jewish-American fiction class in spring 2010 and was impressed with his teaching style.
"He was a very engaging professor," she said. "A lot of the class was discussion."
Boehmer said she regretted that her final paper in the class didn't meet her professor's expectations, especially considering how much respect she had gained for him by the end of the class. She said her husband suffered appendicitis in spring 2010, causing her to lose focus on her final paper.
"His class was one of my favorite, by far, of all of the classes I've taken," she wrote on Facebook on Monday. "It still bugs me that my final paper for his class was less than stellar -- not because of the grade, but because it disappointed him."