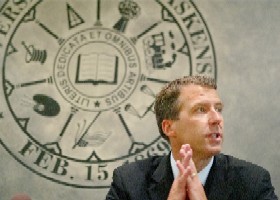 Preserving affordability will be the chief priority at the University of Nebraska as the state works to plug a $334 million budget hole, NU President J.B. Milliken said Monday.
Affordable access to an NU education, long a top mission for Milliken, will remain so, he pledged -- even though NU, like most other state agencies, is faced with sharing the pain of the worst recession in decades.
Yet Milliken also warned NU's decision this year to implement a comparatively low 4 percent tuition increase even as state appropriations rose by just 1.5 percent isn't a sustainable model.
"In the long term, stable state funding is essential to maintaining affordability at the university," Milliken said during testimony before the Legislature's budget-writing Appropriations Committee.
Gov. Dave Heineman's proposal for balancing the budget in a special legislative session calls for a 1.8 percent cut to NU and the rest of higher education this fiscal year, and a 3.4 percent cut next year.
For NU, that amounts to about $26 million over the biennium, Milliken said.
NU's total budget for 2009-10 is nearly $1.9 billion. Almost 40 percent of that, or about $737.6 million, comes from state funding and tuition money.
Milliken told senators NU leaders have no plans to resort to a mid-year tuition hike this year to compensate for cuts in state funds, as universities in other states have done. But a tuition increase will be considered for the 2010-11 year, he said.
He wouldn't speculate on what that increase might be, but reiterated a historical correlation between low state funding and high tuition increases -- such as earlier this decade, when severe budget cuts forced NU to hand down double-digit hikes for four consecutive years.
Stable state support, on the other hand, allows NU to keep tuition increases "moderate and predictable," which helps families plan for the costs of college, Milliken said.
Already, the university has made about $8.5 million in cuts this year.
It did so by eliminating 103 positions -- some vacant, some filled -- curtailing travel, cutting back on utilities and forgoing some purchases, Milliken said.
NU leaders also have decided not to request millions of dollars in additional state funds for such priority projects as the University of Nebraska-Lincoln's Innovation Campus and a new University of Nebraska Medical Center nursing facility in Lincoln.
A $26 million cut on top of those efforts certainly would mean more job losses and could result in cutbacks in NU's outreach programs, such as those in greater Nebraska, he said.
And, he said, the momentum NU has enjoyed in recent years -- in enrollment, for instance, which is the highest it's been in 13 years, and in research, in which campuses continue to shatter records -- could be affected.
Beyond that, he said, it's too early to specify how further reductions might affect students. But he's been meeting regularly with the four NU chancellors to discuss budget strategies and has said he'll reach out to the NU community soon with money-saving ideas.
Milliken reminded legislators higher education often is a refuge for those affected by a recession.
NU's in-state enrollment is up, suggesting more students are staying close to home for college, and its graduate enrollment is up as well, showing more people are wanting to re-tool, he said.
State support for education can help Nebraska be more competitive in the global economy, Milliken told senators.
And, he said: "You all know an educated workforce is key to helping the state emerge from the downturn."
Get local news delivered to your inbox!
Subscribe to our Daily Headlines newsletter.