See profiles of seven of those winning Journal Star Academic All-State honors, as well as a listing of those earning the designation.
Academic All-State: Hudson took proactive approach when sports caused him to miss class time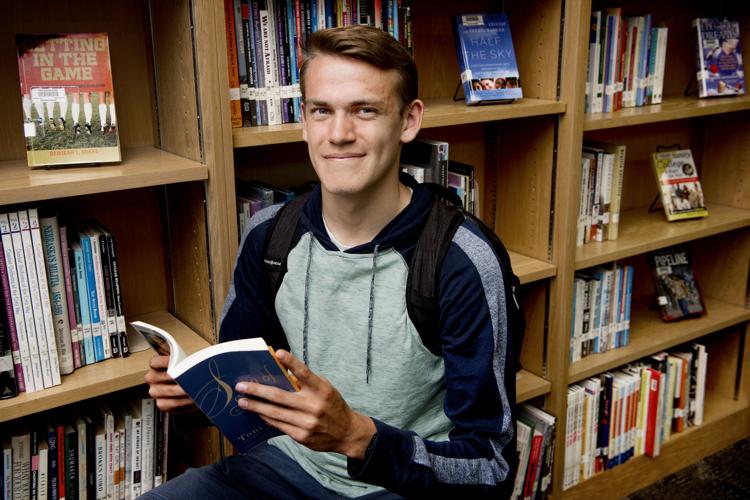 When a class schedule includes five advanced placement courses and a physics course, missing multiple days of school turns a rigorous slate even more challenging.
But as the No. 2 singles player on Lincoln North Star's boys varsity tennis player last fall, that was the balancing act senior Noah Hudson faced. He missed 12 full days of school between mid-August and mid-October for invitational meets and the state tournament.
Hudson had no problem hitting both the books and the tennis ball. He finished fourth at the Class A state meet in his division and was still able to maintain his 4.4 grade-point average and his class rank of No. 3 out of 591 seniors.
"A lot of it is planning ahead," said Hudson, a three-sport athlete who is headed to Nebraska in the fall on a Regents scholarship. In addition to his lofty GPA, he also scored a 32 on the ACT.
"I always make sure to talk to my teachers, even a week before so they know I'll be gone and they can get me work," Hudson added. "I try to be proactive, stay on top of it and not get behind."
In addition to tennis, Hudson was a role player on North Star's varsity basketball team this past winter that reached the semifinals of the Class A state tournament and a middle distance/distance runner on the track team.
Hudson was a state medalist in the 3,200 relay (seventh) last year at state.
Besides missing so many days of school in the fall, the other difficult period is during the winter when he tries to squeeze in training runs for track in addition to his basketball duties.
"Basketball practice can sometimes be longer than two hours and then I still have to go home and do schoolwork," Hudson said. "It was hard to get the runs in during the winter that I needed to have for track."
Hudson is not easing his way out of high school. His class schedule in his final semester at North Star includes five AP courses — biology, literature and composition, calculus, computer science principles and macroeconomics. Throw in a physics class as well as a session of government and politics, and Hudson has more than a full day.
"It gets tough sometimes," said Hudson, who will a significant number of college credits under his belt when he arrives at NU in the fall. "I just need to stay focused during the school day, get some of my schoolwork done at school instead of at home so I can concentrate on my sports after school and be able to hang out with friends."
Hudson is leaning toward pursuing a career in physical therapy, "so I can continue my passion with running and sports," he said.
He considered possibly going to Nebraska Wesleyan and continue in either tennis or track, "but Nebraska has always been my thing," Hudson said.
"Growing up here I feel like every kid dreams of going to UNL," he added. "You watch Nebraska football and basketball growing up and you want to be part of that tradition and get a great education."
Academic All-State honorees
Academic All-State: Ferguson writes a success story, in sports and academics, at Southwest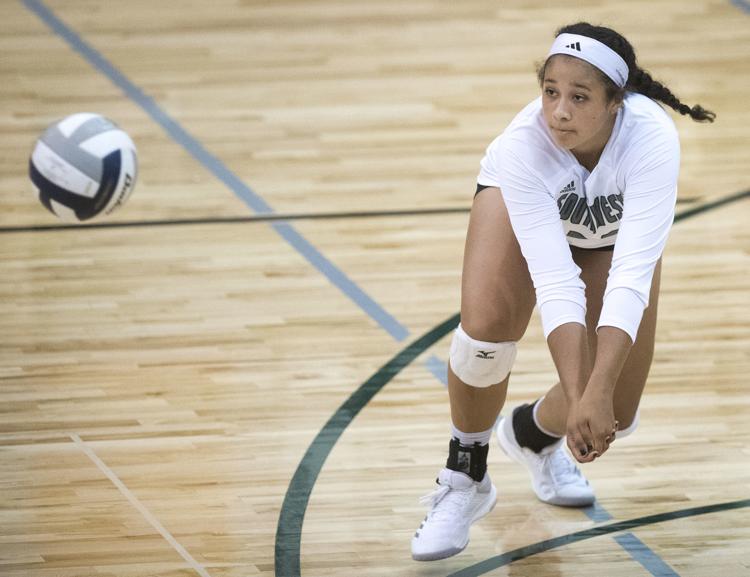 At the time, Jaden Ferguson was satisfied with her athletic workload -- volleyball and basketball.
That didn't stop coaches from encouraging the Lincoln Southwest standout to try out for track and field her freshman year. Ferguson was on the edge about it.
In fact, it wasn't until the first day of track practice for winter sport athletes when Ferguson decided to go out for the spring sport.
Which brings us to Ferguson's advice for incoming high school athletes: Don't be afraid to go all in.
"There's a lot of people that come into high school and maybe they have one sport or two sports and could be OK at another two or one," said Ferguson, who competes in the jumps. "My advice is just do it. I think high school track was one of the best decisions I made."
Ferguson carries a similar outlook into the classroom, where she is a 4.1 grade-point average student.
"Being able to switch your focus and being able to focus on one thing has really taught me how, in the classroom and in athletics, to make sure you're in the moment and present and not taking a day off," said Ferguson, one of the more decorated girls athletes to come through Southwest.
Ferguson received multiple accolades in volleyball. Her post and ball-handling skills made her one of the top basketball players in the state. Her name is on the school's all-time charts in both sports.
Ferguson's athletic skills landed her a scholarship to Northwest Missouri State, where she'll play volleyball. But it's her writing skills that Ferguson wants to apply for the greater good, especially when it comes to an interest that she's very passionate about -- community development.
"With writing, I can do that, and that's something I want to look into in the future and see what ways I can help different communities through writing," said Ferguson, who plans to study journalism at Northwest Missouri State.
Ferguson jokes (every journalist does) that she's going into journalism because she's not a science and math person. She admits those are not her strongest classes, but Ferguson found a way to succeed, no matter the subject. That meant working through a tough junior year, which included a heavy dose of AP college-level courses.
Helping Ferguson along the way is a similar mindset from sports. You're not going to make every basket, or have every kill attempt hit the floor.
"I had a hard time freshman and sophomore year," said Ferguson, who learned to balance three high school sports, two club sports, studies and community work. "I wanted to stay up and study and I wanted to get perfect grades. But at some point you just know that you have to do your best and sometimes your best isn't going to be an A.
"I've learned that, but I still strive to get A's and good grades in class."
A pair of state titles. Numerous state tournaments. School records. Ferguson already has written a neat story at Southwest. Now she's excited about the next chapter.
"Winning state basketball is something I'm really proud of, being on our state track team, that's something I'm proud about," Ferguson said. "But definitely a lot of my memories (at Southwest) will come from teammates."
Academic All-State: Petty's lane to Harvard built on desire to succeed at the highest level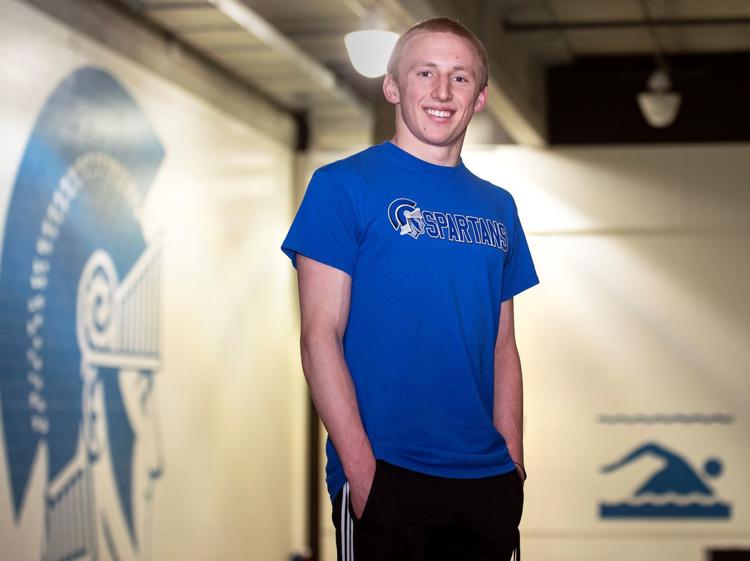 Alex Petty remembers the date. He'll probably never forget it.
It served as the bridge between Petty's high school academic and athletic accomplishments and his future in both.
March 28 is when Petty jumped online to check an admission notification from Harvard.
"I opened it and I was just jumping around," the Lincoln East senior said. "I was really, really, really pumped. My parents were giving me hugs and everything, and it was just a great feeling."
Petty is indeed headed to the prestigious Ivy League school to swim. As for what he's going to study, Petty is ready to take a deep dive into science and mathematics.
"I'm not really sure yet, so when people ask me, I just say, 'biomedical engineering and finance,' because it kind of encompasses everything that I'm interested in," said Petty, who loves solving problems. "(But) probably the best term would be 'undecided.'
"I've just always been really interested in science and I kind of want to make a difference in some sort of medicine field."
Getting into Harvard is difficult. It takes a high level of smarts and impressive test scores. Petty has exhibited both.
He scored a perfect 36 on his ACT, and he ranks third out of 513 at Lincoln East.
The smarts come from ... well, it depends who you ask. Ask Petty's mom and she'll say Alex gets it from his dad, and ask his dad and he'll say it comes from his mom, Petty says.
But Petty's competitive edge also played a part in going to Harvard.
"As a person who's naturally competitive -- because I'm competitive in swimming -- I take that competitive nature to all aspects of my life, and I've seen myself compete with other people in a positive way," said Petty, who has a 4.7 grade-point average. "I think that competitiveness is really going to help me at the next step."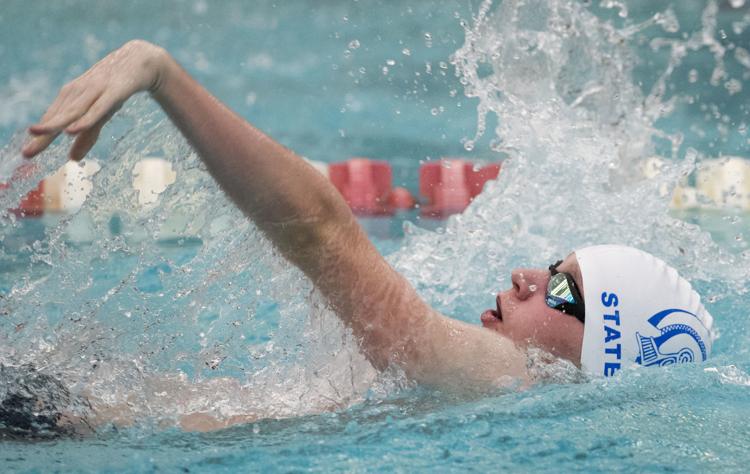 Just like in a swimming setting, Petty likes a great challenge.
For example, his final semester of classes at East include AP computer science, AP literature, AP chemistry, AP physics, AP biology and pottery class.
"It's a nice and relaxing to play with clay sometimes," Petty says.
When not in class or studying at night, there's a good chance Petty is at working on his swimming strokes. He finished second in the 100-yard breaststroke and third in the 200 individual medley at this year's state meet.
Petty considered a couple of other distinguished schools -- among them, MIT -- but they didn't offer swimming. In Harvard, Petty gets the best of both worlds, though he's quick to point out his biggest priority.
"It's always been a big priority just because of the way that I was raised," he said of his studies. "My parents told me school first, then you can focus on extracurriculars and then you can focus on friends. It's kind of that hierarchy of what's important to me and what I value.
"It's swimming that I love and am extremely passionate about, but after four years, it's eventually going to be over. I have to take the priority of what's going to stick with me for the longer period of time."
Yes, Petty will at some point put swimming behind him. That said, the sport has provided some life lessons he'll take to college classes and later the working world.
"For example, in English rather than just giving 100 percent effort on my essays I'd also give 100 percent effort on my journals," Petty said. "In swimming, rather than just giving 100 percent effort in my races I had to give 100 percent in drills and the little things that add up and make that difference."
Academic All-State honorees
Academic All-State: Waverly's Jordon gets a head start on his college academic career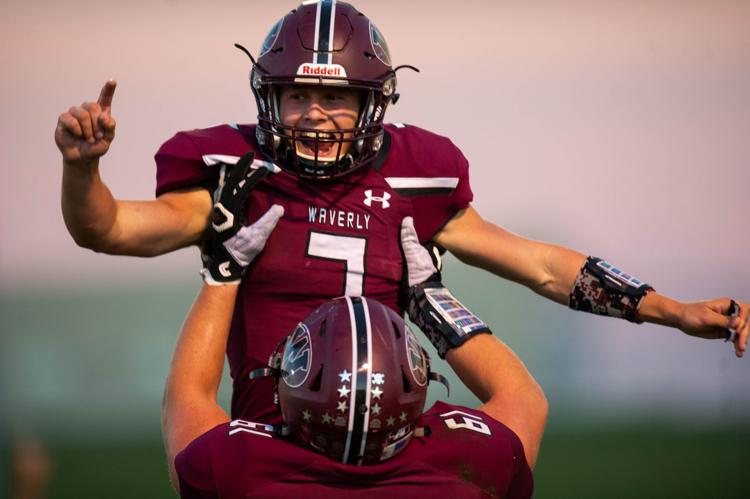 Taking an advanced placement math course for college credit is a lot like a quarterback running an option play — high risk but also high reward.
Waverly senior Rhett Jordon found his AP statistics class this year fit right into that category. The college-level class ended up ruining his streak of straight A grades in high school when he finished with a B in that subject first semester.
But the Class B all-state quarterback in football and Vikings baseball standout has no regrets choosing the rigors of college courses over a path of less resistance that would've protected his straight A record.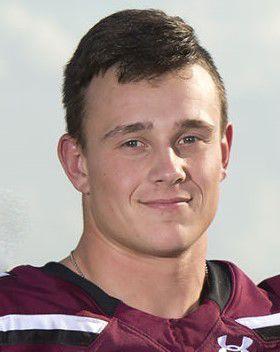 "It's been a rough class, but between the AP classes I've had this year and last (year), I will have almost a full year of college credits before I get to campus, and those classes prepare me for what I'll see when I get there," said Jordon, a Northwest Missouri State football recruit who intends to major in business.
Statistics is one of three AP classes Jordon took as a senior. He has A's in both AP English and AP History. His fourth class will also serve him well in college — weight training.
The 5-foot-10, 175-pound Jordon led the Vikings to the semifinals of the Class B playoffs by passing for 1,342 yards and 17 touchdowns, rushing for 1,506 yards and 18 more scores and registering 24 tackles and intercepting three passes as a defensive back.
Jordon was recruited as a wide receiver/defensive back by the Bearcats.
He's been just as productive in baseball this spring, helping Waverly reach the Class B state tournament by batting .415, stealing 11 bases and providing depth on the pitcher's mound.
Jordon also played basketball through his junior year, so he's learned how to balance academics with the time demands of being a multi-sport athlete.
"You just have to know how to manage time and not waste any opportunities to get work done," said Jordon, who also spends three hours in the afternoon at Russ's Market in Waverly as part of the Vikings' occupational release program.
"My parents have always stressed the importance of academics and getting your school work done, so it's always been a priority to me."
Academics were just as important in Jordon's college choice as the opportunity to play for a Division II powerhouse football program.
"They give every student there a laptop (computer) and all of their academic facilities have been updated," Jordon said. "They have smaller class sizes, many of them 30 or less, and that's something I like because I think I learn better in that kind of environment and it allows you to build a personal relationship with your professor."
Academic All-State honorees
Academic All-State: Neumann's Lilly never backed down from hurdles on the track or in school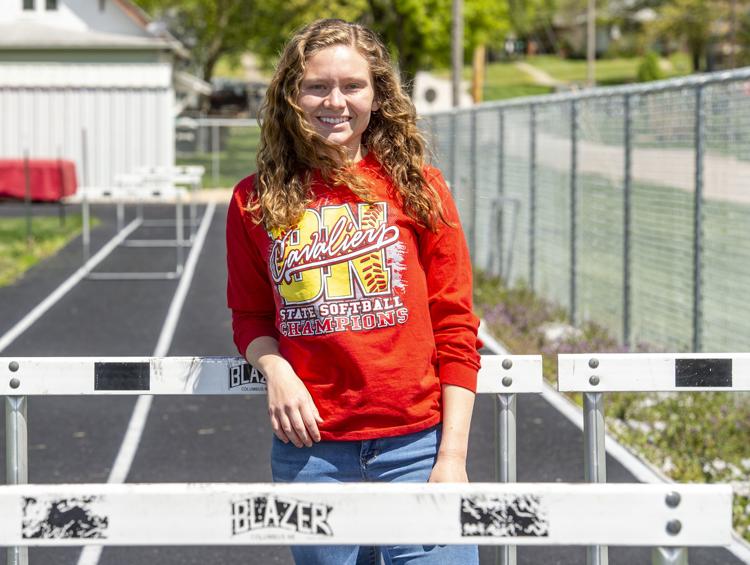 Katie Lilly likes to rise above challenges and obstacles.
So maybe it's fitting that, among the bevy of activities that she takes part in at Bishop Neumann, Lilly has stuck with hurdles for the track team.
Hurdles can be a bit daunting for athletes standing 5-foot-5. But not Lilly.
"It's a physical obstacle in my course and I have to overcome it, no matter how short I am and how tall the other girls are, proving myself that I can do it," said Lilly, who qualified for state last week. "That's kind of a whole theme in my life, just these obstacles, and I want to prove to myself that no matter how hard it is or how much work I have to do, that I can jump over the hurdles and get through anything possible."
Lilly has cleared a lot of hurdles at Bishop Neumann, both in athletics, in school and in activities.
She set three lofty goals early on in high school.
She wanted to solidify a spot on the school's athletic wall of fame, an honor reserved for any Neumann kids who win an individual state championship or receive all-state honors. Lilly was a two-time all-stater in softball, playing a role in the Cavaliers' state championship run in 2017 and a state runner-up finish in 2018.
Lilly also wanted to make the school's performing arts wall of fame. She accomplished that feat this spring with her district flute solo.
Lilly's biggest ambition was to be class valedictorian. It's a goal she had set out for after her first semester in high school.
"My flute solo I worked on this spring, and softball is four seasons I've worked on for it," said Lilly, who delivered her speech to her class during Saturday's graduation. "Valedictorian, I always constantly had to work at that, so that's probably the most rewarding to me, even though they're all important to me."
Lilly, who was part of the Cavaliers' state title run in basketball this past winter, finished with a 4.0 grade-point average and was ranked first in her class. Just as impressive is Lilly's time management skills.
She played basketball and softball and is finishing track. She is in choir, is involved with National Honor Society, student council and religious groups.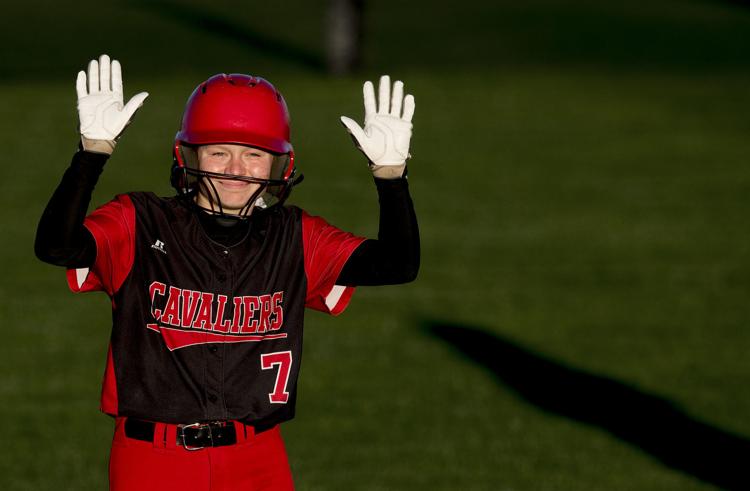 Balancing that all can be "insane," Lilly says. But she's never been known to back down from an opportunity.
"For me, I figured I go to a smaller school and I have all these opportunities to try different things and I might as well take advantage of it," she said. "I'm never going to be a part of huge production on Broadway, but this is my shot to get a little taste of of it. That's what I wanted to do as a freshman; I wanted to try everything."
"Everything" is a big reason why Lilly wants to go into teaching, specifically elementary and special education. She wants to open doors for kids to try numerous activities.
"I always find the joy in all of my activities, and it's something I would like to spread to others," said Lilly, who found inspiration from one of her junior high teachers, Mrs. Johnson. "I want to teach younger kids and I want to encourage them to always have fun and find joy in what they're doing."
Things are not necessarily slowing down for Lilly, despite being an official high school graduate. Her last high school event will take place at this weekend's state high school track meet, and she has a Cornhusker Marching Band audition later this month.
Lilly said she's excited and nervous for the audition.
It's the next hurdle, and Lilly aims to clear it.
"I always wanted to prove to myself that I could learn anything, do anything, be anything," Lilly said. "Now, knowing that I've accomplished all these goals, I know I can do these things later in life."
Academic All-State honorees
Academic All-State: Ehlers, Hirschfeld potent duo on the football field and the classroom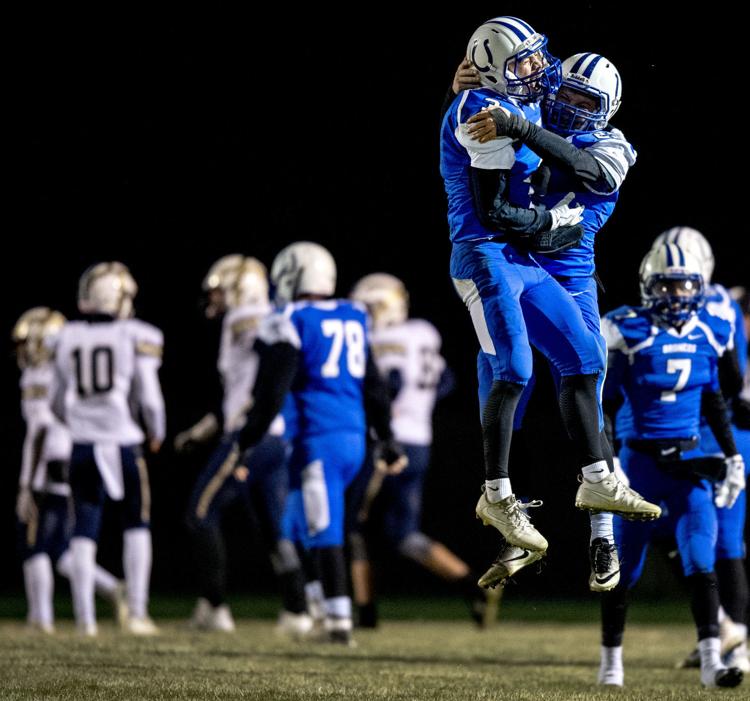 The Centennial senior all-state quarterback-wide receiver duo of Wyatt Ehlers and Jackson Hirschfeld will forever be linked in Nebraska high school football lore.
Ehlers and Hirschfeld first hooked up for a 2-yard touchdown pass on fourth down to keep Centennial alive in overtime of its Class C-2 state championship game against Norfolk Catholic. When Bronco coach Evan Klanecky decided to roll the dice and go for the two-point conversion, Ehlers found Hirschfeld in the back of the end zone for the game-winner to make the gamble pay off.
Ehlers and Hirschfeld are academic standouts as well, but early in December, that historic moment in Memorial Stadium was still running through their minds when they were in the classroom.
"The first couple weeks, it was a little tough to focus," said Ehlers, who finished his career with 6,381 yards passing and 75 TDs. "It's hard to put something like that away."
Hirschfeld, a three-time all-stater in basketball who will play the sport at Concordia, has a 4.0 grade-point average and a class rank of No. 1 out of 46 students. Ehlers, a quarterback prospect at Concordia this coming fall, has a 3.9 GPA.
Standards are just as high in the classroom as they are athletically.
"We do a good job holding each other accountable both in sports and in the classroom," said Hirschfeld, who joins Ehlers on the Centennial track team in the spring. "We want to do more than just be eligible; the expectation at our school is that we excel. Our coaches monitor to make sure we're doing what we can do and not holding back any effort in the classroom.''
Both are pushing themselves to the limit in their final high school semester. Hirschfeld, who will carry 21 college credits with him to Concordia, takes college credit courses in chemistry and English to go with Spanish 4, anatomy and calculus. Ehlers, who has 15 college credits, has Spanish 4, English and calculus in addition to video editing and advanced accounting.
"It takes some effort, but it's what we do," Hirschfeld said. "This is what we've done since we started school, and we've gotten used to the busyness. It's all worth it. It's kind of the way it is in a small school. It doesn't matter what it is, we give it our all."
With a 31 ACT score and straight A's in the classroom, Hirschfeld considered taking a Regents scholarship to Nebraska and just being a student. The lure to be a college athlete, however, won out.
"I decided to go a different route," said Hirschfeld, who averaged 20 points per game in basketball as a senior and caught 97 passes for 1,304 yards and 16 TDs in the fall. "I knew I wanted to play. The hardest decision for me was whether to play football or basketball.
Ehlers' family farms, and he intends to major in agriculture business at Concordia with the intent to return home to work.
"All my ag classes will be at Nebraska and all my business classes will be on campus at Concordia, so I'm getting the best of both worlds," said Ehlers, who also considered Hastings and Morningside in the recruiting process. "The great thing about going to Concordia is that I'll be close enough to home to work on the farm anytime they need me."
Ehlers and Hirschfeld will be combining on the same team one more time this summer. They will join classmate Max Tomes on a Centennial threesome that made it through two rounds of qualifying to advance to the national competition of the Future Business Leaders of America's (FBLA) Virtual Business Challenge. The event will take place during the FBLA's National Leadership Conference June 29 through July 2 in San Antonio.
"Jack is our workhorse, he's kind of the dude on our team," Ehlers said.
Academic All-State honorees
Academic All-State: Aspirations in medicine one of many lofty goals for David City's Daro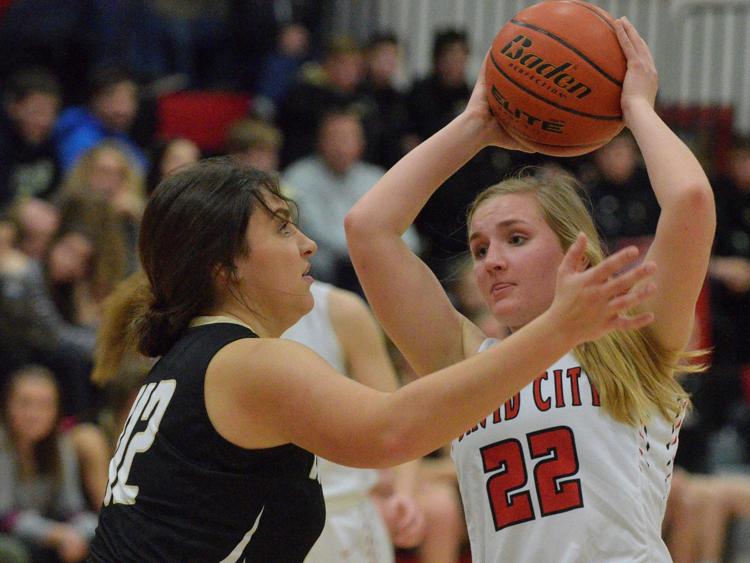 Allie Daro doesn't shy away from lofty goals and aspirations.
Whether it's participating in one of three sports at David City High School, taking part in numerous clubs and organizations, or acing a calculus or physics test, the Scouts' senior has always set the bar high.
"I want to be a doctor someday," Daro said. "It takes high standards to achieve that, and if you don't hold yourself to a high standard, you can't expect it from others."
As the oldest of three siblings, Daro said responsibility has been a trait she's carried with her for years.
"I'm naturally organized and a goal-oriented person," she said. "I enjoy being busy; I like having things to do. My mom worries that when I get to college, I won't have enough to do."
Daro, a three-sport letterwinner in volleyball, basketball and track, will continue her education at the University of Nebraska-Kearney. There, she'll study pre-med in the KHOP (Kearney Health Opportunities Program). She's interested in both pediatrics and trauma surgery, but says she has plenty of time to decide which route to take.
"I definitely want to get into medical school," she said. "But in the short term, I'm excited to make new friends."
With a 34 on the ACT and graduating first out of her class of 41, Daro's achievements are especially impressive in a smaller school setting where she takes part in about anything under the sun.
In addition to her three sports, Allie is involved in National Honor Society, cheerleading, FCA, One-Act, Student Council, Quiz Bowl and STAY-U. And those are just some of the additional activities that keep her busy.
So, when does she find time to sleep? Sleep is overrated, according to Daro.
"I'll sleep when I'm dead," she joked. "I didn't want to look back 30 years from now and regret what I didn't do."
Nathan Wall, who coached Daro in girls basketball, called the senior "the most cerebral player" he's coached in his 16 years of coaching. Wall said he's never seen a student-athlete more focused or driven.
"Many kids struggle to plan five minutes ahead, but as an eighth grader and freshman, she was always building towards her future. I have so much respect for that."
On Tuesday, David City held its annual Academic Awards Night. The hardware piled up for Daro, including outstanding student awards in physics, upper-level math, Spanish IV and journalism. She also was awarded the 12-sport participation award for playing a sport each season of her four years of high school.
"I've played sports as long as I can remember," Daro said. "I've always been super-busy, but the coaches, teachers and everyone here have been so great to work with."
Journal Star Academic All-State: A list of the 2018-19 honorees
More than 5,000 student-athletes from across the state are being honored by the Lincoln Journal Star for Academic All-State, which recognizes achievement in sports and academics. (Scroll down to see list)