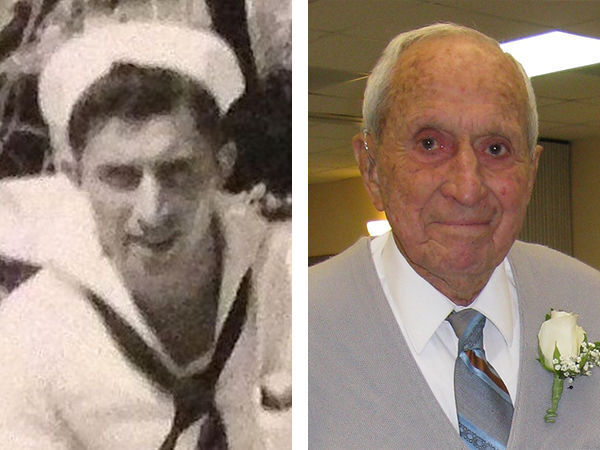 OMAHA — Edward Guthrie was born during the flu pandemic of 1918, died during the COVID-19 pandemic and lived 102 years in between. His death Thursday marked the end of an era.
Guthrie, a 23-year-old electrician's mate 2nd class, was reading a comic book on the deck of the USS Whitney when the bombing began.
He watched in disbelief as a Japanese pilot in a red scarf passed close enough to wave at him.
"There were torpedo bombers coming down the chute right alongside of us, skimming over the water. They all wore those red scarves," Guthrie said at a fundraiser for junior ROTC cadets planning a trip to Pearl Harbor. "I could see this pilot, and he waved at me, and I waved back. My shipmates said, 'What did you do that for?' I said, 'As long as (the pilot) was waving, he wasn't bombing.'"
Guthrie's ship was a repair vessel berthed next to a line of destroyers and was not damaged in the attack. But he vividly recalled spending the next three days pulling bodies from the oil-soaked waters of the harbor.
"All those white sailor suits and that black oil ... they didn't mix very well," he said. "It's something you don't forget."
In those days after the attack, Guthrie found an oily $5 bill floating in the water. He picked up the bill and kept it in his wallet for 45 years before having it laminated and putting it with other mementos.
"All the grandkids wanted me to go," he said at the time. "This will probably be the last time."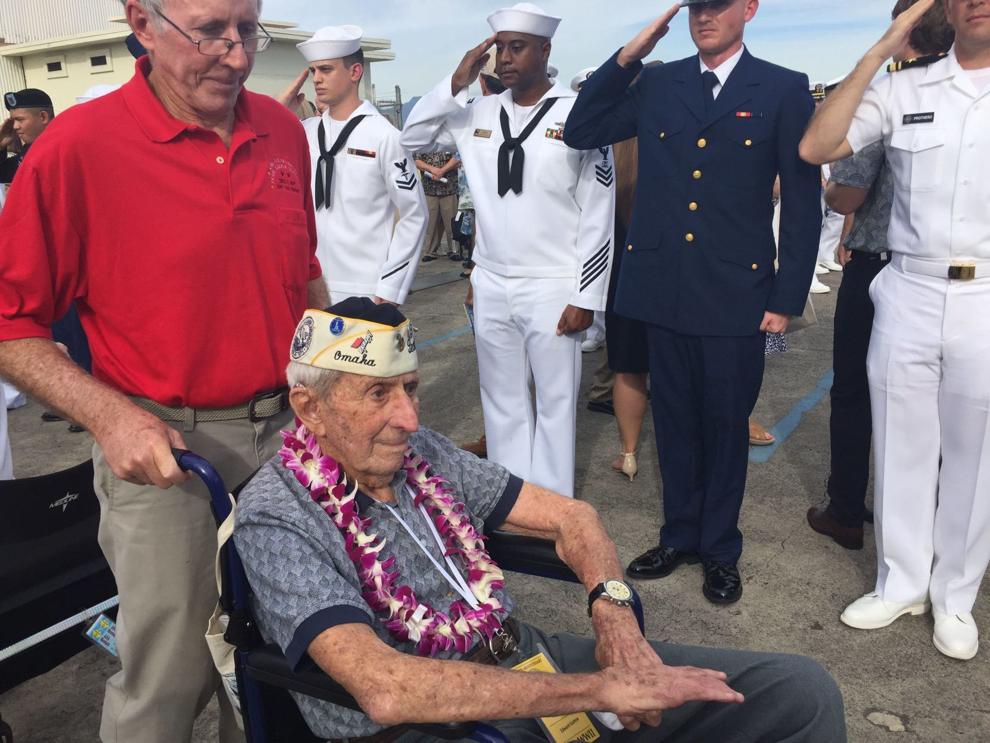 Guthrie was a war hero, said daughter Peggy Murphy.
"He was also a hero to our family," she said. "If anybody needed anything he was there — always."
For the duration of the war, Guthrie was reassigned to the USS Banner, and his ship headed for the Asiatic Pacific. In 1946, he witnessed atomic bomb tests in the South Pacific.
Then he returned to Omaha, began a 34-year career with the Omaha Public Power District and met Janet. Together, they raised three kids.
Guthrie was always there to coach his children's sports teams. He also helped with Boy Scouts and took his children ice skating, sledding, camping and traveling.
Janet and Ed were married for 72 years until Janet died of cancer in August.
Murphy said her mom's death was very difficult on her dad.
"When she passed away, he really missed her a lot, and he didn't want to be alone," she said. "I think it brought him peace in the end knowing he would be with her."
Her dad was healthy up to his last 28 hours, Murphy said.
A visitation will be held Wednesday from 4-6 p.m. at Roeder Mortuary in Omaha. A private family service will be held Thursday.
Memorials can be directed to Lord of Love Lutheran Church at 10405 Fort St.
Guthrie was preceded in death by Janet and son James. He is survived by son John (Nancy) Guthrie; daughter Peggy (Paul) Murphy; daughter-in-law Karen Guthrie, six grandchildren, 11 great-grandchildren; and brother Church (Norma) Guthrie.