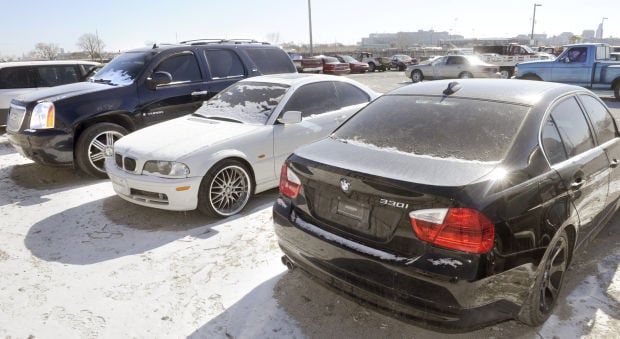 Just after 10 a.m. Saturday, the temperature was dropping to single digits, but bidding at the Lincoln Police Department's abandoned car auction was rising to record levels.
On a good day, on a warm day, 100 people might register to bid on unclaimed cars and bicycles. And even with the bike auction scrapped because of the cold, about 160 people signed up to try to buy one of the 32 autos scheduled for sale Saturday.
But most of the bidders — bundled in Carhartts and coveralls, ski masks and scarves — focused on a trio of cars that stood out in a lot more accustomed to flat tires, broken windows and wrinkled fenders.
A young cocaine dealer had gone to federal prison north of Minneapolis, leaving behind his 2000 two-door BMW, his 2006 four-door BMW and his 2008 GMC Yukon, all with leather seats, custom wheels and — important at this auction — keys.
From his step stool, auctioneer Jim Peterson spent more time than normal going over the rules for all of these new bidders: Remember, there's no way to know what, if anything, is wrong with these cars. If you're the winning bidder, you own it, and you have until 30 minutes after the auction to pay for it, and a few hours longer to haul it out of the yard.
Cash or local check only. And one more thing: It's a felony if your check bounces.
The first two cars, a 2002 Impala and an '01 Xterra, went fast. First-time bidder Trey Foster, a 2012 Lincoln Southeast grad, picked up the Xterra — another drug-related seizure — for $3,300.
Early Saturday afternoon, he was preparing to get it started and home from the tow yard. He paid just a little more than he wanted to, but still too much to also move on the two-door he wanted.
"It was a toss-up between that one and the white one," he said.
You have free articles remaining.
The white BMW was one of the coke-dealer's three cars.
Bidding on the first, the black BMW, had started at $5,000. And it climbed quickly: $5,500, $6,000, $9,000, $9,500, $10,000. It stopped at $11,750 — sold to a masked man from Beatrice who said later he needed a car but had no idea how to get it home.
As Peterson moved his stool in front of the white BMW, Michael Thomas moved into position. He showed up in the 9-degree weather wearing a polka-dot tie, pin-striped pants and shiny black shoes — the clothes he wore to a friend's engagement party Friday night. He'd gone to bed at 6 a.m. and rolled out of it only a few hours later, after his father called to wake him and urge him to the auction.
He picked up the 2000 BMW 323Ci for $3,700, and he planned to drive it. It had to get better mileage than his Audi, he said.
The Yukon was next. This was the newest car on the block, and bidding started at $8,000. Peterson tried to coax it higher before selling it to an auction regular from Crete for $15,000.
Not a vehicle record, Peterson said later, but close. He once sold a newer Ford F-150 pickup for almost $16,000.
But with three cars generating more than $30,000 in bids, this auction might have set an overall record.
The crowd started scattering after the Yukon sold. Next on the list was a 1998 Chevy Blazer, hollowed by fire.
Before it did, the auctioneer tried to stop the exodus:
"Now," he said, "don't everybody go home."