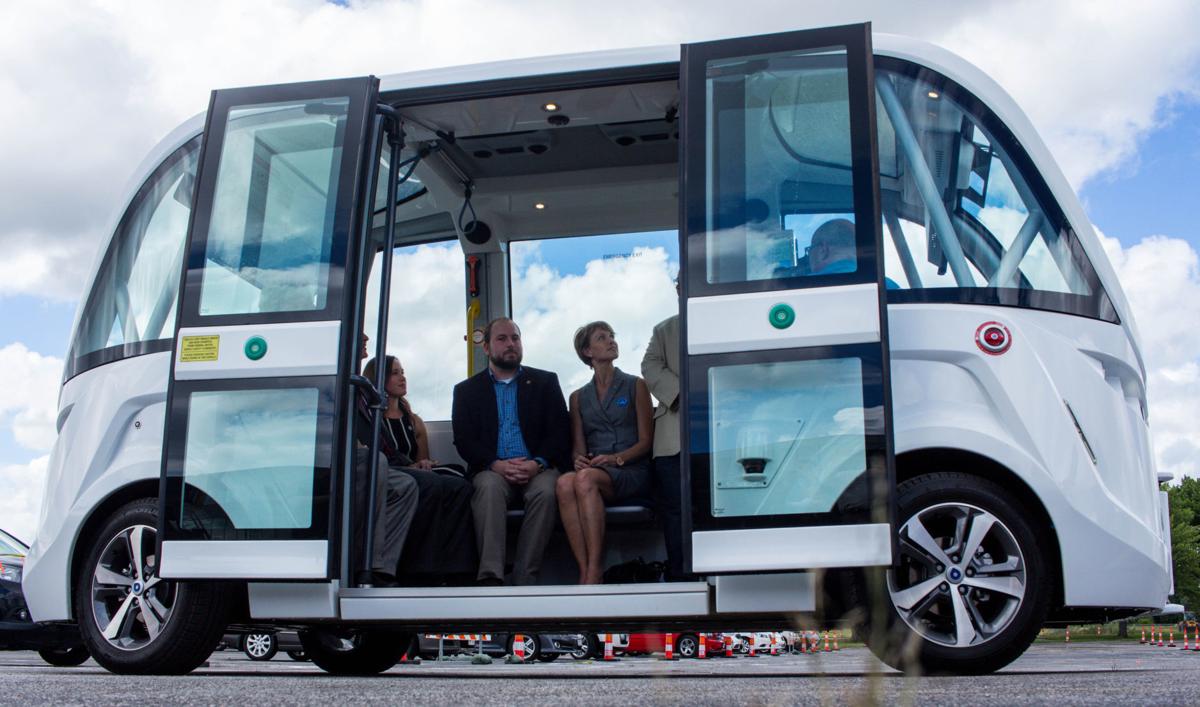 You might see a small bus around Lincoln for the next few weeks that's different from the rest — white, electric and without a driver.
You also will have a chance to hop on the bus beginning Thursday by reserving a 15-minute ride online at shuttle.lincoln.ne.gov or by calling 402-441-7566.
The autonomous shuttle will operate out of The Mill's parking lot at UNL's Innovation Campus from 9 a.m. to 5 p.m. Thursday and Friday and again July 9-13 as part of a test program.
Riders are urged to participate in surveys about their experience. All ages may ride the shuttle, but minors must be accompanied by an adult.
The shuttle does not have a wheelchair-accessible ramp.
The city demonstrated the bus Monday at Innovation Campus. It's on loan from vehicle company Nayva and is not meant to go long distances, said business development manager Tim Schock.
The top speed is 28 mph, but the public rides will be 10 to 17 mph. The bus holds 15 passengers, with 11 seats and four spots for people standing. 
Schock said the cost to operate the all-electric, driverless vehicle compares with a standard shuttle bus. "This is a great advantage," he said.
The shuttle follows a path predetermined by an operator, said technical sales manager Aaron Foster. Using GPS, virtual markers are set every few centimeters in the shuttle's electronic-mapping system to create a route. The margin of error is 2 to 3 centimeters.
"This is innovative technology that will positively impact transportation by reducing future transportation costs, lessening traffic congestion and improving air quality," Mayor Chris Beutler said.
Lincoln is able to test the shuttle because of an $100,000 grant from Bloomberg Philanthropies, which selected the city as one of 35 Champion Cities finalists in its 2018 Mayors Challenge.
The finalist cities will submit new applications to the challenge in August. From there, Bloomberg will choose four cities to receive $1 million and another city to receive $5 million to implement their ideas.
If Lincoln were to receive an award, the city could acquire four to six shuttles for a pilot program in 2019. The shuttles would operate downtown and the public could request one through smartphones or kiosks.
Gov. Pete Ricketts and state Sen. Anna Wishart of Lincoln joined Beutler and others Monday to try out the shuttle.
"This demonstration shows that we are a place where people can do business, people can innovate and people can grow," Ricketts said.
During the recent legislative session, Wishart introduced a bill (LB989) that allows for driverless vehicles in Nebraska as long as state regulations are followed.
"We have waited a long time for this day to come and this day is going to be one of my favorites this year," Wishart said. "My training wheels as a freshman senator came off with this bill."