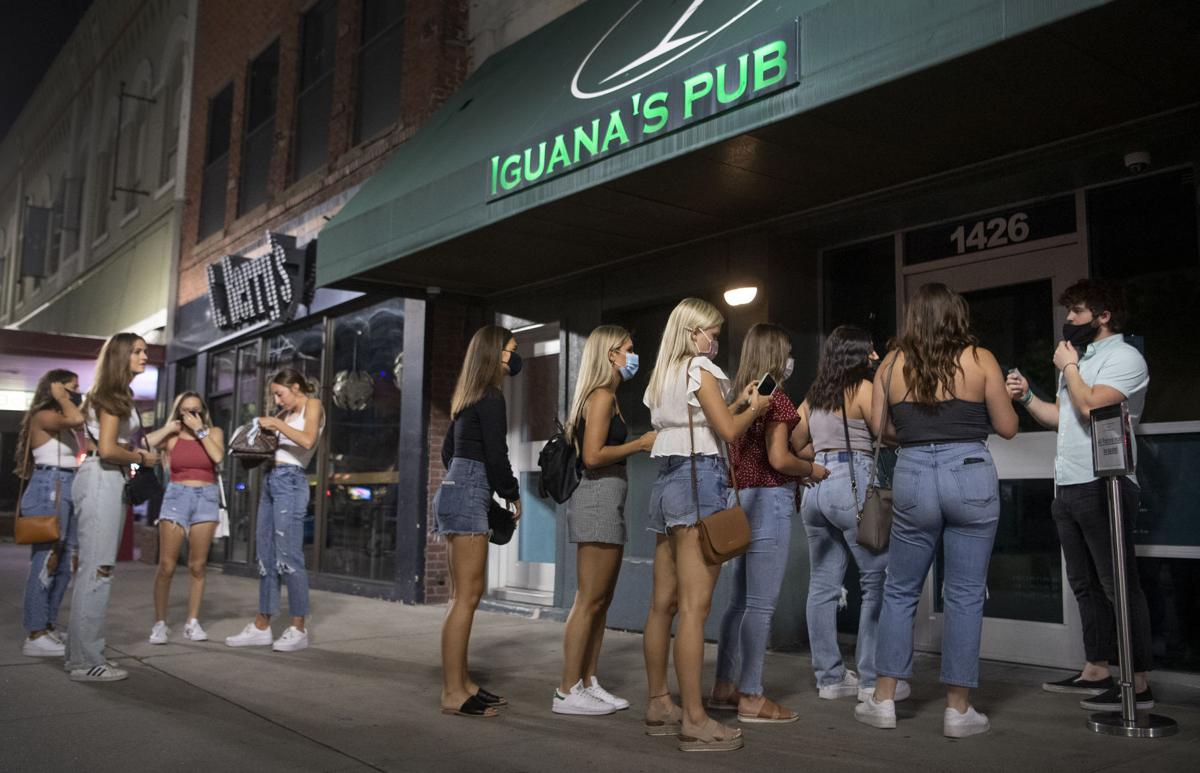 Despite it being the first weekend back in town for many students at the University of Nebraska-Lincoln and other area colleges, Lincoln's downtown bar scene remained relatively quiet compared to years past Friday night.
Under the current local coronavirus directed health measures, Lincoln bars can be open at full capacity but must allow for social distancing and require customers to wear masks unless they are seated.
But even though bars didn't see the huge influx of customers that they would in a normal year with the return of students, there was still significantly more foot traffic along O Street on Friday than there has been in recent months.
Bryan College of Health Sciences students Peyton Brodrick and Jace Schliep were among those who ventured out to celebrate the start of their semester.
Both agreed that they wouldn't have felt comfortable going to bars if masks weren't required and said going out wasn't nearly as fun as in past years.
"It's different," Brodrick said while waiting outside of Iguana's Pub. "We don't see as many of our friends."
University of Nebraska-Lincoln student Haiyan Alfulaiti was walking around with a friend downtown, but he said they weren't going into any bars because he didn't think it was safe.
"We're being very cautious about it," he said.
One event that took place Friday night was a livestreamed hip-hop show that raised funds for 1867 Bar.
Bar owner Kelsey Sanders said the event was a success, with hundreds of people tuning in to the livestream and the show going into early Saturday morning. But business at the bar itself has been slow, she said, and that was still the case Friday night.
"We're mainly a music venue, so not having shows is just completely killing us," she said.
Sanders said the influx of students back in town won't really help 1867 Bar, since the bar is adamant about following social distancing and mask-wearing restrictions. She said other bars that aren't as strict are getting more business.
"These young kids want to go to those bars where they can dance and not wear a mask and pretend like everything is OK," she said.
Sanders said she understands students want to have fun, but that it's important to still follow the health guidelines.
"I get it ... they want to go out and have fun and it's not fun just sitting at a table," she said. "People, especially college kids, they want to go out, they want to dance, they want to drink and, unfortunately, that's not acceptable right now."
Photos: Lincoln during the pandemic