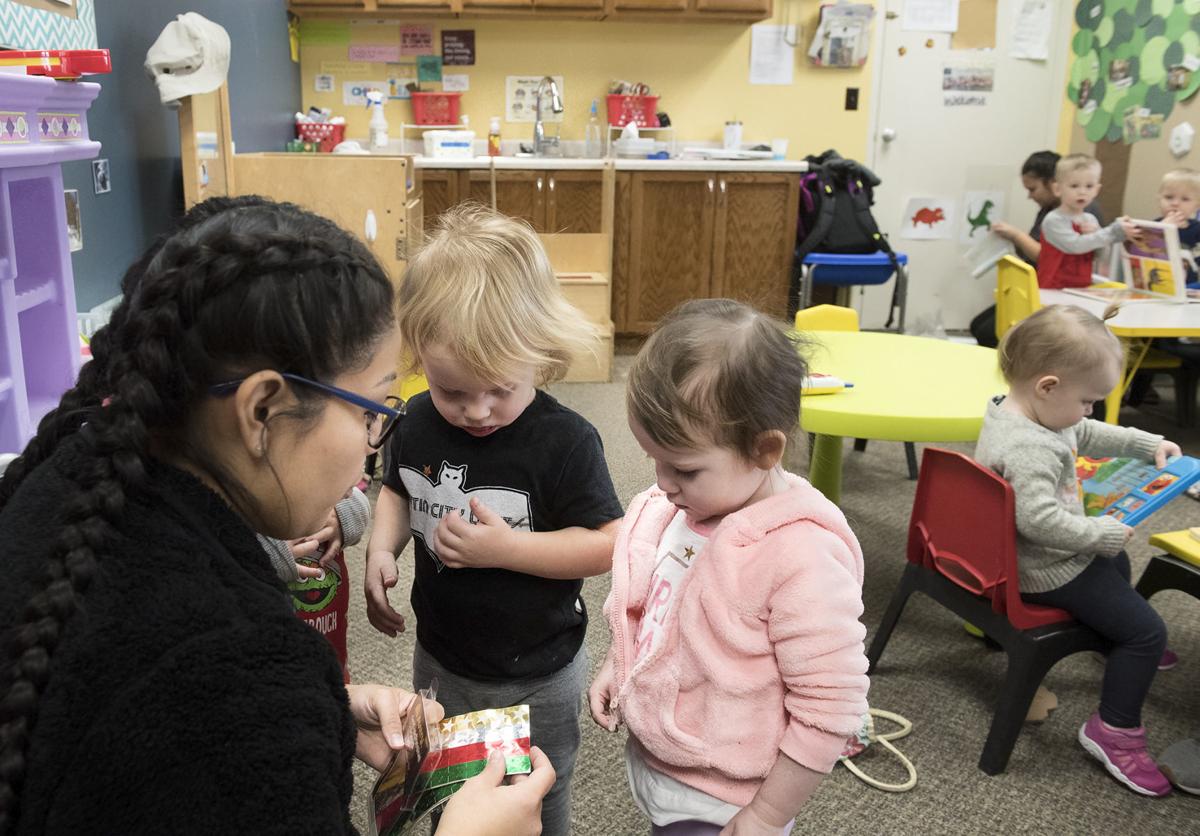 Lincoln's children got a $637,397 gift on Abraham Lincoln's birthday -- money raised during the first "Lincoln Littles Giving Day" for child care tuition assistance.
The Lincoln Community Foundation, in partnership with Nebraska Children and Families Foundation, has created a fund to help close the gap between state child care subsidies and working families that can't afford quality child care.
The Lincoln Community Foundation fund is an effort to fulfill one of Prosper Lincoln's goals: to increase accessible and affordable high-quality early childhood education.
The fund got $750,000 in seed money from the Buffett Early Childhood Fund and the Kellogg Foundation, and organizers chose Feb. 12 -- Lincoln's birthday -- as the first of what will be an annual giving day to support the fund.
"Hats off to this generous community," said Barbara Bartle, president of Lincoln Community Foundation. "Abe would like this birthday gift. He said, 'When I do good, I feel good.' Lincoln, you should feel good today. Thank you for your generous support of the little ones in our community."
The tuition assistance will be given to low-income families through qualified early childhood education providers.
The Lincoln Littles fund will help families who make up to 200 percent of the poverty level, or $51,500 for a family of four.
Families that live at or below the federal poverty level -- $25,750 for a family of four -- are eligible for subsidies that cover all child care costs. Subsidies pay a portion of child care costs for families living at up to 130 percent of the poverty level -- $32,623 for a family of four.
Child care providers are eligible if they are at step 2 or higher on the state education department's "Step Up for Quality" rating system and serve at least one child from a low-income family receiving child care subsidies.
Ten providers have pre-qualified to receive funding: CEDARS, The Children's Place, Community Action — Head Start, Educare Lincoln, Dimensions Education Programs at First-Plymouth, Fingerprints Child Development Center, Kids First Inc., KinderCare Learning Center, St. Mark's Preschool/KIDZONE and World of Knowledge Child Development Center.
Additional providers may receive grants if they meet the qualifications.
Lead gifts to the Lincoln Littles Early Learning Fund were made by Champions for Children, Harbor of Dreams, Helen Raikes in honor of former state Sen. Ron Raikes, Bob and Jan FitzSimmons, Jim and Penny Krieger Family Foundation, Mary and Matt Reckmeyer, Mae Whitmer and the Susan and Jim Stuart Charitable Trust.
Get local news delivered to your inbox!
Subscribe to our Daily Headlines newsletter.