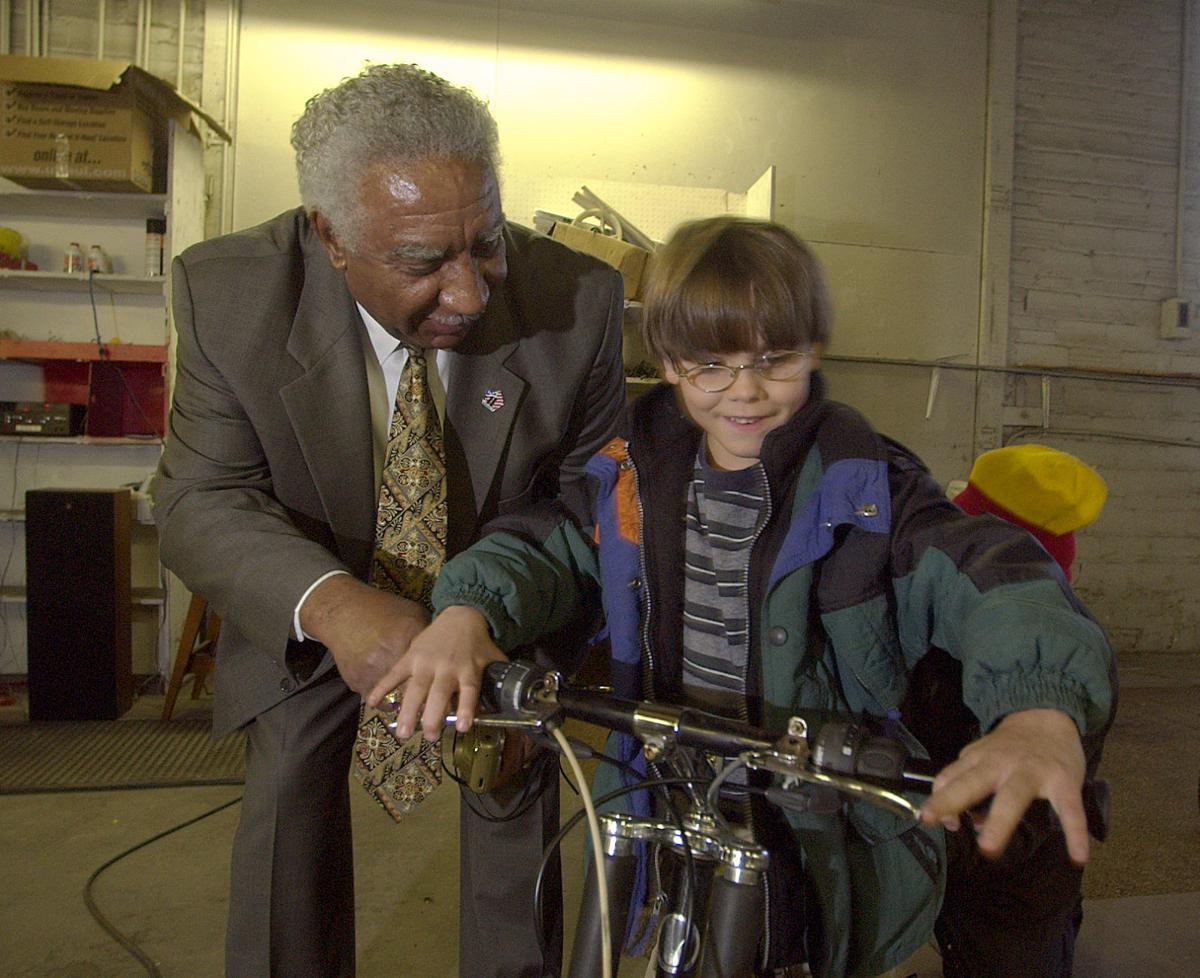 Rev. Don Coleman put bicycles in the hands of thousands of Lincoln children while serving as a community leader, inspiring young people and adults through his faith and his counseling, family and friends recalled Saturday.
Still, those closest to him always came first.
"He always made his family his first priority," said Chanelle Coleman, his granddaughter.
Don Coleman, who founded Lincoln's chapter of the nonprofit group MAD DADS and led it for more than two decades, died Thursday at age 80.
"He was so passionate about his work, and he touched so many lives," said former state Sen. Marian Price of Lincoln, a friend of Coleman's for 25 years.
Price met Coleman at one of MAD DADS' regular bicycle giveaways while she was serving on the Lincoln Board of Education. "The students would just light up," she said Saturday. "So many of them didn't have the funds to get a bike on their own. By volunteering his time and providing them a bicycle, they were able to be seen as equal in their neighborhoods."
Known around Lincoln as "The Rev," Coleman grew up in Ohio, where he married his wife, Ann, in 1959. He played Negro league baseball, served in the U.S. Army during the Vietnam War and lived briefly in Iowa before moving to Nebraska in 1983.
He brought MAD DADS to Lincoln 10 years later, ran for the Lincoln City Council as a Republican in 2001, and hosted a gospel music program, "Old Time Gospel Show" on KFOR radio, for 14 years before leaving due to health issues 2016.
While best identified with bike giveaways — which happened year-round, with a blowout at Christmastime — Coleman also dedicated himself to combating gang violence and neighborhood crime by mentoring young men and coaching families.
He spent years as a chaplain for the University of Nebraska-Lincoln, Lincoln High School, the Lincoln Police Department and Lincoln Fire and Rescue, retiring as senior chaplain for the police and fire departments in 1993 but remaining in a volunteer capacity. 
You have free articles remaining.
Another granddaughter, Maryann Coleman said her grandfather received three gold keys from the city and served as a "catalyst for the community."
Coleman closed the Lincoln chapter of MAD DADS in 2017 after suffering an array of health issues, compounding those which had affected him much of his life.
"I do it for the love of kids," Coleman said at the time. "That's what has made going to the office every day so enjoyable. ... It's all about the kids and the smiles on their faces, knowing what you've done helped put that smile there."
He and his wife had five children, plus 15 grandchildren and 14 great-grandchildren.
"He was husband, father, brother, minister, sergeant, president of MAD DADS, and he loved his Lord," his family wrote in an email to the Journal Star. "He loved people, adored his family and never met a stranger."
Coleman got along with just about everyone, Price said. He was known for putting people at ease with a smile — one that rarely left his face.
"You could go into his office on a day when you were really stressed and come out of there feeling better," she said. "He just had an aura about him. He could make a cloudy day sunshiney."
And though he had pictures in his office of the hundreds of dignitaries he knew, Coleman much preferred a hands-on approach when it came to giving back.
"He always fought for the underdog and loved and believed in education," his granddaughter said. "He would host free community events where kids would not have to pay for anything and could have a fun, safe place to go."
Though the loss of Coleman will be felt by many, friends and family said he leaves behind a significant legacy.
"We need more people like him in our city, our state and our world," Price said. "We need people that are just giving and sincere."
A visitation will be held Friday from 3-7 p.m. at Roper and Sons Funeral Home, 4300 O St. Family will be present from 4-6 p.m. His funeral will be 11 a.m. Saturday at Lincoln Berean Church, 6400 S. 70th St.