It's been three years since Kurdish forces once backed by the United States pushed the self-proclaimed Islamic State from the Nineveh Plain in northern Iraq, an area populated by Yazidis, Christians and other minority groups.
The U.S. has provided $400 million in aid to the region since the liberation to rehabilitate homes, schools and health clinics, rebuild infrastructure for electricity and water and reinvigorate the local economies through business loans and direct cash payments.
But despite the investment, pushed for by Vice President Mike Pence, only a fraction of the hundreds of thousands of Yazidis living in camps for internally displaced persons after escaping ISIS' 2014 genocidal campaign have returned to their homes near Sinjar Mountain.
"We have optimized the assistance we can deliver, we have exhausted a diplomatic effort," said Max Primorac, a special envoy to religious minorities in the region, "but the Iraqi government doesn't take the steps they need to take to permit their people to come home."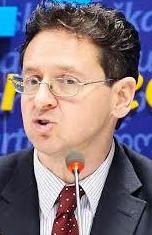 At the Yazidi Cultural Center in Lincoln on Tuesday, Primorac discussed the efforts by the U.S. Agency on International Development to restore cities and towns once captured by ISIS back to the hands of the religious minority that has called the area home for thousands of years.
Primorac said the Trump administration grew frustrated by the lack of progress in restoring the areas once held by ISIS. As part of Pence's Genocide Recovery and Persecution Response program, Primorac was tasked with breaking through bureaucratic red tape to, as he put it, "get help to these people directly."
"We wanted to use our aid program to empower them directly, because they've been so disempowered, neglected, marginalized and forgotten," he said. "It wasn't only an issue of getting them help, but using that help to rediscover who they are and find their dignity."
To that end, USAID has provided more than $84 million in humanitarian assistance to Yazidis, minority Christians and others in northern Iraq since 2018, paying for shelters, health care, food and water, as well as psycho-social assistance, said Primorac, who previously worked for the State Department during the George W. Bush administration.
Another $64 million has been funneled to the United Nations Development Programme, which is rebuilding schools, health clinics, government offices and infrastructure for essential services such as water and electricity to cities like Sinjar and Sununi, which rest in the heart of the Yazidi homelands.
At least $9 million in small business loans, requiring a 30% match from business owners, has been made available to Yazidis to rebuild factories and hire workers, while the U.S. has also provided direct cash payments in order to stimulate the economy there.
Other government agencies are also focusing efforts on religious minorities in northern Iraq. The State Department recently embarked on a $500,000 conservation project at the Lalish Temple, a sacred location for Yazidis.
USAID has also partnered with other non-government organizations on infrastructure projects in Sinjar, rebuilding damaged homes and de-mining the surrounding areas, and has provided $2 million to the United Nations to excavate an estimated 3,000 Yazidis buried in mass graves during the initial ISIS assault.
Along with the funding, Primorac said the United States also secured a diplomatic win in opening the Suhaila Rabi'a Road, which has allowed roughly 20% of the Yazidis living in camps in the Duhok region to cross the Kurdish lines to return home.
But a vast majority of the Yazidis remain displaced and living in crowded camps, which has alarmed members of Lincoln's Yazidi community.
You have free articles remaining.
Keep reading for FREE!
Enjoy more articles by signing up or logging in. No credit card required.
Bashiqa, another Yazidi village to the northeast of Mosul, did not experience the same devastation as Sinjar, said Hassan Jamma, but businessmen from Bashiqa have been able to secure small business loans while the investment in Sinjar has been minimal.
"We need to encourage Sinjari people to go back to their homes," said Jamma, a former interpreter for the U.S. Army, adding Yazidis should do more to invest in Sinjar. "Many people, their houses are in good condition, but they didn't go back because they don't have jobs."
Jamma also expressed concern Yazidis will experience cultural and traditional erosion the longer they live in the camps for internally displaced people, adding many Yazidis have dropped their Kurmanji dialects and have begun echoing Kurdish speakers from the regions surrounding the Iraqi city of Duhok.
Another obstacle has been ongoing mismanagement both in the Iraqi central government as well as at the local level. Although the USAID aimed to provide assistance directly to Yazidis, other programs are still operating in inefficient ways susceptible to corruption.
Ameen Qasim said friends and family were shocked to learn only men with 2017 or newer Toyota trucks were allowed to apply for certain jobs near the town of Sinuni, northwest of Sinjar.
Other Yazidis who attended Tuesday's meeting said tensions between the fragile Iraqi Federal Government and the Kurdish Regional Government, which have long clashed over control of the region, have prevented refugee Yazidis and other religious minorities from returning.
The federal government has largely ignored U.S. requests to disband militias causing instability in northern Iraq, Primorac said, as well as proposals to create a police force of 2,500 officers drawn from the religious minorities in the region to bolster security.
Iraq's parliament has one Yazidi member, even though the religious group should be afforded five seats in the 329-seat unicameral government based upon population, said Shahab Hami, vice president of the United Yazidi Community of America.
Hadi Pir said the Yazidi community of Iraq has long kept the central government, which itself is responsible for past persecution of Yazidis, at arm's length. The lack of action by the current government to secure the region has further eroded that trust.
"If we are going to wait for the Iraqi government to do anything, we're going to wait for another genocide," Pir said.
A U.S. Commission for International Religious Freedom said in a 2019 report that conditions on the ground remain poor for religious minorities, who are in danger from remaining ISIS cells operating in the region, many of which are believed to still be holding thousands of Yazidi women and children in captivity.
Further complicating matters is the escalating conflict between Turkey and the Kurdish forces that recently helped liberate the Yazidi homelands. Reports earlier this week indicated detained ISIS fighters and sympathizers had escaped from prisons in Syria.
Primorac said the Trump administration is keeping a close eye on how the  Turkish offensive will affect the fragile Nineveh Plain.
Just last week, on the same day Trump leveled sanctions against Turkey for reported atrocities committed against the Kurdish Democratic Forces, the president approved $50 million more in minority assistance to Yazidis and Christians, he said.
But uncertainty looms. "We are looking to see if there is spillover," from the conflict, Primorac said.