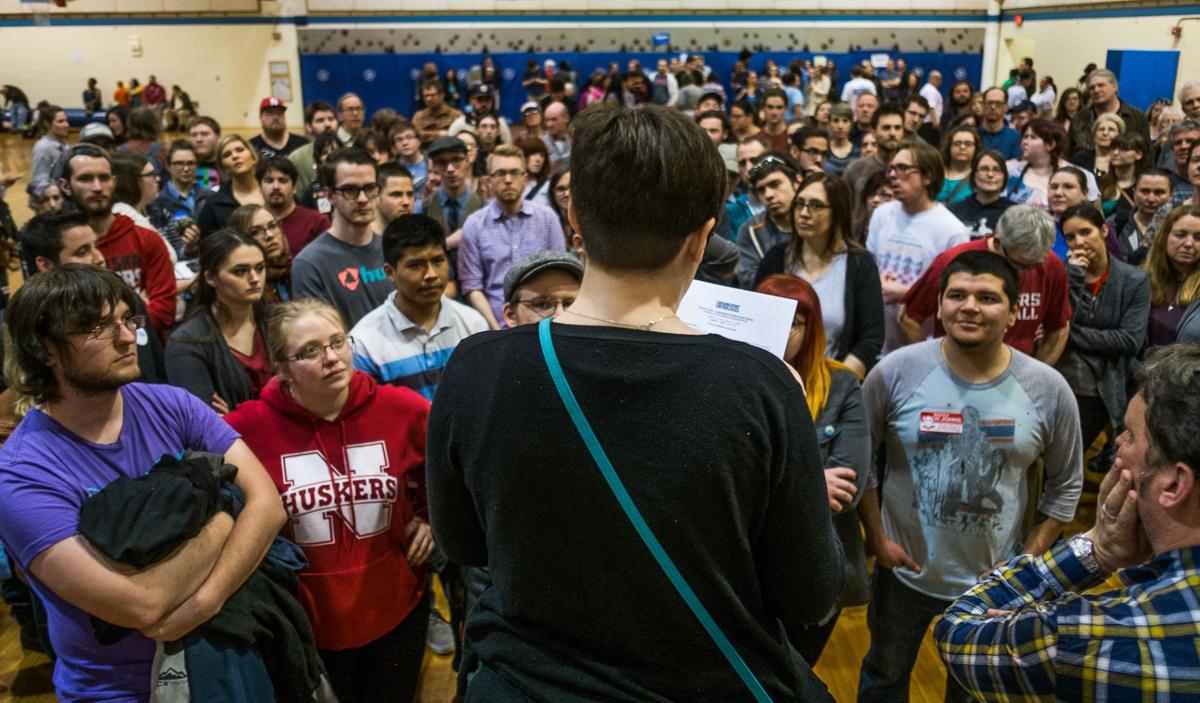 For many Nebraskans, voting in the Democratic caucus Saturday was more trouble than it was worth.
Having to vote at a set time, not having the privacy of a voting booth and not having their voice heard during the caucus process turned off young and old Democrats alike.
On the other hand, Democratic voters who enjoyed the caucus said it provides a platform to exchange ideas and attracts the attention of candidates.
Rob Hartung of Omaha planned to visit his parents while attending a band directors' convention in Lincoln this weekend. But because his caucus was at Omaha Northwest High School Saturday morning, he had to skip his folks for his vote to be counted.
"They (Hartung's parents) are both 87 so it bothers me to have to do it that way," he said.
Audrey Grant, a political science student at the University of Nebraska at Kearney, said she didn't like knowing who others were voting for at a polling place.
"For me, caucusing meant sitting across the gym from one of my political science professors, which was an incredibly uncomfortable situation," she said. "I don't want to be persuaded or informed by speeches. Interacting with other voters should occur at rallies, not at the polling place."
Democrats could vote by absentee ballot if they couldn't attend the caucus, but some found the process confusing.
Bette Collins of Omaha wanted to vote absentee because her husband had broken his ankle. After receiving the paperwork on Feb. 29, she discovered her husband's forms were not included. Those documents had to be submitted in Lincoln the following day.
"That was a little impossible," she said.
She called the Nebraska Democratic Party's Omaha office and asked if someone could pick up her ballot. She was told no one was available.
Despite the inconveniences, many Nebraska Democrats said they prefer the caucus.
Emily Smallcomb of Broken Bow said she was nervous to "come out" in Custer County as a Democrat.
As a recent graduate of the University of Nebraska-Lincoln who now works as a high school Spanish teacher, Smallcomb said she didn't want her peers' opinions of her to change once they discovered her political affiliation.
"I've always just smiled and nodded when people talk about their political views because they are so beyond far right here," she said. "We always joke in my family that we are three of the 12 Custer County Democrats."
But then she discovered there are 1,500 registered Democrats in Custer County. And she met about 60 of them at her caucus location. She said it was relaxing to meet people who shared the same ideals as her and would gladly vote by caucus again.
While the caucus does provide a platform for Democrats to connect, it can also be intimidating to those who aren't in the majority. Many Hillary Clinton supporters refused to speak at their caucus, arguing that they wouldn't change the opinions of Bernie Sanders supporters, or vice versa.
Susan Schoen of Lincoln was one of 14 Hillary Clinton supporters to 60 Bernie Sanders voters caucusing at Lincoln Central Labor Union. She said she faced a similar scenario when she supported Clinton against President Barack Obama in 2008.
"I felt like they didn't even hear us," she said. "My son was scared to death to come (to Saturday's caucus)."
But without the caucus, Schoen said she believes Sanders, Bill Clinton and Chelsea Clinton wouldn't have come to Nebraska to speak. To be in the same room as a former president last week was a feeling Schoen said she can't describe. And so she said the benefits of the caucus outweigh the negatives.
A proposed bill (LB871) in the Nebraska Legislature aims to replace the state's March Democratic caucus and May Republican primary with a single, early primary election. Sen. John Murante of Gretna, a Republican, says the primary system is a more inclusive way to involve Nebraskans in the voting process.
Murante's bill is not ready for action this legislative session, the senator said, but it could pave the way for reform prior to the 2020 presidential election.