The St. Mark's United Methodist Church Father's Day car show had the usual mix Sunday morning.
Just off 84th Street and Pioneers Boulevard, rows of colorful muscle cars from the 1960s and a few Ford Model As lined the church parking lot alongside a few more unusual whips, like a tricked-out hearse, as a DJ blasted the Beach Boys' greatest hits. 
Carolyn and Curt McConnell's 1972 Honda 600 Coupe was unique in the fact that they weren't legally allowed to drive it to the show. That's because it's more a canvas for Carolyn's mosaic artwork than it is a car.
A scenic blue-sky prairie wraps around the vehicle. A line of skunks crosses a road on the passenger-side door, a fawn sniffs a field mouse near the rear wheel and onyx-colored ants crawl up and down the frame, all made of colored glass shards, buttons and other crafting materials.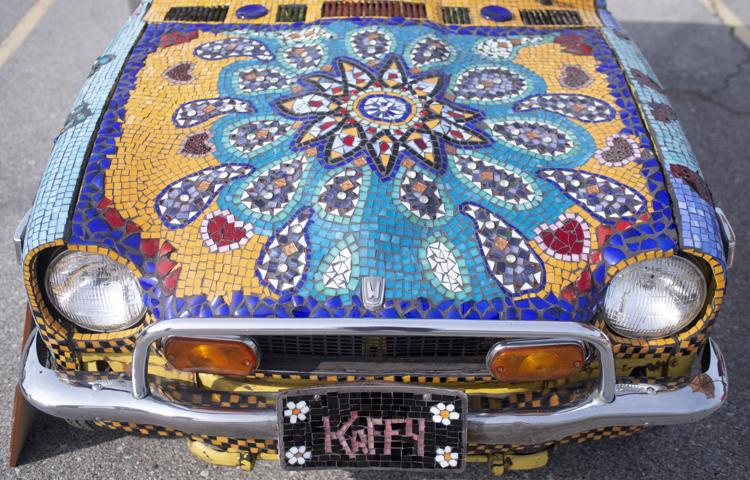 "At first, I had no idea what I was going to do with it," Carolyn said. "I said I wanted to do something different."
She decided to approach the design by drawing on personal experiences from living with her husband in their countryside home outside Denton.
A portrait of three black Scottish terriers named Kyle, Emmett and Trevor pant and stare out the rear window. Hippie caricatures of Curt and Carolyn wave from the windows.
"All of these designs are something personal to me," Carolyn said, pointing to the skunks. "We were driving home from the movies one night and we saw them crossing the driveway, but then they just stopped, and we couldn't get past them. We didn't want to scare them by honking, so we just waited and watched them."
The car art is the result of 750 hours of work Carolyn put in over a period of three years. Each tiny piece of glass was placed by hand.
You have free articles remaining.
Keep reading for FREE!
Enjoy more articles by signing up or logging in. No credit card required.
Some came from blue bottles from James Arthur Vineyard in Raymond. In order to get the shards she needed, Carolyn would place the bottles in a paper bag before smashing them with a hammer.
"That part felt really good," she said. "It's always a fun part of the process."
Because of all the glass, a sign next to the vehicle warns people not to touch it.
"Working with broken glass, I cut myself numerous times," Carolyn said. "A lot of blood and sweat went into this project, literally."
It all began after Curt pulled the car out of a field on their property when Carolyn was between projects. He'd bought it off of a shady seller in 1989 for $300, but never received the proper paperwork from the seller and discovered the vehicle had mechanical problems rendering it unsafe to drive.
"I knew there were a few of these Coupes around Lincoln when I bought it, but I just happened to buy a bad one," he said. "I've been holding onto it for 30 years, and a few years ago I joked with Carolyn that she should do something with it."
And all she wanted was to do something colorful that would inspire kids when they looked at it. More observant viewers will notice the smaller details: minuscule black shards acting as the ants' antennae and butterflies making their way around the scene are among the tiny designs Carolyn added.
"I'm a piano teacher, too, and I want the kids to be inspired by music, art, whatever," Carolyn said. "It makes me happy to see them come around and take a look at it and point out some of the stuff they find."
They've already received invitations to show the car off at other galleries, but Carolyn hasn't thought too much about the future of her artwork.
"I finished this two or three days ago and this is really the first time that I've been able to see it as a whole in the sun," she said. "I wanted to remember the prairie, its beloved animals and my experiences here."