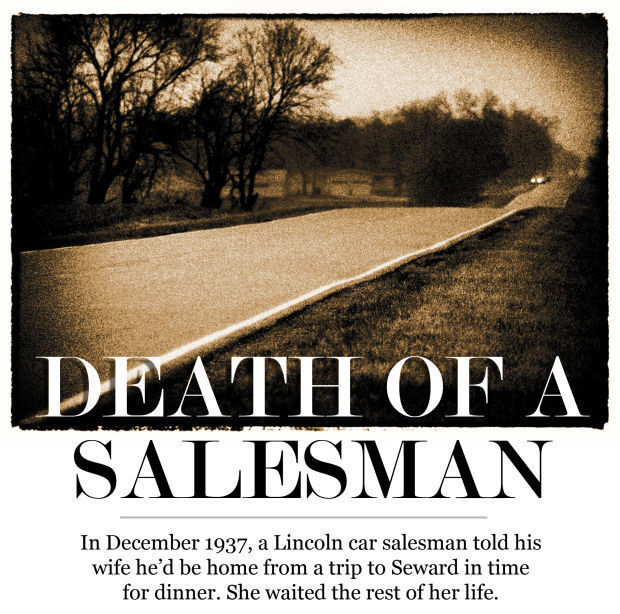 On his last known night, Carl Christiansen helped his two little boys write their letters to Santa.
On his last known morning, he carried those boys downstairs on his back, so they could all eat breakfast together.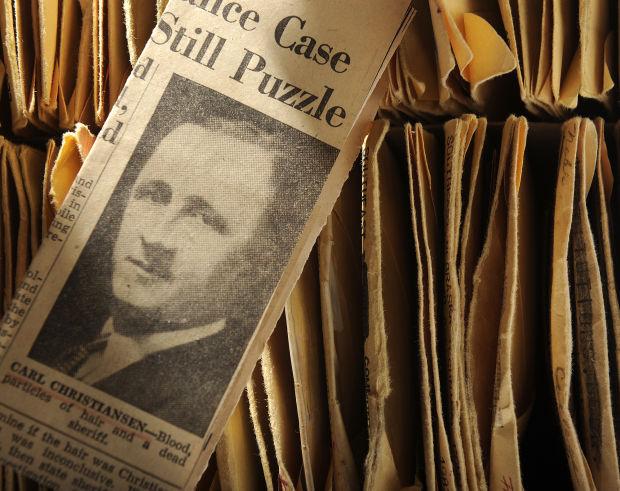 He picked out a brown suit, brown tie, blue shirt. When the buckle on his dark belt broke, he put on a white one instead. He was in a hurry. He asked Ruth: What difference does it make? Nobody will see it anyway.
The car salesman was eager to get to Seward, to deliver a Chrysler to a young farmer. Christmas was coming, and the commission from this sale would help with the holiday.
He kissed Ruth and stepped out of their home on North 30th Street, into the icy day. He wore a light Stetson on his head and a dark overcoat, the letters to Santa in his pocket. He wanted his boys to believe he mailed them.
He called later with an update. He'd be home between 5 and 6, after he dropped off the car and picked up the farmer's trade-in.
On his last known afternoon, Dec. 14, 1937, Carl Christiansen was seen driving south through a darkening sky, $825 in his pocket.
Looked like he was headed toward the road home, the farmer would tell police.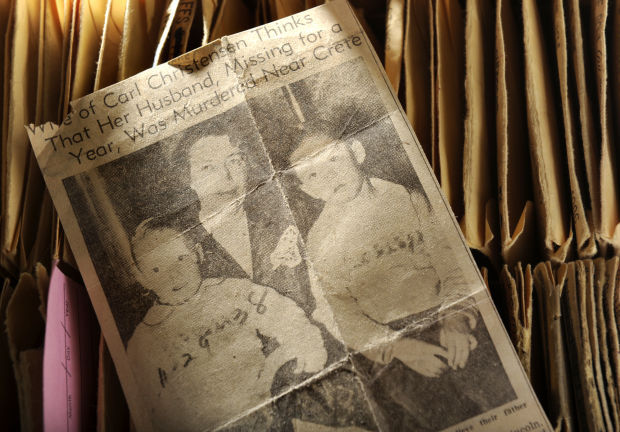 Ruth Christiansen, posing with her boys Allen (left) and Dannie, kept her husband's case alive for years, routinely inviting reporters retell the story. (ERIC GREGORY/Lincoln Journal Star)
Blood on the road
Ruth Christiansen waited for Carl that night, and the next day, and all of the weeks and the months and the years that would pile on her like weight, slowly smothering any hope she held of his return.
It would be enough to simply know what had happened to him, she would tell reporters when they visited her a year later, and then five years later, and then 15.
"I've got to the place," she said as early as 1938, "where I want to hear some report -- one way or another."
Time was covering Carl's tracks from that night, too, and the few clues investigators had uncovered were promising and slippery at the same time.
Taken together, they seemed to point to his violent end in the hills north of Crete. But if they were indeed the dots that mapped the end of his life, they were never solid enough for investigators to connect them.
There were just too many questions.
Why was the farmer's trade-in abandoned in Crete the afternoon Carl disappeared? Was that his blood and hair found on a seldom-used road five miles to the north? What role did a poker game play in the case?
Ruth watched lawmen from three counties and at least two decades search for those answers, and for her husband. She watched the state sheriff grow personally invested. William Flake would leave his office at the Capitol for days at a stretch to work the case, and he would take the Christiansen boys to the movies.
But three years after Carl disappeared, Flake would be found dead in an Omaha hotel room, his door locked from the inside, a bullet between his eyebrows. Authorities closed the case in hours, ruling that he had been drinking and that he had taken his life, but there were doubters.
When the new state sheriff inherited the case, all of the files from Carl's case had vanished. Just like the salesman.
Ruth never remarried. She never dated. She fought her poverty by learning to sew for other wives and mothers. She learned to rejoice in her sons' successes, their college graduations, their families, their careers. She learned to wait.
But nearly a quarter-century after Carl vanished from her life, she let herself let go of him.
She began writing a long letter that still has no ending.
"As I sit here alone with my thoughts, at this very time 11:30 a.m. Thursday, December 14, 1961, never thinking I would be saying 'goodbye' for the last time to the most wonderful husband and father of our two sons ..."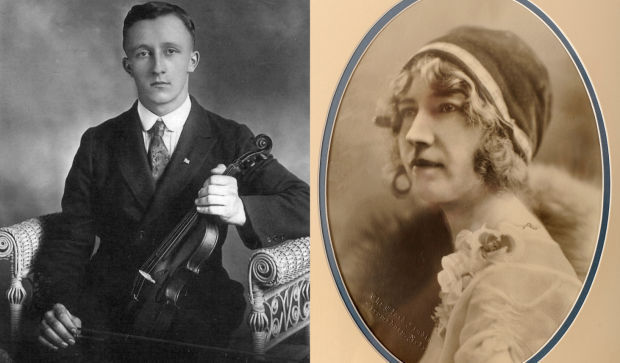 Carl Viggo Christiansen was a machinist, a mechanic, a race car driver and a musician. Ruth Christiansen waited for 36 years to learn her husband's fate. "I will never give up hope that someday the murderer will be found," she said in 1950. She died in 1973, the mystery still unsolved. (Courtesy photos)
The nightmare before
Carl Viggo Christiansen wasn't a big man, but he was described as stout: 5-foot-5, 150 pounds.
He was born in Falster, an island off the coast of Denmark, in 1896. He served both the Danish and U.S. armies as a balloonist, though he never saw action.
He'd been trained as a machinist but learned to fix cars in Detroit, at the Chrysler training school; his sons grew up hearing how their father, one of the company's super mechanics, had met Walter Chrysler himself.
The company put him first in Iowa, but he traveled, servicing cars and teaching other mechanics. He was given three counties in Nebraska, and he met Ruth Peterson at an Armistice Day banquet in Stromsburg.
They were a little later in life when they married in 1929: Carl was 33, Ruth 38.
After Dannie Paul was born in Stromsburg in 1930, the new family moved to Lincoln, where they were joined by little Allen Dale.
"Carl was such a family man," Ruth wrote. "He thought he was the only one who could take care of his boys. He used to tell his fellow workers when his boys were grown, they would be different and clean morally. The fellows laughed at Carl, but they couldn't discourage him."
Carl owned a repair shop near 18th and O, but he was growing tired of the grease that gathered behind his nails. He wanted more, for himself and for his family.
So in the summer of 1937, he started selling Chryslers -- the car he believed in -- for Nebraska Motor Co., around the corner from his shop, on the edge of downtown.
That November, he started dealing with a 26-year-old who farmed 9 miles southeast of Seward. The farmer had wanted a used car, but Carl convinced him to order a new Royal, dark blue with gray trim.
Looking back, 24 years later, Ruth was able to inventory her concerns, the signs that now seemed clear and strange in retrospect.
She remembered one of Carl's friends had warned him against working for "those people" at Nebraska Motor Co. She remembered the farmer had called constantly, checking on his car, but claimed he didn't have a phone of his own.
She remembered that when the Royal finally was delivered to Lincoln, the farmer bought time. Don't come tomorrow, he said, come the day after.
Ruth had asked Carl: Why doesn't he just come to Lincoln to get it?
"Oh, Ruth, I guess you don't understand the car business," he answered. "I've delivered cars all over the state. Think nothing of it."
He was so happy, she wrote. They had great plans for Christmas.
She remembered his nightmares, too. He had warned her once not to interrupt his terrors, but to agree with him, to comfort him.
The night before he disappeared, she wrote, he sat up in bed and called: Ruth, Ruth.
"Do you see those fellows coming up with those white things over them towards me?"
Yes, she said. She saw them.
He asked: "Who are they? And what do they want or are they going?"
She answered, softly: Well, Carl. I think they are going to work. Don't you?
He woke then, and apologized. He'd been anxious about this car deal, he explained.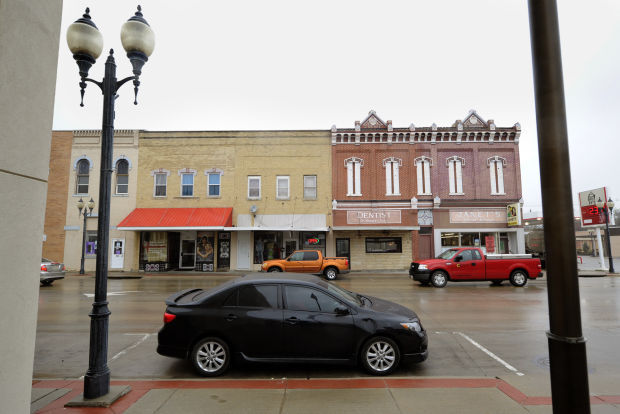 One of the few clues to Carl Christiansen's case was found here, at what used to be 125 W. 13th St. in Crete. The afternoon he disappeared, the car he had been driving was parked, and abandoned, in front of a photo studio. (ERIC GREGORY/Lincoln Journal Star)
Waiting, worrying on North 30th
The salesman and the farmer conducted their business at the Sunshine Cafe in Seward, the farmer giving his '31 Chevy and $825 for the Royal.
They stopped at the courthouse for the paperwork, and then the farmer took Carl into the country to meet potential customers. They talked to a man at a farm sale and paid a visit to a minister's home.
Late in the afternoon, they returned to Seward, and both men headed home. They took the same route initially, south on the oil road toward the Milford Corner.
The farmer told police he turned east on his road at about 5:30 p.m. and watched Carl continue toward his turn on West O Street.
From there, the salesman would have been only 20 minutes from Lincoln, and from Ruth and his two growing boys.
That day had been filled with ice and snow and travel warnings. At first, the family on North 30th thought Carl might have slipped off the road.
Ruth and their boys and her mother, visiting from Stromsburg, were waiting; he had said he would be home no later than 6.
"My mother sat by the window, I can see her yet, she was so worried," Ruth wrote. "I said, 'I trust Carl,' such a good driver, thought nothing could ever happen to him."
She didn't know that earlier that evening, 30 miles south of Seward in Crete, Marian Wagner was working at her downtown photo studio when she watched a man pull up, get out of his car and dog-trot across the street.
Wagner thought little of it until three days later, when officers identified the car as the farmer's trade. From her description, investigators thought its driver could have been Carl. They dusted the car for fingerprints but found no signs of violence.
Two days after Carl vanished, and about 5 miles north of the Wagner Photo Shop, a child walking to school found a splash of red on an icy rural road, 50 feet from a bridge. He told his teacher.
Later, the boy's father would say it looked like something tragic happened. But what? Nobody had stopped at his farm, nobody had needed his phone to call a doctor.
When Flake investigated, the state sheriff told Ruth he found what looked like a quart of blood in one spot, and another pool nearby. He also found scalp and hair, some pulled by its roots.
"He told me it was about the worst he had seen and no one could have lived after losing so much blood," Ruth told reporters a year later.
Ruth and her boys scoured their home for samples of Carl's hair. They found a few strands in his comb, a few more on a coat.
The state sheriff sent it off to the FBI in Washington, which concluded the hair from the road "seemingly" was Carl's, and that the victim had sustained a terrific blow.
But then, nothing. No new leads. No suspects. No Carl.
You have free articles remaining.
Keep reading for FREE!
Enjoy more articles by signing up or logging in. No credit card required.
"Investigators ran up against a blank wall at about that point," a reporter wrote 13 years later.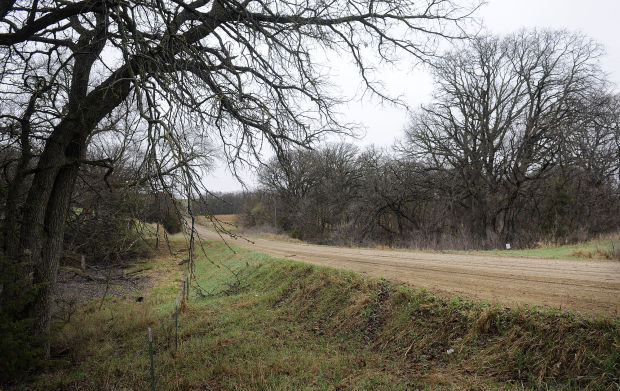 Scene of the crime? Based on news accounts and interviews with farmers, this is likely the stretch of rural road north of Crete where a child found blood, hair and scalp in December 1937. The FBI said the hair could have been Carl Christiansen's, but it couldn't say for sure. (ERIC GREGORY/Lincoln Journal Star)
'Still-hopeful mother'
Ruth held her hope for years. She hired a lawyer. She hired a private investigator. She didn't shield her sons from their father's disappearance.
"I haven't tried to keep anything from the boys," she said months after he disappeared. "It was hard to make them understand at first -- and I'm not sure they do yet."
The newspapers were kind to Ruth, catching up with her every few years. Reporters called her "a small pleasant woman with blue eyes and a touch of red in her hair."
They described the "heart-broken letters from Denmark" Carl's mother wrote, asking if they'd found her son.
They called Ruth "a still hopeful mother, who for 15 years has raised her two sons in the image of their father."
They let her make her case: "Carl was so fine, so clean, he never even smoked and he had no reason to leave. He wouldn't lose his mind as some people thought, for he was too alert."
And they let her make her plea: "I want the story of what happened -- one way or another."
But really, Ruth was keeping her husband's case alive. "For years," she wrote, "we caused the Lincoln Journal and Lincoln Star newspapers to print stories with Carl's picture."
The stories generated calls and tips that she'd forward to police. One stood out, a coarse voice. Get a pencil, he told her.
"Then he said, 'Put down car salesman, fisherman, lazy, drives an old Ford coupe, married, divorced, now married to a young woman. Fishing at a dam near Crete. Near these dams is where this happened to Carl. This is the last clue. He lives on Washington between 10th and 17th. I'll be watching the papers.'"
Like all the leads, though, any promise this tip held faded away, and it wouldn't get Ruth any closer to Carl.
But she was persistent. She wrote the Salvation Army's missing persons bureau in Chicago, asking for help.
"It has been hard to stand. If we could only hear something or find some clue. The uncertainty of whether Carl has been done away with is terrible."
She visited the rural road north of Crete and was dismayed to see it had been graded, any clues turned under. Her little boys poked in the dirt anyway, searching for their father's pocketknife.
"I stood on the bridge and a million thoughts raced through my mind," she wrote. "And I felt so close to Carl."
She met the young farmer near Seward, and was surprised to see a telephone in his family farmhouse. She challenged him: I thought you told Carl you didn't have a phone? The farmer explained it away; he hadn't wanted neighbors to hear his business on the party line.
Ruth's younger brother was a dentist who had worked on Carl's teeth. And for years, whenever an unidentified body was found in Nebraska or a neighboring state, he would get in his car and drive to inspect a dead stranger's mouth, trying to find answers for his sister.
Investigators were persistent, too. In 1939, Flake brought the co-inventor of the lie detector, Leonarde Keeler, from Chicago to Lincoln to question the young farmer.
The last person known to see Carl alive passed the polygraph twice, clearing his name, the newspapers reported.
Two cases haunted Flake, both from 1937: The June slaying of Boone County Sheriff Lawrence Smoyer and the December disappearance of Carl Christiansen.
He would leave his office for days to try to solve them. And he grew close to the Christiansen boys; his own son wasn't much older. He befriended them, bought them Christmas gifts, took them to movies.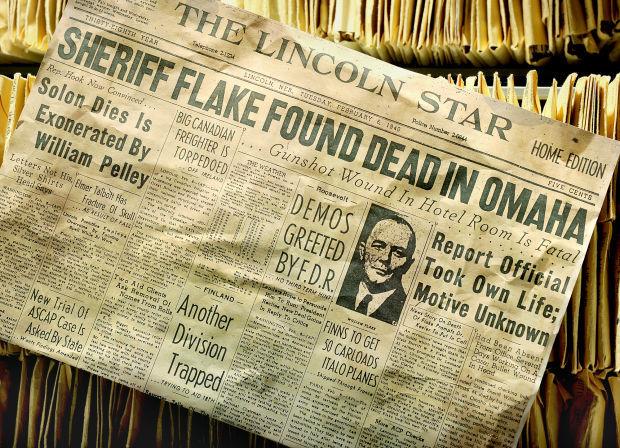 But on Feb. 5, 1940, the state sheriff was found dead in an Omaha hotel room. Investigators found the locked door, the signs of drinking, his .38-caliber snub nose, his powder-burned skin, and quickly concluded he had killed himself.
Still, there were questions. He didn't leave a note. He wasn't in debt. His job was stable. And he had checked into the Castle Hotel but was found at the Hill, in a room that had been rented by a Wayne implement dealer.
Newspapers would later hint the ruling was rushed, questionable -- even suggesting the specter of an assassin -- but they didn't elaborate.
In Lincoln, two women met, connected now by the loss of their husbands. Ruth asked Flake's widow: Had the sheriff been slain by the same men who killed Carl?
No, Flake's wife said. He had told her he was a failure. But Ruth was left with the impression Flake had learned more about the case than he could take, or he could tell, she wrote.
The new state sheriff met with Ruth, too. Lloyd Mengel was starting from scratch, he told her. All of Carl's case files were missing.
More than a decade later, the Saline County sheriff reopened the case.
John Tesar wasn't in office when the salesman disappeared, he told the Crete News in 1952, but his county had played a part in the case and the lawman intended to solve it.
A few weeks later, the Lincoln Star reported Tesar had made "hopeful developments," which he refused to reveal.
The Lincoln Journal went further, saying the sheriff was searching for anyone who remembered a poker game in Crete at about the time Carl vanished.
Then the stories ceased. Carl Christiansen's name would make the Lincoln newspapers again only in his sons' wedding announcements and stories of unsolved murders.
"Time marches on and everything about Carl's case stopped," Ruth wrote in 1961. "Now my boys are grown and wonderful men and respectable citizens … Carl would be proud of them and their families. They are exactly what he wanted them to be."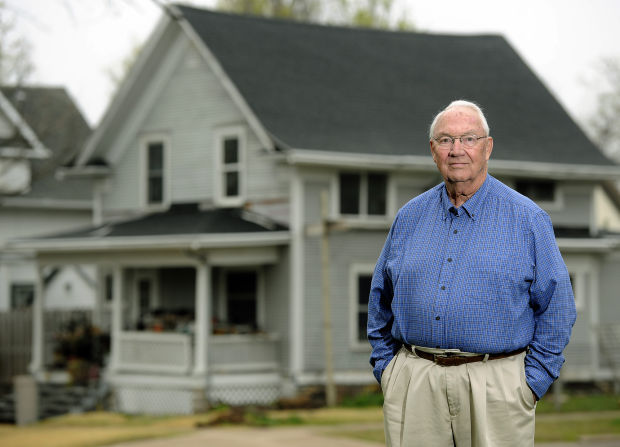 Allen Christiansen, 82, grew up in the two-story house behind him on North 30th Street. He remembers his father playing with him outside, and carrying his sons down the stairs for breakfast. And he remembers his mother having no choice but to move him and his brother to smaller, seedier homes after his father disappeared in 1937. (ERIC GREGORY/Lincoln Journal Star)
'Our last goodbye'
Carl Christiansen was declared legally dead in 1945. He has no grave, no marker, no obituary.
Ruth spent her last 36 years waiting for him. She died in 1973.
She's buried in Stromsburg. Of Carl, her obituary said: "Her husband disappeared … and no trace has ever been found of him."
The farmer also died years ago. As a young man, he had been questioned by police, confronted by Ruth, subjected to hours of polygraph testing.
But he didn't speak a word of it to his children, who were born a few years later and still live in the area. And who were surprised, interested and, ultimately, a little wary when they heard about this chapter in their father's life.
"Keep us posted if you learn anything," wrote his daughter, now in her mid-70s, "although not sure how much digging into this matter we want to do."
The places still exist, too. Something important happened here, something that forever interrupted the trajectory of a family.
The oil road, now paved, connecting Seward with Milford, where Carl was last seen. The county route where blood was spilled, the same trees that stood witness to whatever happened beneath them in 1937.
And the house on North 30th where, nearly 80 years ago, a father helped his boys write letters to Santa on his last night and carried them down to their final breakfast together.
One of those boys sits at his own table now, in a bright retirement apartment near Holmes Lake.
Allen Christiansen was 4 when Carl Christiansen vanished. He is 82 now.
When asked about his father, he talks about his mother, because he has so many more memories of her, and of what they went through together.
His father's disappearance thrust them into poverty, he said. They moved from their home on North 30th to what he called hovels, on South 31st, on H Street, on Q.
"My mother trained herself to be a seamstress, to work from home, and she literally wore herself out doing that."
The boys worked, too. As an 8-year-old, Allen delivered papers and swept up at Demma's market and collected dirty drive-in trays at the Mug, earning a nickel apiece.
He gave all of his money -- sometimes $200 a month -- to his family.
His mother had friends, and people who helped her, but never another man in her life.
"She devoted herself to trying to find Carl, her husband," he said.
His older brother, Dannie, went to Germany as a radar technician and returned to attend the university. He found a career as an accountant for George Abel's construction companies. He died in 2000.
Allen had worked for Abel, too, and for State Farm Mutual downtown. He helped manage Hillcrest Country Club and then helped run minor league ball teams; his signature was on Bob Gibson's first pro contract.
Then Allen's career in TV advertising took him and his wife, Norma, to Tennessee, where they lived for decades and raised their family.
They moved back to Lincoln three years ago. A daughter and her family followed. Carl Christiansen had been gone from Lincoln for nearly eight decades, but now three generations of his roots had returned.
Allen thought hard about whether to tell his father's story. He prayed about it. He called his pastor. So many people are gone now, unable to speak for themselves, and he didn't want their names smeared.
But he also didn't want his father forgotten. He knows it's unlikely the case will ever be solved, but at least people should know.
"Now I'm just looking forward that hopefully my wife and I will go to heaven," he said, "and we can be with my father again."
So much of what he knows of his father he learned from his mother, and from the collection of clippings, papers and photos that tell Carl's story.
Pictures of Carl with his violin, and with the car he raced around dirt tracks. The receipt for his passage across the Atlantic in 1920, $72.50. An extra swath of brown fabric from the suit he wore when he disappeared.
And, most importantly, Ruth's long letter. She wrote it in longhand in 1961. When Allen typed it up, it filled 15 pages, single-spaced.
She told Carl's story in detail. She listed those who helped, those who hampered. She wrote of her hope and her despair.
She called it "Our Last Goodbye."
At the end, she wrote: "Someone knows, I'm sure."
But the story wasn't finished, even after she wrote her last word.