It didn't matter if it was raining, snowing or sleeting. Randy Gibson wore the same thing everyday: a pair of shorts and a worn pair of black Birkenstocks.
When his wife, Christy, tried to convince him to toss out the shoes so worn there were nearly holes through the soles, he told her he didn't need new shoes -- their money could be better spent on the kids or things for the bikes.
Selfless, generous and unconditionally loving -- all words used by friends, family and members of Lincoln's biking community Sunday afternoon to describe Randy.
Authorities said the 52-year-old was struck and killed by a drunk driver while riding his bike last Saturday just south of Lincoln.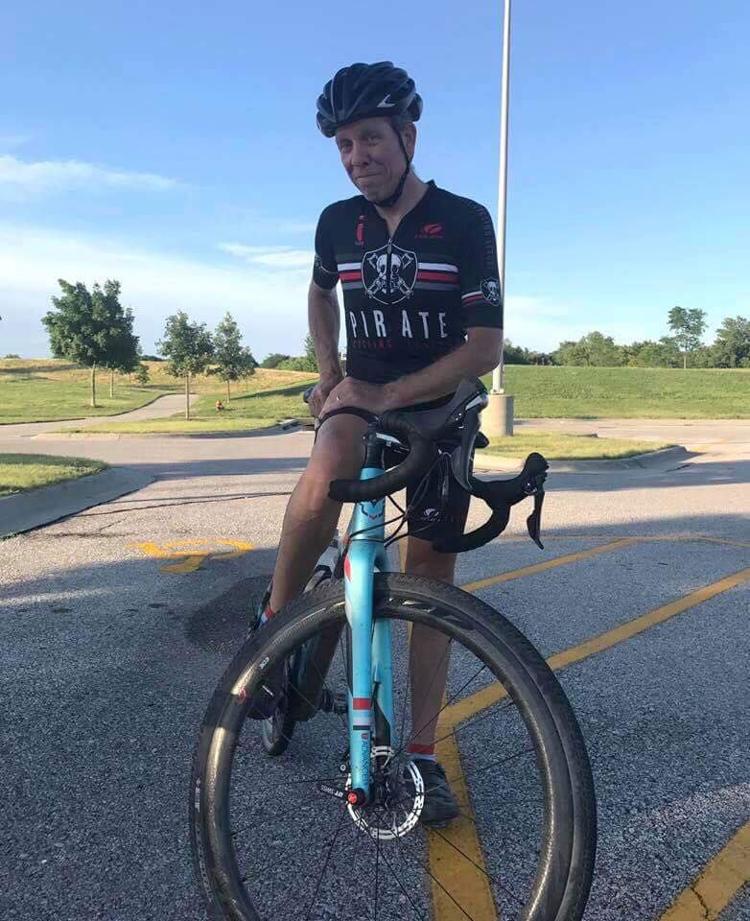 To celebrate his memory, hundreds met Sunday morning at the Hub Cafe to ride around Lincoln and later share memories.
Childhood friend David Cech remembers meeting up at Sheridan Elementary every morning with a group of kids who liked to bike and befriending Randy when he was 12.
With the help of his dad, Bob Gibson, Randy became a talented cyclist and BMX rider. He was inducted into Nebraska's BMX Hall of Fame in 2010.
As he and David got older, graduating high school and then the University of Nebraska-Lincoln, they kept biking.
He remembers the ride they went on the day after Randy met his future wife.
"You always want your friends to find someone special, find their soulmate, and I think from that day I knew it was meant to be," David said. "He just couldn't stop talking about her."
In the early 1990s, Randy and Christy moved to Tucson, Arizona, where he successfully pursued his dream of becoming a professional cyclist for nearly a decade.
The wheels didn't stop spinning when the family moved back to Nebraska, though. Everyday, he biked nearly 20 miles from his home to his job at Aradius Group, formerly the Minnow Project, as Creative Services Director. Afterward, he'd bike to the Southeast Community College campus, where he was an adjunct professor.
You have free articles remaining.
Dozens of his students showed up Sunday to honor the man that changed their lives by his ability to inspire and teach lessons that went beyond the classroom.
He was like a dad, he was a role model, he was a mentor, several students repeated between tears.
Although Randy was passionate about his job and cycling, nothing could compare to his love for his family.
His 16-year-old son, Russ, learned his love of biking from his dad and is active within the Lincoln cycling community. 
His 20-year-old-daughter, Sofia, remembers how her dad was always there for her. He showed up to every single sporting event and would cheer on not only her, but her teammates. 
It's sad, she said, that she's going to miss out on sharing major life moments with her dad -- he won't be there to walk her down the aisle or meet her children someday.
"He was the most involved dad ever and he's going to be even more involved now watching down on us," Sofia said. "He's gone, but he's still here."
Christy said she's thankful for the overwhelming support since Randy's death.
She struggles with chronic pain caused by late stage lyme disease that has left her disabled. Randy was her caregiver, she said.
"He was the center of our world," Christy said. "Before anything he was my best friend, husband of 27 years, caregiver, lover, he was everything to me."
Randy helped her to battle the disease by cycling. They started slowly and Christy eventually worked up to competing in the gravel races that Randy and members of the Pirate Cycling League created. 
The ride on Sunday was the best way to celebrate Randy's life, she said, by gathering the people he loved and doing the thing he loved most.
"His bible was his bike, the road was his church," longtime friend and colleague Marty Hager said. "And if you ever got the chance to worship with him, you'd come away feeling closer to your God."