Lillie Bowman, a Norris alumnus and English teacher at the high school about 15 miles south of Lincoln, was charged Monday with first-degree sexual abuse by a school employee — a class 2 felony punishable by up to 20 years in prison.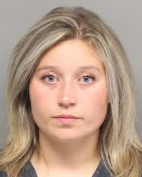 The charge comes a week after trap team parents reported the coach's relationship with a student athlete to the sheriff's office May 14, according to court records and Chief Deputy Sheriff Ben Houchin.
Days after fielding the report, deputies on Friday interviewed the student athlete, who told authorities he had been in a dating relationship with Bowman since March, Deputy Joanna Dimas said in the probable cause statement for the 23-year-old's arrest.
Deputies arrested Bowman on school grounds the same day.
Investigators believe she had sexually abused the student on roughly 10 separate occasions over the last two months, Dimas said in the probable cause statement.
Bowman, who was taken to the Lancaster County jail upon her arrest Friday, was in her first year teaching at Norris following her graduation from Doane University in May 2022.
She competed as a trap shooter in both high school and college and had been an assistant coach for Norris' trap team prior to her arrest, according to the district's website.
In an emailed statement, Norris School District Superintendent Brian Maschmann said deputies informed the district Friday morning a teacher had been arrested.
Maschmann said Bowman, who he did not name in the statement, "was immediately removed from" her classroom and "will not return." He said the district will work to assist the sheriff's office in its investigation.
"At this time, the district wishes to reaffirm to its students, parents and community members that student safety remains, without question, our highest priority," Maschmann said.
Houchin said Friday marked the sheriff's office's first notification to Norris officials that they were investigating Bowman's relationship with the student.
At her initial court appearance Monday afternoon, which Bowman attended via Zoom from a Lancaster County jail cell, prosecutors told Judge Thomas Zimmerman that the 23-year-old made attempts to "cover up" her relationship with the student.
The state asked Zimmerman to set Bowman's percentage bond at $100,000, but her Omaha-based attorney, Michael J. Wilson, argued for a lower amount, noting that Bowman has no criminal history, had been working toward a master's degree and volunteered at her church growing up.
Wilson called the prosecutor's bond request "a little high" given Bowman "poses no threat" to the community.
Zimmerman ultimately agreed, setting her percentage bond at $50,000 and ordering her to have no contact with the student — or anyone under the age of 19.
Bowman must pay $5,000 to be released from jail.