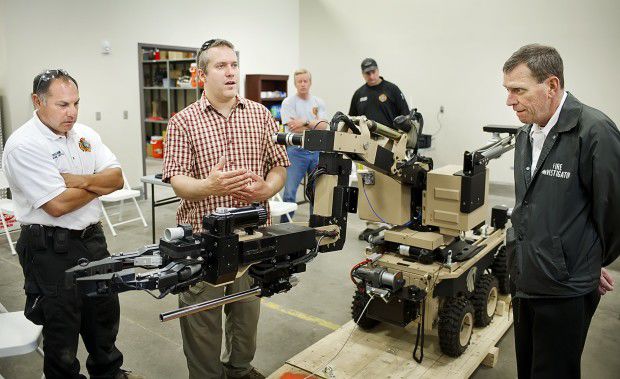 About a dozen volumes of fire code line the shelf by Lincoln Fire Inspector Bob Fiedler's desk.
The 47-year fire service veteran, who retired Wednesday, knew them inside-out, back-to- front, and his peers in the Lincoln Fire Prevention Bureau considered him a "walking encyclopedia."
"He goes to design meetings — with architects, engineers, builders, all kinds of professionals — and he doesn't even carry a code book with him anymore," said Chief Fire Inspector Bill Moody. "He knows it that well."
Moody praised the 68-year-old as a phenomenal problem-solver, capable of creatively addressing design challenges for buildings and ensuring they complied with fire safety code.
Ninety percent of the job was spent ensuring plans for buildings fit the fire code, and the remaining chunk of time was spent inspecting those buildings as well as investigating fires, he said.
Fiedler spent the last 32 years as a fire inspector and investigator after starting as a firefighter with the city in 1972.
While the hundreds of fire investigations he conducted blur together, he won't soon forget the coldest fire he fought.
You have free articles remaining.
The original Misty's in Havelock had caught fire. Temperatures were well below zero, and Fiedler was on an aerial ladder fighting the blaze with a hose that had a leaky nozzle.
"It took me a week to thaw out," Fiedler said.
He joined Lincoln Fire and Rescue in part because he liked the one-day-on, one-day-off schedule.
After 15 years, he joined the Fire Prevention Bureau, partly because he wanted a more typical 40-hour-a-week job.
In the 1990s, Fiedler's work as a bomb technician for the city required him to wear a protective suit, but still use his bare hands.
He handled a real pipe bomb that way in the 1990s, he said. In the last 10 years, fire investigators have used robots to inspect and render explosive devices safe.
Fiedler has no immediate plans for his retirement, but he pointed out he's been working since he had a paper route at age 12.
As a fire call came out on the scanner Wednesday, Fiedler turned to Moody during his retirement party and cracked a joke.
"Do I have to take that one?"