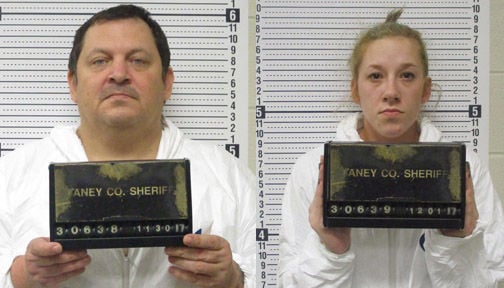 WILBER — The three women had similar stories. All in their 20s and drawn in after matching with Bailey Boswell on Tinder, though she went by other names on the app, like Kelsie and Jenna.
Aubrey Trail — the man now on trial for first-degree murder of Sydney Loofe, a 24-year-old Lincoln woman — came into the picture soon after, sometimes at their initial meetings with Boswell.
He'd give them allowances and pay for shopping and dinner or trips to the salon.
Trail and Boswell were a package deal. Sex came first, then talk of torture and killing, the women described in testimony Tuesday.
The three — A.H., A.G. and K.B. — took the stand one at a time to testify about the months and days leading up to and following Loofe's disappearance after she went on her own date with Boswell.
Before the trial began, Saline County District Judge Vicky Johnson issued an order barring media from recording video or audio of the women's testimony for privacy reasons. But Tuesday, from the bench, she told the media for the first time not to publish their names.
A.H. spoke of Boswell having a "kill bag," a hammer and pliers inside, and joyfully talking about wanting to pull off people's fingernails and cut off their eyelids as she tortured them.
Boswell got off on seeing people in pain, A.H. said.
"We've got the sex, we've got witches, we've got a vampire, and then we start talking about torture and killing people, and this is exciting to you, too?" Trail's attorney, Ben Murray, asked her.
A.H. said Trail had talked about breathing in someone's last breath, something he'd said he'd never done, but Boswell had.
"If I told you this came straight from a Stephen King book would you believe it?" Murray asked her.
It's called feeding on steam, from "Doctor Sleep," he said.
A.H. admitted she was OK with killing someone, even excited about the idea, and actually wanted to kill a woman she'd seen at a Walmart in Beatrice, who had met Boswell on Tinder, too.
"So you wanted all this stuff, the torture, the killing, the breathing in the steam?" Murray asked A.H.
But in the end, when she was supposed to kill another girl in the group (A.G.), she didn't want to do it. She didn't want to steal for Trail and Boswell, either, she said.
While A.H. said she believed what they said about special powers and flying and reading minds, the other two women were more skeptical. A.G., who since has moved out of state, said she didn't believe it when Trail claimed to be a vampire and showed her how he could hypnotize Boswell, who she knew as Jenna.
When they talked about witchcraft or killing, she said she didn't respond, she just listened. A.G. said Boswell told her there was a lot faster way to get more money "that involved murder and stuff like that."
"It wasn't stuff I was comfortable with," she said.
A.G. said she didn't see them do anything like that, but Boswell and Trail talked about having to kill for sacrifices.
"They were talking more and more about killing someone," A.G. said.
And she believed that part of their story might be true.
A.G. said she was supposed to do a cocaine run with Boswell and Trail on Nov. 18, 2017, in exchange for $15,000. When she didn't hear from them, she was OK with it. She'd been trying to distance herself from them but wanted to keep things on good terms. She said they'd hinted it would be easy to target her.
She said she brought them an apple cake at her last visit, which at first she said was Nov. 16, the day Loofe's remains were dismembered and dumped in rural Clay County. She later said she was mixed up on dates. It must have been a couple of weeks sooner.
"So you weren't involved in the killing or dismembering of Sydney Loofe?" State Assistant Attorney General Mike Guinan asked her.
K.B. said Trail had told her if she ever stole from him he'd kill her and her whole family. It scared her, but she didn't think much of it at the time, she said. People say stupid things.
She said she was in a dominant-submissive relationship with Boswell and sometimes wore a pink collar and leash Boswell bought her. She said Boswell got off on talk of torture and once asked her if she would kill for her. K.B. said she told her no.
When Boswell and Trail picked her up Nov. 17, 2017, to go to a casino in Council Bluffs, Iowa, they seemed quieter, tense even. She said she agreed to go to Grand Island with them, on a cocaine run that would mean $25,000 for her.
But by Nov. 21, 2017, Trail hadn't found the drugs, which he said were supposed to be dropped from a plane, so they decided to go to Kearney. Boswell wanted to find someone to torture and kill, K.B. said.
It was Thanksgiving break and Boswell and Trail figured it would be easier to find someone who wouldn't be missed, she said. They checked into a hotel there Nov. 22, but then K.B. got a voicemail from a Lincoln police officer on her cellphone.
"I was for the first time super scared and showed it," she said.
The three left town right away. When K.B. found out she had been reported missing in Omaha, she called to say she was fine. She went home the next day.
When Murray asked her if she had any idea how that pink leash ended up at the scene where Loofe's body was found, she said she didn't know.
"Is it possible that you helped dispose of a body?" he asked K.B.
"I don't know," she answered.
There were chunks of a day later in the week of Loofe's disappearance that she can't remember. Until meeting with prosecutors recently, K.B. said, she thought she might have been there and repressed the memory.
Trail says Loofe's death was an accident. The state alleges it was murder. It's seeking the death penalty.
Trail hasn't been in the courtroom since June 24, when he said Boswell was innocent and slashed at his throat with a sharp object.
Boswell faces trial on murder charges later this year.
Sign up for our Crime & Courts newsletter
Get the latest in local public safety news with this weekly email.