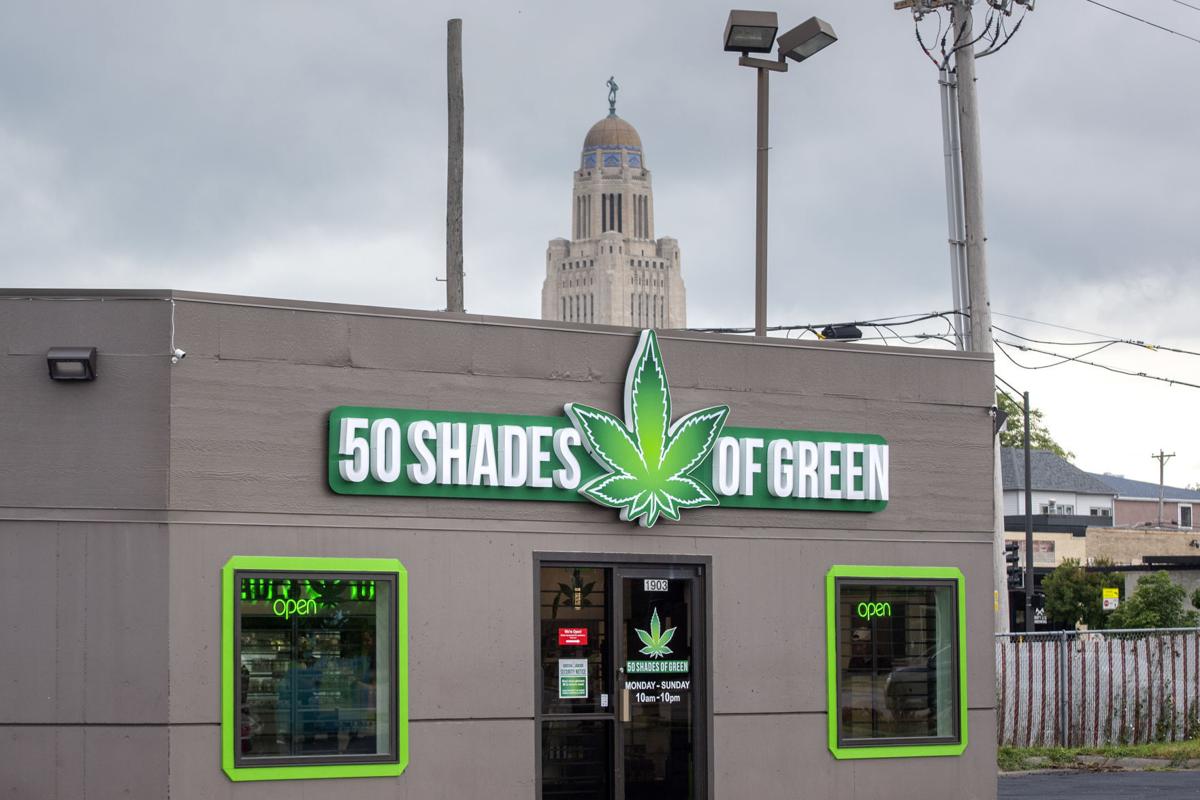 When an Omaha-based CBD dispensary that sells Delta-8 products set up shop in Lincoln last month and sent out ads to city residents, Lincoln police were flooded with inquiries from citizens confused and concerned about the newly marketed commodity. 
Delta 8 — a hemp-derived cannabinoid that has similar but lesser effects of its cousin Delta-9 THC, found in marijuana — had already been on the market in Lincoln, quietly sold in CBD shops around the city. 
But the arrival of 50 Shades of Green, the new dispensary near Antelope Valley Parkway and O Street, ushered the product into the public's consciousness. A story detailing Delta 8's availability in Lincoln appeared on the front page of the Journal Star on Friday. 
The product, though, is not much on the mind of the Lincoln-Lancaster County Narcotics Task Force, said LPD Capt. Ryan Dale, who leads the unit. 
It is legal to sell, buy, possess and use Delta 8 in Lincoln, Dale said. A 2019 bill made hemp — which the new cannabinoid is derived from — legal to plant, cultivate and market in the state.
There's nothing Lincoln police could crack down on, even if they wanted to. 
"I don't know that I would characterize it as an issue," Dale told reporters Friday morning at an informational briefing the department hosted in response to an influx of inquires about Delta 8. 
Dale said the questions flooding the department have largely come from residents who have been "alarmed" after driving by the O Street dispensary, wondering if and how 50 Shades of Green's operations are legal. 
"To my knowledge, they're not doing anything illegal," he said.
The captain said the narcotics unit had made contact with the business, as it does with every CBD shop in Lincoln, to develop a line of communication with the store if operators ever have questions about the legality of products.
A company spokesperson told the Journal Star its products, like Delta 8 gummies, are in accordance with state law and have been tested by outside labs. The spokesperson said the public's response to the branch's opening "has been amazing."
For Lincoln Police, the only challenge surrounding the new product seems to be how to differentiate between Delta 8 and marijuana, which remains illegal in Nebraska. The new product looks and smells like Delta 9-infused drugs. As of now, the only way to tell the difference, Dale said, is to have the substance tested in a lab.
The similarities may prove problematic at traffic stops, where officers might confuse Delta 8 with its illegal counterpart, causing a headache for motorists who aren't breaking the law.
In that instance, Dale said, the substance could be seized and would be lab-tested before police issue any citation for possession of marijuana, which is an infraction in Lincoln when less than an ounce is discovered.
"There's no legal requirement for how you carry the Delta-8 products, but I would recommend that people keep them in their original packaging and then maybe even keep the receipt with it," Dale said. "That way if they do have an interaction with an officer, it might speed up that interaction and help clear up any questions about it."
Dale said substances won't be seized "if all signs point toward it being Delta 8." And he acknowledged that residents could simply store marijuana in store-bought Delta 8 packaging in an attempt to conceal it.
"People will think of all sorts of creative ways to try and skirt the law," he said.
It's unclear what effect the product could have on traffic stops, where police officers in Lincoln and elsewhere have long used the smell of marijuana as probable cause to search a car without a warrant. Dale said he doesn't see that practice going away, but "laws are constantly changing so I don't know if that could change down the road."
Dale said that officers in Lincoln have not yet encountered Delta 8 on the streets.
At least 12 states have banned the product, while 19 states have legalized recreational marijuana use altogether.
Reach the writer at 402-473-7223 or awegley@journalstar.com.
On Twitter @andrewwegley
Reporter Zach Hammack contributed to this article.