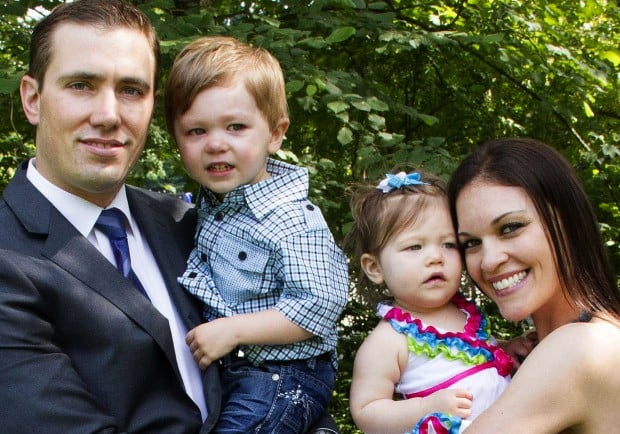 He remembers nothing about his victims -- not the surprise in their eyes, or the fear when he raised his rifle and told them all to get down, that this was a robbery.
But the moments just before are vivid.
"When we walked in, everything in my body was telling me to get out of there."
And he still can see himself, just afterward: Shon Hopwood, basketball standout, son of a solid David City family, Navy vet, sitting with a high school friend in an old grain truck -- their getaway car, perfect camo for Nebraska's rural roads -- counting the thousands they'd just stolen from a Boone County bank.
The friend ended it there, taking his $25,000 and returning to college, majoring in criminal justice.
Hopwood didn't. He enlisted friends, his brother, his brother's friends -- targeting banks in Hallam, Gresham, Pilger and Peru, returning to Lincoln to pour the money into partying.
Then he was caught, convicted and sentenced to a dozen years in federal prison.
Then he traded his kitchen job for a post in the prison's law library.
Then he sat down at a typewriter and drafted a brief for another prisoner, a Lincoln used car dealer behind bars on a meth charge.
The Petersburg State Bank -- the first bank Shon Hopwood robbed.
And then Shon Hopwood hit the equivalent of the legal world's lottery.
He could have looked at his friend, laughed it off and ordered another beer.
But he could tell his friend wasn't joking.
They were sitting at a David City bar in the spring of 1997.
"And he threw out the idea. That's how it started."
Rob a bank? Why not? Hopwood didn't have anything else going on at the time.
He hadn't been a troublemaker growing up, just a below-average, disinterested student from a good family. His father managed the Grass Valley Farms feedlot west of town, umpired baseball, coached basketball and was active in his church.
Shon, the oldest of five, played guard on his high school basketball team, making it to the state tournament in Lincoln his junior year. He was good enough to get a scholarship from Midland in Fremont, but he cut so many classes he was kicked out of school in the spring term.
He spent two years in the Navy, assigned to a Stinger missile detachment in Bahrain. The drinking age there: 18. He was 19.
"We partied so much, I ended up in critical condition."
His pancreas and kidneys were shutting down. He spent a week in the hospital.
"They thought I was going to die."
He wasn't doing much better when he returned to Nebraska. He was depressed, drinking, doing drugs. His "downward spiral," he called it.
And he was back home, shoveling manure for a farmer near David City, when his friend first asked him to get a beer, and then asked him to rob a bank.
Years later, he would write: "For the first time in a long time, we were excited about the future."
They found what they were looking for in Petersburg: Small town, not on a major highway, no local cops.
On Aug. 19, 1997, dressed as construction workers -- coveralls, hard hats, boots -- they pulled up to the Petersburg State Bank in a stolen Chrysler. Hopwood entered first, dropping a toolbox on the ground to get attention, pulling out a gun to keep it.
They were out in minutes, stashing the stolen car at an abandoned farm, where they'd hidden the grain truck.
When his friend went back to school, Hopwood got help from a half-dozen others to hit four more banks.
"For all the people involved, it was really the first time they'd committed a major sort of crime, other than drink and do the stupid things kids do in rural Nebraska."
The spree ended a year later, not long after they hit the bank in Pilger. A teen accomplice -- a friend of Hopwood's brother -- was picked up for something minor but was carrying too much cash.
Their secret already had started to unravel. Hopwood had left a palm print on a getaway car. And when another stolen car ran out of gas, he'd asked a farm couple for a gallon to make it to the next town, telling them he was from David City.
FBI agents tackled Hopwood in the lobby of an Omaha hotel on July 2, 1998.
And that was the end of Shon Hopwood's criminal career: Five banks, roughly $200,000, six accomplices.
Nobody was hurt in the robberies, but Hopwood's actions -- brandishing guns, ordering employees onto the floor or into the vault -- left its toll, the judge said.
"They scared the hell out of these tellers. And these boys' families have just been torn apart."
Hopwood had sobered up by the time of his sentencing. He cried. He had no excuse, he said; he came from a loving family that had raised him right.
The judge said he hoped Hopwood had learned a lesson.
He added: "We'll know in about 13 years."
In 2002, the U.S. Supreme Court received 7,200 petitions for certiorari -- asking it to review a lower court's decision -- from prisoners and others unable to pay filing fees.
One of those had John Fellers' name on it, but it had Hopwood's fingerprints all over it.
Fellers was running Sunset Motors on West O Street in February 2000, when a federal grand jury indicted him for conspiracy to distribute meth.
A police officer and a deputy found him at home, barefoot, sipping tea on his couch. Fellers knew one of the officers -- they'd volunteered together -- so he invited them into his living room, where he spoke openly about his drug use, business problems and the breakup of his marriage.
They didn't read him his Miranda rights -- including his right to remain silent, and his right to an attorney -- until later, after they arrested him. At the jail, Fellers waived those rights and repeated what he had told the officers in his home.
John Fellers and Shon Hopwood from their time together in federal prison.
He ended up pleading not guilty and trying to get his statements suppressed: the first because he had not yet been read his rights, the second because it was the fruit of his first statement.
But he was found guilty, sentenced to a dozen years in prison, and he ended up in Illinois, where he became friends with another Nebraskan.
By early 2000, Hopwood was tired of cleaning cafeteria tables at the federal prison in Pekin, Ill. A friend got him transferred to the law library.
"I didn't have any interest in the law. I didn't know a single right in the Bill of Rights. I was clueless."
When Fellers asked him for help two years later, Hopwood already had written a few briefs for other prisoners. But he had never filed anything with the U.S. Supreme Court.
Hopwood read the court's rules. He read briefs by other prisoners.
He dove deep into his friend's case; Fellers' first appeal had been rejected, and this was his last shot.
"It took me a while to figure out the solution. A month of researching every single day before I was able to figure it out."
His argument, simplified: Fellers' Sixth Amendment right to an attorney was violated when the officers talked to him after he was indicted. The indictment had triggered the court proceedings. The case was live, and Fellers had a right to a lawyer.
"It is clear that once a defendant is indicted, the government may not deliberately elicit information from him without the presence of counsel," Hopwood wrote in his 24-page request.
Fellers had transferred to another prison when he heard the news: The court had agreed to hear the case.
"The chances of them going ahead and granting it are like winning the lottery. When I heard it, I was in a daze all day. I couldn't believe it."
Said Hopwood: "It's one of those moments -- like when you have kids -- that you know things are going to be different."
Fellers was bombarded by lawyers from across the country, all wanting to argue his case before the Supreme Court.
His former lawyer in Lincoln recommended he talk to Seth Waxman, who had been U.S. solicitor general under President Clinton.
Waxman is a Harvard grad. Yale law. A regular on the best lawyers and litigators lists. He has argued more than 50 cases before the Supreme Court. And he was impressed with what came out of a bank robber's prison typewriter.
"It was remarkable, a very well-crafted petition. I told Fellers that I'd agree to represent him pro bono if we could figure out a way to include on his team this Hopwood guy."
That was fine with Fellers.
"I trusted Shon; I didn't always trust attorneys."
They collaborated long-distance; the D.C. firm mailing drafts of briefs, Hopwood scribbling in the margins and mailing them back.
They nailed it. In January 2004, the Supreme Court justices ruled unanimously in their favor.
Today, Fellers is fixing and selling cars on Cornhusker Highway; he spent a recent morning sanding the quarter-panel of a Suburban while giving a lesson on the Sixth Amendment.
He worked in the law library, too, and he can cite case law. But he has nothing but respect for Hopwood.
"He has a mind … the way he could put words together is just as good as any attorney. He's really a sharp kid."
After the favorable Supreme Court ruling, the appeals court still upheld Fellers' conviction. But it knocked four years off his 12-year sentence. Good time and a drug rehab program shortened it by another two.
He was home in time to watch his daughter grow up.
And he was so grateful to Hopwood that he gave him the keys to a sleek, black Mercedes when his friend returned to Nebraska, a free man, in 2008.
The jailhouse lawyer followed the Fellers case with another successful petition to the Supreme Court. He filed briefs in lower courts, too, shortening the sentences of other inmates by as much as 10 years.
John Fellers was so grateful for the legal help from Shon Hopwood he gave his friend a Mercedes Benz. Fellers now owns Fellers Auto Plex on Cornhusker Highway.
Hopwood's time in prison was softened by support from home. He received unsolicited letters from the town doctor, for instance, and from others -- including the woman who would become his wife.
"It's one of those small-town Nebraska things. Very nice people, very forgiving. They could have shunned me and my family. That's not what they did."
Although, in 1999, someone added a line to the Welcome to David City billboard: "Home of the Hopwood Crime Family."
Someone else quietly replaced the sign.
After nearly 11 years in prison, he moved into a Council Bluffs, Iowa, halfway house. He found paralegal work at Corkle Printing, which produces Supreme Court briefs.
His references helped the bank robber land the job.
The former solicitor general? Really?
"You don't get through to Seth Waxman," his boss at Corkle told the New York Times later. But Waxman answered when she called, and vouched for his one-time, long-distance legal partner.
He remembers nothing about his victims, but they remember him.
"The end of the barrel looked like it was a foot across when it's two feet from your face. It looks pretty terrifying."
Allen Thorberg was the cashier at Petersburg State Bank nearly 15 years ago, when Hopwood and his friend burst through the doors. As the ranking employee, he was responsible for the other staffers and the couple of customers. And he was scared.
"It happened so fast you don't have a lot of time to have a lot of emotions. You're certainly scared; you're wondering what's going to happen when you have a gun pointed at you."
Now the bank's senior vice president, he remembers all of them being ordered onto the ground, and then into the vault. They were locked inside 15 to 20 minutes before another employee let them out.
Hopwood caught heat a couple of years ago, after the New York Times and the Omaha World-Herald chronicled his accomplishments as a jailhouse lawyer.
He was criticized, in part, for not apologizing to his victims.
So he tried, calling those he could find, including Thorberg.
The call didn't last long. Thorberg told him he couldn't forgive him yet; it would take more time.
"I didn't say what I should have. I should have probably chewed him out and screamed."
Fifteen years after pulling up outside Petersburg State Bank, Shon Hopwood is a law student -- a Gates Scholar at the University of Washington, a full-ride scholarship for students committed to public interest law.
"I want to litigate cases for people who can't afford good lawyers, whether that's criminal, immigration or civil, I don't know," he said. "I've been given so many second chances that not only is that work that interests me, I think that's where I need to go."
He's working for a federal judge, John Coughenour, who was appointed more than 30 years ago by President Ronald Reagan. Hopwood does legal research, drafts bench memos for the judge and brings a unique perspective to the courtroom.
Released this week, Shon Hopwood's book, "Law Man," chronicles his crime, his time and his success as a jailhouse lawyer.
Credibility. He did time, and criminal defendants can relate.
"He can talk to them straight from the shoulder in ways that someone who graduated from Princeton or Yale -- and never had a difficult day in their life -- can't," Coughenour said. "Sometimes they have difficulty relating to somebody who's had a rockier road."
Hopwood is a husband and father of two. Ann Marie Metzner was a year younger and had gone to Aquinas, the Catholic school in David City, but he knew who she was.
"She was the prettiest girl in town. Everybody knew who she was."
She started writing to him when he was in prison. At their wedding, Fellers and Hopwood's friend from the first robbery -- now out of prison himself -- stood beside him.
He's an author. Crown Publishing releases "Law Man" this week, and Hopwood will be in Nebraska for book signings in Omaha and David City. In it, he writes extensively about his time in prison, and after, and his wife's struggle with anorexia. There's been very early talk of a movie.
He's not proud of what he did. He's incredibly ashamed, he said, and always will be.
But he recognizes how it changed his life -- and made so much of this possible.
"It's come with some benefits. No doubt about that. But most of the benefits have nothing to do with robbing banks. It's what happened after."