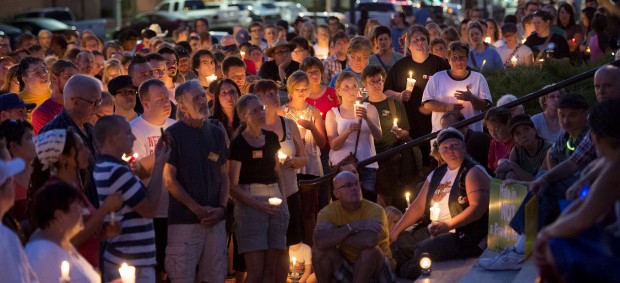 They came together on short notice -- hundreds of strangers, gay and straight -- spilling from the Capitol steps in a moving, candle-lit show of support for a woman they didn't know.
Hundreds more met three nights later to sing, cry, pray and try to prove there is no room in Lincoln for hate or for hate crimes.
But if it happened again, would they gather, even if the victim in this case might have made up her brutal attack?
Would they give their time, their money and their trust?
They should, supporters say.
They should keep rallying and take hate crimes seriously and not be afraid to report them -- because bad things are happening to gay people in Lincoln.
"We should be able to gather for everyone else," said Beth Loofe, who came out as gay more than 20 years ago. "It shouldn't disintegrate the support, it should remain and grow and be substantial. It should be there for everyone."
The fast and broad show of support after the alleged attack on Charlie Rogers had a galvanizing effect on the city's gay community, and beyond. Her arrest Tuesday shouldn't change that, supporters say.
The city's major gay advocacy groups issued a statement Tuesday, praising police and urging the public: Don't focus on the actions of one person.
"As residents of Lincoln, we must continue to bring our community together to declare that violence and hate are not the values of our city. We have come together to say that we will care for those in need."
And there are many in need, supporters say.
"Even if she did it, we still live in a culture of homophobia. We need to hold her in our prayers," said the Rev. Nancy Erickson, associate pastor at First-Plymouth Congregational Church, which hosted a vigil after Rogers reported the attack July 22.
Gay people in Lincoln will continue to live in fear, based on their own experiences and those of their friends. That anxiety can reach into all areas of their lives, she said: their personal safety, their employment, their ability to find housing.
"Even some churches, I'm sure."
Advocates also fear the attention surrounding the reported attack and Rogers' arrest will have a chilling effect on hate crime victims, making them even more reluctant to call police.
"It's very important for police and the general public not to be so jaded and cynical that they doubt crime victims," said Public Safety Director Tom Casady. "These kinds of cases are the rare exception."
In the past five years, Lincoln police have investigated 34 anti-gay crimes. But the real number could be higher: Crime in general is underreported by about 50 percent, Casady said, and he suspects even fewer hate crimes reach police.
"I can think in my mind of scenarios where people might not report a crime because of their sexual orientation, because they don't want anyone to know their sexual orientation."
Loofe, who lives in Lincoln but is a chaplain at Inclusive Life church in Omaha, attended the vigil at First-Plymouth three days after Rogers reported her attack. She was a teenager when she came out, at a vigil for a gay man who had been shot. That was before hate crimes were called hate crimes.
It's important for victims to keep coming forward, she said.
"Sometimes people think it's easier to not deal with it because there's too much trouble or there's too much stigma. Until that sort of feeling goes away, it's not going to get any better."