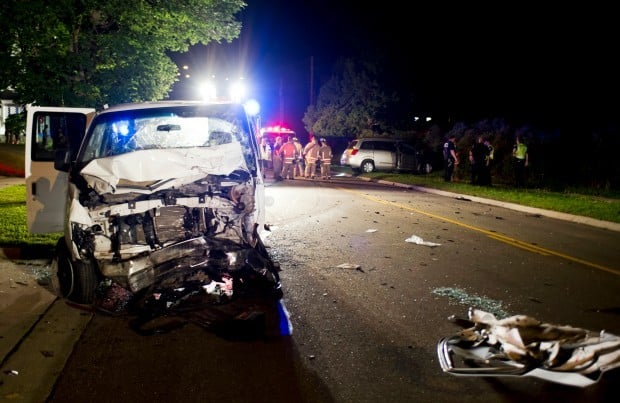 A work release inmate with two DUI convictions was driving a state van with the OK from prison officials Tuesday night when he crashed with a minivan, killing a nurse's assistant who was two blocks from home.
Jeremy Dobbe, 35, was driving the 2011 Ford Econoline east on Van Dorn Street "at a high rate of speed" at about 10:30 p.m. when he went into oncoming traffic and hit a 2004 silver Nissan Quest nearly head on, Lincoln Police Officer Katie Flood said Wednesday.
Joyce R. Meeks, 47, died at the scene. Rescue crews took Dobbe to Bryan West Campus with injuries that did not appear to be life-threatening, police Capt. Michon Morrow said.
A hospital spokeswoman said she had no information on him Wednesday afternoon.
"We are saddened by this tragic loss of life and express our deepest sympathies to Ms. Meeks' family," state Department of Correctional Services Deputy Director Frank Hopkins said in a news release Wednesday.
Prison officials confirmed in the release that Dobbe was driving the van but refused to answer more questions about the accident or department policy on work release inmates.
Meeks was driving home to 18th and Pawnee streets after a shift at Tabitha Health Care, where she helped injured and elderly patients with physical therapy, said her husband, Leonard Meeks.
"She was the greatest person on Earth," said her son, Martell Buchanan, 29. "She was just a special person who was well-loved by everybody."
Just before the Tuesday night crash, George Weaver Jr. of Lincoln was driving west on Van Dorn when he saw a van swerving and speeding toward him.
"The way he was driving, it was like he was drunk," Weaver said.
Flood said results of a blood test on Dobbe won't be available for a few days.
Weaver said he whipped into a driveway to get out of the van's way, heard a crash, looked back and saw the wreckage directly behind his truck.
Police got at least three calls about the white van speeding and running red lights, Morrow said.
Dobbe is serving five to seven years for selling meth, threatening people and making criminal mischief, according to state prison records.
He was at the work release center in Lincoln and eligible for parole in October, records indicate. Before the Tuesday night accident, corrections officials projected they would release him on parole in October 2014.
Martell Buchanan said his mother grew up and lived most of her life in Chicago. In 2000, she moved him and his brother and sister — all adults now — to a simpler, safer life in Lincoln.
"She got us out of the ghetto by herself. She just gave us a better life," Joyce Meek's son said, reeling off the number of homicides in Chicago like his phone number.
His hometown had 628 killings the year his mom moved them to Lincoln, which had three that year, according to FBI statistics.
You have free articles remaining.
Now, Buchanan wants to know why his mom died.
Beyond confirming an inmate was driving the van that killed Meeks, Corrections Department spokeswoman Dawn-Renee Smith gave no answers.
She didn't return several calls and emails requesting department policy on inmates who work outside prison walls. Nor would she give details of Dobbe's whereabouts Tuesday night except to say in the original statement that he was an inmate van driver for the Community Corrections Center.
She did not say who cleared him for that job or whether his driving record had been checked.
"I understand your need for details, but I don't have answers to some of your questions at this time and others fall under the purview of the investigation," Smith said in an email seeking response.
"Since the late 1980s," she said in the original news release, "NDCS community corrections centers have utilized inmate van drivers to transport inmates to and from multiple work detail positions and to provide return transportation for inmates on work release when city buses are not operational."
State lawmakers started the work release program in 1967, and Dobbe was one of 359 inmates at the Lincoln center at the end of May, according to prison records.
He has several DUI and reckless driving convictions, state Department of Motor Vehicles records show. Sentences in some of the cases were unclear.
* In June 1999, he was given 30 days in jail and had his license revoked for six months for DUI in Colfax County.
* In April 2001, he was found guilty of reckless driving in Stanton County.
* In May 2003, he was given four months' probation and had his license suspended for 30 days for willful reckless driving in Platte County.
* In July 2003, he was given months in jail, plus had his license suspended for 60 days for DUI in Platte County.
* In June 2004, he was convicted of driving on a suspended license in Platte County.
In addition, Dobbe spent 1 1/2 years in prison beginning in January 2006 for having meth in Platte County.
Joyce Meeks had been working hard to improve herself.
She recently won a grant to study to become a registered nurse, said her friend Valerie Patten.
And when she started getting blood clots, she transformed herself, her son said.
She had gastric bypass surgery and started eating better and exercising, her son said. She lost 120 pounds in the past seven months.
"She was really on it," Martell Buchanan said before pausing for a few seconds on his mom's porch, looking in the direction where she died 12 hours before.
"She wanted to be here for her grandkids."