When a Lancaster County Sheriff's deputy stopped a brand-new Chevy Tahoe not long after the lunch hour along Interstate 80 on March 7, the Tahoe's radar detector caught the deputy's attention.
The gadget used to detect if a driver's speed is being monitored wasn't illegal.
But radar detectors also aren't common in rental vehicles taken on one-way trips, the deputy noted in a search warrant filed for Google records later, after he found $140,000 hidden in the spare tire.
Sheriff Terry Wagner said by the end of April, the Lancaster County Sheriff's Office Interdiction Task Force already had seized $1,041,080 in suspected drug money on I-80.
He said the task force, which works with the Department of Homeland Security Investigations Agency, has received national awards for its work.
Last year, it took $2,565,334 off the streets, according to an annual forfeiture report filed with the state auditor.
A big chunk of this year's money — 39% — came in just two stops eight days apart in March, including the one where Bee Hang, a California man, and his passenger, Christine Vue, were stopped for speeding about 5 miles west of Lincoln on their way to Denver and money was found in the spare tire.
Hang ended up ticketed for possession of drug paraphernalia. Vue wasn't charged.
But the sheriff's office stands to get up to 60% of the cash, seized through federal civil forfeiture laws because it is suspected to be drug proceeds.
In court records, sheriff's office investigators laid out the case for their suspicions. They say after the deputy noticed the radar detector, spotted a THC vapor pen in the SUV and got conflicting stories about where the two had been, a sergeant monitoring radio traffic did a Google search of the address in Hayfork, California, that Hang gave.
Investigators said it turned up aerial images of hundreds of marijuana plants being grown and cultivated.
While searching the Tahoe, a deputy noticed tool scrapes on the spare tire and found four large, vacuum-sealed packages of cash that added up to $140,000 hidden inside.
A search of Hang's and Vue's phones, done through a search warrant, showed evidence suggesting they were involved in the distribution of marijuana, investigators said.
You have free articles remaining.
Keep reading for FREE!
Enjoy more articles by signing up or logging in. No credit card required.
Wagner said it doesn't matter if it's money or drugs, it's all evidence of a crime.
"Possession of money with intent to purchase drugs is a crime like any other, and we investigate it like any other," he said in a recent interview.
Wagner said it's important that deputies don't just seize the cash and stop there but work to make a nexus to the drug trade, if one is there.
He said the task force's work has led to Drug Enforcement Administration searches in other states and the discovery of a marijuana distribution organization in Chicago and an operation in Omaha involving pounds of methamphetamine.
The Omaha case ended up being prosecuted federally.
"That was a really good case," Wagner said. "And if we had just seized the drugs and stopped there, we wouldn't have made that connection."
These were drugs headed to this area, he said. That isn't always the case.
He said when people ask how much law enforcement in Nebraska should care about a load of weed headed someplace else, he's quick to answer. It still impacts the drug trade as a whole, Wagner said.
In 2016, state lawmakers passed a bill requiring law enforcement agencies to report property forfeiture seizures. According to this year's report released May 1, just 17 of 71 agencies seized property.
Each of the law enforcement agencies in Lancaster County — the sheriff's office, Lincoln Police, University Police and the State Patrol — were among those that did.
Lancaster County's biggest drug seizures
Pair accused of hauling 645 pounds of pot on I-80 through Lincoln area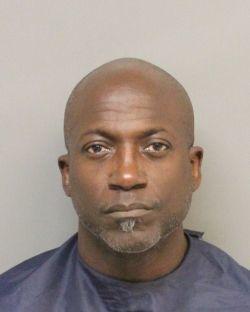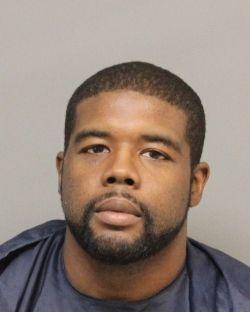 Two men remained at the Lancaster County jail Thursday, a day after prosecutors charged them in connection with 645 pounds of marijuana found in their rental truck.
Brandon Arrington, 30, of McDonough, Georgia, and Edward Babb of Houston both are facing four felonies: two counts of possession with intent to deliver and two counts of no drug tax stamp.
In an affidavit for their arrests, a Lancaster County Sheriff's deputy said he stopped a GMC Penske rental truck with Virginia plates Tuesday after seeing its passenger side tires cross onto the shoulder of Interstate 80 near the Lincoln Airport exit.
During the traffic stop, the deputy became suspicious the men were involved in criminal activity.
They both denied a request to search the truck, but the deputy deployed his police dog around it after seeing what he believed to be marijuana residue on the floorboard.
The search turned up 645 pounds of marijuana and 4.74 pounds of THC vapor pens in the truck's cargo area inside cardboard boxes wrapped in plastic wrap, according to court records.
On Wednesday, at their first court appearances on the charges, Lancaster County Judge Matt Acton set their bonds at $250,000.
515 pounds of marijuana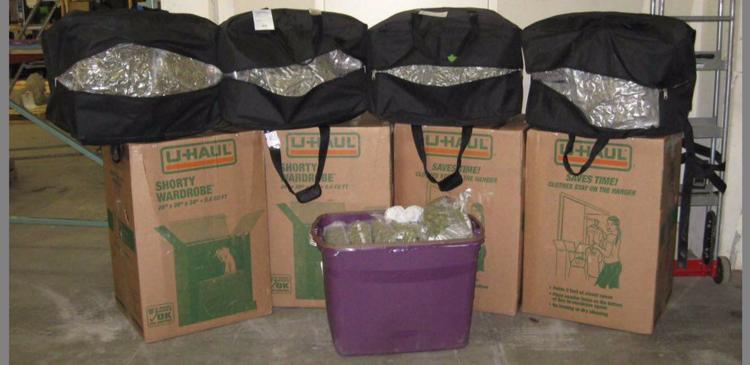 $500K of meth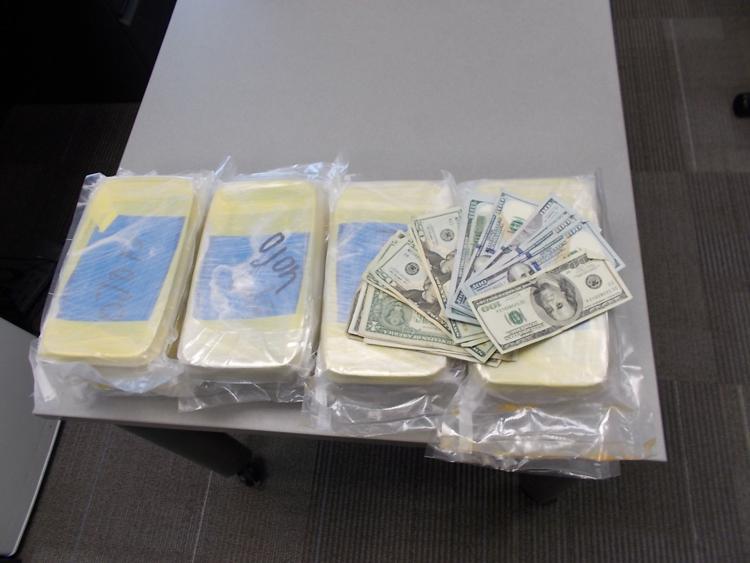 Kilo of cocaine, cash in I-80 stop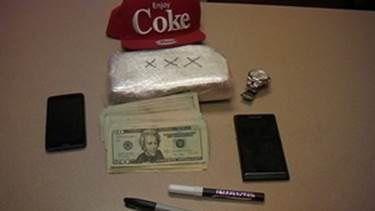 $1 million in vacuum-sealed bags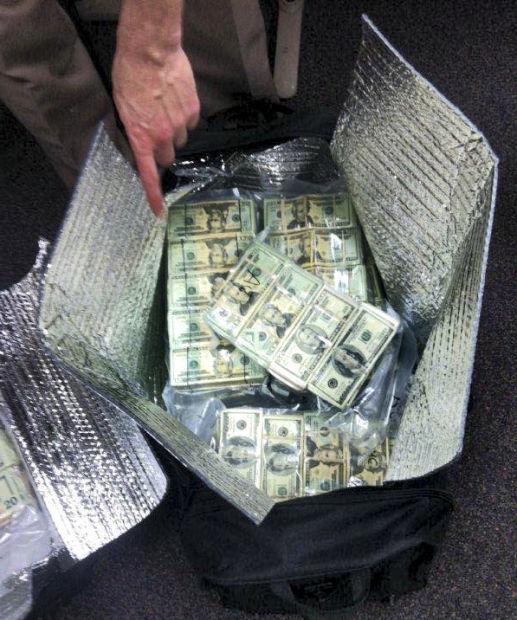 300 pounds of marijuana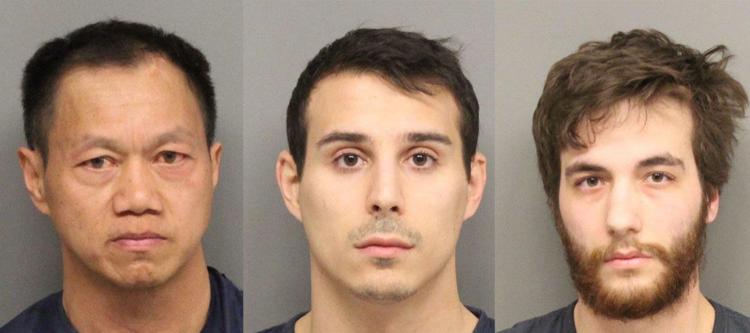 55 pounds of cocaine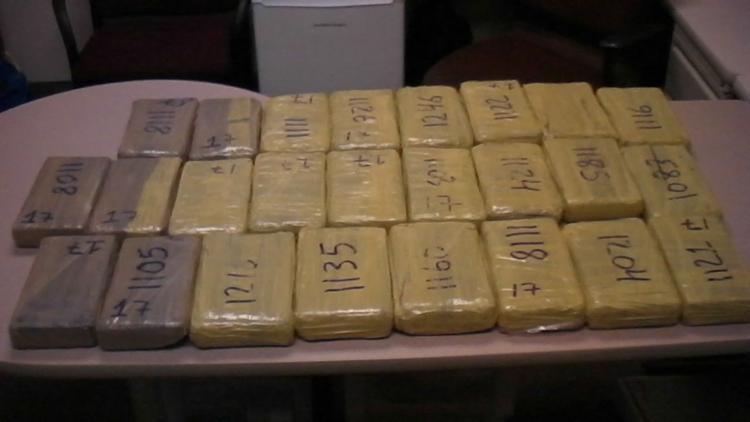 15.7 pounds of meth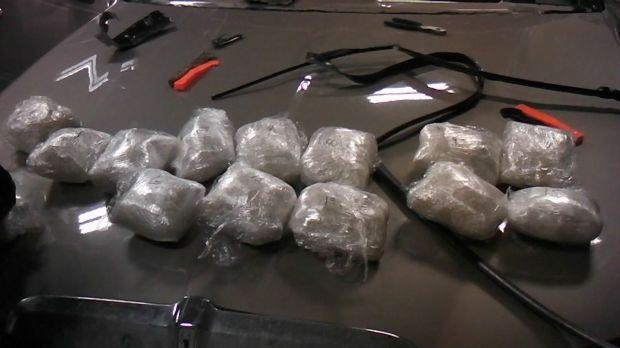 $235K in cake mix cans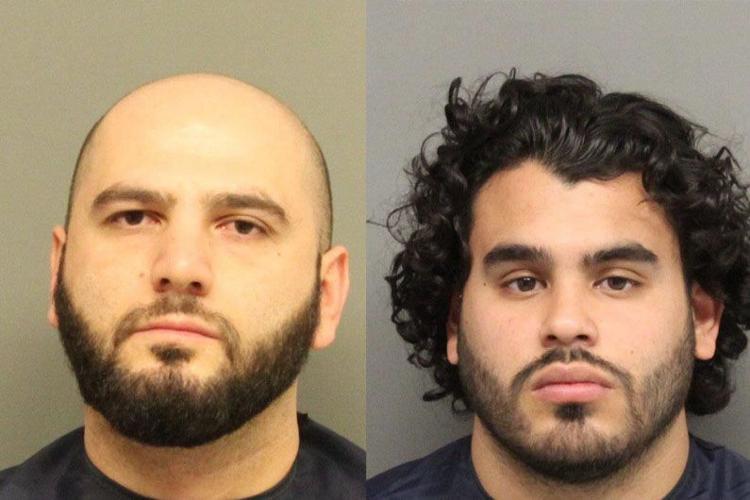 250 pounds of marijuana in fake compartment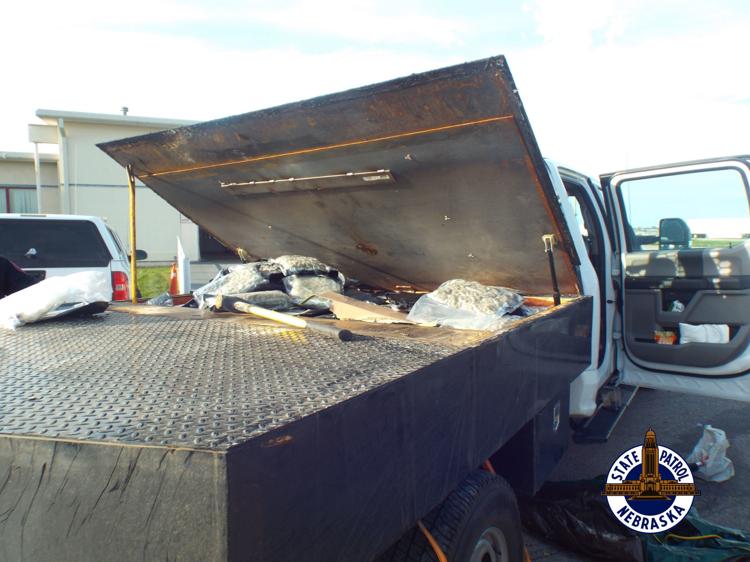 214 pounds of marijuana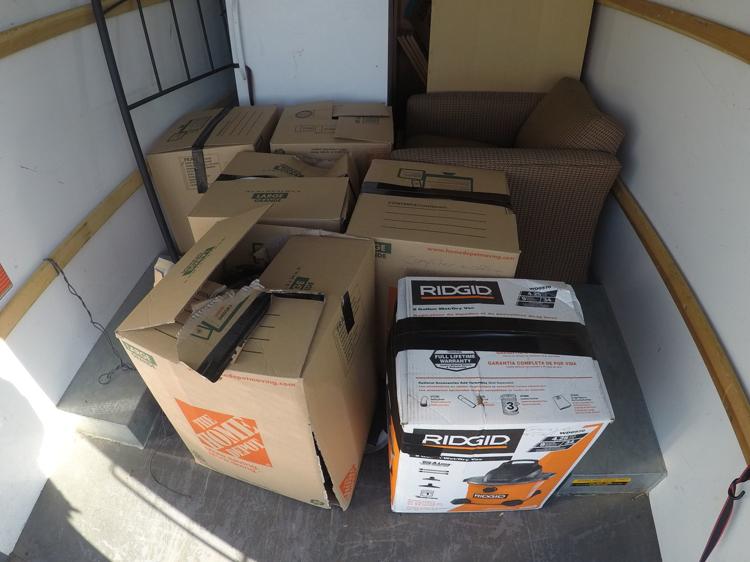 145 pounds of marijuana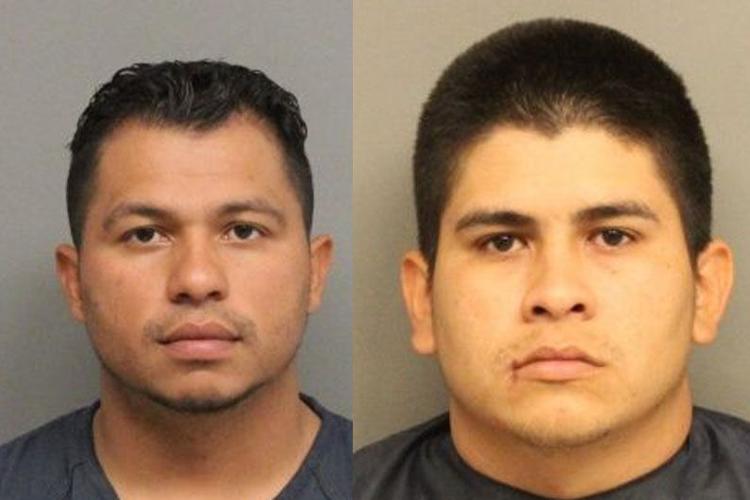 116 pounds of marijuana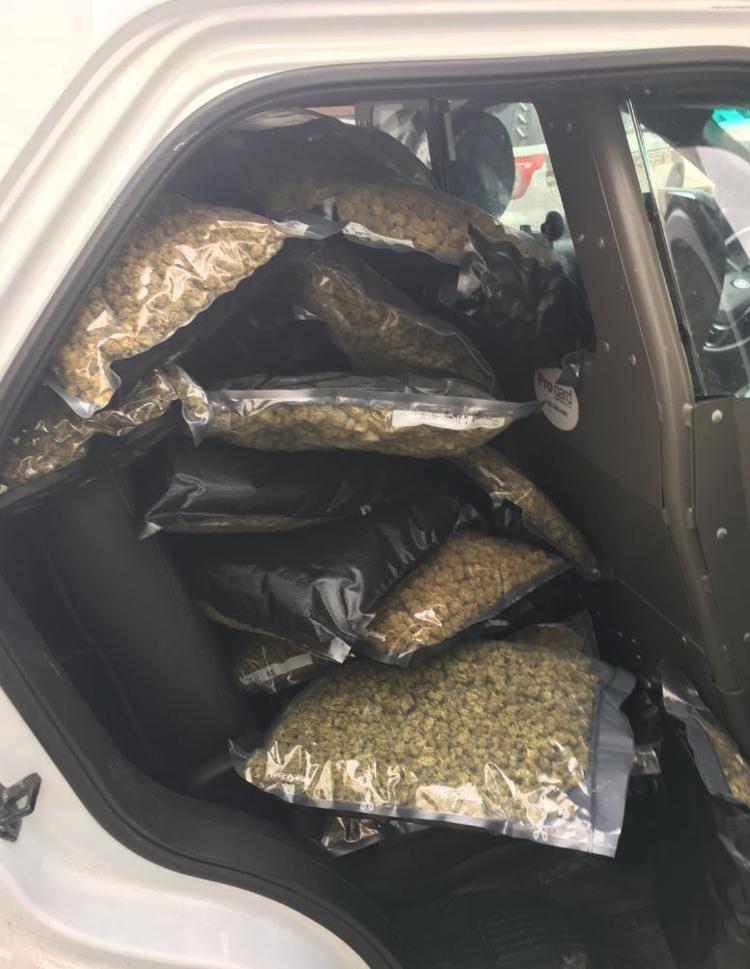 110 pounds of marijuana, shatter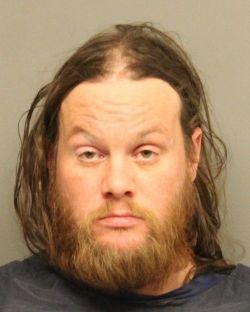 7.5 pounds of meth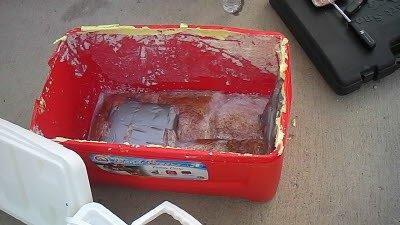 Lancaster County deputies find 109 lbs of pot in I-80 traffic stop
A California woman was arrested Friday morning after Lancaster County sheriff's deputies found more 100 pounds of marijuana in her vehicle during a traffic stop.
At about 9:30 a.m., Pakou J. Yang, 37, of Oroville, was pulled over on Interstate 80 about three miles east of the Pleasant Dale interchange for following another vehicle too closely.
During the stop, a deputy determined the 2018 Nissan that Yang was driving was a one-way rental, which the deputy described in court records as a common sign of drug trafficking. She also became "extremely nervous" while being questioned by the deputy.
Deputies searched the vehicle after a drug-sniffing dog indicated the presence of drugs. They found 109.5 pounds of vacuum-sealed marijuana in the trunk, according to court records. 
Yang was arrested and charged with possession of marijuana with intent to deliver and no drug tax stamp. She remained in jail Friday on $50,000 bail.
$118,000 in suspected drug money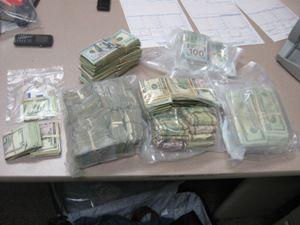 100 pounds of marijuana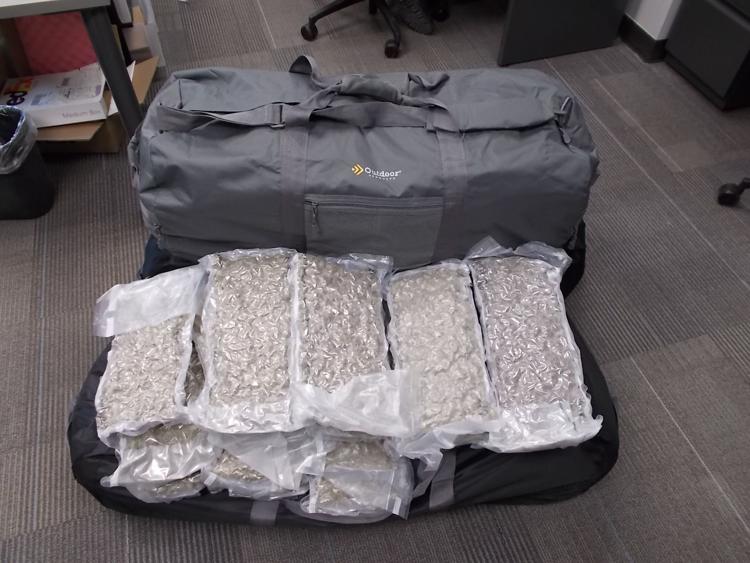 $84K in suspected drug money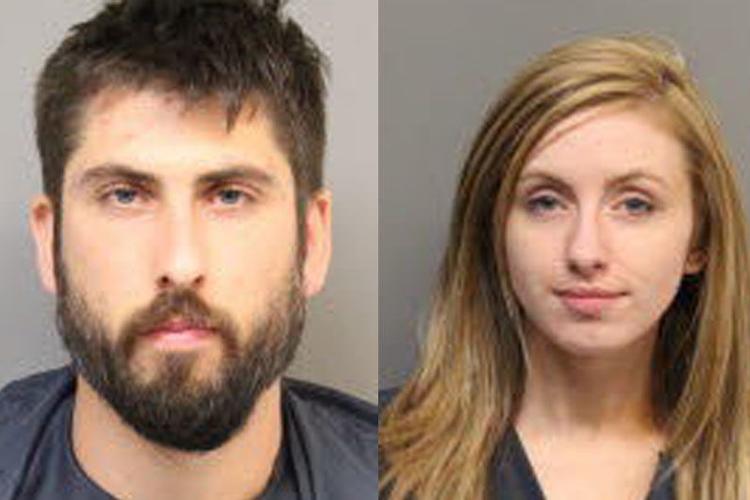 100 pounds of marijuana